Creating Emails for Email Blasting

Introduction

CharityEngine makes creating and sending emails very easy through our email creator tool. Through this tool you can create detailed emails that contain your organization branding, content, buttons to donation forms, images and videos for your contacts to view. CharityEngine also provides out of the box templates for users to use to make building an email a little less daunting.


Prerequisites

There are no prerequisites for creating an email
Table of Contents
Navigating to the Email Builder
To find the email builder and begin designing an email for a campaign, click Campaigns > Create & Push > Creative.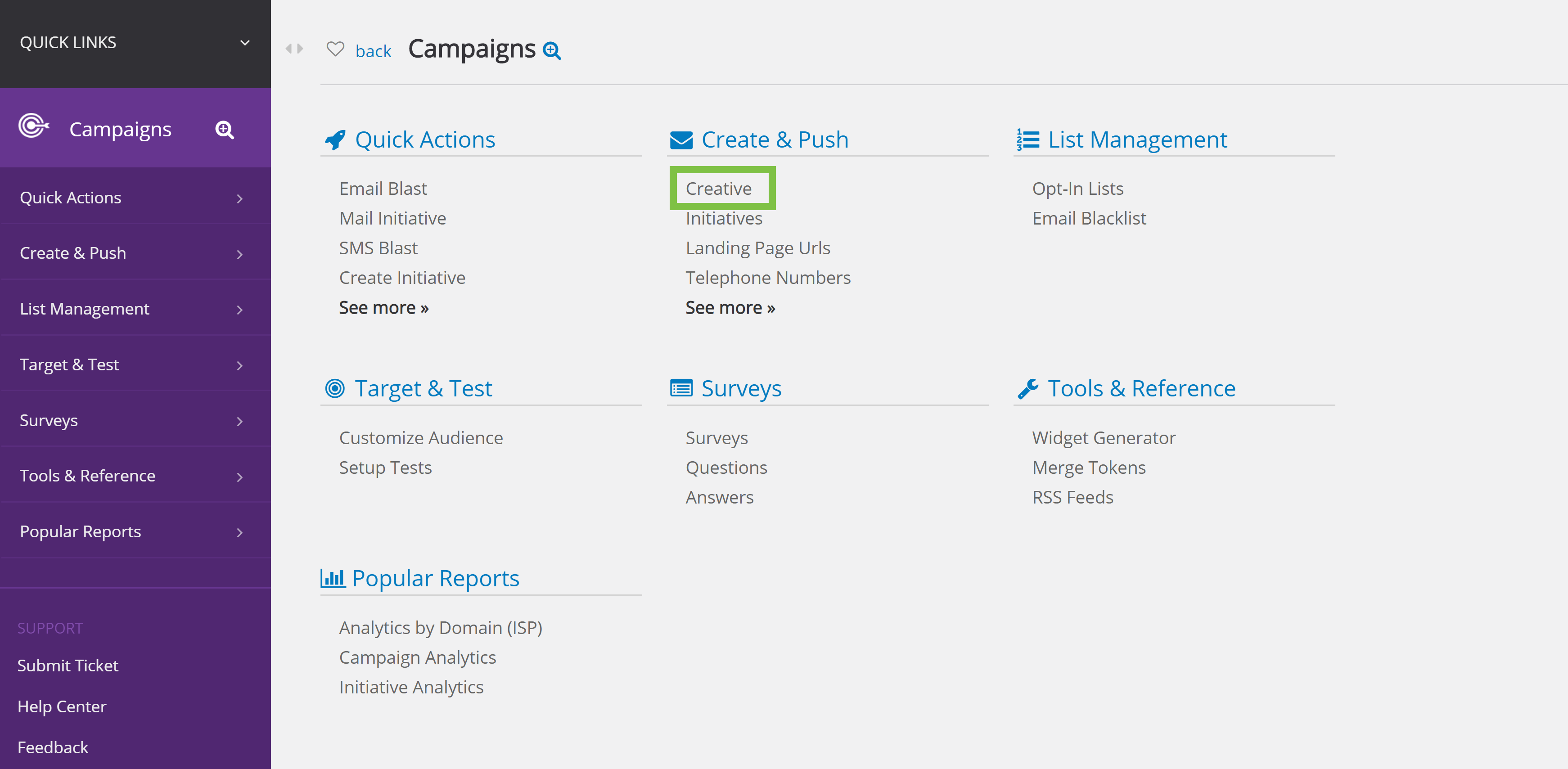 To create a new email, hover over Create New and select Email Message.



Basic Design Tips
The CharityEngine® email design is a click-and-drag structure. The sample screen below is the CharityEngine® default design screen.
Under the first Content tab is a selection of tools and items to click and drag into your email.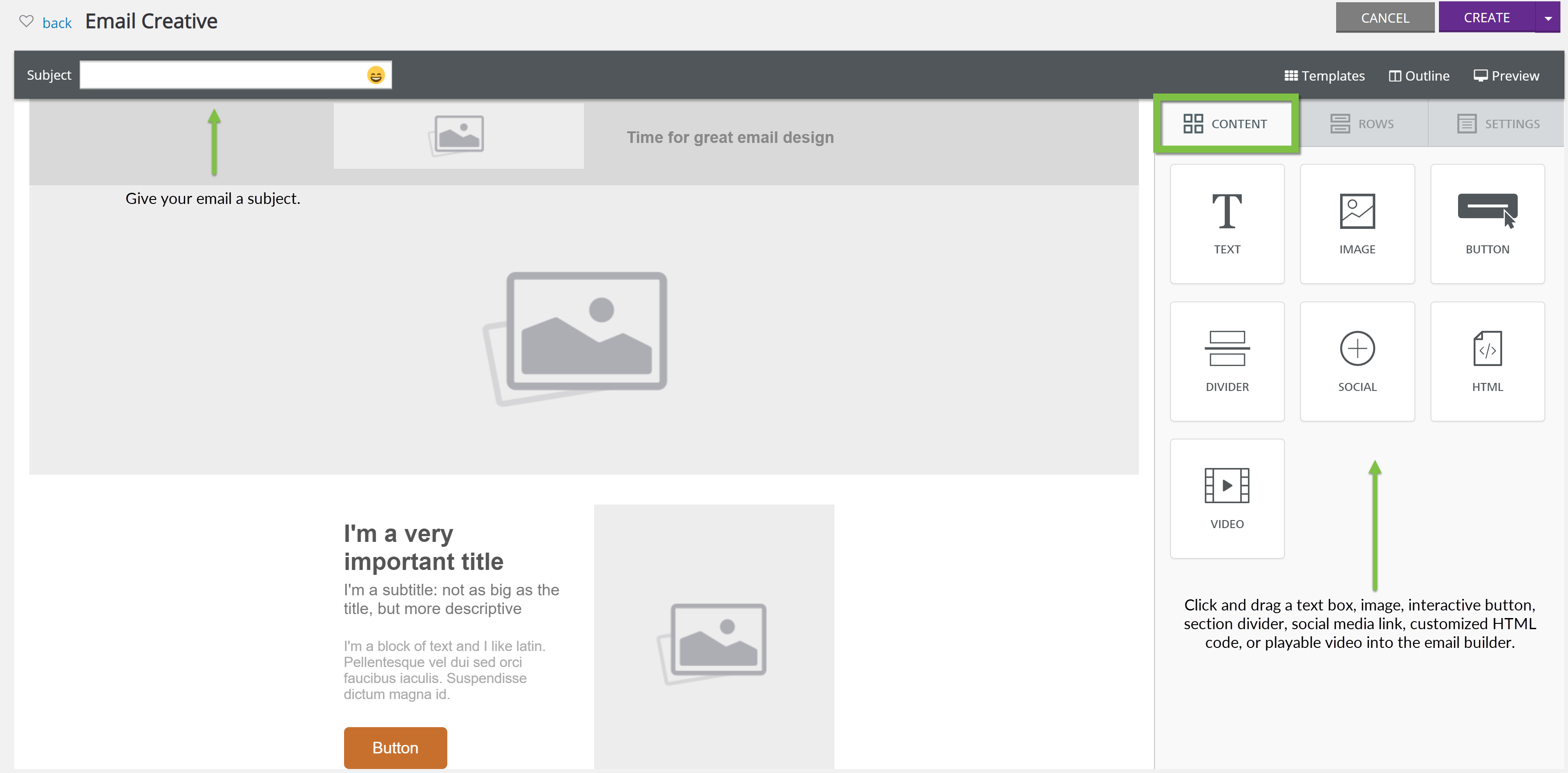 Each piece of the default CharityEngine® email setup can be deleted and replaced with a different draggable piece. Click on the piece you want to delete. A blue box will appear around it with the option to delete it or copy it.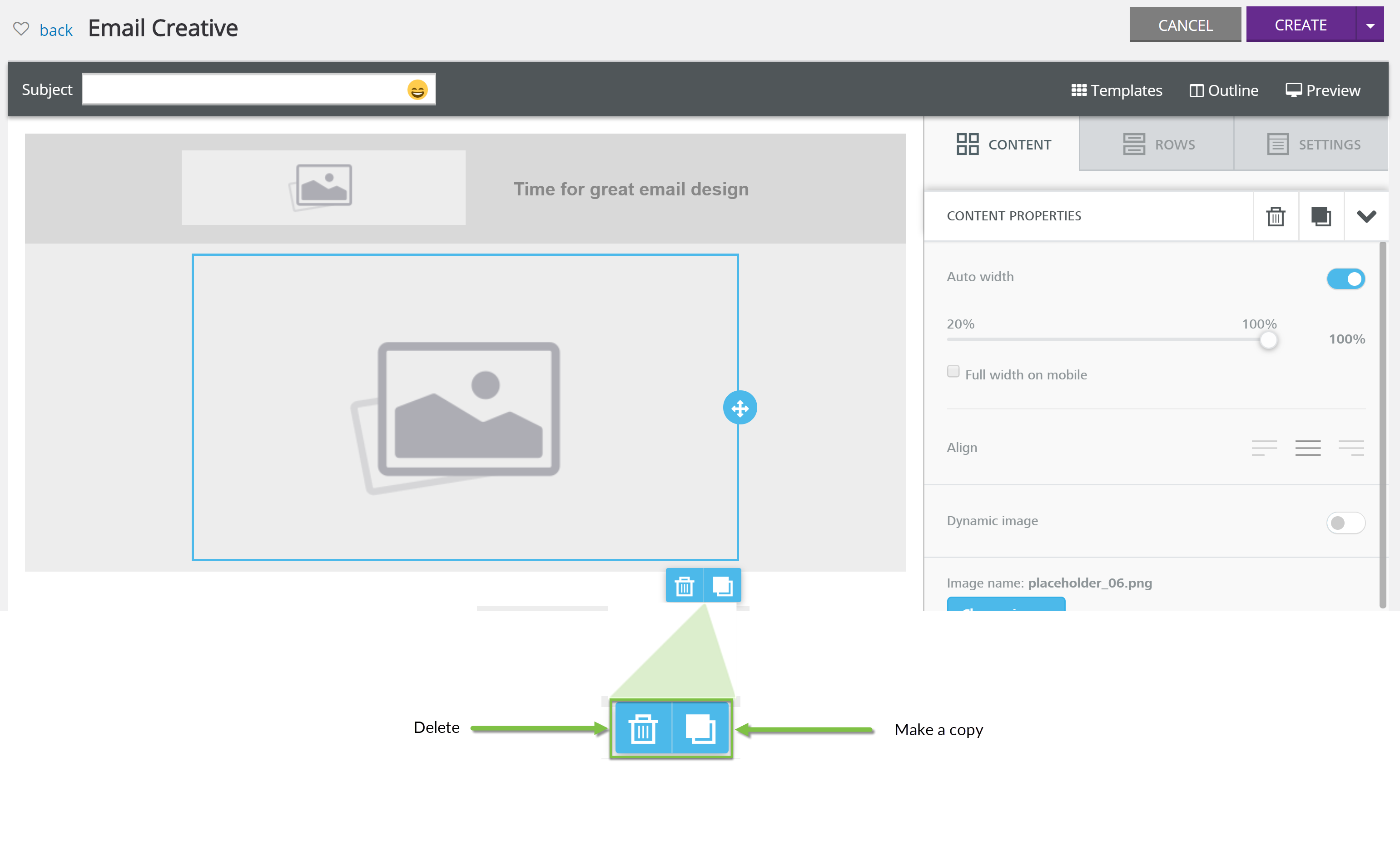 NOTE: Clicking the middle of text boxes will also bring up a design toolbar for the fonts, colors, etc. This toolbar can appear on top of the delete/copy options. If this happens, simply click on the circle that appears lined up with part of the blue box to make the toolbar disappear. You can access the delete/copy buttons from here once the toolbar is gone. If you want the toolbar back, click in the middle of the box in order to edit it and use the toolbar.



Templates, Outline, and Preview
Templates
If you aren't sure where to start when designing your new email, check out the CharityEngine® Templates selection. There are several different design options to start with, based on what kind of email you would like to design. Click in the top right-hand corner of the email builder to find the templates.



Outline
Clicking the Outline button in the top right-hand corner of the email builder will toggle the dashed lines illustrating the outline of the content.



Preview
Click the Preview button in the top right-hand corner of the email builder to preview what the design would look like in the email. Choose to view from Desktop or Mobile. Click the X to exit the preview.


Text Box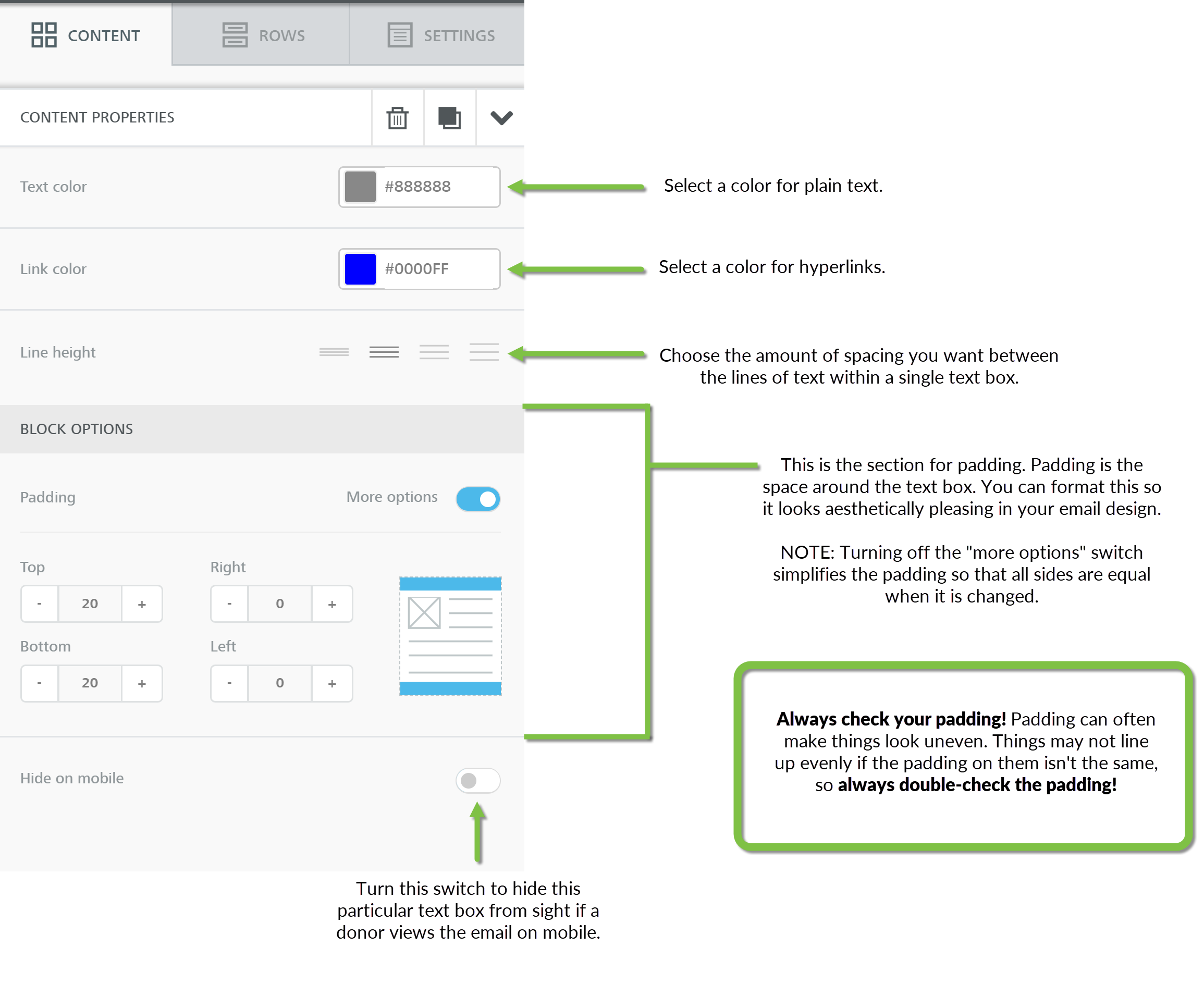 Image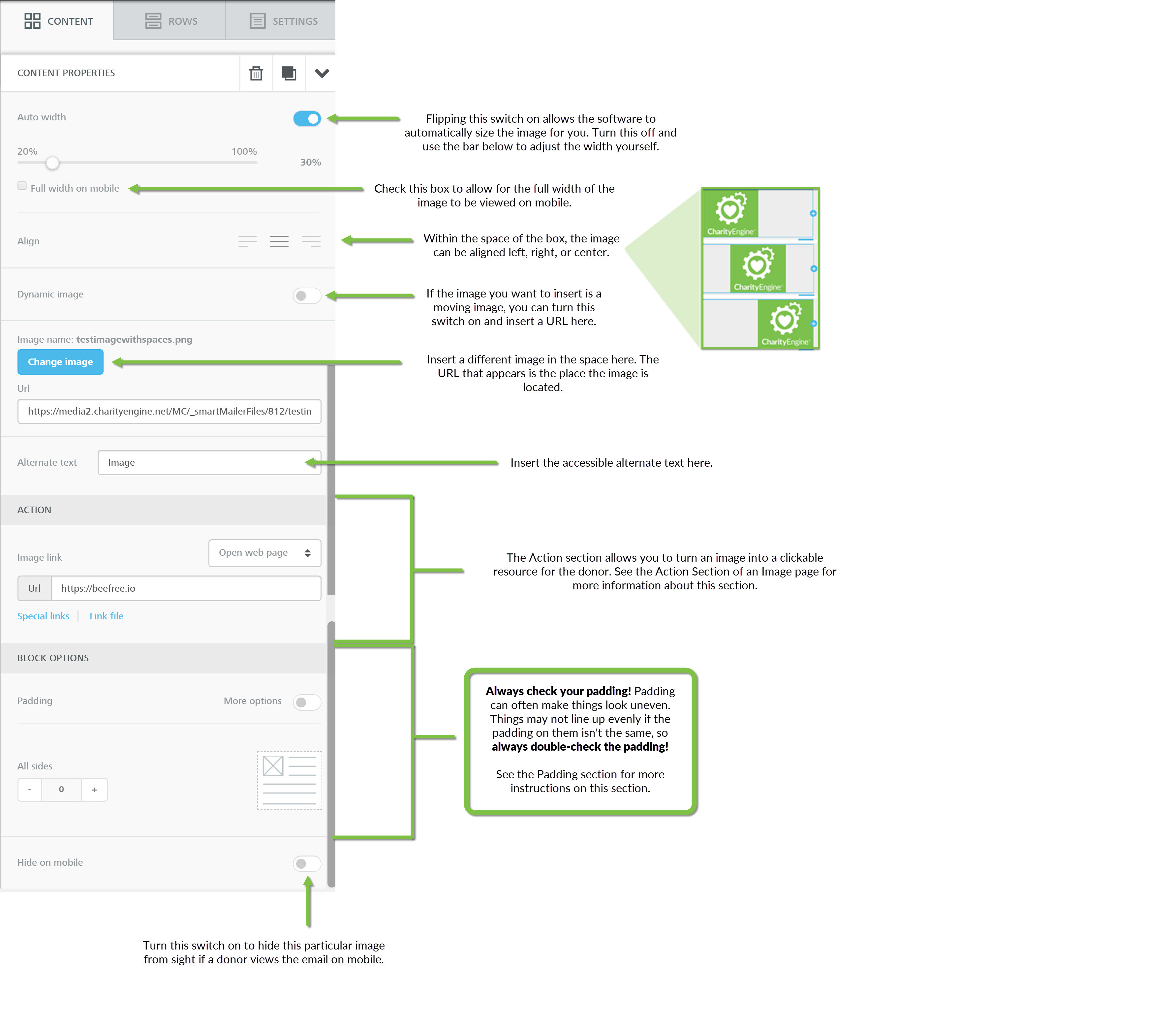 Action Section (Turn image/button into interactive link)
The Action section allows you to turn an image or a button into an interactive link. There are four options: open a web page, send an email, make a phone call, or send an SMS text. Choosing one of the four options and filling out the links required will turn your image or button into a link. Clicking the link will lead to the selected one of the four options occurring.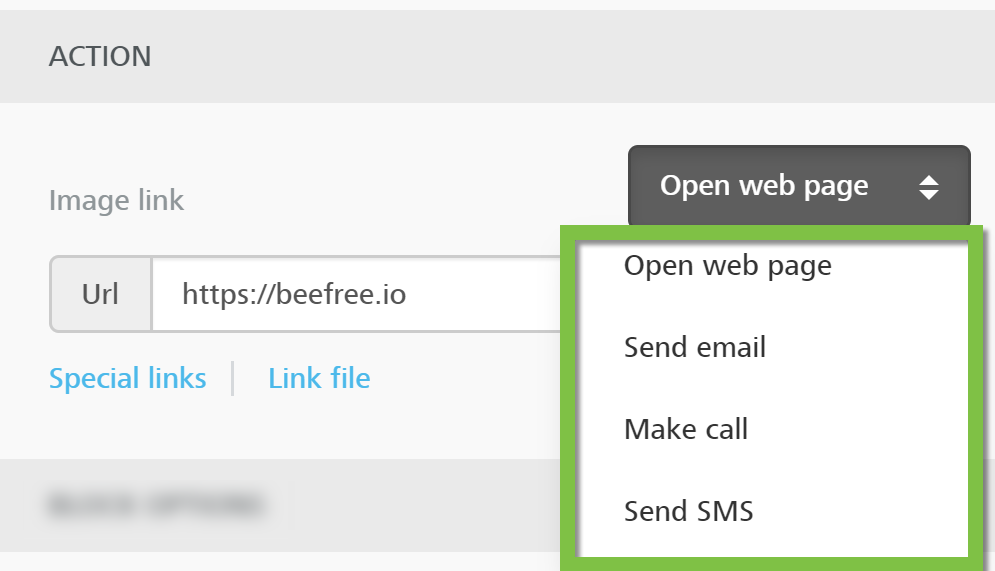 Open Web Page/Unsubscribe/Activation/View Online Links


Under the Open Web Page selection, insert the web page URL you would like the image to link to. There are also Special Links provided by CharityEngine® that you can insert into the image: Unsubscribe, Activation, and View Online.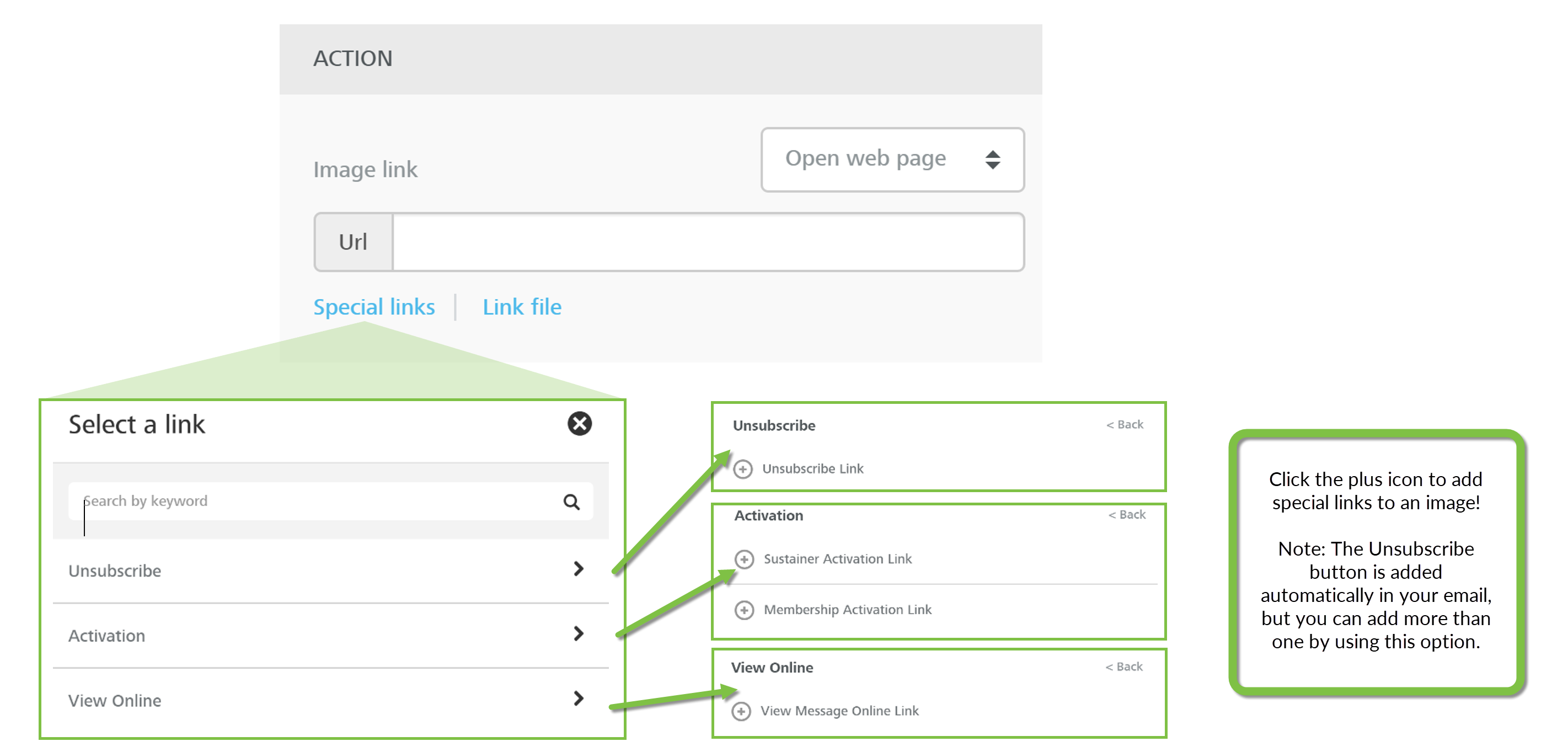 Send Email

Add an easy link for donors to send emails back to your organization. Fill in the receiving email address where the message would be sent, a subject, and a body.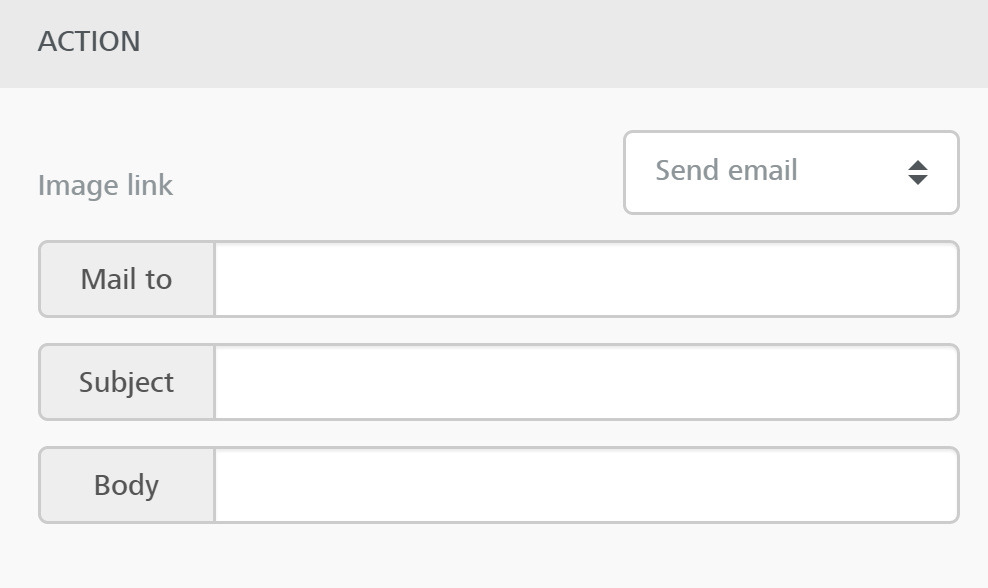 Make Call
Link a phone number to an image to allow a donor to make a phone call to your organization.






Send SMS
Link a phone number to an image to allow a donor to send a text message to your organization.


Button



Divider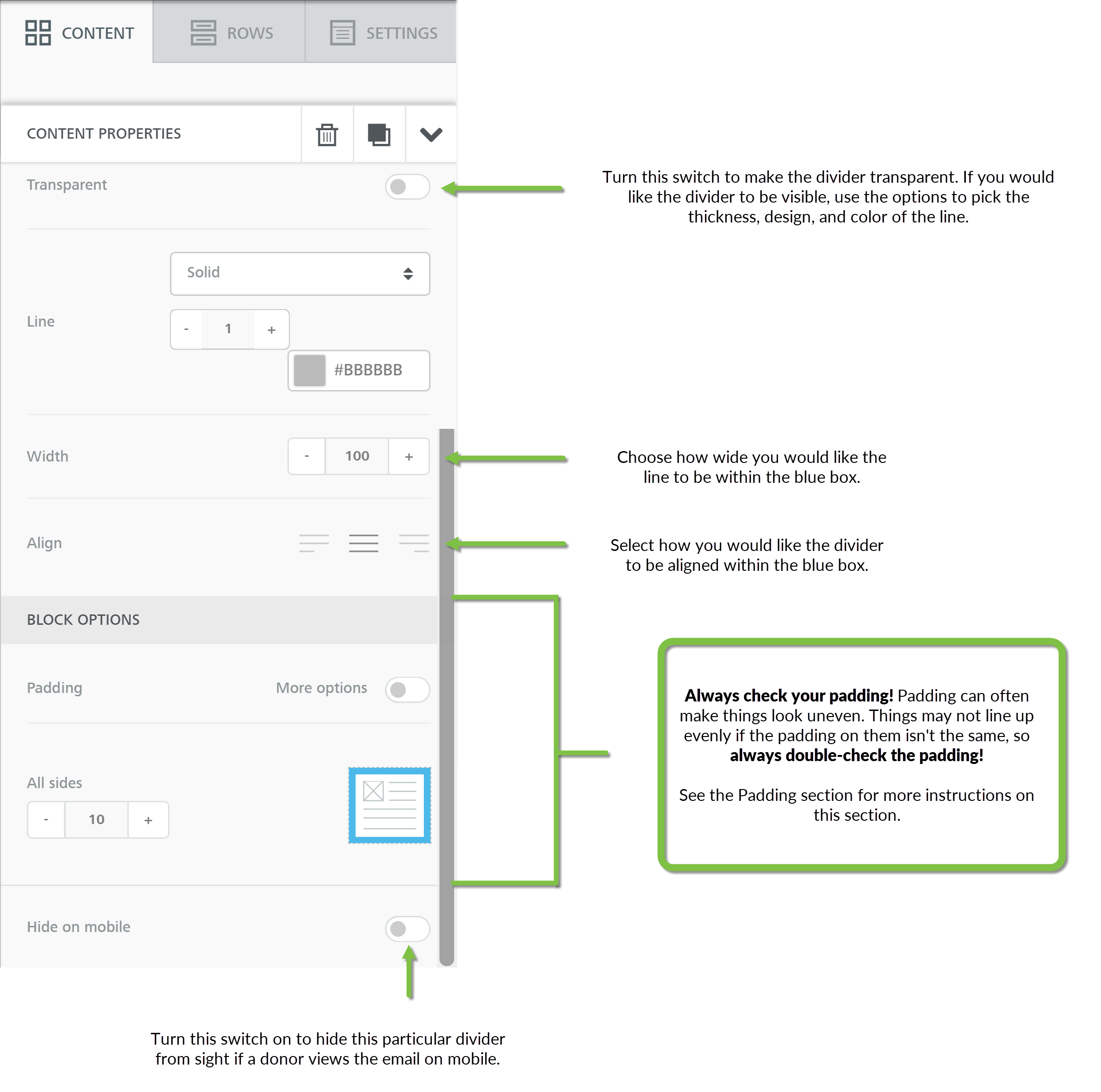 Social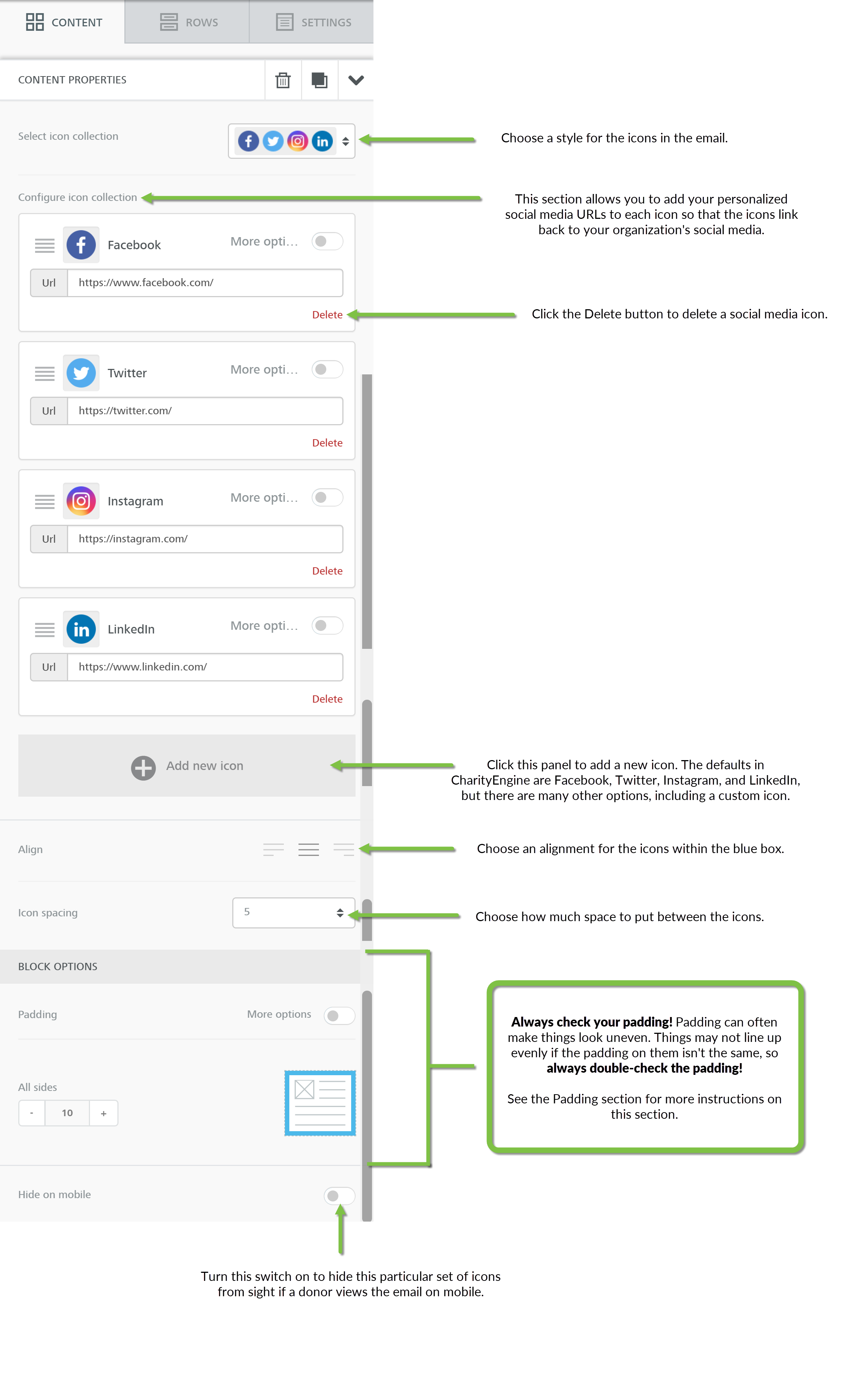 Video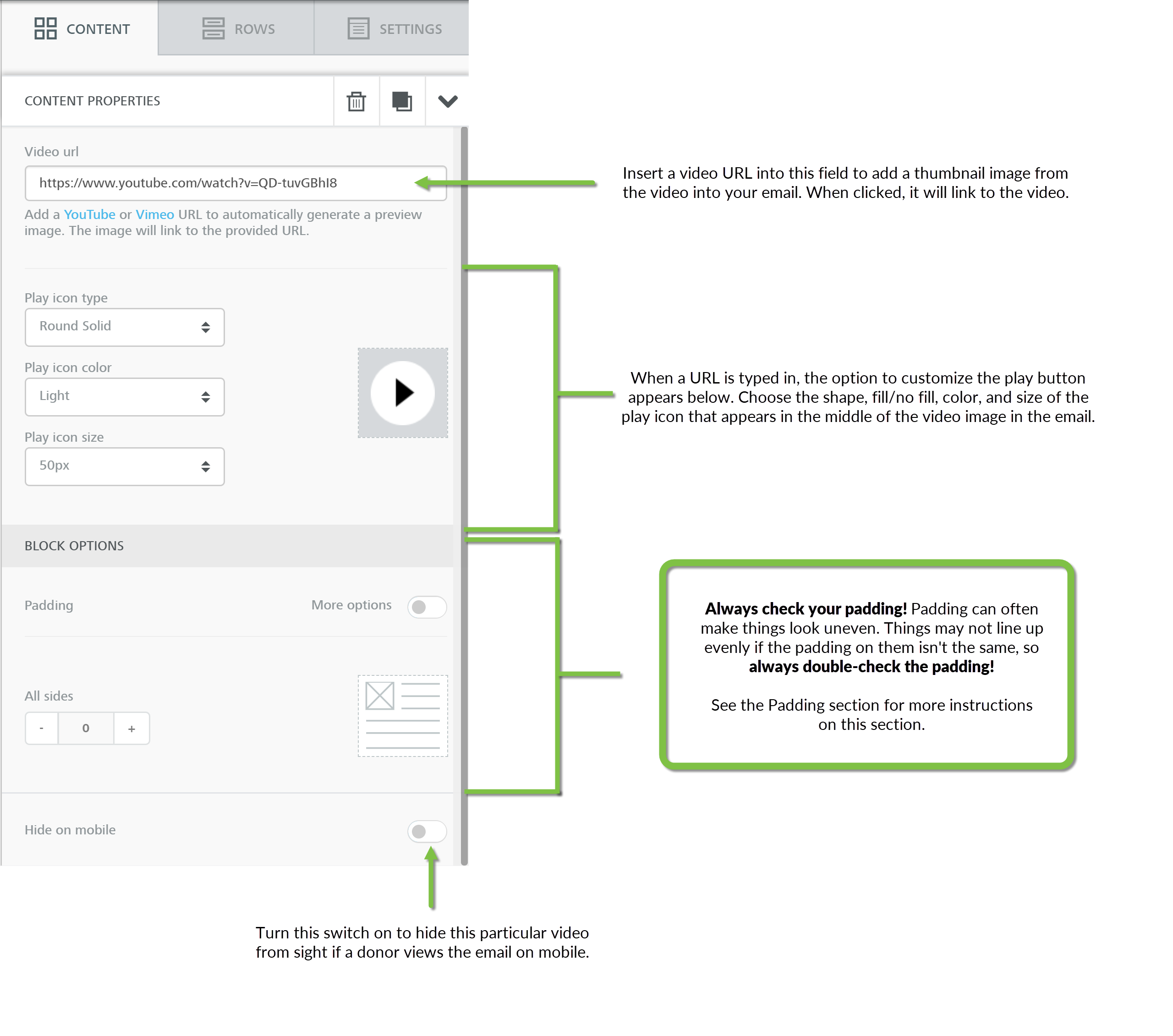 Rows Section
Add another row of content into an email in various styles under the Rows section. Each square in a selection is a section for content, and the different sizes determine the size of the content. Choose a style that works for your email. Click and drag it into the email builder between the pre-existing rows to create another row of content for your email.






Rows Properties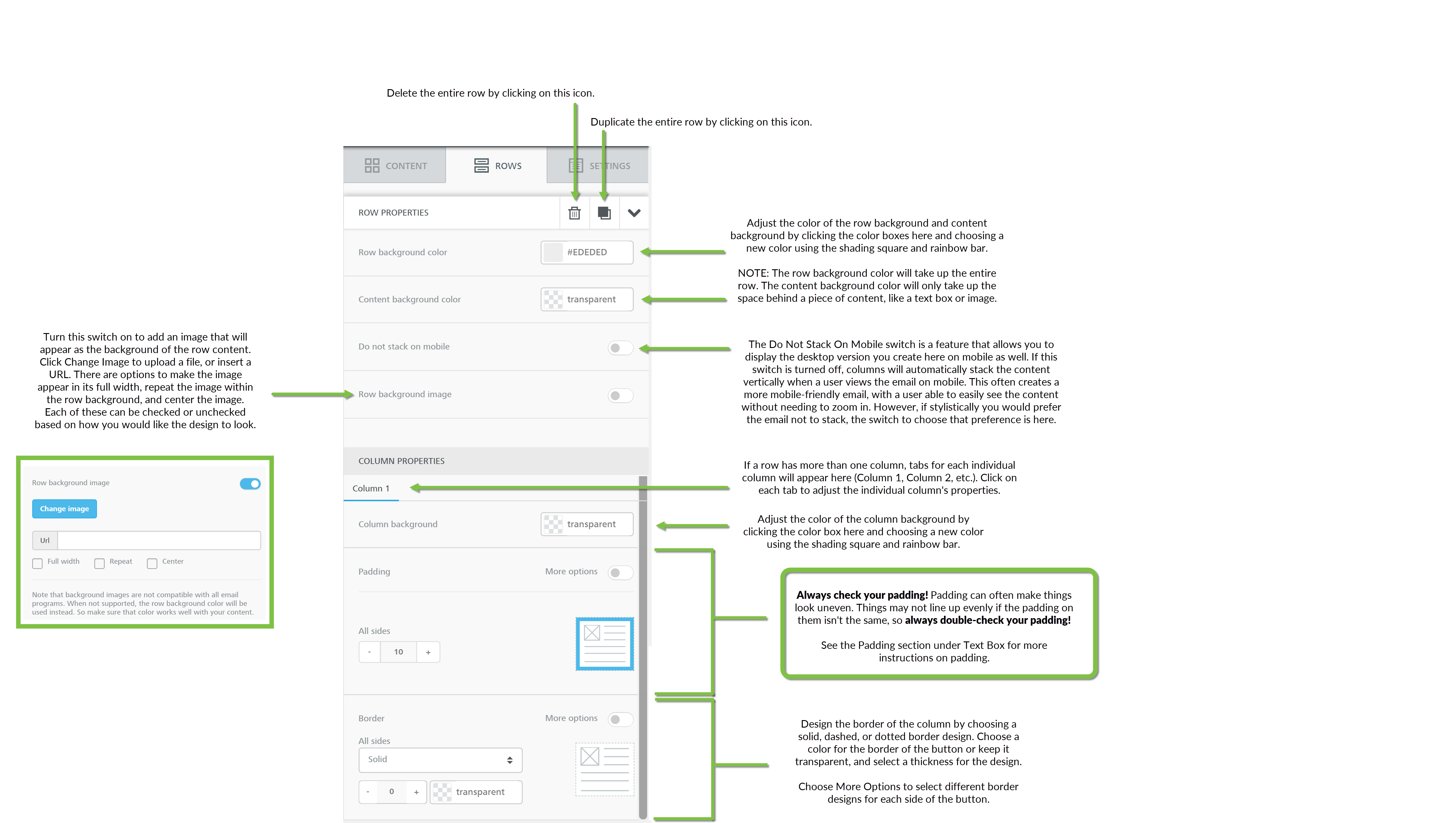 Settings Section

Adjust the general email builder settings under the Settings section.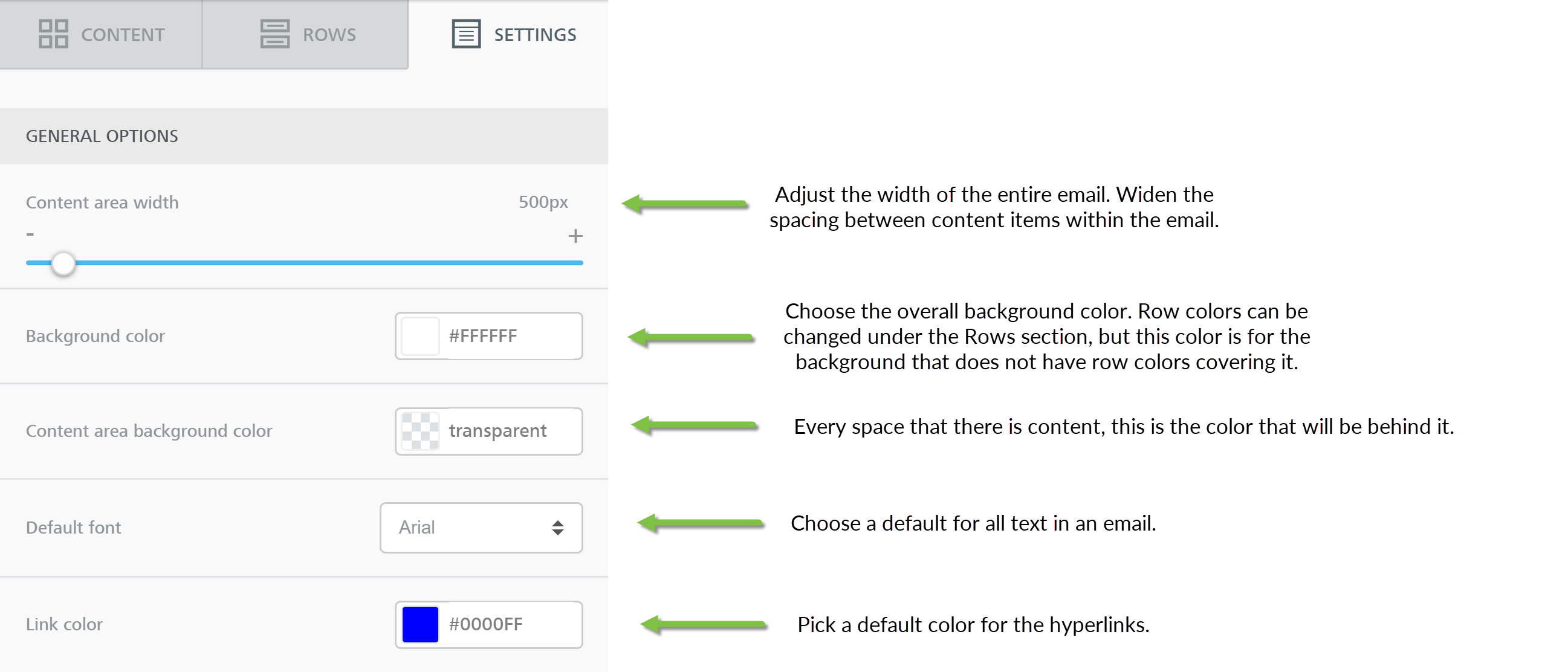 Special Links
Special links can be used to complete a host of activities. To begin, highlight any specific text within your creative. Once highlighted, a formatting bar will appear - locate Special links to expose:
Unsubscribe - allow user to unsubscribe; note: CharityEngine sending templates will always include global unsubscribe link for all outbound emails for compliance of CAN-SPAM
Payments:

Sustainer Payment Link
Membership Payment Link
Pledge Payment Link
Invoice Payment Link

View Online - allow user to view email online
Share - allows user to forward email to others; allowing access to all links/buttons


Additional Message Settings*
*This is a very important section!
This section is imperative in order to reach a full, complete audience. In order to make sure every single one of your donors receives the same general message you are trying to send in your email, you must fill out the text version of your email. This text version will appear to your donors if their email preference is set to text only. This way, even if they cannot see the full email, they will still be informed of your fundraiser, event, etc.