Creating a Communication Series

Table of Contents
Introduction

There are three different types of Communication Series available: Declined Sustainer, Advocacy Actions, and Advanced.

Declined Sustainers: Allows users to use queries to start a communication series with donors who have had declined payments.
Advocacy Actions: Will include contacts who have logged in and potentially taken action on the Advocacy Issues configured in CharityEngine®.
Advanced: Allows users to create their own query to kick off a communication series.
To create a new Communication Series, navigate to the Campaigns application of CharityEngine® and, under the Create & Publish menu, select Communication Series.


Creating a Series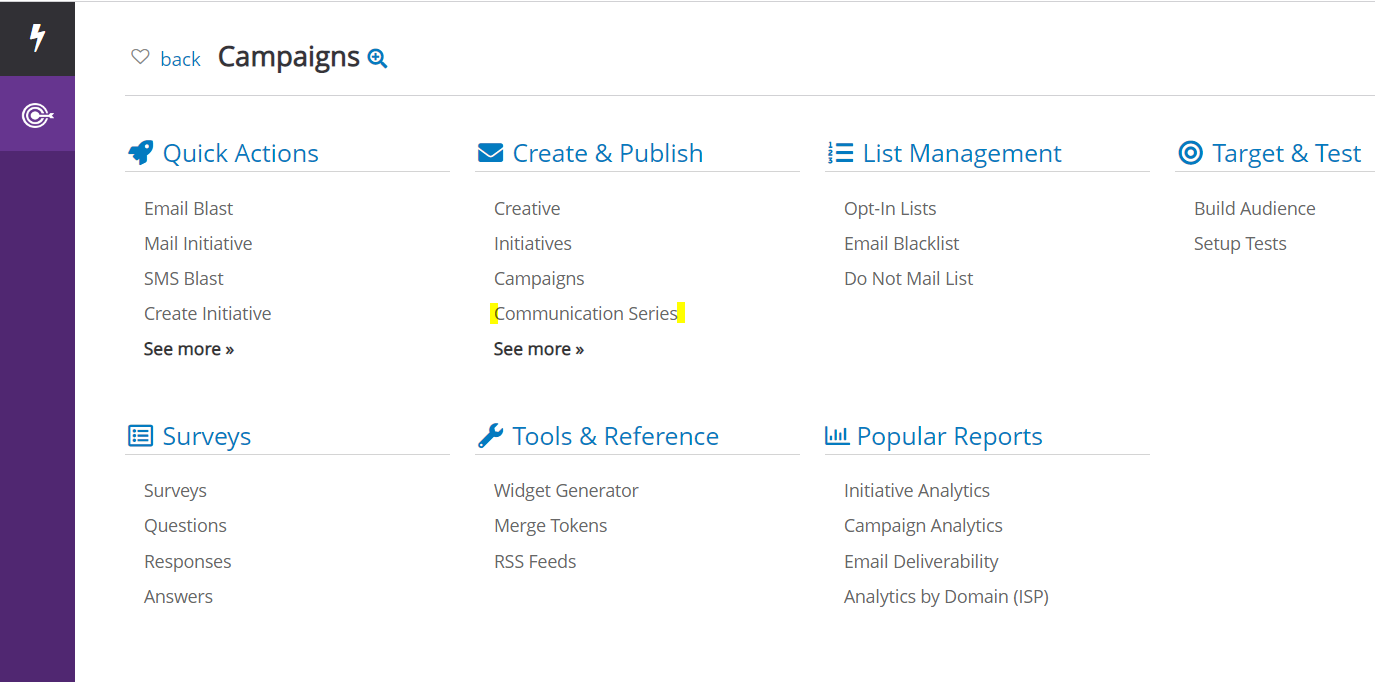 Click on Create New.



The available series types to create will appear. Select the Series you want to create and click Continue.




On the next screen, users can configure their series settings.




If you are creating an Advanced Communication Series, you will have an additional configuration to have the series run Continuously, Daily, or One-Time. If you select continuous, the series will run every time a contact is pulled into the query, daily will run once a day regardless of the query, and one time will only run one time and never again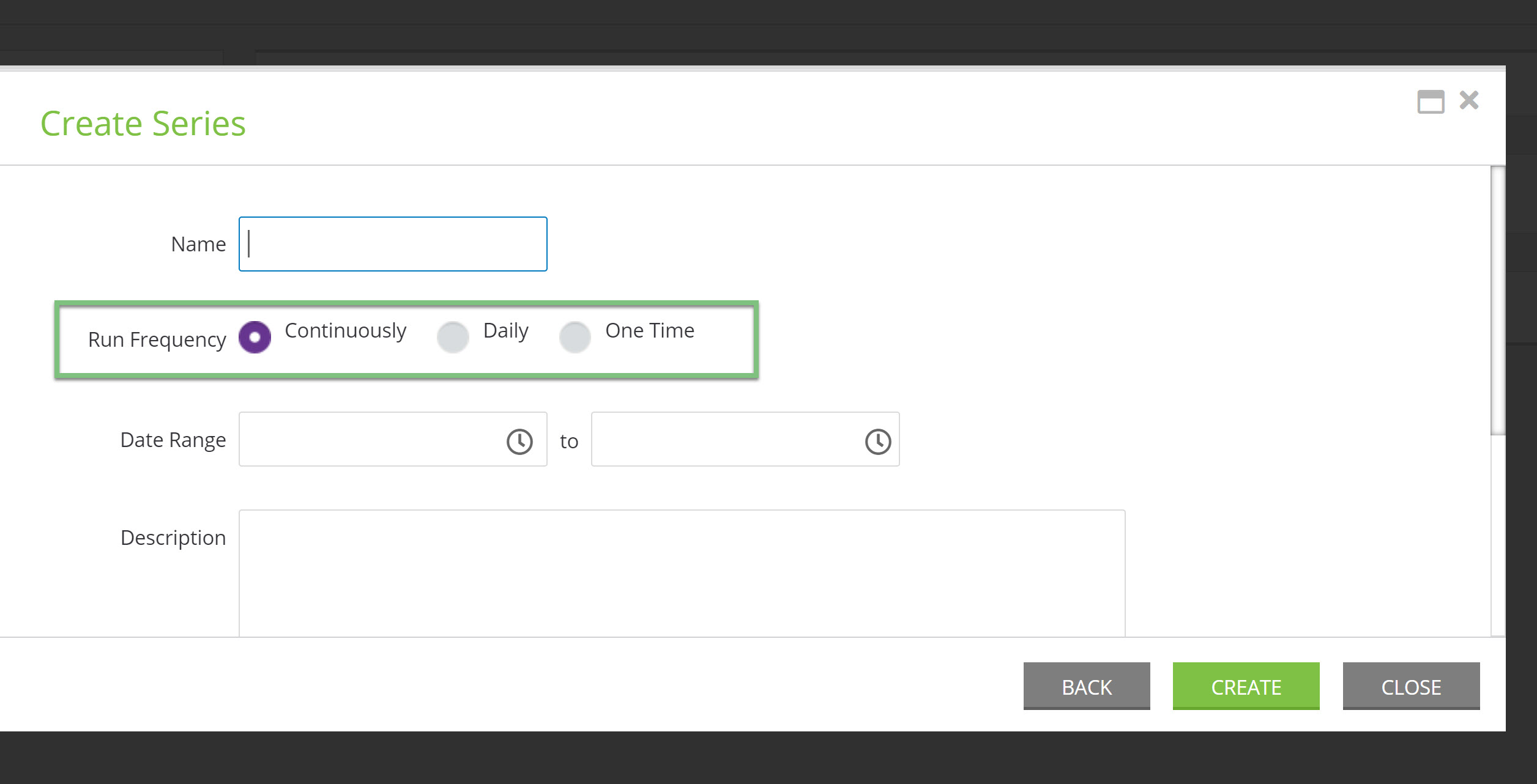 After clicking Create, the Communication Series creation wizard will appear.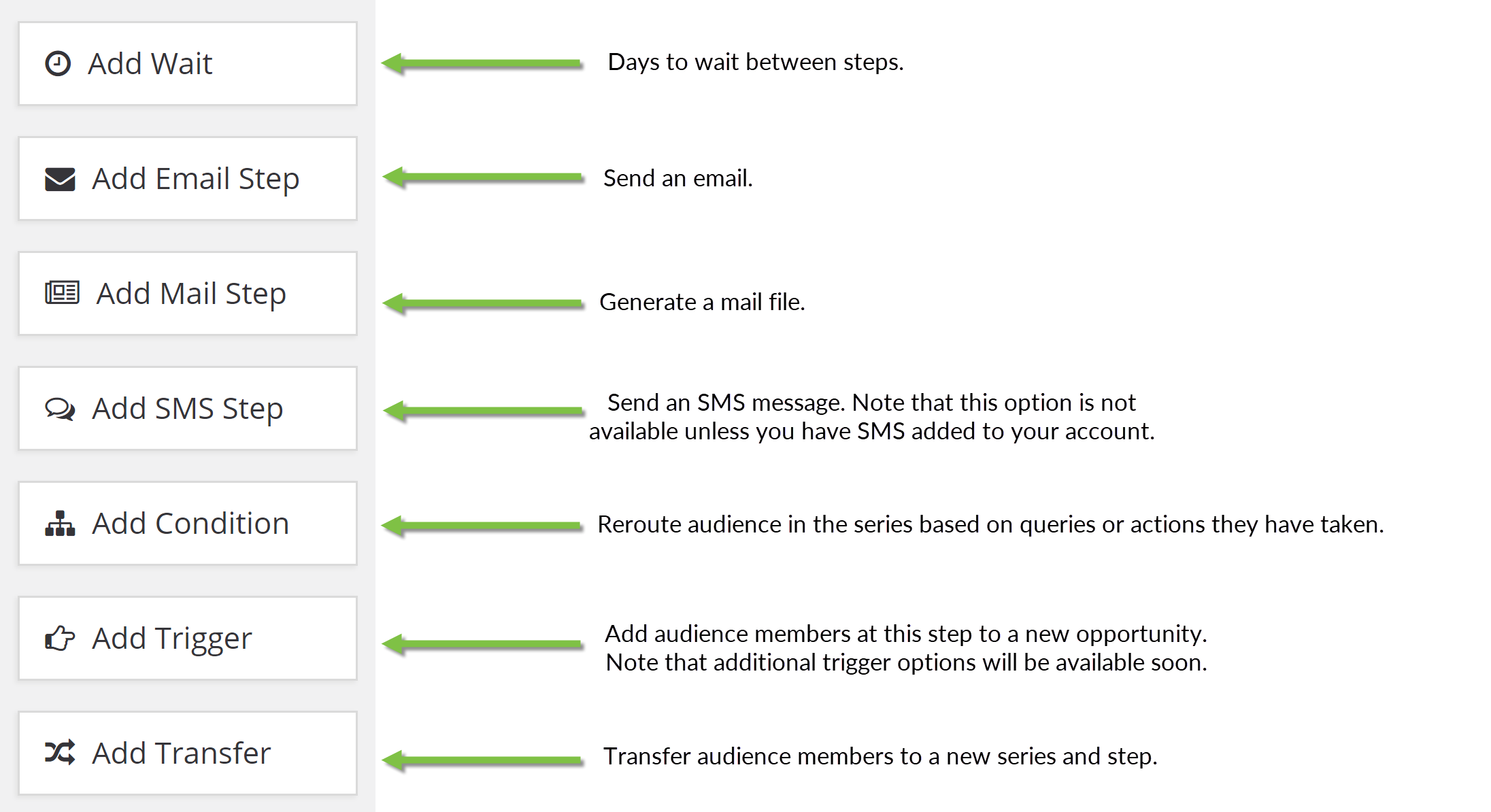 Clicking on Audience Settings will allow you to set additional filters in your series.
Note: The questions and settings will vary across the different series types available. The example below includes the Advocacy Action filters.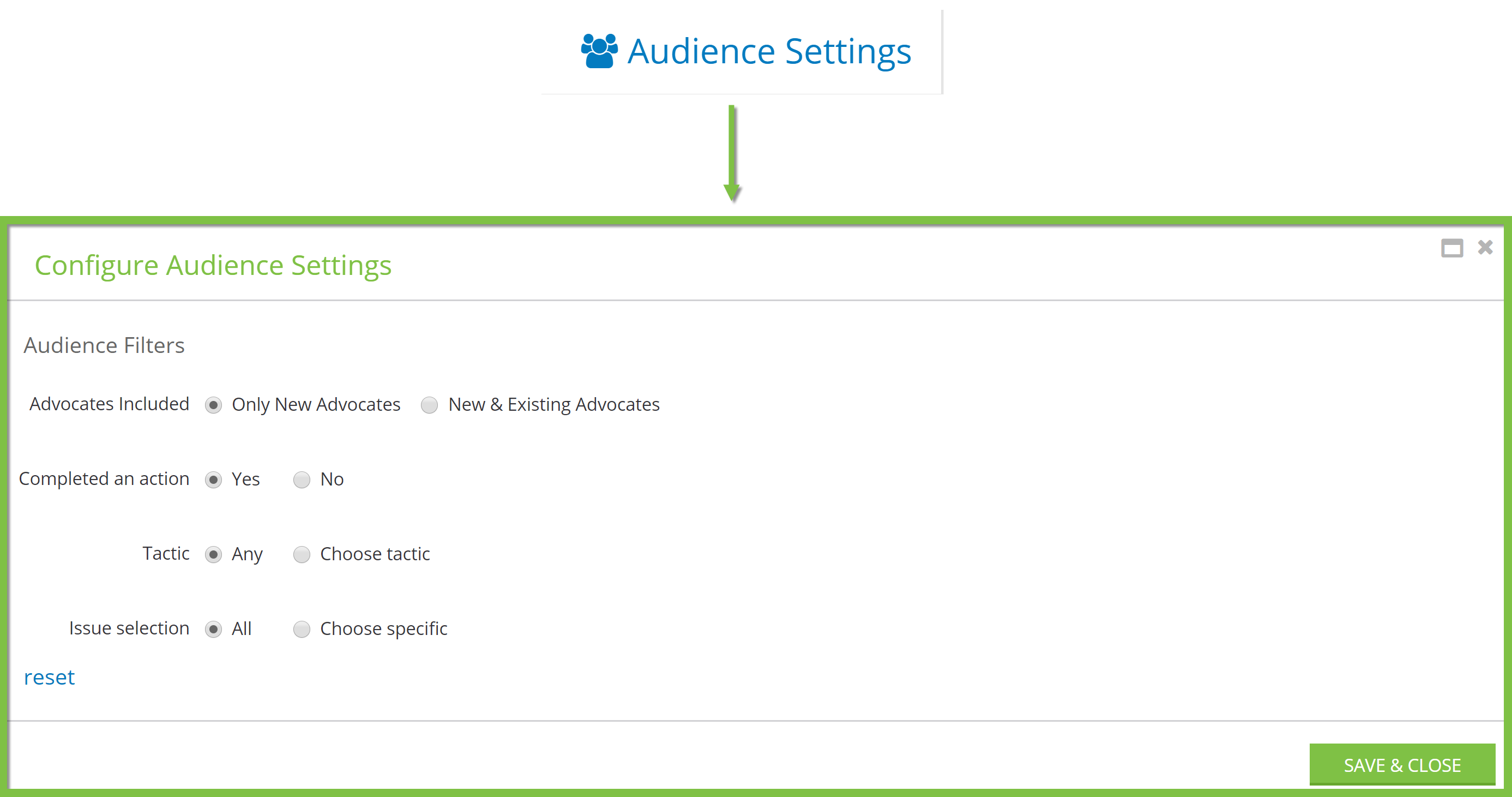 To add steps to your Series, click on the step type on the left-hand side.



Email step
Configure the email step with your email message and settings.



Select your message with Select Message.



Set your email defaults in the Step Settings. Add an email that the message will appear from and a Reply To email.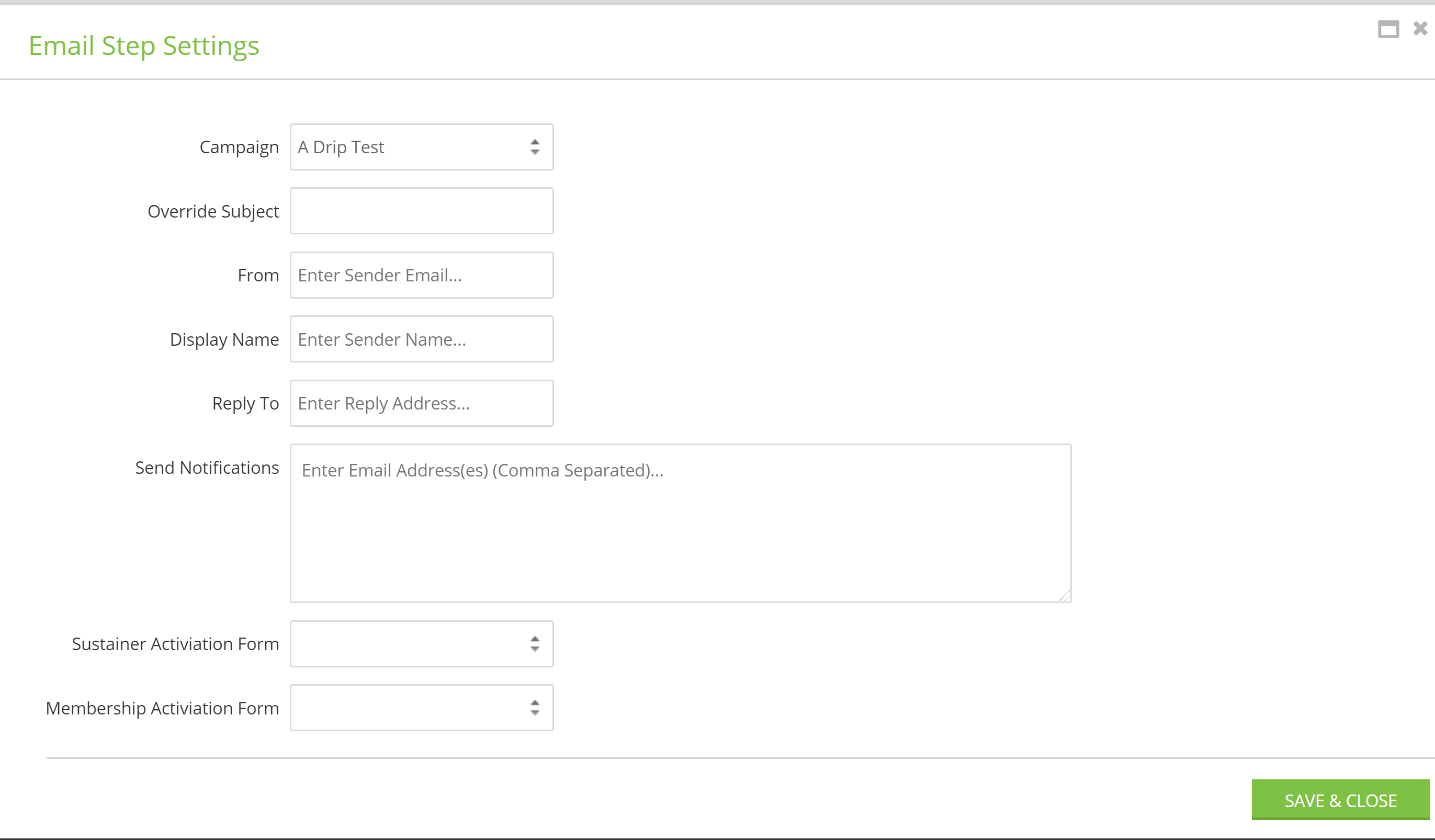 Mail Step
Configure the email step with your email message and settings.



Set your mail defaults, like Campaign, in the Mail Step Settings.



Select your message with Select Message.



SMS Step
Configure your SMS step with your message and settings.





Configure your From phone number and campaign in the Settings.



Select your message with Select Message.



Adding Condition
In the Add Condition, users can choose to reroute or remove from a series, audience members who meet certain criteria. Set the criteria in the settings.




Trigger
A trigger step will allow audience members who meet the criteria to have an opportunity added to their record.



By clicking on settings, you can choose the Opportunity Pipeline and Status.



Transfer
By adding a transfer step, all audience members can be added to a different series at a specific step.



After configuring your series, click Save.



After saving, you can Launch your series on the Communication Series listing screen.