This article will describe how to install an embedded donation form on your website or within a CharityEngine App. The embeddable quick action form will create a seamless user experience while keeping donors on your website, while still leveraging CharityEngine's best-in-class user experience, security, and AI to maximize conversions and revenue. An example of the form is show below: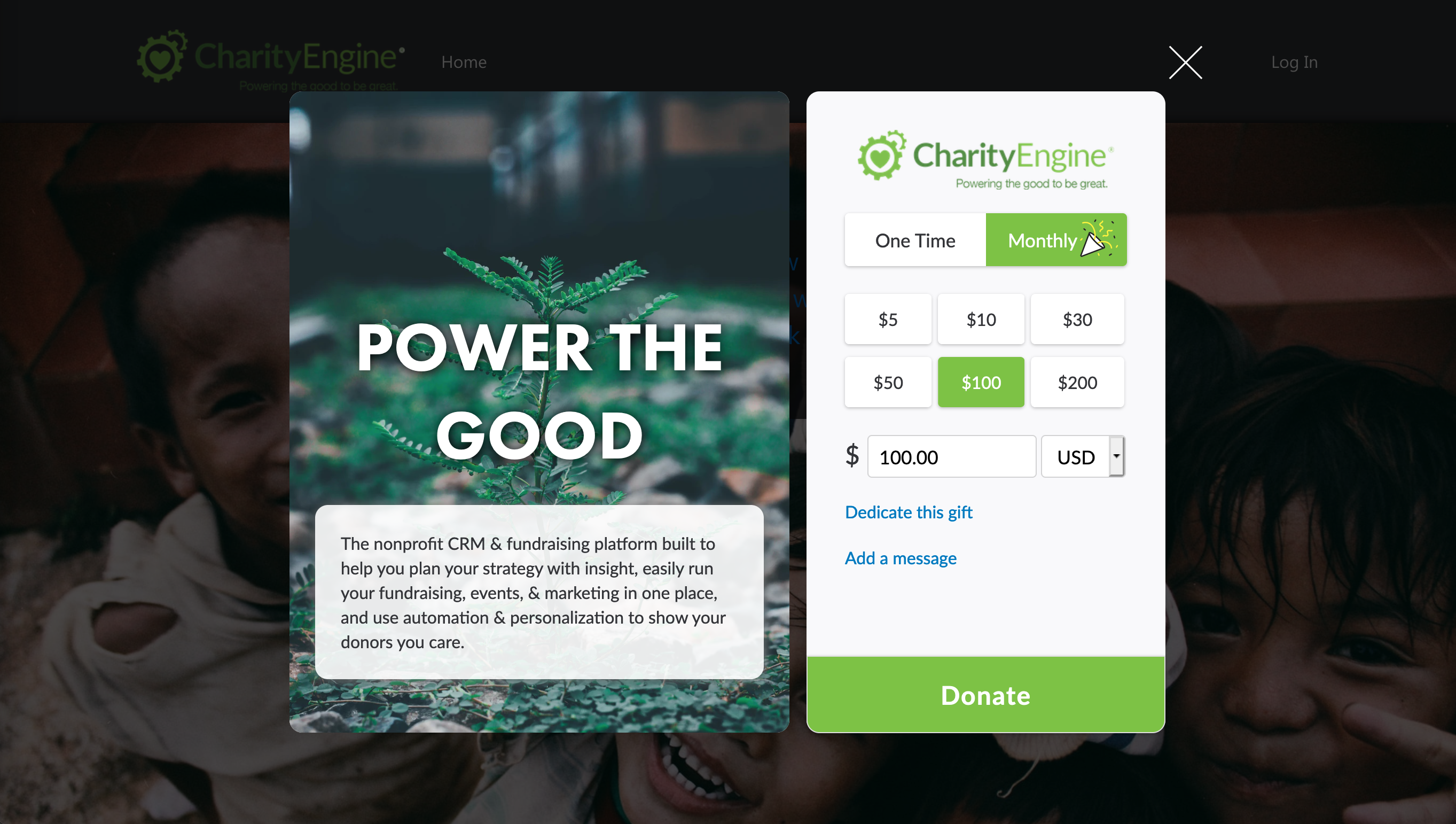 Prerequisite: Installing the CharityEngine Public API
In order to start using the CharityEngine Quick Action forms on your website, you must install the CharityEnigne Public API by including the following code on your website:
<script src="https://webapi.charityengine.net/api.js" async="" defer="defer"></script>

For more details please review installing the CharityEngine Public Api on your website.
NOTE: You do not need to include the web API if you are using CharityEngine apps like our CMS, Peer-to-Peer fundraising, Advocacy Action pages or other fundraising and engagement apps.


Once you have the Public API installed on your site, you are ready to start using the embedded donation form. There are two ways to embed the form: use HTML or Javascript.
Embedding Quick Action Donation Forms with HTML
Installing quick action forms with HTML is easy. All you need to do is add a few attributes to your web page HTML and CharityEngine's API will automatically load forms into your website for you. Click here to read more about HTML configuration
Embedding Quick Action Donation Forms with Javascript
Installing quick action forms with Javascript is also easy. Unlike the HTML method, using the CharityEngine JavaScript API only requires a few lines of JavaScript to load your Quick Action Form. Then you can control the display and other configurations of the forms using our API. Click here to read more about JavaScript configuration



Troubleshooting

If you are experiencing any unexpected behavior after following the directions above, visit our troubleshooting guide.