Best Practices for Cultivating and Stewarding

Table of Contents

Cultivating and Stewarding contacts is very important and will turn one-time givers into monthly givers such as sustainers. Turning one-time givers into continuous givers that your organization can count on will take major gift officers finding and reaching out to these contacts to remind them the purpose of your organization and encourage them to continue giving.
Finding Contacts
The first step in cultivating and stewarding is finding the right contacts, for example contacts who have given in previous years, but not this year. These contacts either have a history of giving or have given once in the past and could potentially become sustainers and continuous major gift donors.
To find these contacts, navigate to Contacts > Organization & People > Search & Manage and use the filters to find your contacts.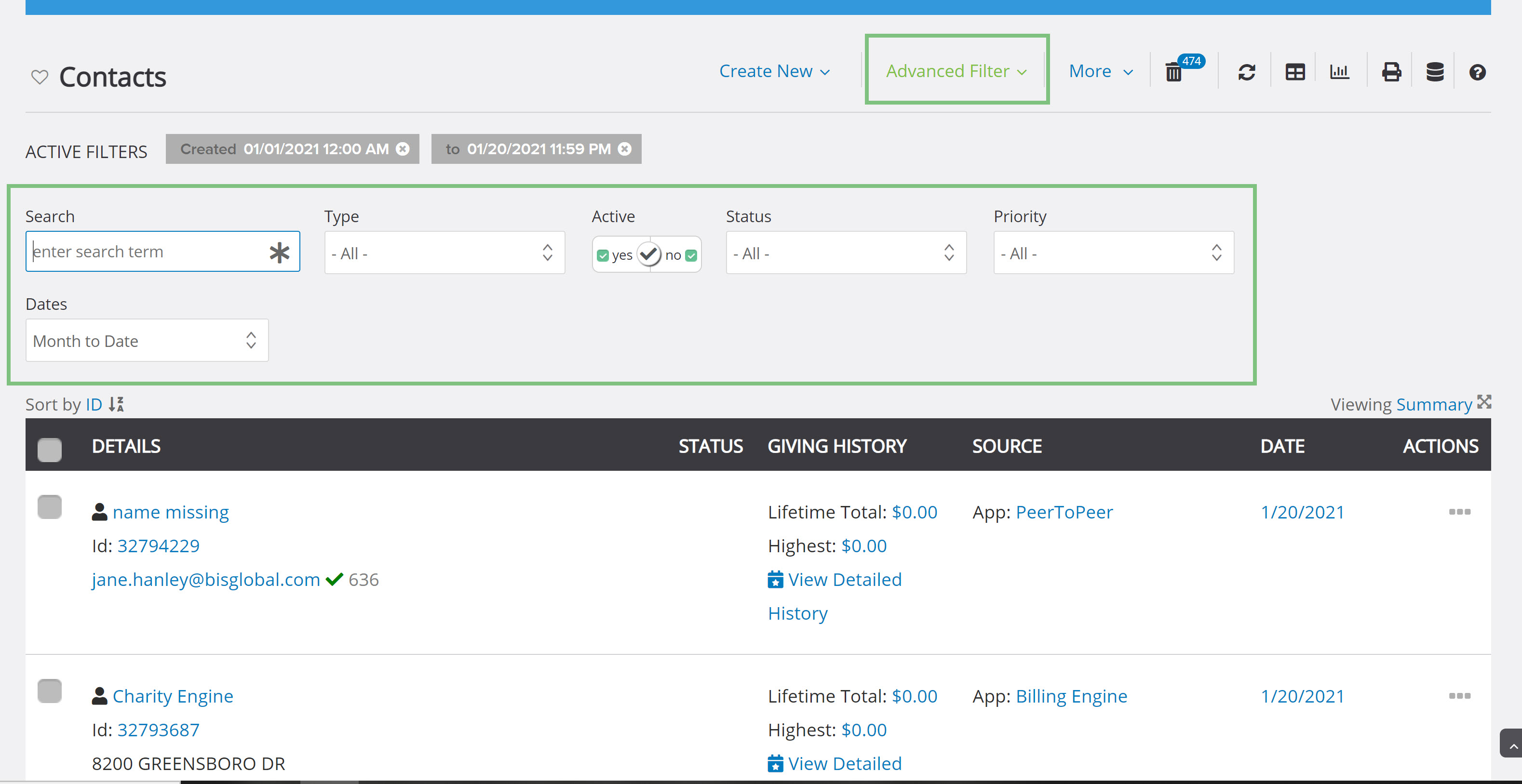 If you want to find contacts who have given in the past but not this year, click on Advanced Filters and then navigate to the Giving History and More Tab.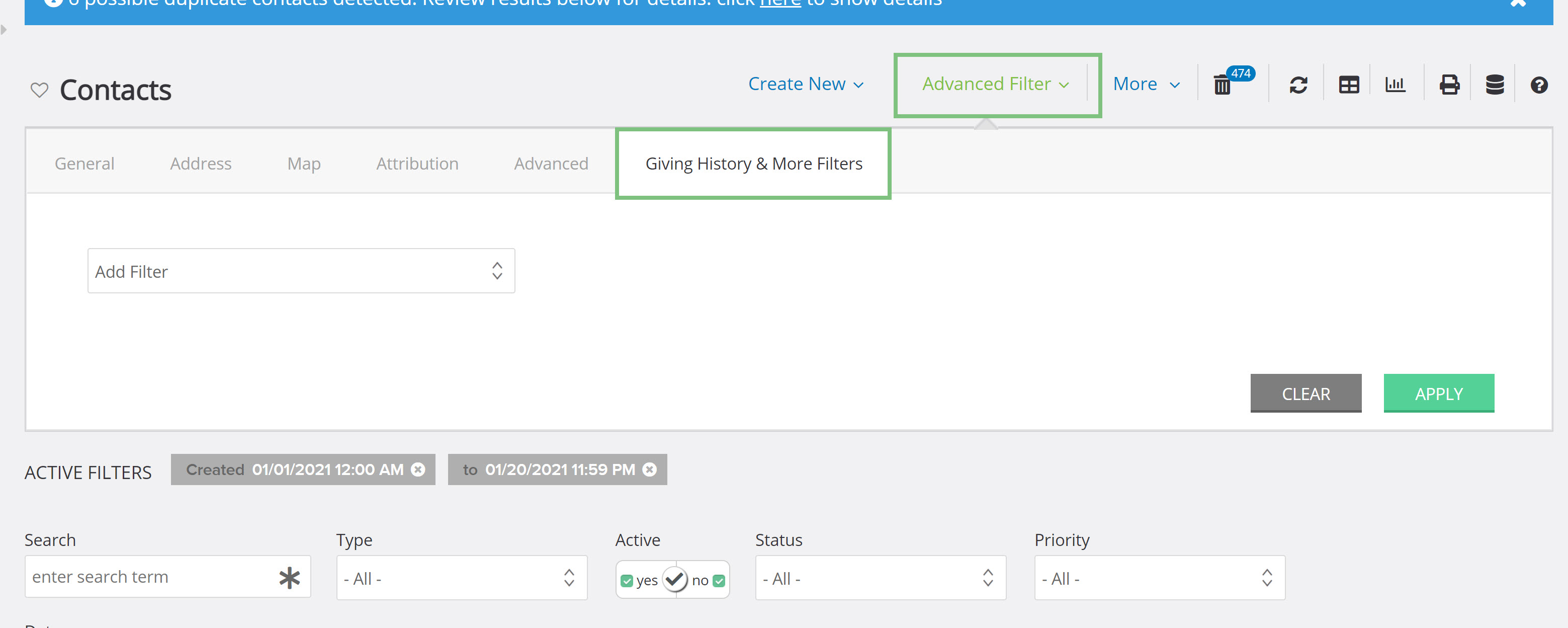 Use the drop-down to select Giving and use the dropdowns and text to configure your filters. The example below will find all contacts who have not given in 2020 but gave more than $1 in 2019. This will provide you a list of contacts who could potentially become continuous givers.



Click Apply and you will have your list of contacts. As you can see, the most recent donations were made in 2019 and were more than $1.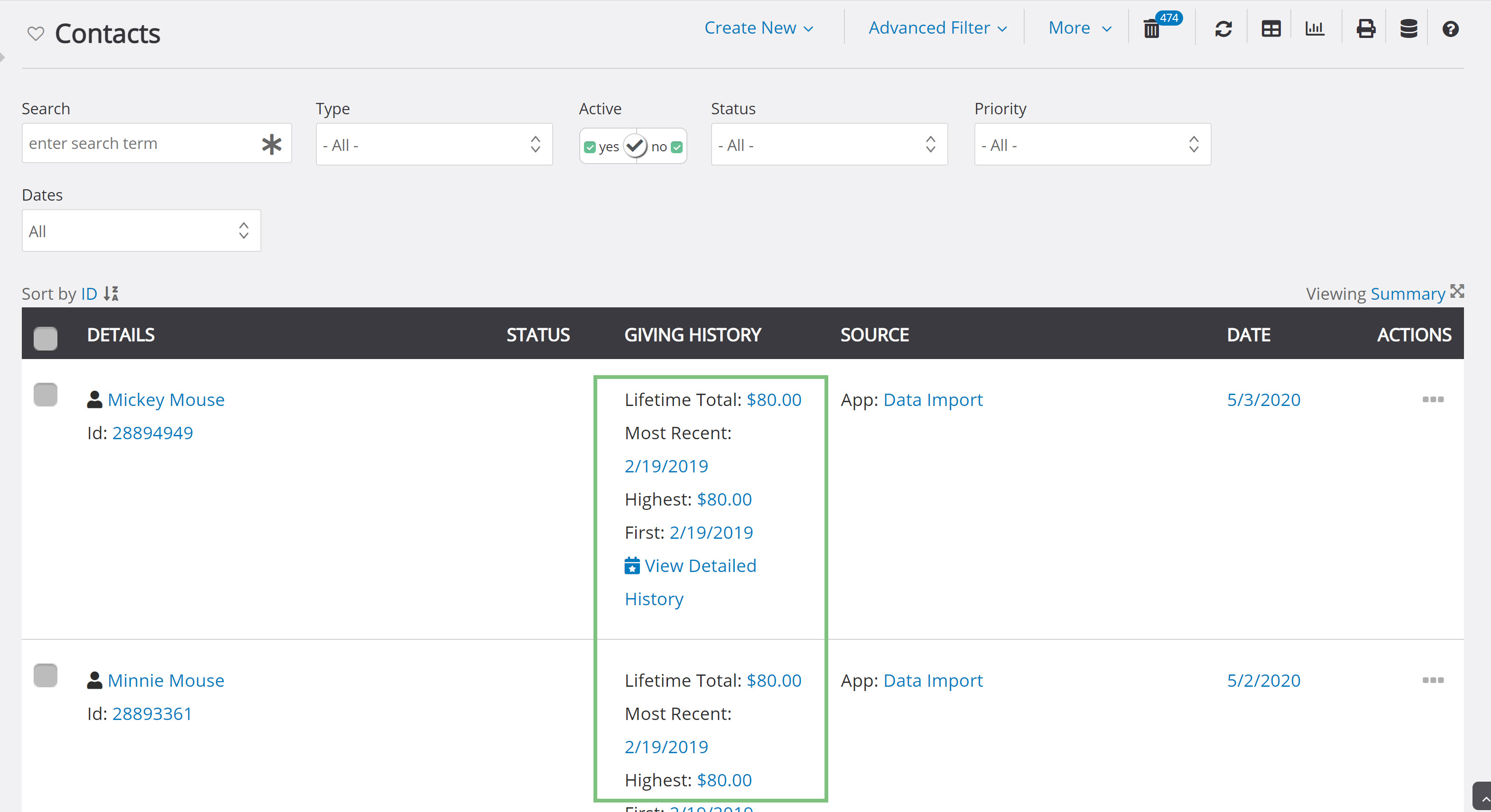 Assigning Solicitors
Once you have found a list of contacts, further filters can be used to see if a solicitor has been assigned, if an activity has been created, or if the contacts are already in a group.
To find contacts without a solicitor assigned, navigate to the Advanced tab and uncheck yes for Has Solicitor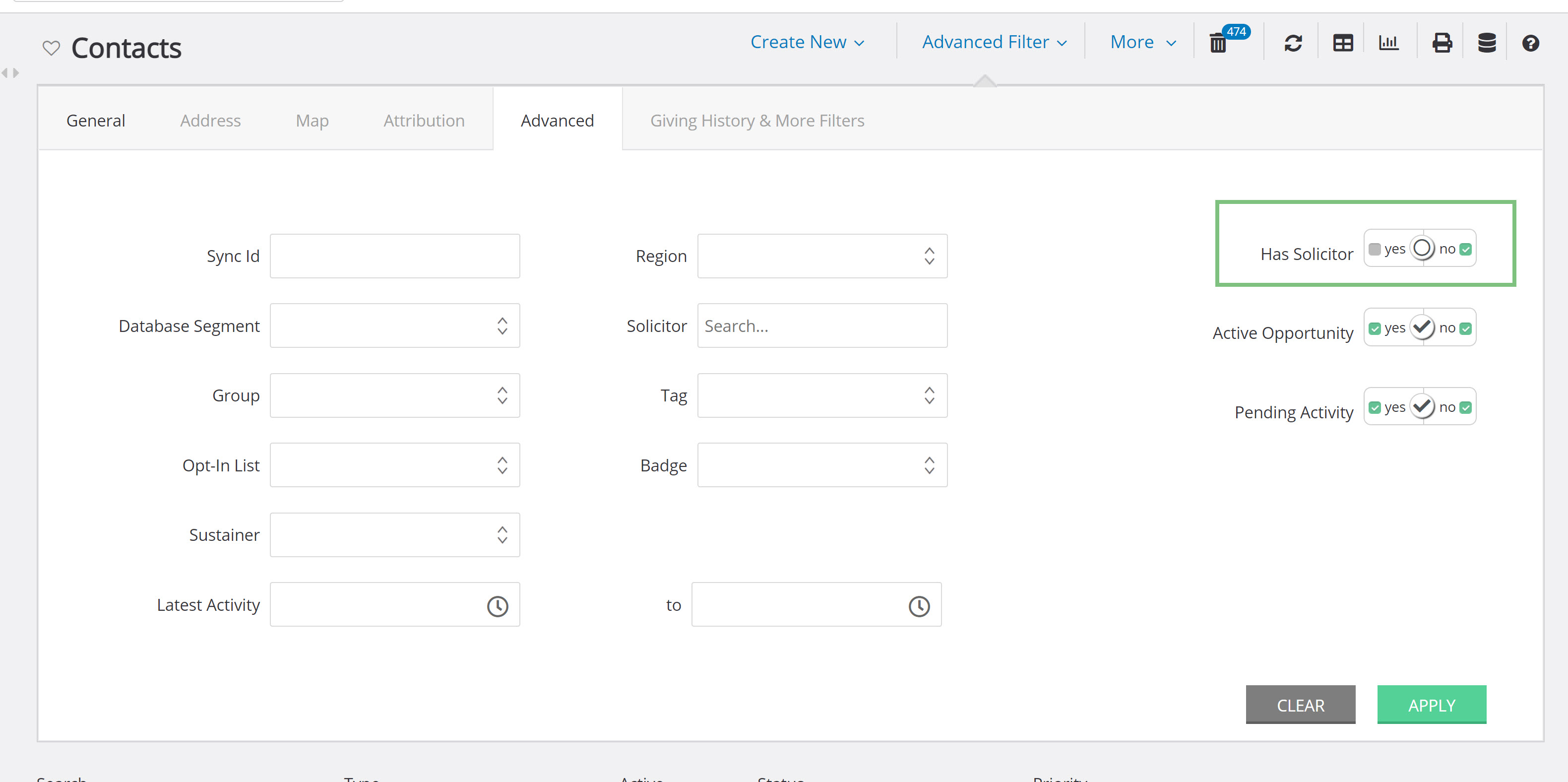 Your new list of contacts will appear that do not have a solicitor. By assigning a solicitor to these contacts, you are giving ownership of the contacts to a solicitor who now has the responsibility to convert these one time givers into sustainers and continuous givers.
Click on the contacts you wish to assign solicitors to, click on the dropdown, and then select assign solicitor.




A pop-up will appear where you can search for the solicitor. Click Process and the contacts will be assigned a solicitor who now has ownership of those relationships.


The solicitor can then search for contacts that they have been assigned by filtering for 'My Contacts' under the General tab. All contacts that they have been assigned will be displayed for them to view.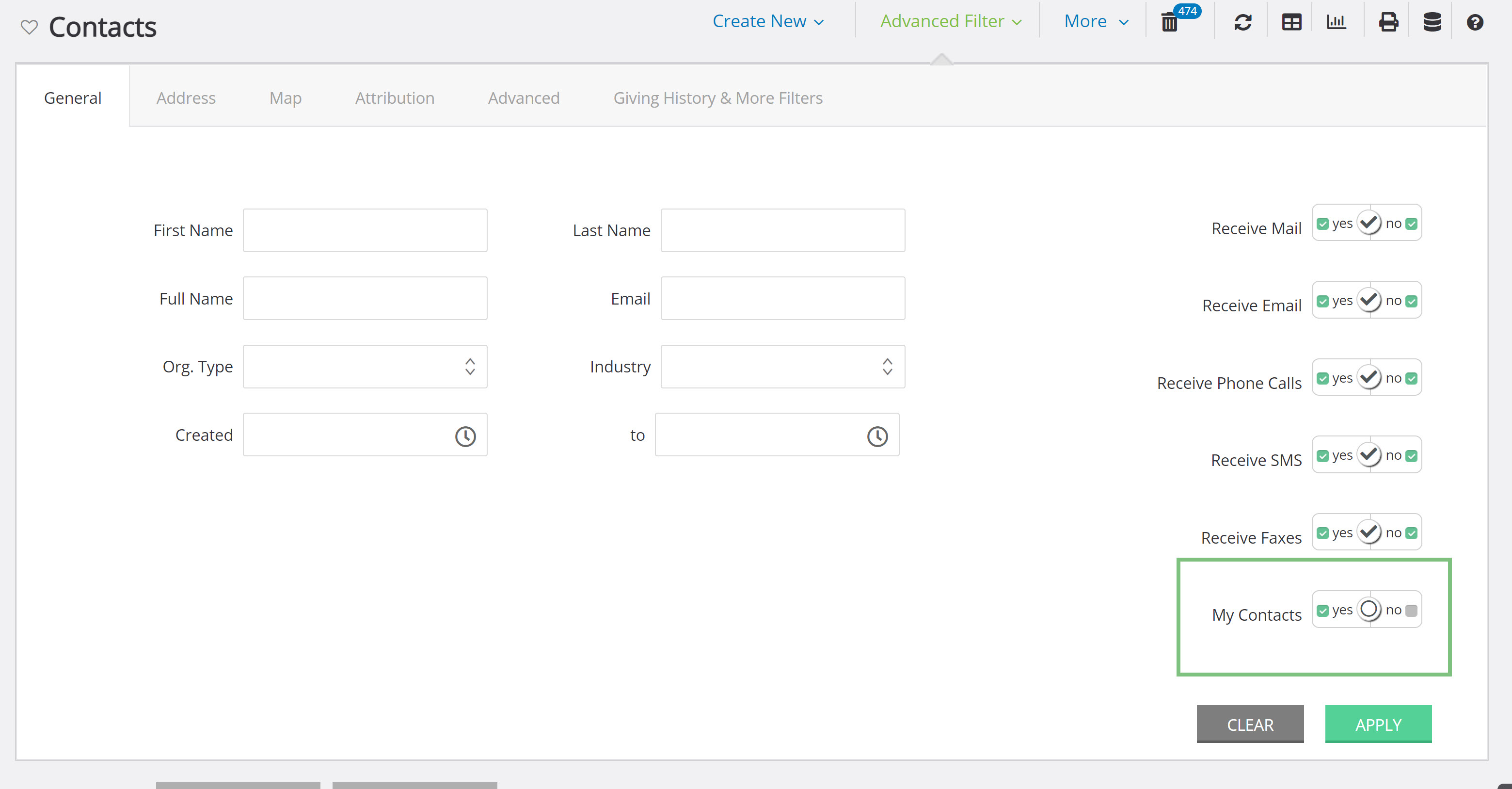 Creating and Assigning Activities
Assigning a solicitor to a contact is not the only step that needs to be taken when trying to cultivate and steward your contacts. Creating and assigning activities is another important step. By creating an activity and assigning it to a contact, a reminder is created to reach out to that contact. This activity can be a phone call, an email, a meeting, etc. that will encourage the contact to continue giving to your organization.
To create and assign an activity, click on the contact, just as you did to assign the solicitor, and click on the dropdown to select Create Activity.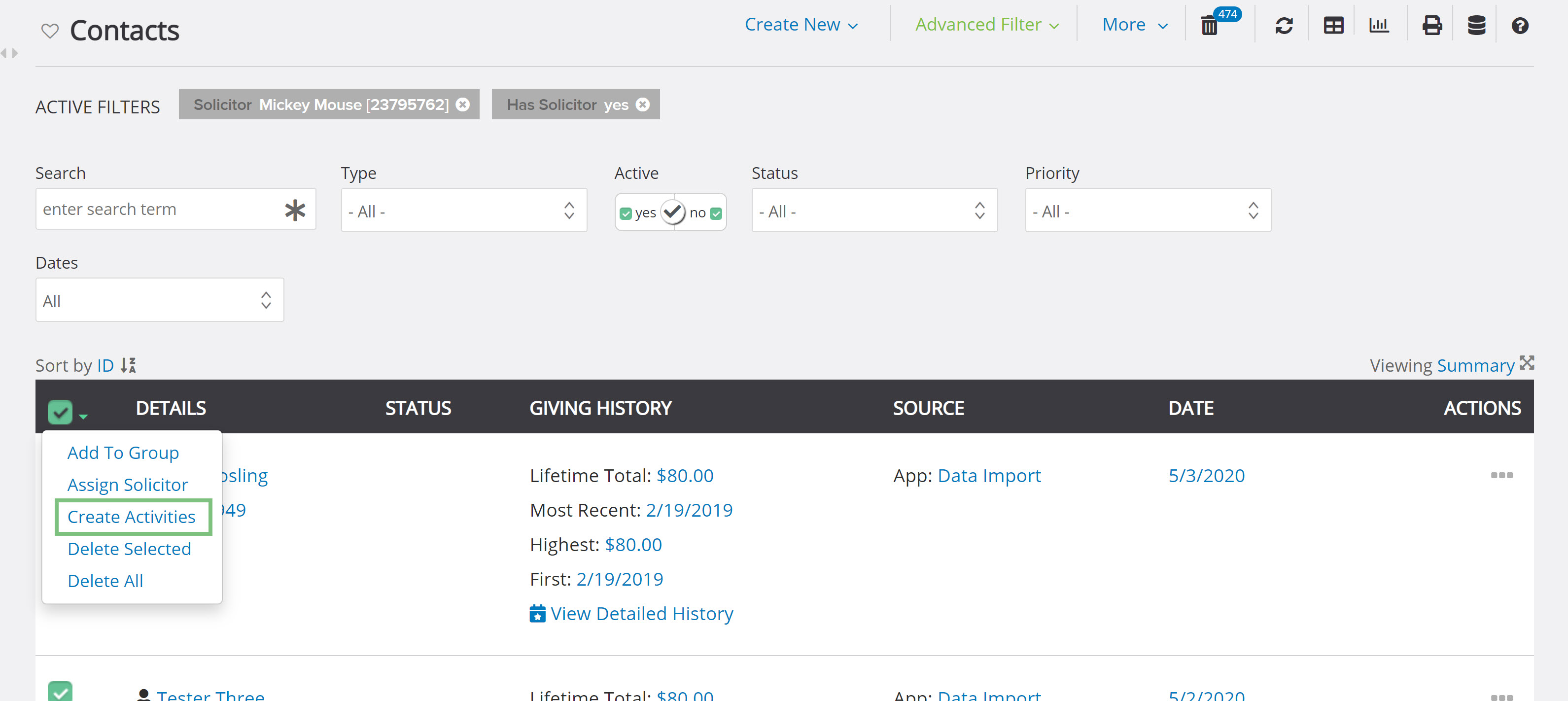 A pop-up will appear for you to configure the type of activity, the name, location if there is one, time, who it is assigned to, and a short note.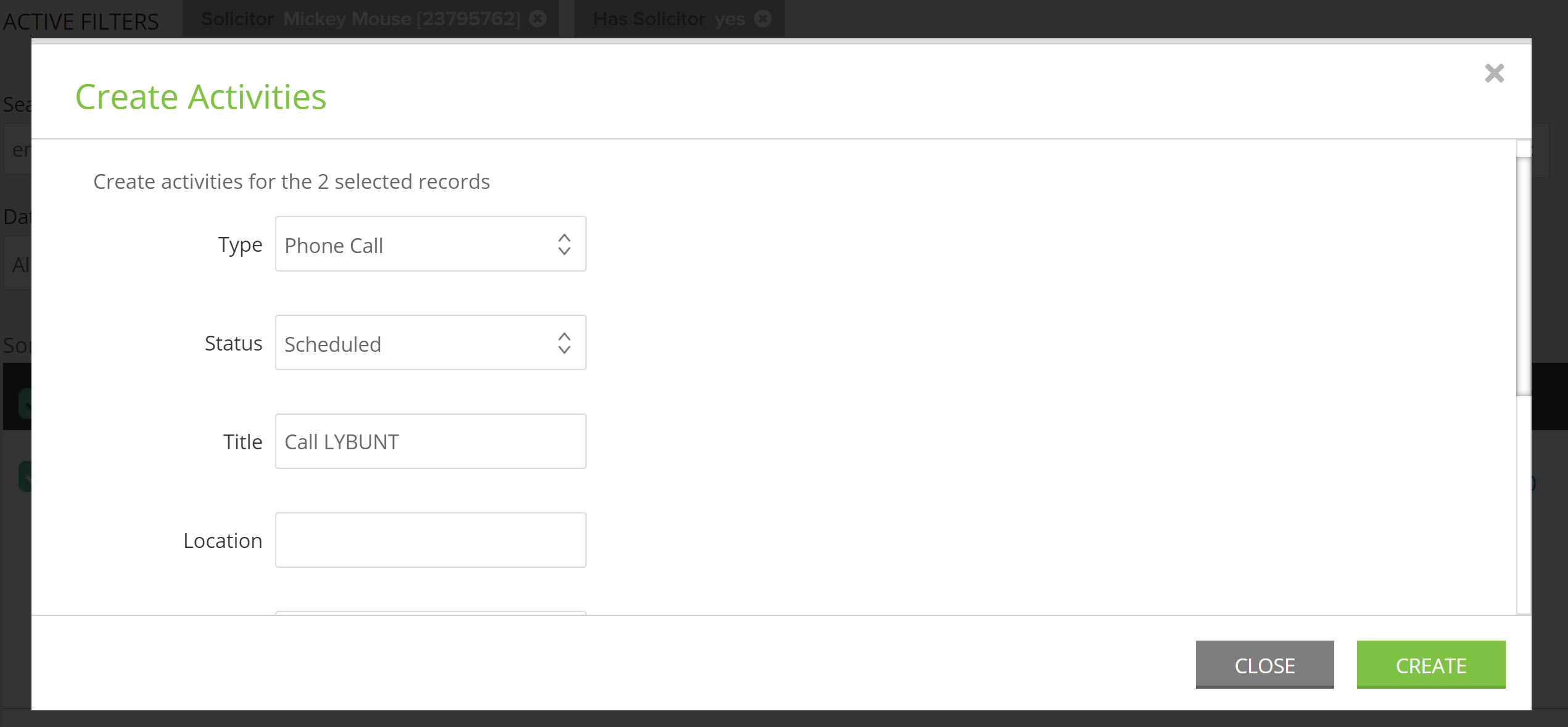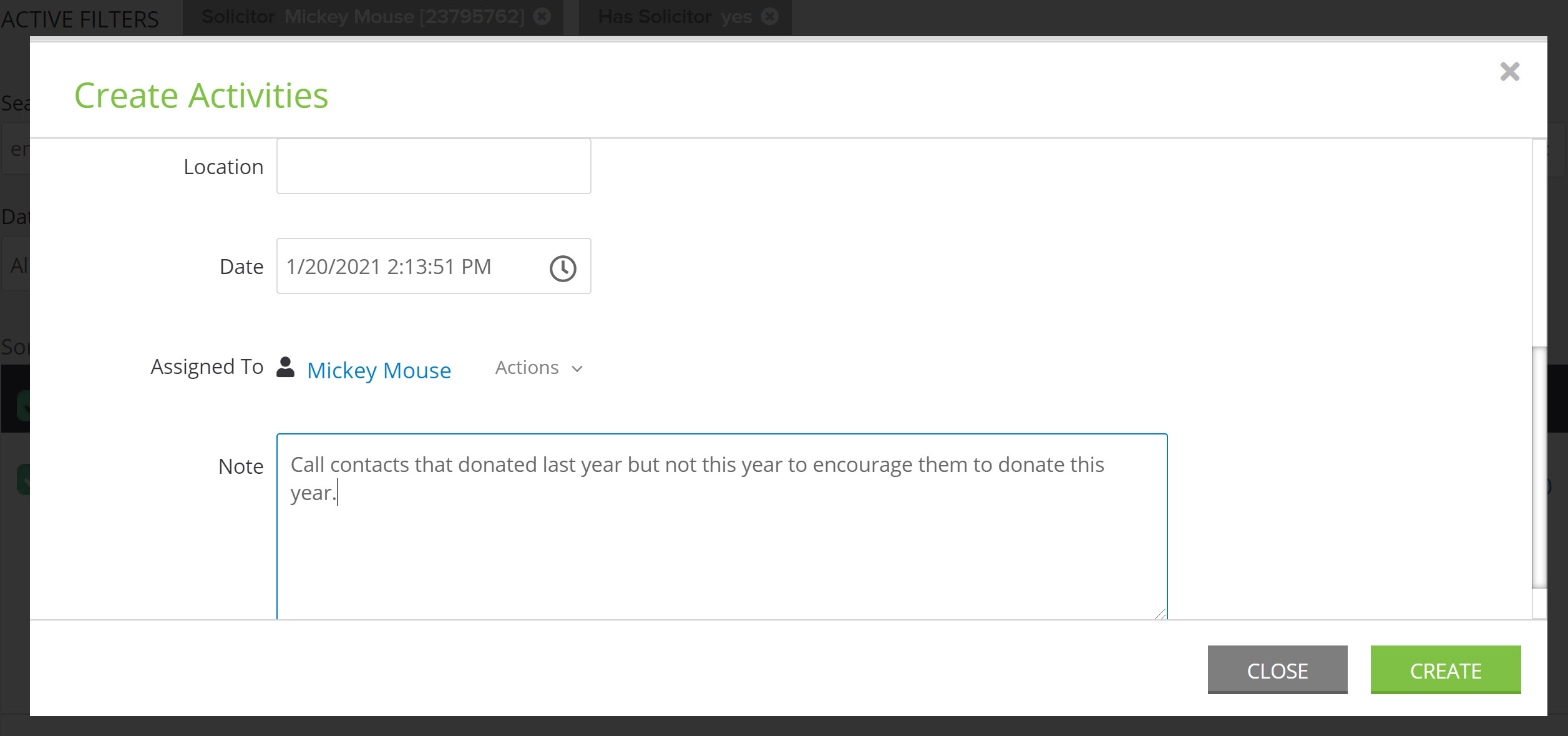 Note: it is important to note that the activity will automatically be assigned to the user creating it, even if they are not the assigned solicitor of the contact. To change the assigned to contact, click on Actions and select change. You will then be able to search for the contact you want the activity to be assigned to.



These activities will now be displayed on the Home Dashboard for the solicitor to view. The solicitor now has a reminder to call the contacts and cultivate a relationship with them.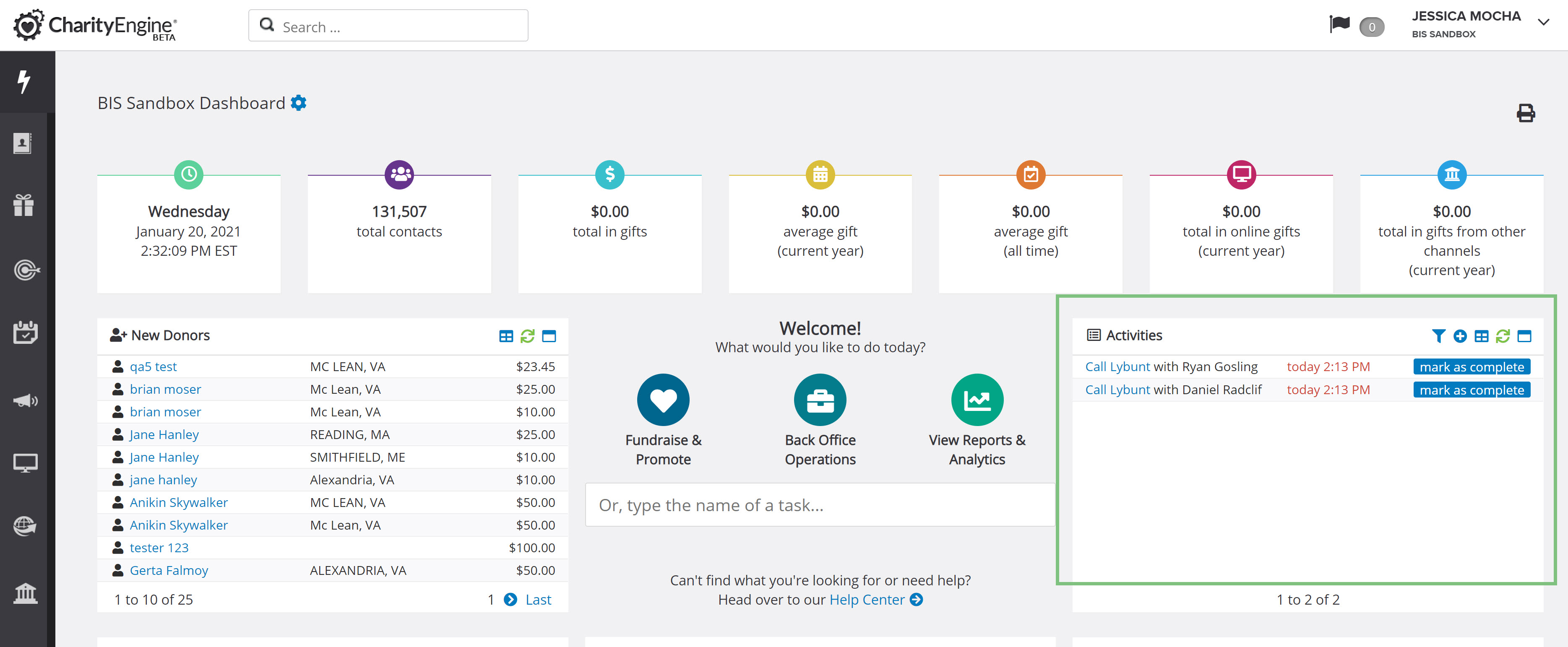 The solicitor will also be able to view the activities by navigating to the Activities page and searching for activities assigned to them.




Additional related links can be found below.
CharityEngine Help Center
: How to Create a Solicitor
CharityEngine Help Center
: Assigning Groups, Solicitors, and Activities to Contacts
CharityEngine Help Center
: Creating a Simple Track for Opportunities
CharityEngine Help Center
: Opportunities
CharityEngine Help Center
: Managing Existing Opportunities