Web Forms: How to Manage Out of the Box Payment Block

Introduction

When using CharityEngine out of the box forms through the Form Wizard, you will notice that there are sections that are already created upon creation of the form. CharityEngine has made it easy to create forms with little to no technical experience needed with our out of the box form sections. Right away you will see 4 sections on your form, Gift, Tribute Info, Contact Info, and Payment. These sections also already contain fields that are ready to be used as soon as you create the form. You can manage each of these sections to change or add any fields to the form as well as modify the section settings. When you click to manage the Payment Section, you will be able to enable certain payment methods, include CVV (Card Verification Value), and even allow your donors to cover the processing fees.

Prerequisites

There are no prerequisites for this article.


Instructions
When you navigate to the Layout tab on a web form, you will see there are form sections and fields already created for you to make creating forms easier. To make modifications of any of the sections click on the Pencil Icon to edit the section.







A pop up will appear with the configuration settings. You will be able to name the section and toggle the form fields that will appear on your form. If the field is toggled yes, it will appear on the form, if it is toggled no, it will not appear.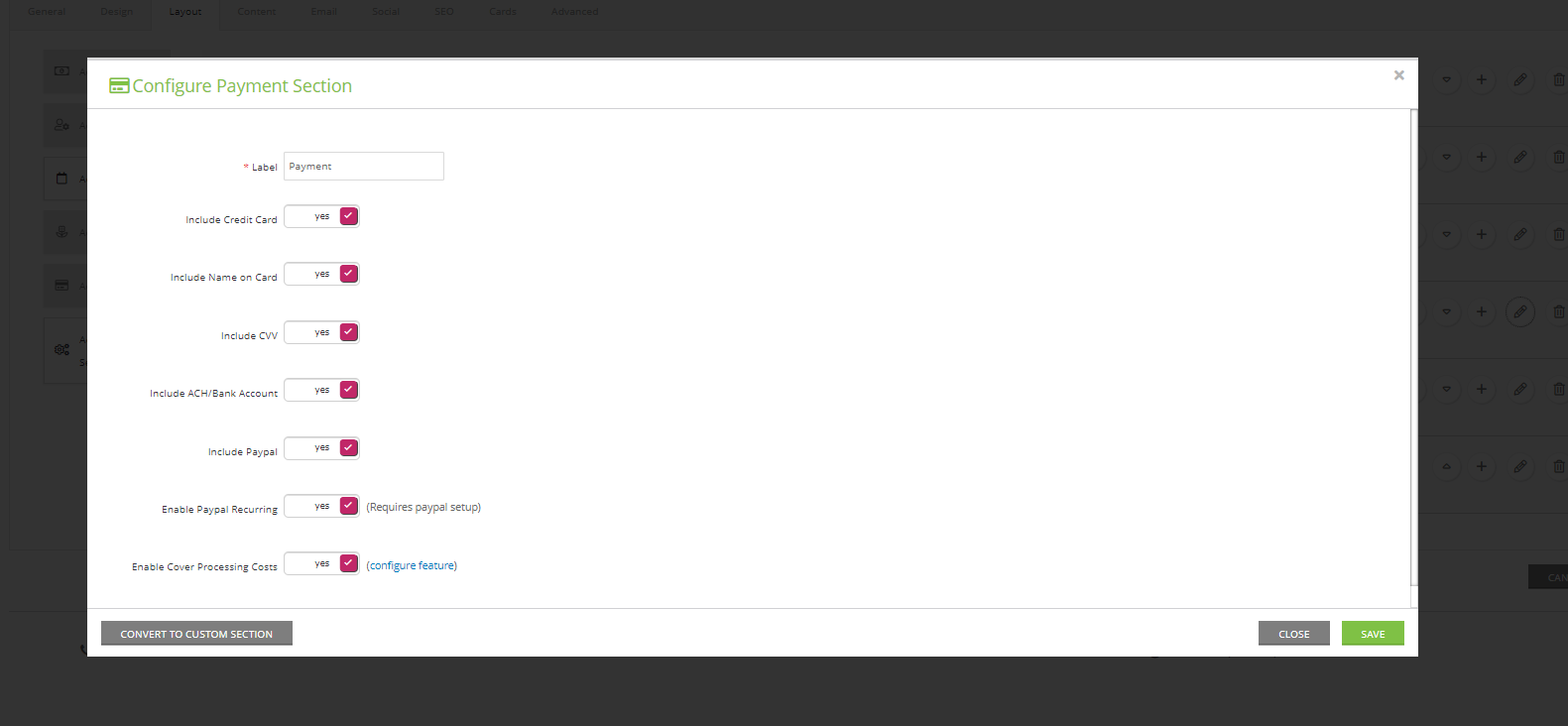 Note: For best practice and for prevention of fraudulent activities, CharityEngine strongly encourages the user to toggle the Include Name on Card and Include CVV to Yes. Once activated, set the field as a requirement for entry. Navigate to the Payments section, click on Show # fields, locate the CVV Code field and click on the Pencil icon to edit.

Next, from the Basic tab > Validation tab > Click Required and add a validation message if a donor does not complete.
Click SAVE to secure your changes.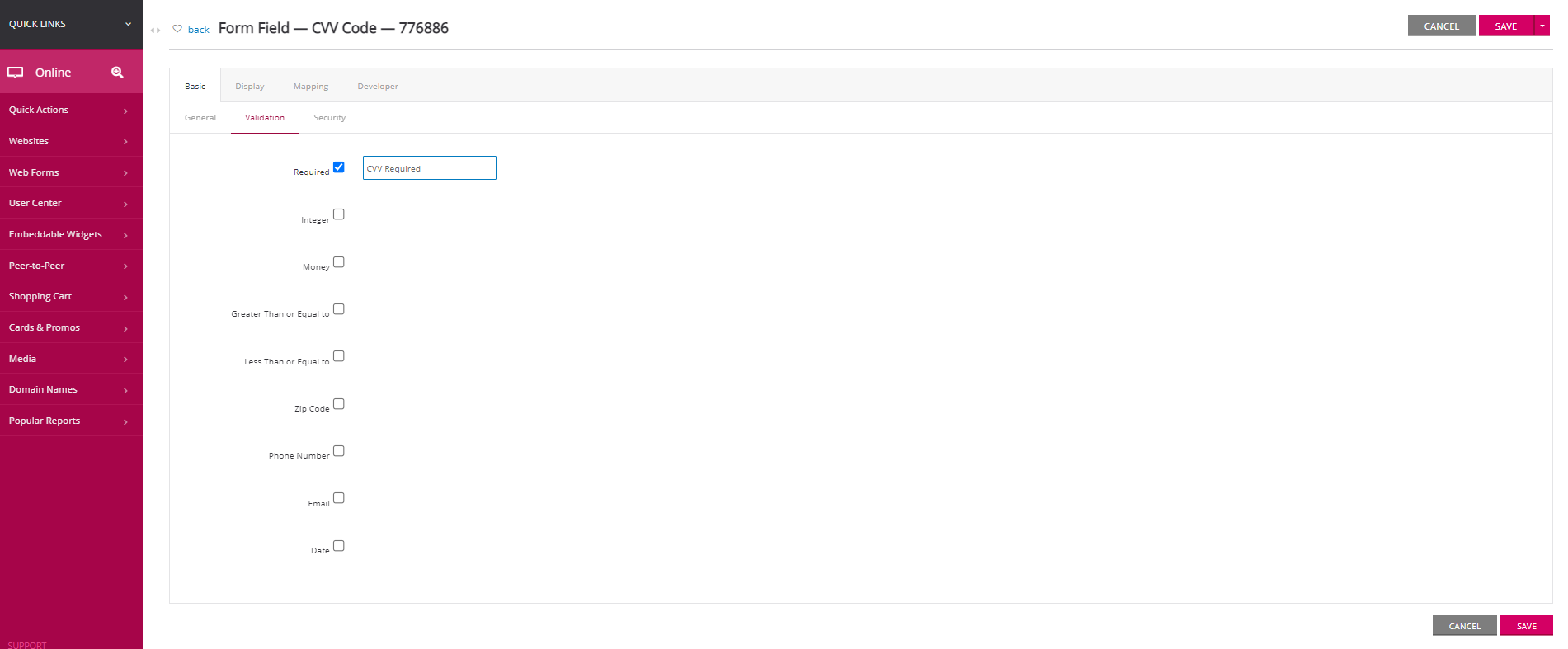 One field to note is the Include Options for Donor to Cover Fee field. You will need to decide if the donor will be covering the processing fee with their donation. If you toggle to yes, the donation will include the amount the donor has chosen, plus the processing fees. For more information on how and when to toggle the enable processing fees, read this article.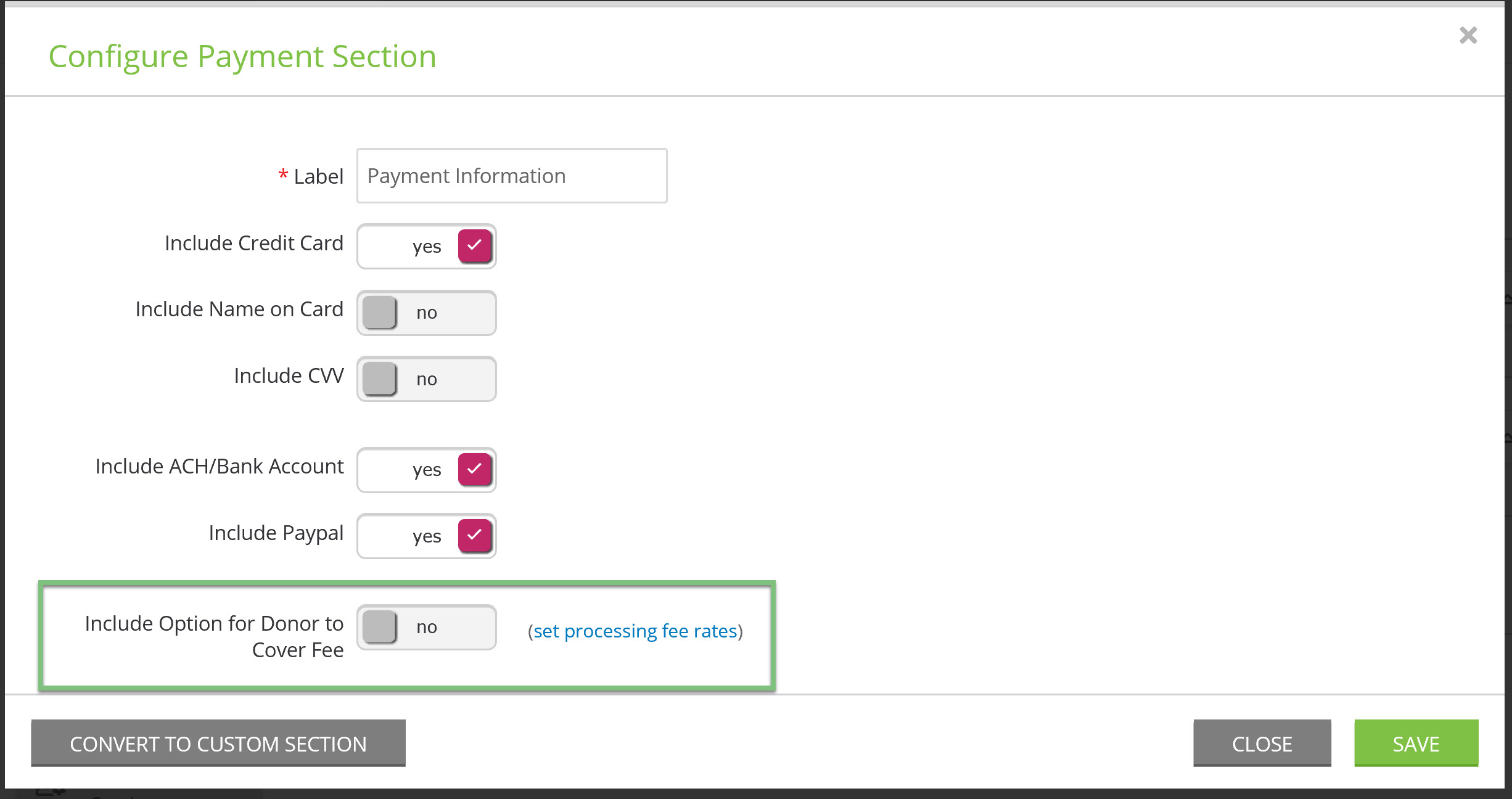 If you have development knowledge and do not want to use our out of the box payment section, you can convert the section to a custom section by clicking Convert to Custom Section at the bottom of the configuration box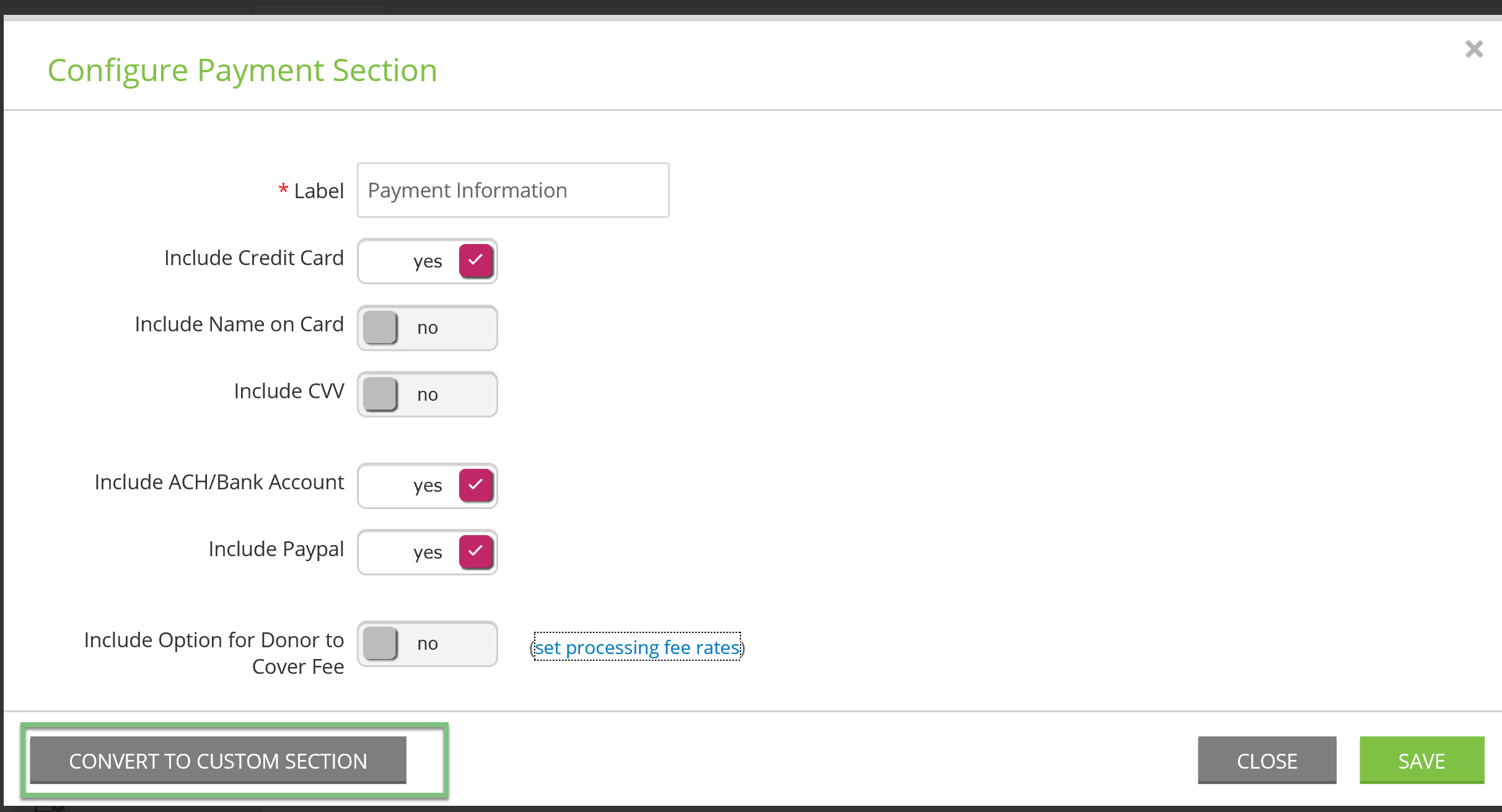 Note: Unless you have a developer who is knowledgeable on how to configure advanced settings, CharityEngine does not suggest converting the out of the box sections to custom sections. The action is irreversible and requires advanced knowledge.
Once you have configured your settings for the payment block, you will be able to see what the block will look like on your form by saving your setting and clicking view online under the Save button drop-down.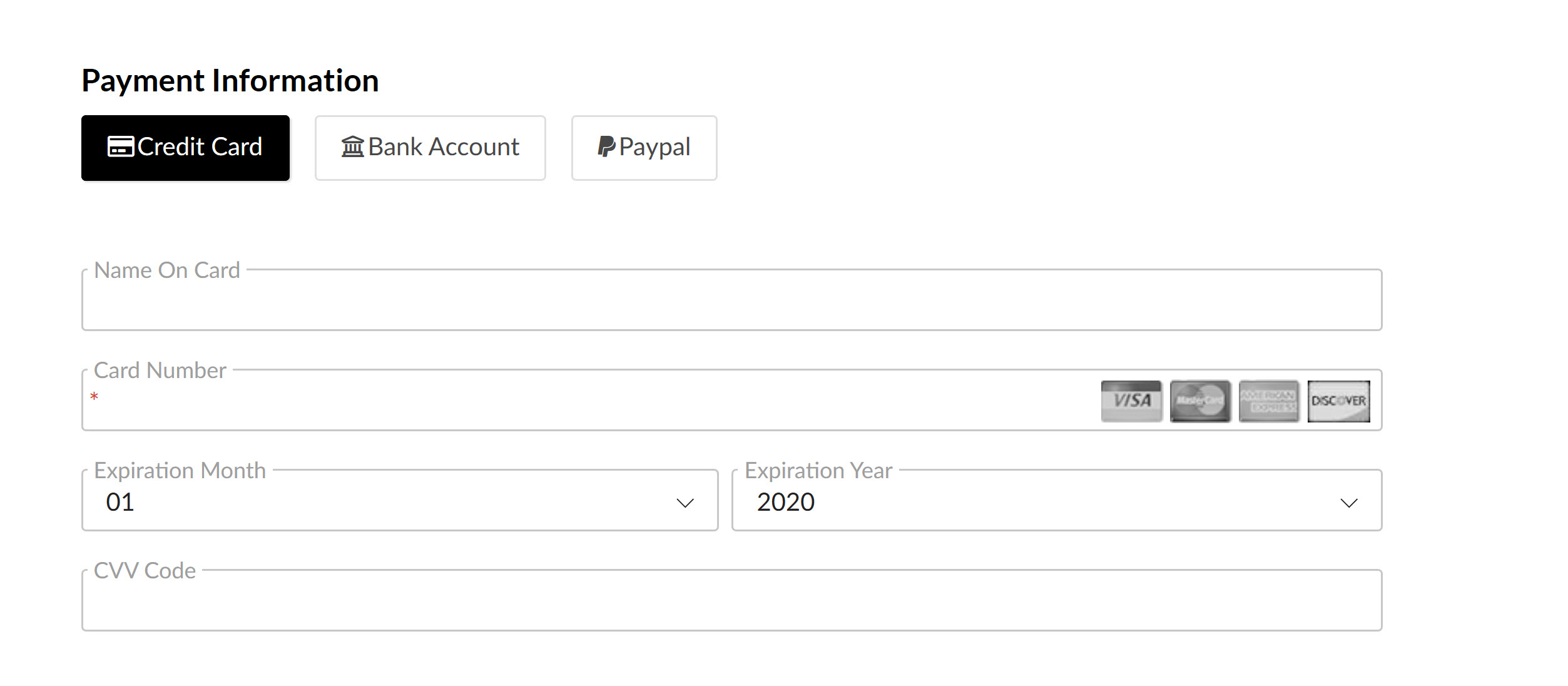 Once you have viewed the form, if you decide you want to change something, you can click on the pencil icon to the right of the payment block and change your configurations. These updates will show automatically on your form.

For example, if you toggle the Name on Card and CVV Code to No, once the changes are saved, you will automatically see this on your form





Changes can be made at any time, even after you have donors use the form. For example, at one moment in time you want to obtain specific information, then at a later date, you no longer need that information. By simply changing the configuration, you will be able to update your forms in a matter of seconds.