How to Delete Contacts with Dependencies

In order to maintain good data hygiene, users should review contacts who have not donated or completed any actions within a specified period of time. Some of these contacts may have data records or dependencies associated with their contact record, such as relationships, transactions, activities, or campaigns.
When contacts have dependencies, CharityEngine allows for bulk deletion of contacts and dependent records such as transactions and activities though a bulk deletion data transformation. Deleting transactions can be done easily when deleting contacts, however the decision to delete transactions should be review internally before doing so.
Deleting Contacts with Dependencies from the Contact Listing Screen
To delete contacts with dependencies, navigate to contact listing screen and search for the contact you want to delete. If the contact has any dependencies, a pop-up will appear informing you of the dependency. As you can see below, Mickey Mouse has several transactions linked to their contact record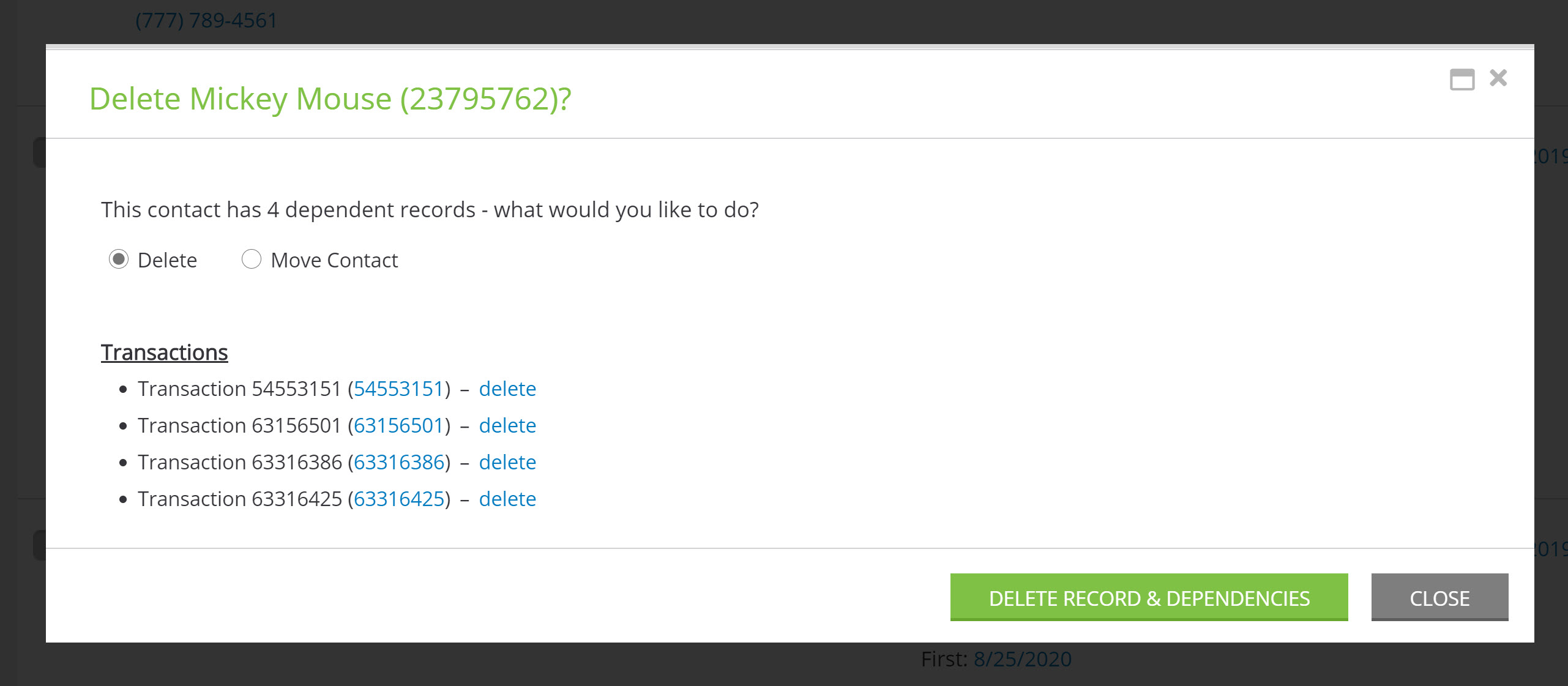 You will need to decide if you want to delete the entire contact record including the dependency or move the dependent record to a new contact.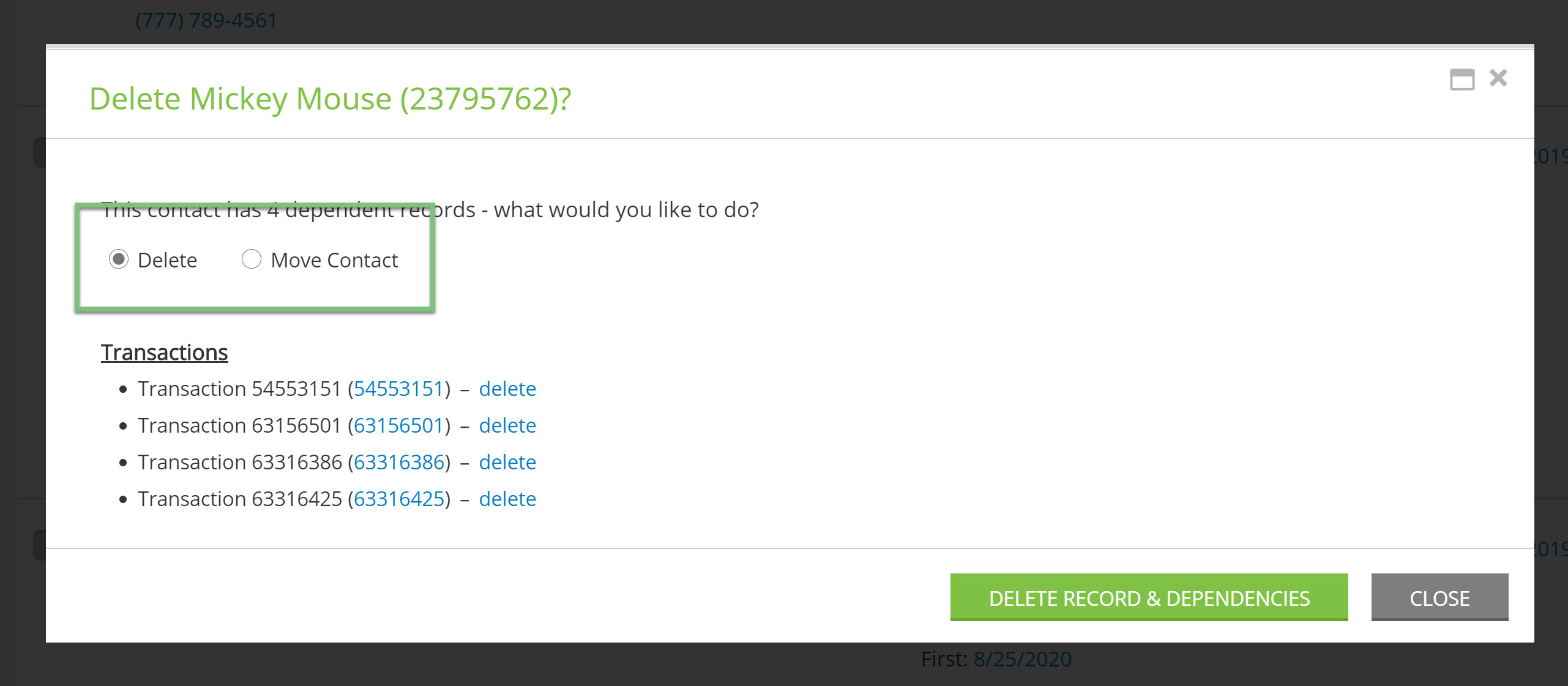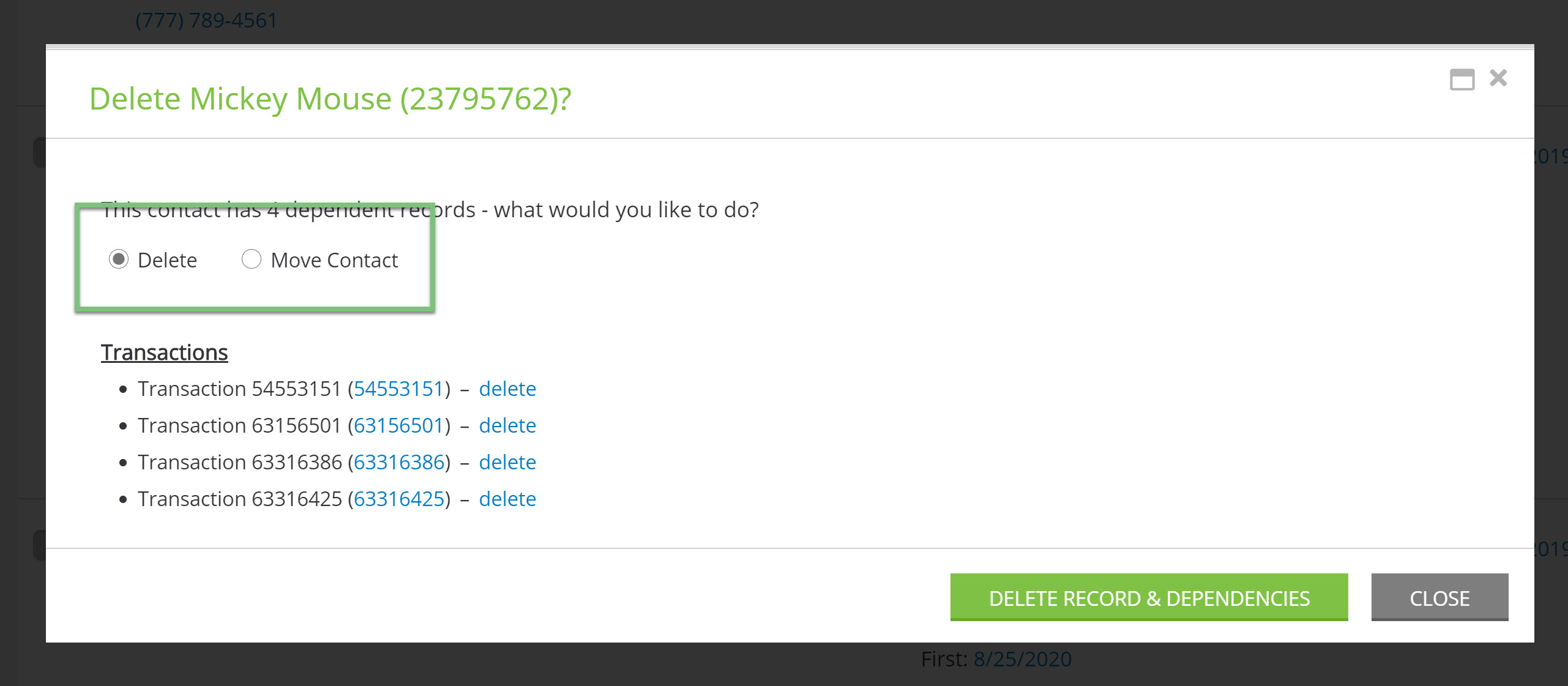 If you want to move the dependent record to a new contact, click on the Move Contact radio button and a search box will appear where you can search for a contact record to move the dependent record to. Now instead of the transaction being deleted with the contact, they will be moved to Princess Peach's contact record.



Deleting Contacts in Bulk Using a Query
To delete contacts in bulk that may have dependencies, such as an employer relationship, , you will need to create a query or provide an upload file containing Contact ID and create a data job to delete the contacts.
To bulk delete via query navigate to Workflow & Automation > General > Queries and create a new query.



Select contacts from the drop-down and click on the contacts radio button.



Add the Contact ID into the selections.



In this example, we are deleting all contacts who have not donated in more than 5 years. To find all contacts who have not donated within the last 5 years, add the most recent transaction date to the filters, select older than x days from the dropdown, and enter 1825 days into the text box for 5 years.



Click run, and all contacts who have not donated in 5 years will appear.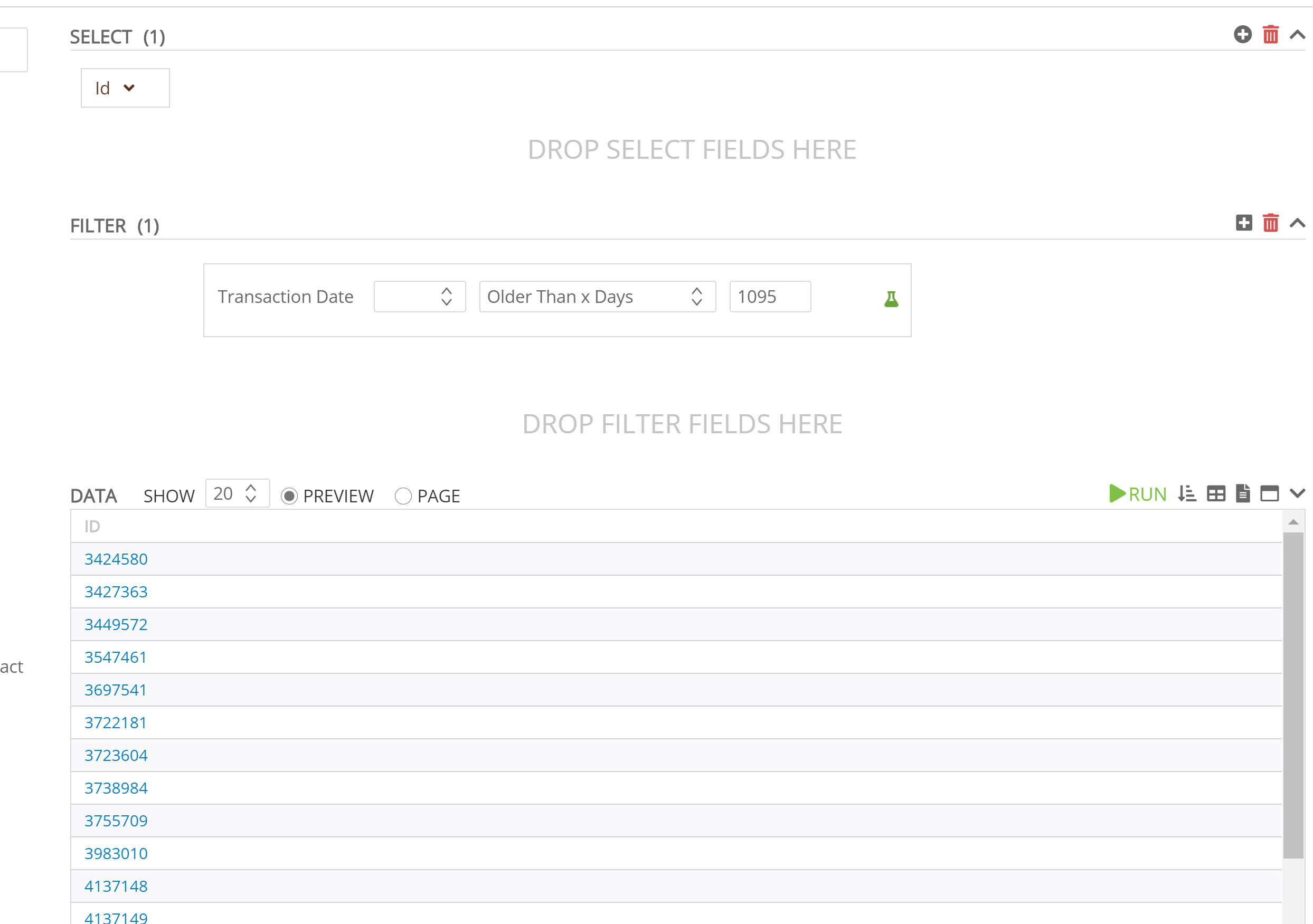 Click save and name your query.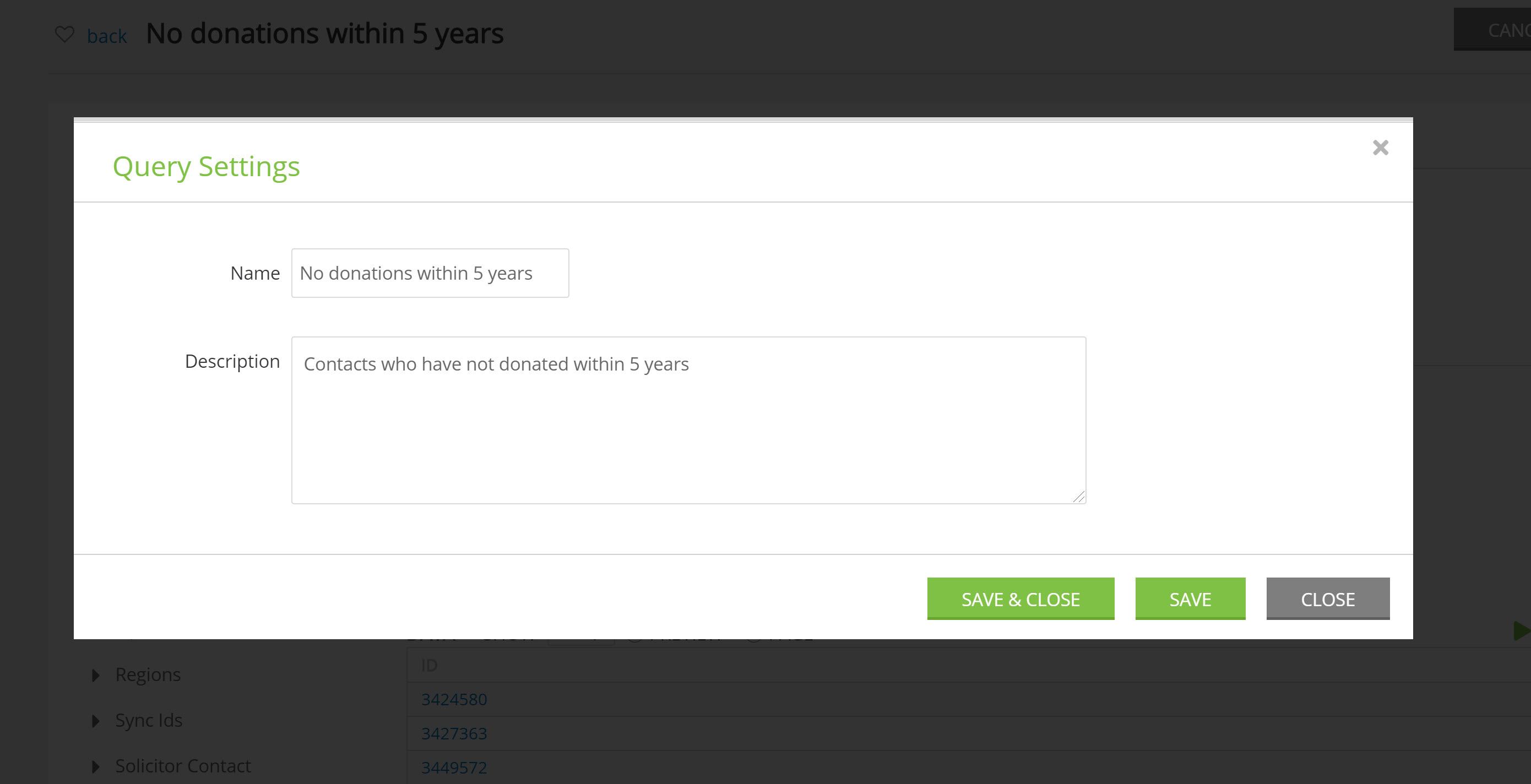 To schedule a bulk delete of these contacts, navigate back to the query screen, and under the Actions column, click Bulk Delete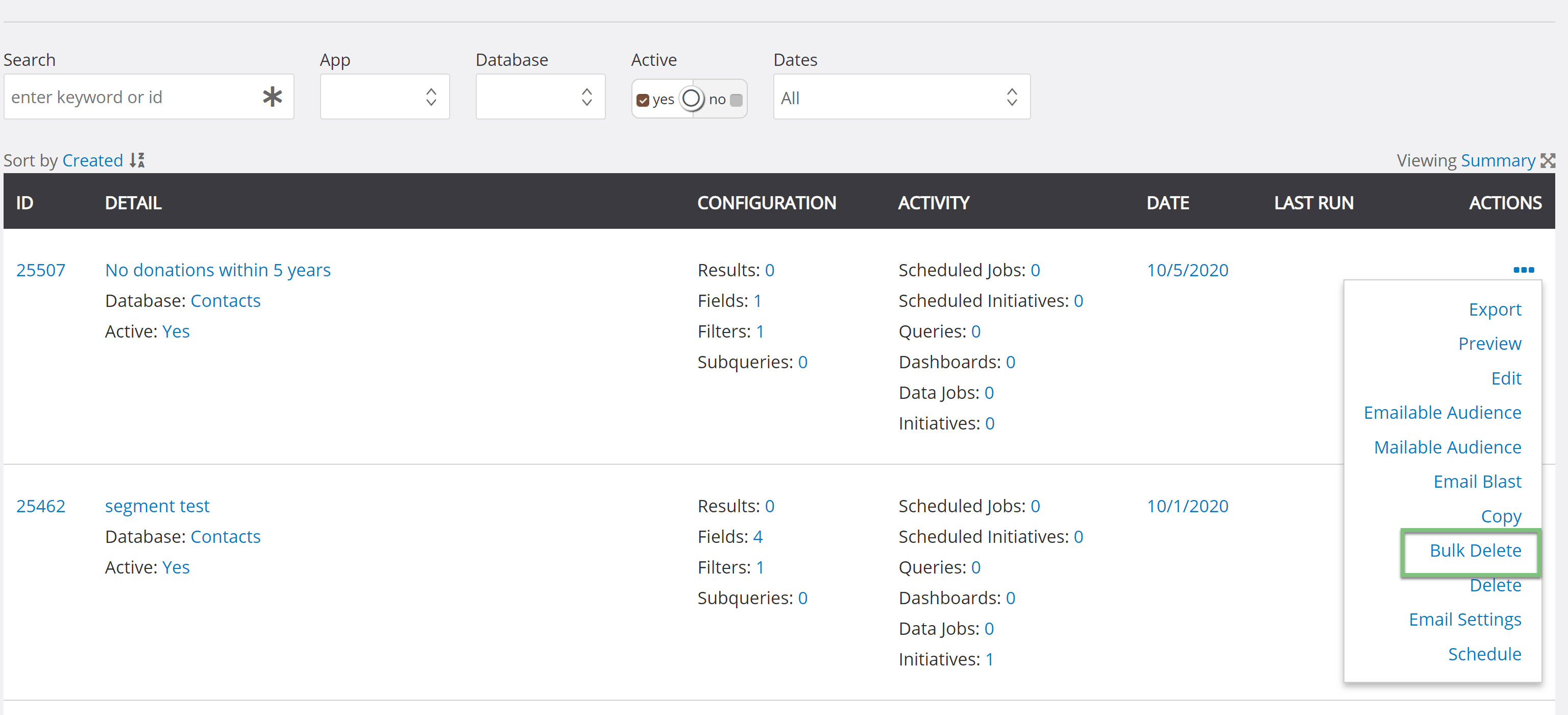 Select Bulk Delete from the dropdown.



Select contacts from the Object dropdown and ensure that the query you created is selected as the data source To successfully delete the contacts using the transformation job, you will also need to select Contacts.Id for the ID field drop-down and ensure that the contact Id is in the query you selected as the data source.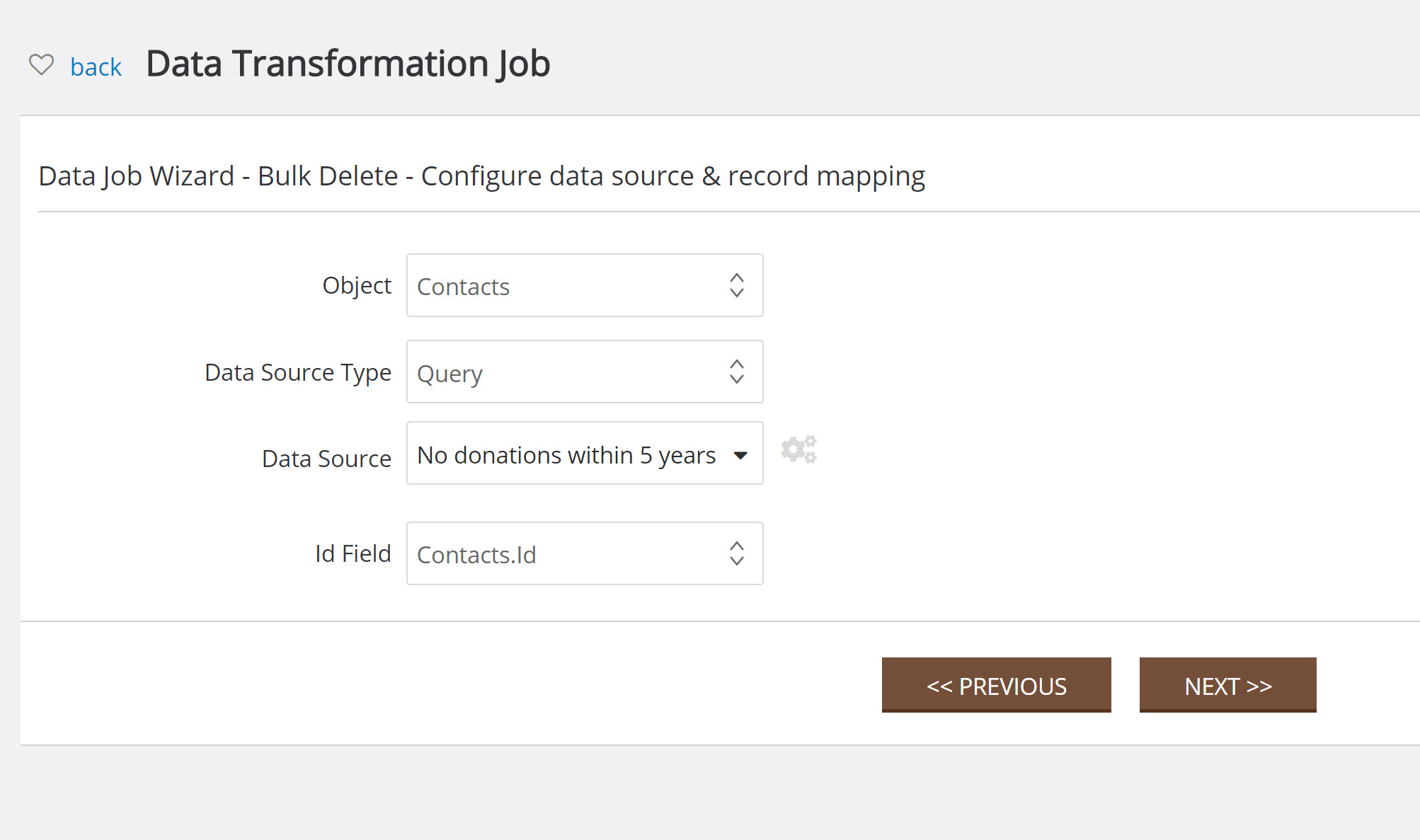 Name your data job and ensure that the Delete Dependency Action is set to delete.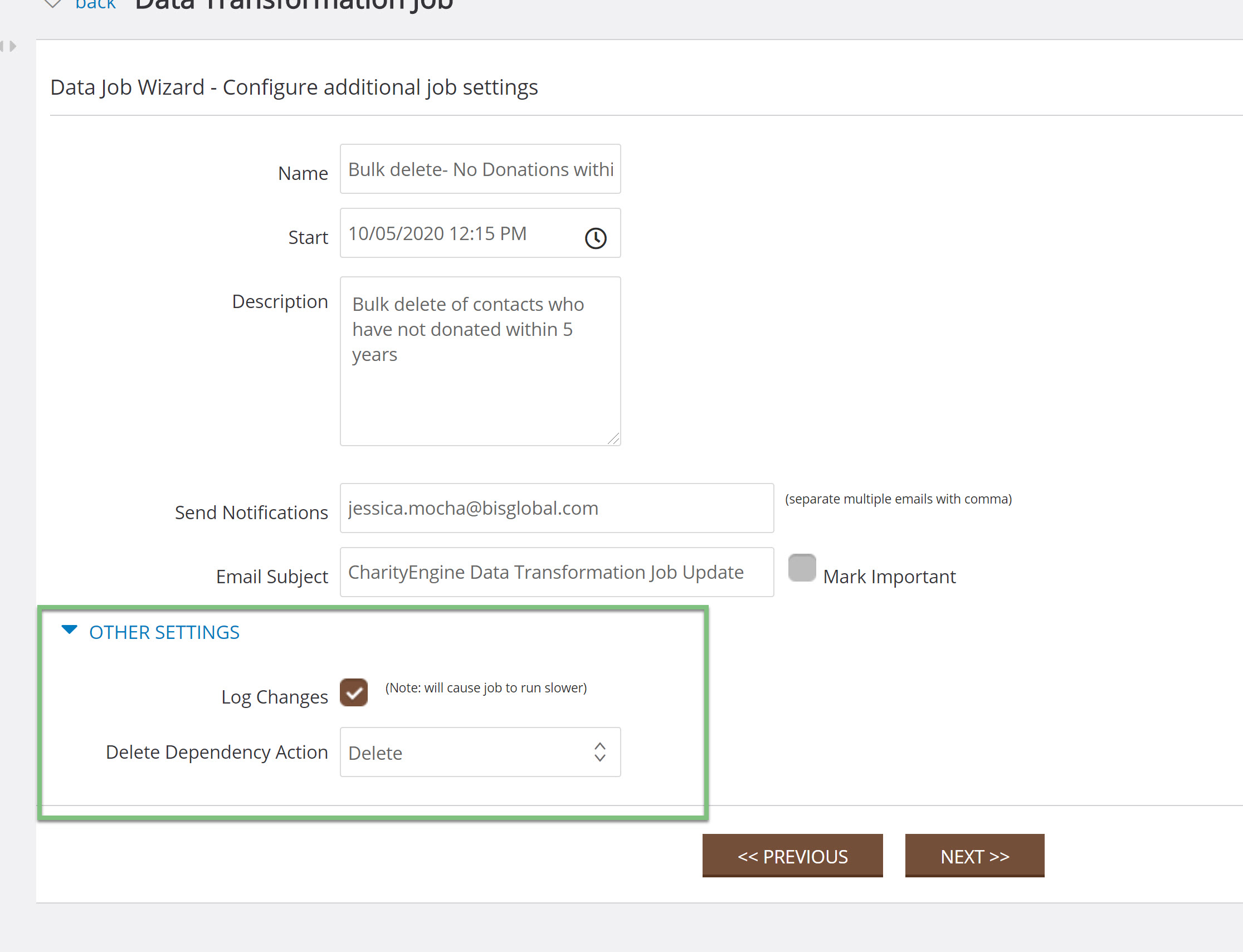 Confirm the data job and click finish. Now all of the contacts who have not had any donations within the last 5 years will be deleted from the database and you will be able to bulk delete contacts with dependencies.
Deleting Contacts in Bulk Using a File Upload
You can also create a data job transformation without creating a query, but instead uploading a file with the contacts you wish to delete from. To do this, navigate to Automation & Workflow > Transformations and create new, just as you did when creating a data job transformation with the query.



Select Bulk delete from the type drop-down.



Select Contacts as the object, File as the data source, and select your file from your computer.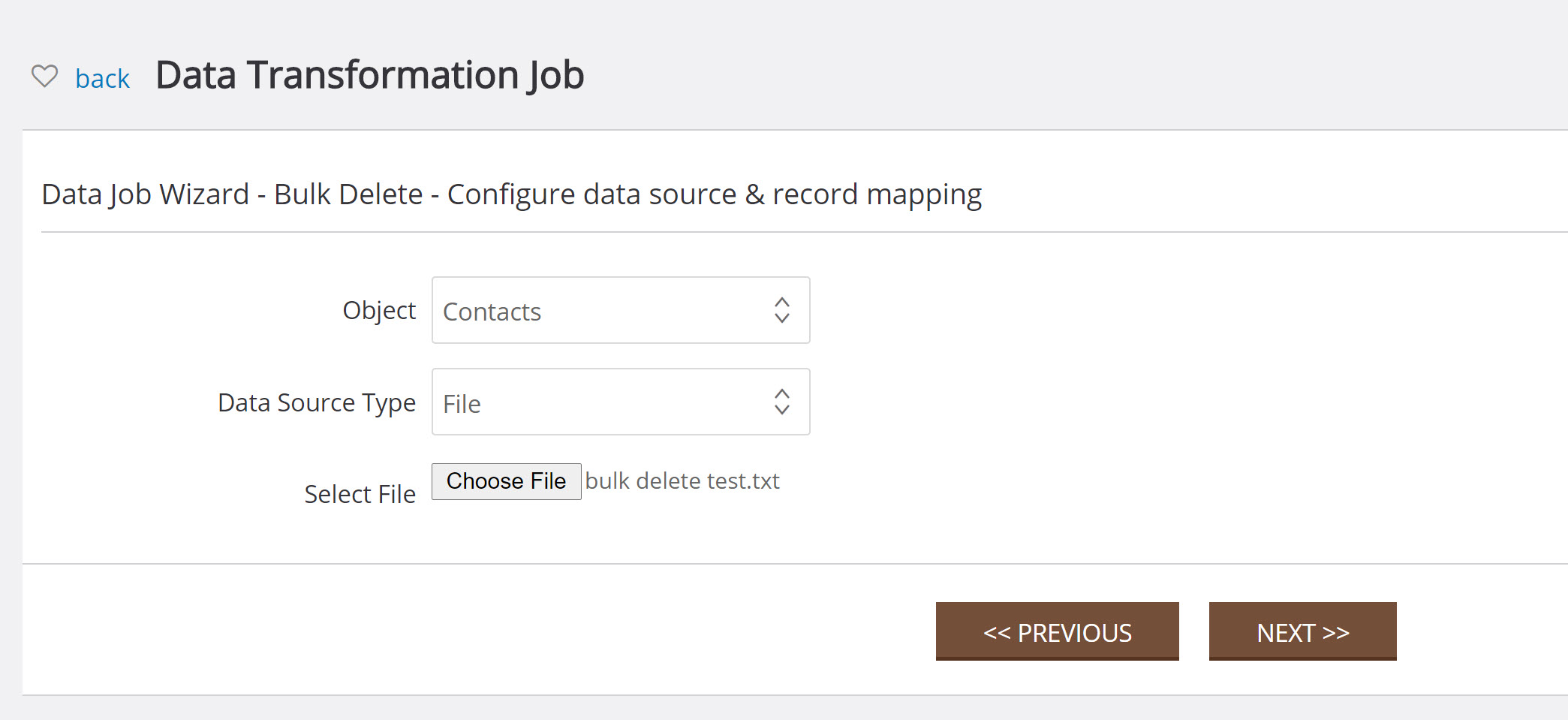 The data source can also be a remote file upload (FTP) by selecting Remote File from the data source drop-down. You will need to input all of the FTP information such as the server, username, password, and remote path.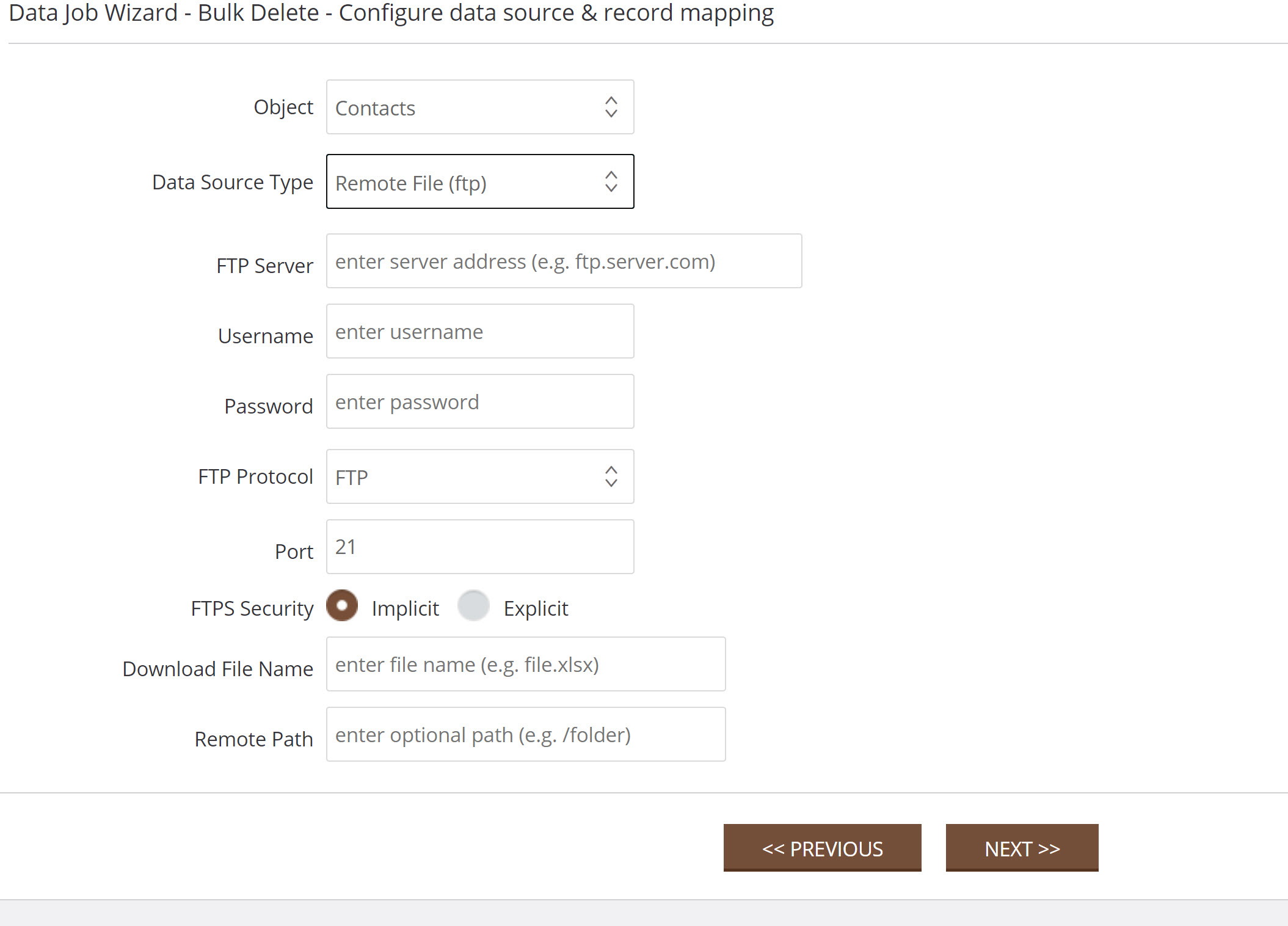 Configuring Special Permissions to Delete Processed Transactions
If you are deleting a contact that has processed transactions and you wish to delete the transactions as well, you will need to have your special permissions updated. To update your permissions, navigate to Configuration > Users & Roles > User Access Roles and search for the User you are going to updated and click on their Role.



Navigate to the permissions tab, expand the CharityEngine section, and scroll to Miscellaneous. Check read and write for Delete Processed Payments to enable the user to delete processed transactions.