Peer-to-Peer Fundraising Configuration

Navigate to Online > Peer-to-Peer > Microsites and click on Create New
General Settings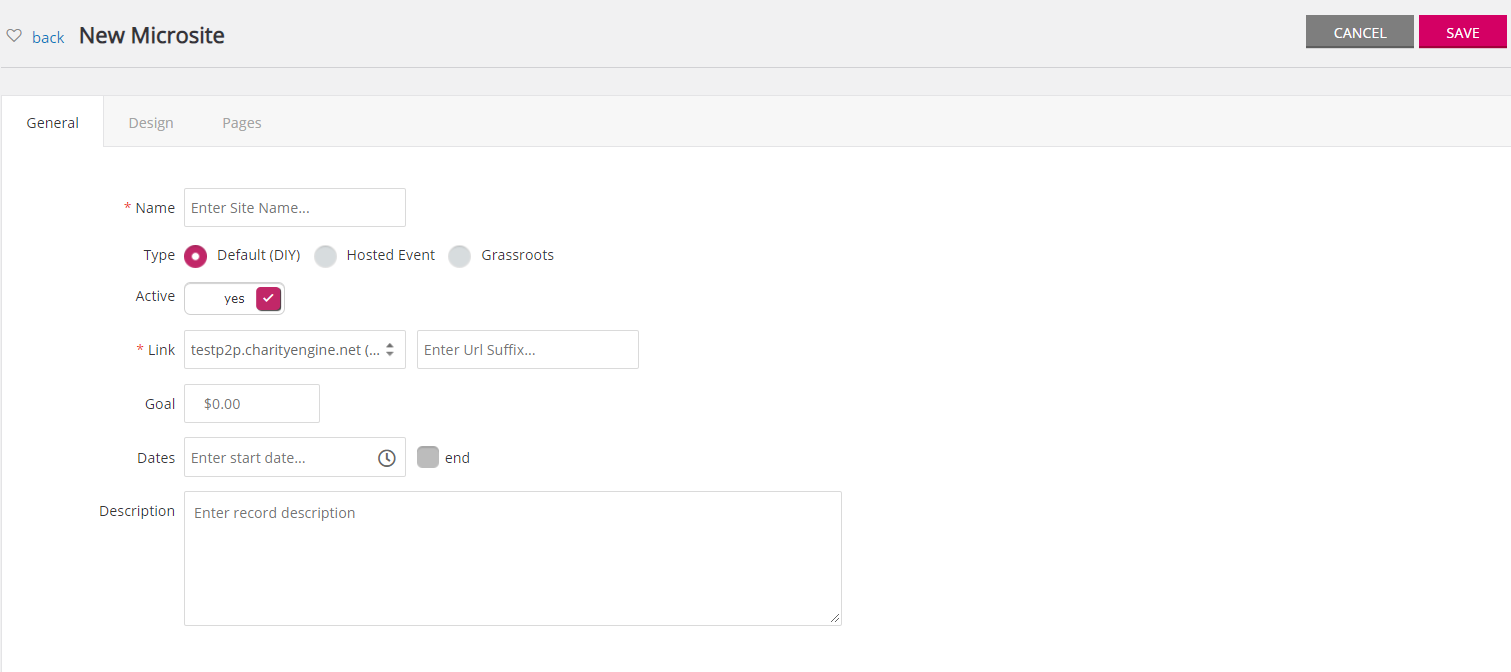 Name: Public Name of your Microsite.
Note that this name will appear in emails.
Types of Peer-to-Peer (P2P) Microsites
Default (DIY): Default P2P microsites are best used for birthday campaigns and other fundraising activities that do not have an event associated with them.
Hosted Event: Hosted Events are best used for Events like Run/Walks where participants are going to fundraise on behalf of your organization at an event hosted by the organization. Hosted Events require an event and tickets to be configured in the CharityEngine Events application.
Grassroots: Fundraisers can fundraise on behalf of your organization by hosting their own events. Grassroots microsites require event types to be configured in the Configuration section of CharityEngine. These microsites have an approval workflow available if you want all fundraising applications to be reviewed by staff before pages go live.
Link: By default the Microsite's public site will live with CharityEngine's P2P domain - p2p.charityengine.net. If your organization has a vanity subdomain configured for P2P subdomain will appear as an option in the link dropdown. If you would like to configure a vanity subdomain that matches your organization's domain, reach out to support or your account representative.
Enter a domain suffix in the URL suffix box.
Suggestions (if using CharityEngine's default domain p2p.charityengine.net)
Organization Name
Organization Name and Year
Organization Name and Cause
Suggestions (if using a vanity domain)
Birthday (or other campaign)
Event Name
Event Name and Location
Event Location and Year
Cause/Campaign
Cause and Year (ie. communityfundraising2020)
Goal: Enter a goal you would like to meet for your site. Note that this is viewable publicly, but only if configured to appear. It is editable if you meet your original goal!

Dates: Start and End Date for when your Microsite will be active

Description: Internal description for this site.