Exporting Data: How to Schedule an Export Data Job

Overview
While using CharityEngine, you may come across the need to schedule reports based of queries to be exported on a regular basis. These reports may be going to a user or third party that does not have access to CharityEngine or does not log into your organizations CharityEngine instance. This will remove the need to manually send the reports out to those who need it and save some time.
Before you can schedule the export, you must first export the data. If you need assistance in exporting data from a query, please read our article
Automation & Workflow: An Introduction to Queries
and reference
Instructions:

How To Export Data from a Query (Basic)
.


---
Table of Contents
---
Prerequisites
Creation of a Report Builder or Query should be completed prior to scheduling a job.
Reports & Analytics: How to Use the Report Builder Tool
Automation & Workflow: An Introduction to Queries
---
Scheduling Export Jobs
Step 1: Once you have created an export data job, you can schedule for this report to be sent on a regular basis. Navigate to Automation & Workflow App > General > Import/ Export > select the Export Data Job that you wish to schedule > ACTIONS > Schedule.

Step 2: This will allow you to schedule this export data job as frequently as you like. Create a Name (required), Dates including start date (default today's date/time) - click until for a specific end date, the export Data Job you are scheduling will default to your job, and a Description of the data job (optional).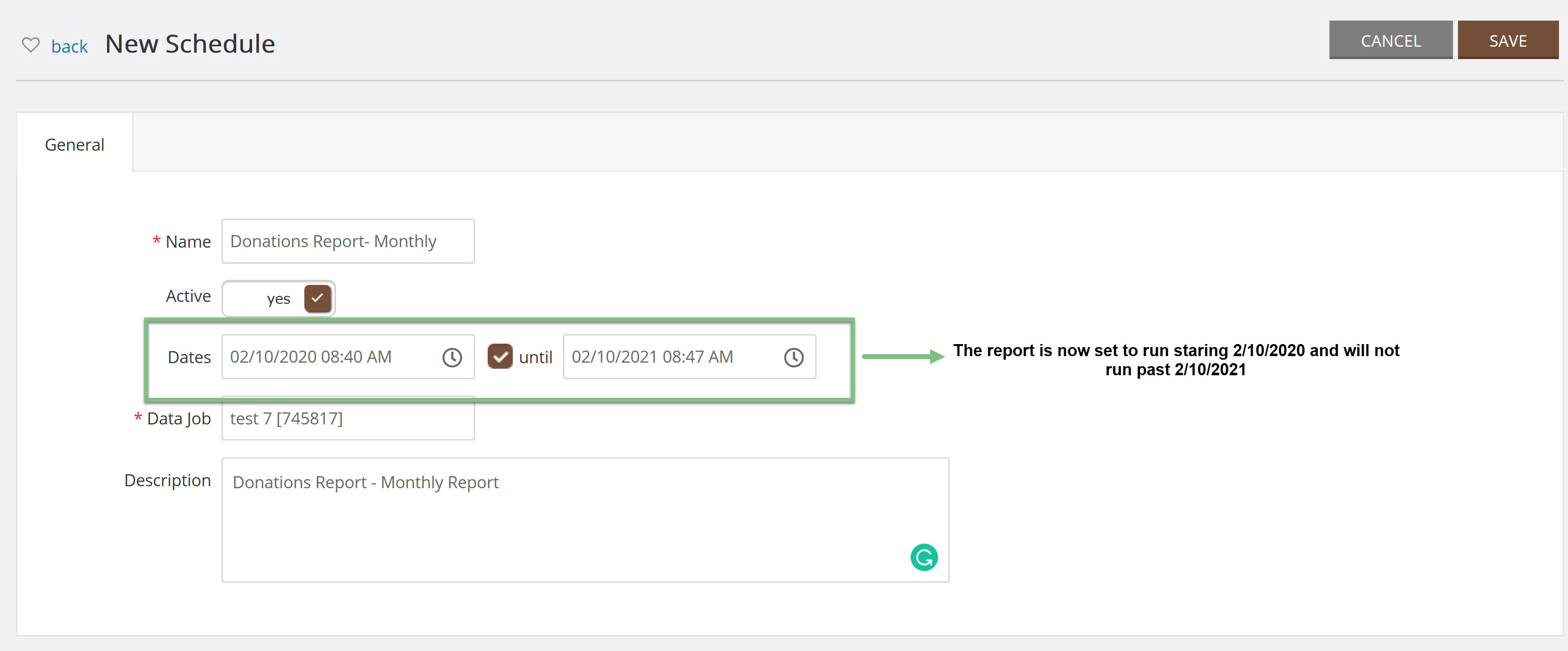 Step 3: Click the SAVE button to expose additional options. to schedule the export data job and the Notifications, Ftp and Trigger Tabs will appear.
Step 4: On the Notifications tab you will be able to enter any Recipients (enter multiple emails by use of a comma), Email Subject (default and can be customized), and option to Mark Import.





Step 5: On the FTP tab you will have the ability to add FTP server information if you are exporting to an FTP site. You will need to enter the FTP Server, Username, Password, and select what type of FTP sever you are sending to. This is optional only and not required if not delivering to an FTP site.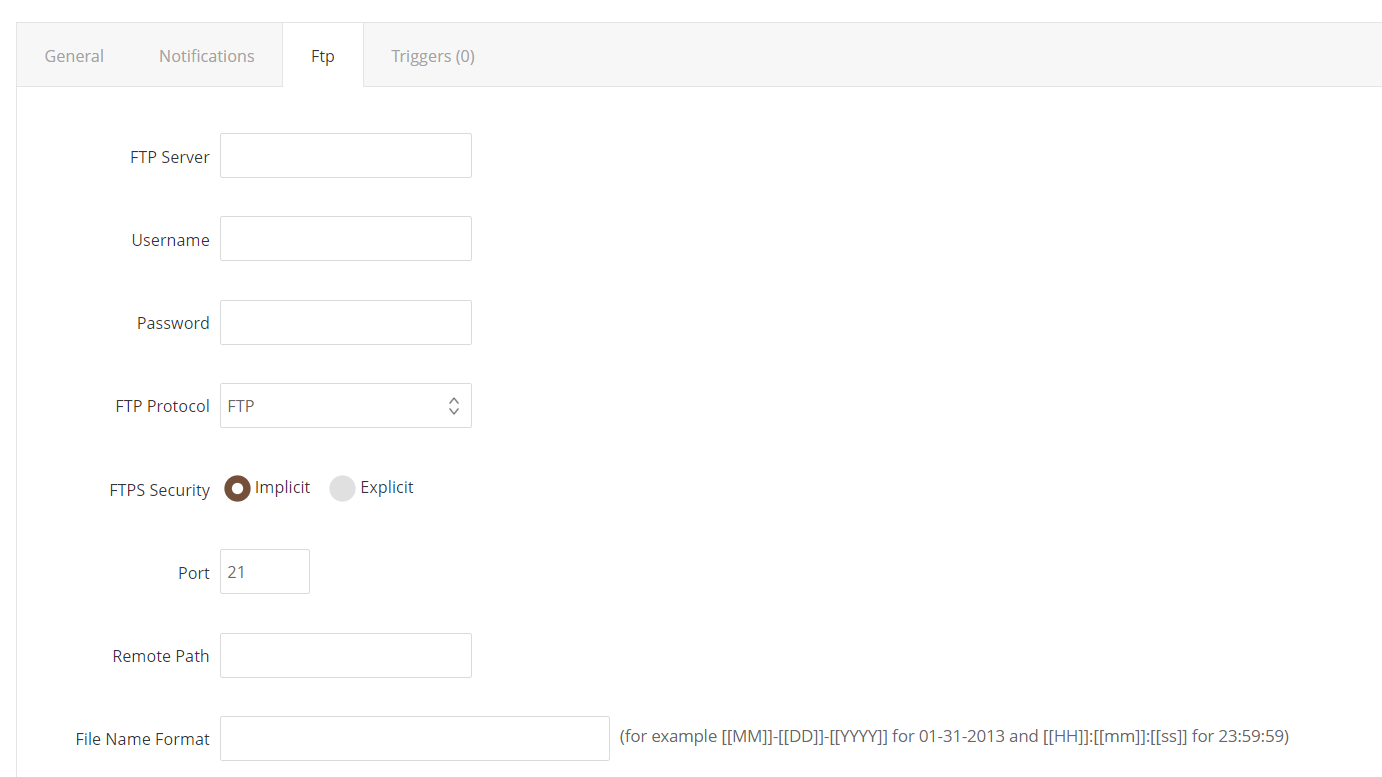 Step 6: Lastly, on the Triggers tab, you will be able to set the frequency in which this report will be exported. Select from the first Drop Down the frequency.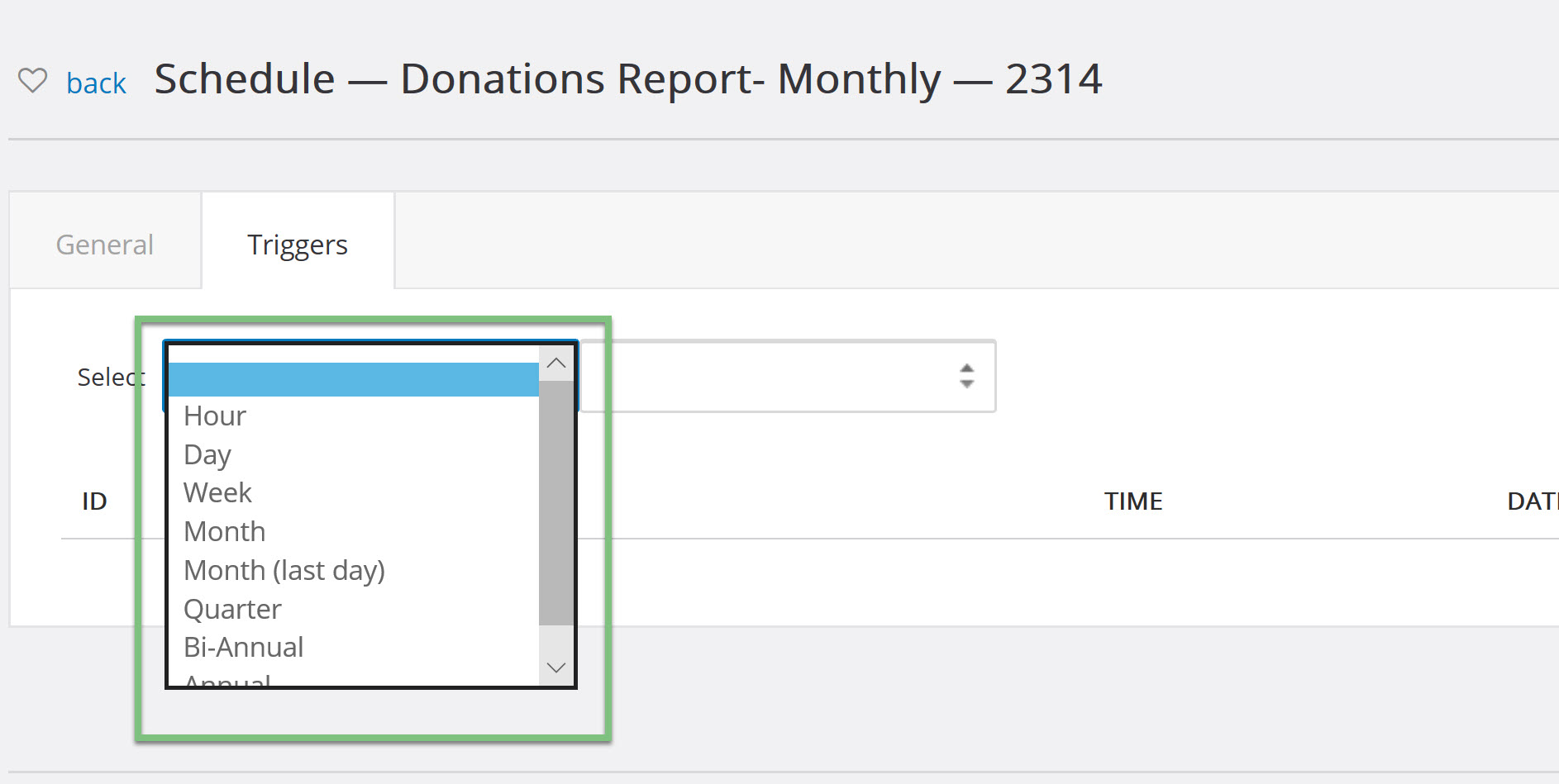 Once the frequency is selected, Select the date that the report will be sent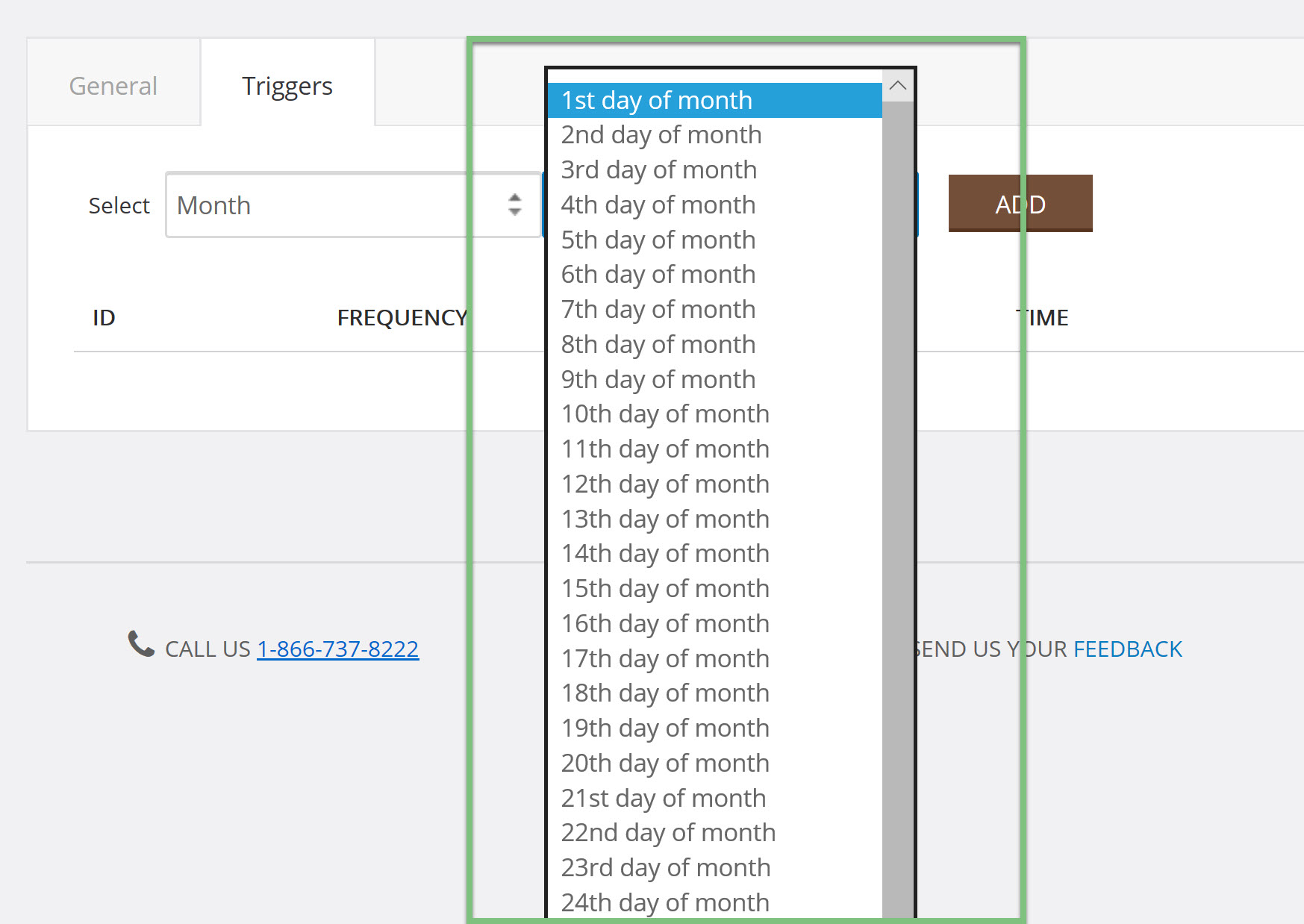 Note: Selecting different frequencies will change the selection for the dates. For example, if you have selected to send the report on a weekly basis, the second drop-down will change to days of the week.
Step 7: Click the ADD button to set the frequency. This information will now appear below.

Note: If the frequency of the export data job needs to be changed, select "delete" under the actions column and then you can create a new frequency.

Step 8: Ensure that you have saved your work by clicking the SAVE button. A green bar will appear at the top of the page that will state Record successfully updated.

Deleting Export Jobs
Step 1: To delete the scheduling of the export data job, navigate to the Automation & Workflow App > General > Job Scheduler > locate the data job that you have scheduled.

Step 2: Under the ACTIONS column, select Delete and the export data job will no longer be scheduled to be sent.

---
FAQs & Additional Reading
Q. I'd like to learn more about reporting in CharityEngine.
A. Learn more in our article Reports & Analytics: An introduction to reporting within CharityEngine
Q. I'd like to learn more about Queries in CharityEngine.
A. Learn more in our article Automation & Workflow: An Introduction to Queries