Regions in CharityEngine – Where to find them and how to use them

Table of Contents

CharityEngine allows users to create and use regions as a way of grouping data. This data can then be used to send communications to a specific group that resides within a region or be used to analyze events, transactions, and form submissions.
Creating a Region
Before you can use regions within CharityEngine, you must first create the regions. Navigate to Configurations > Regions & Chapters > Regions. Any regions already created will be displayed here.



Click on Create New to create a new region.



The only field required is the name of the field, however you do have the ability to select a parent region if applicable. For example, the below new region is New Jersey, but this is a sub region of the Northeast. Creating parent/child regions allows users to analyze data within a larger region and then focus in on data of a smaller region within the larger.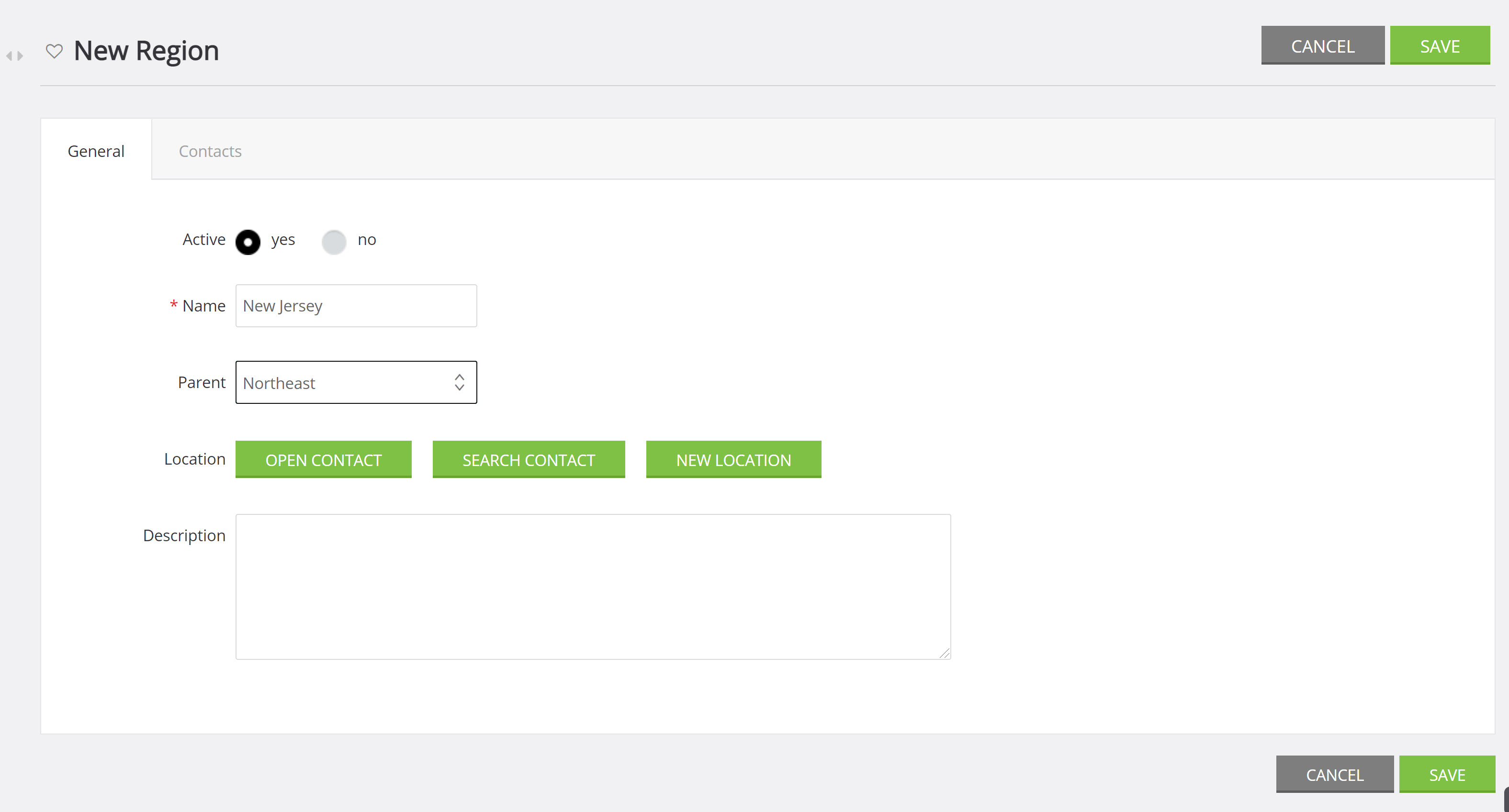 Users also can add a location to the region by using the location buttons. The location would be an organization that resides or is responsible for that region, such as a field office for an organization. If the organization already exists, click on Search Contact, otherwise click New Location to create a new organization record.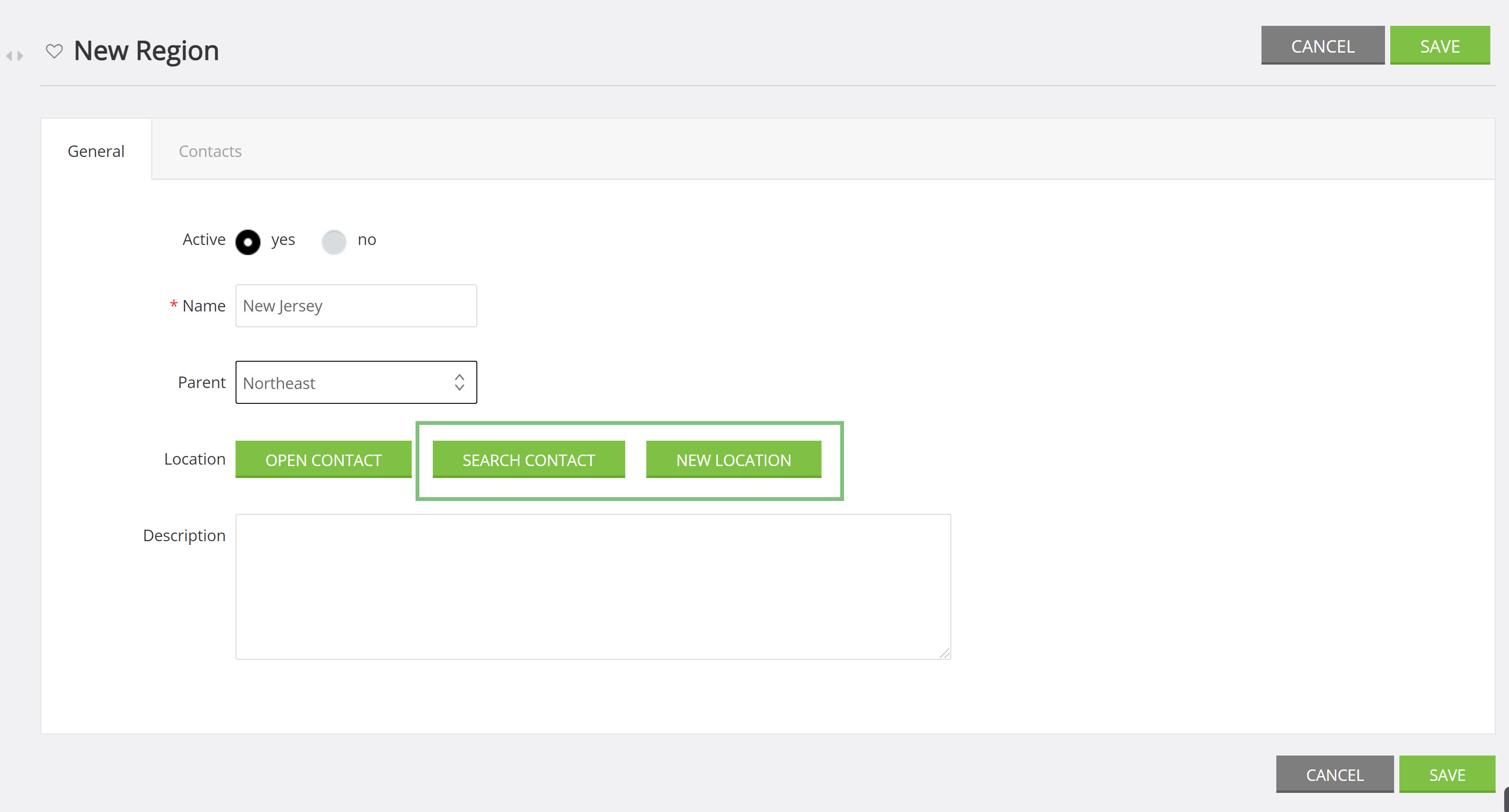 On the contact tab, you can assign contacts to a region. These contacts would be responsible for that region, for example the contact could be the Director of Fundraising of the organization assigned on the general tab. Use the search box to search for a pre-existing contact and click ADD or click Create to create a new contact.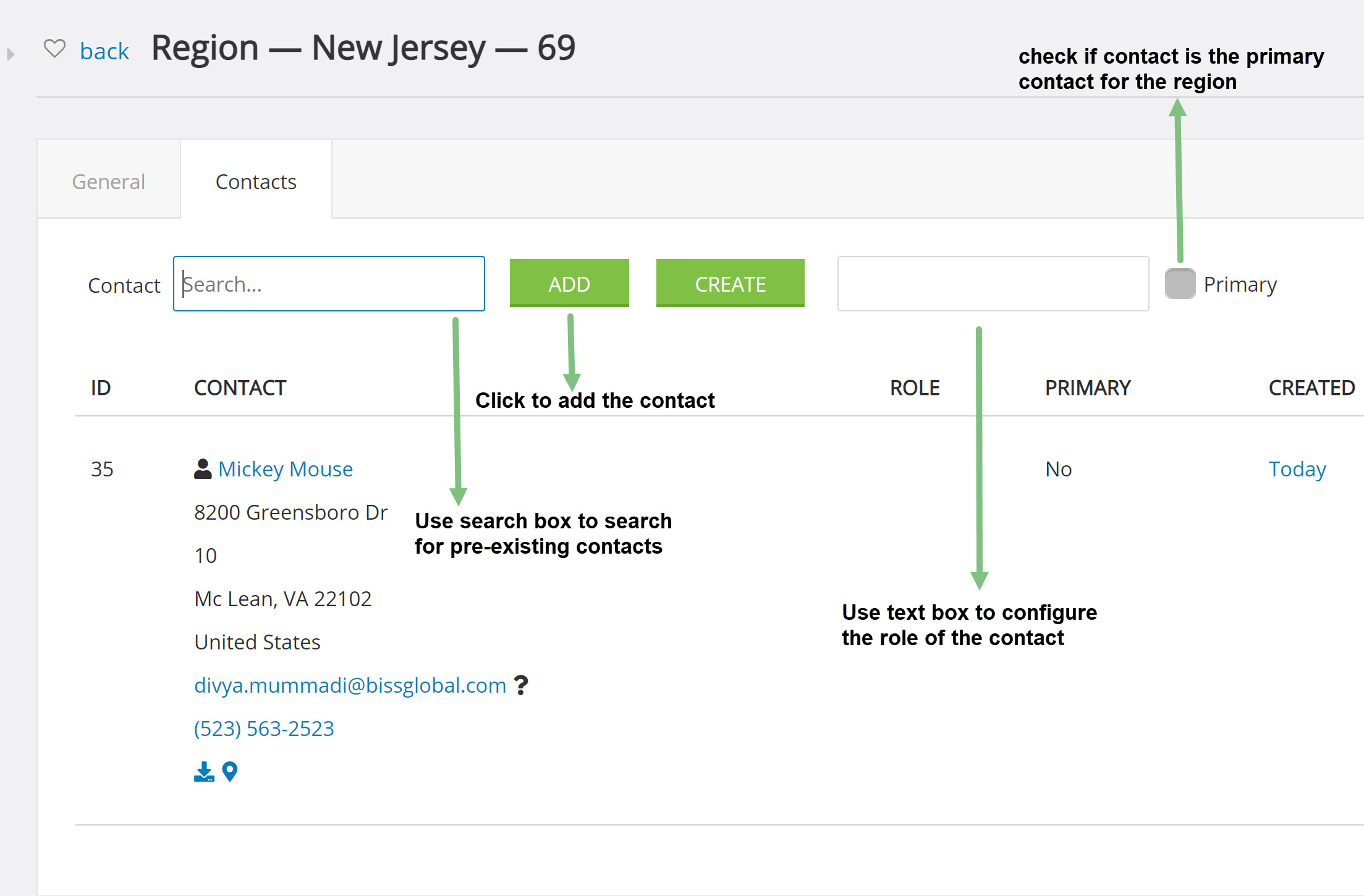 Once you have configured the region, click Save.
Regions in CharityEngine
Once your regions have been configured and saved, you will be able to use them within CharityEnigne to collect data
Contacts
One area that regions can be used in is Contacts. Contacts can be assigned to a region allowing them to be grouped with others in that region. Users can then send communications to contacts within a region and also analyze specific data of contacts within a region.
On the contact record summary, users will be able to view a contacts region if the widget is added to the record.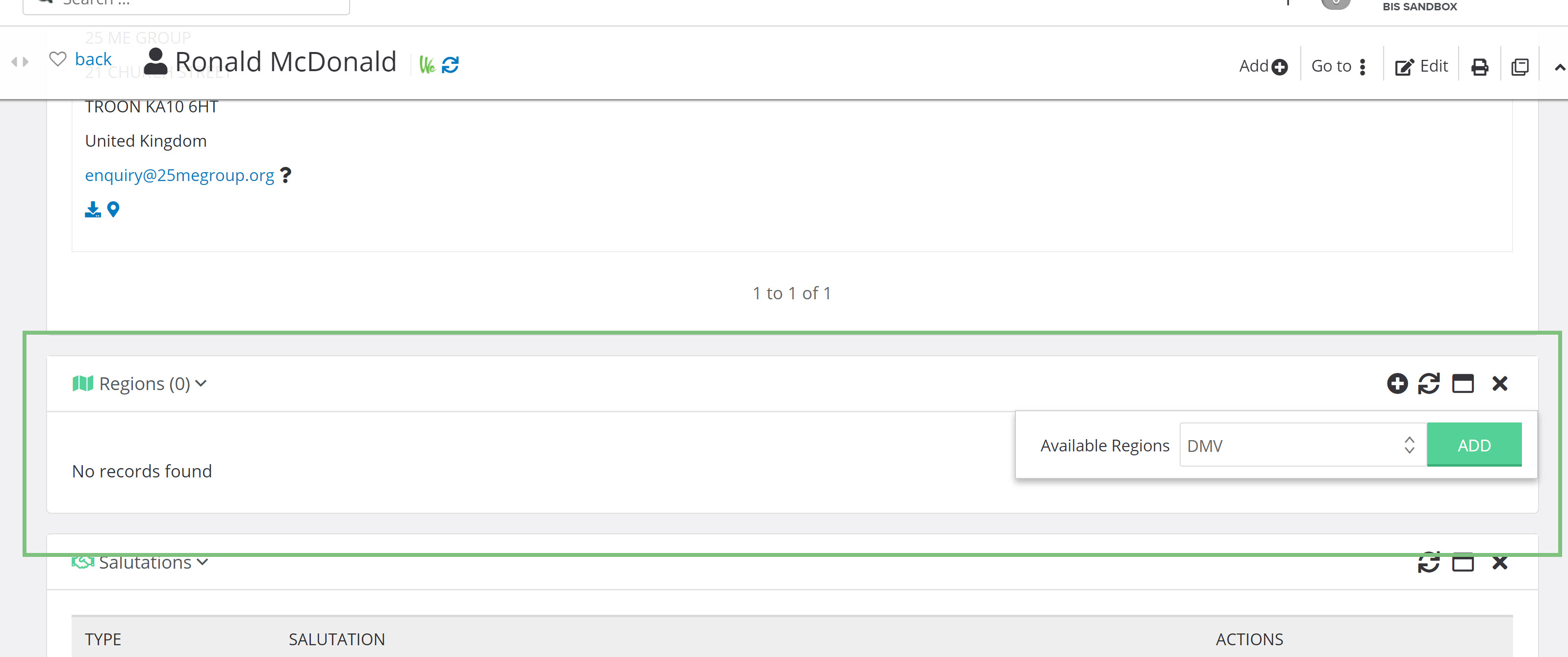 Contacts can also be assigned a region on the record page by using the drop-down.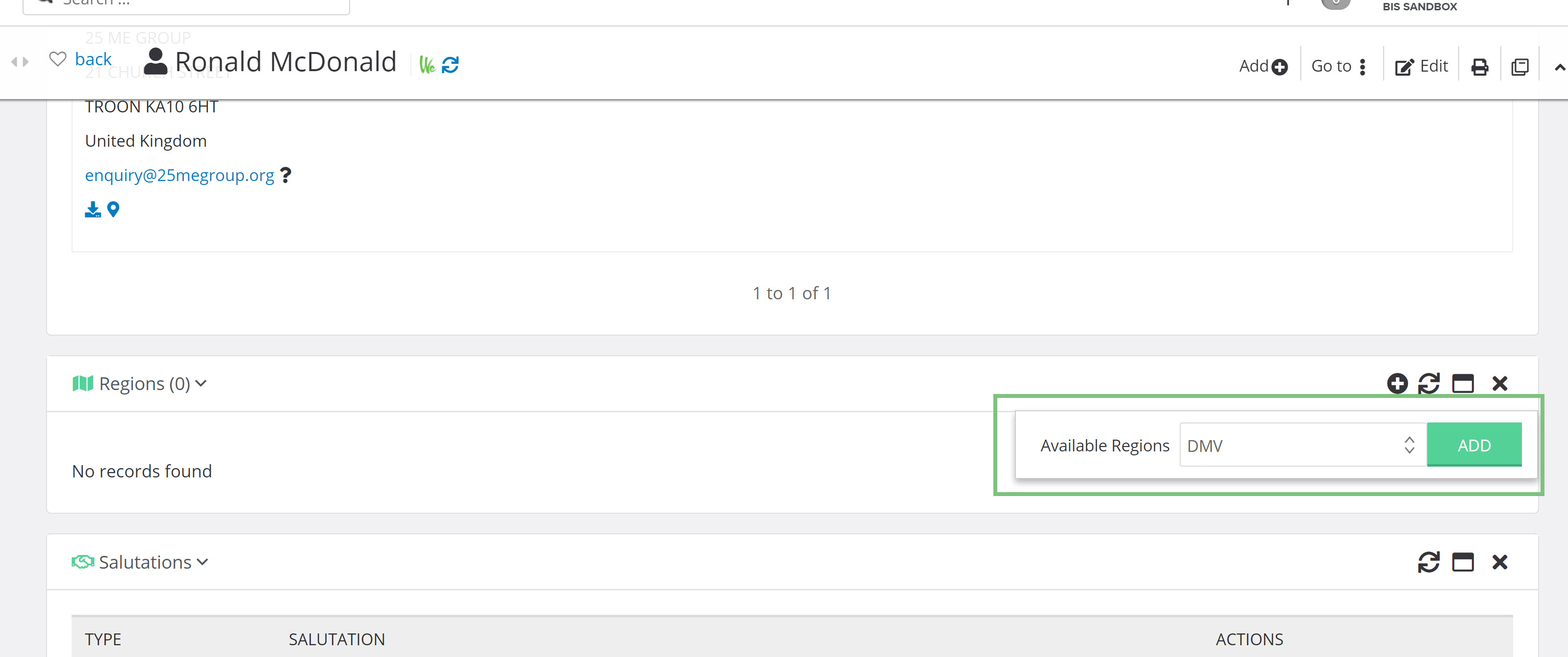 Note: Contacts can have more than one region assigned to them.
Transactions
Regions can also be captured in a transaction when the transaction is created or by managing the transactions after creation. By capturing the region on a transaction, users will be able to analyze the profitability of a region. This data can also be used to learn what regions solicitors should focus their energy on to continue gaining from a region or to promote more giving in a failing region.
To attribute a region to a transaction during a manual creation of a transaction, navigate to the Advanced tab and click Additional Settings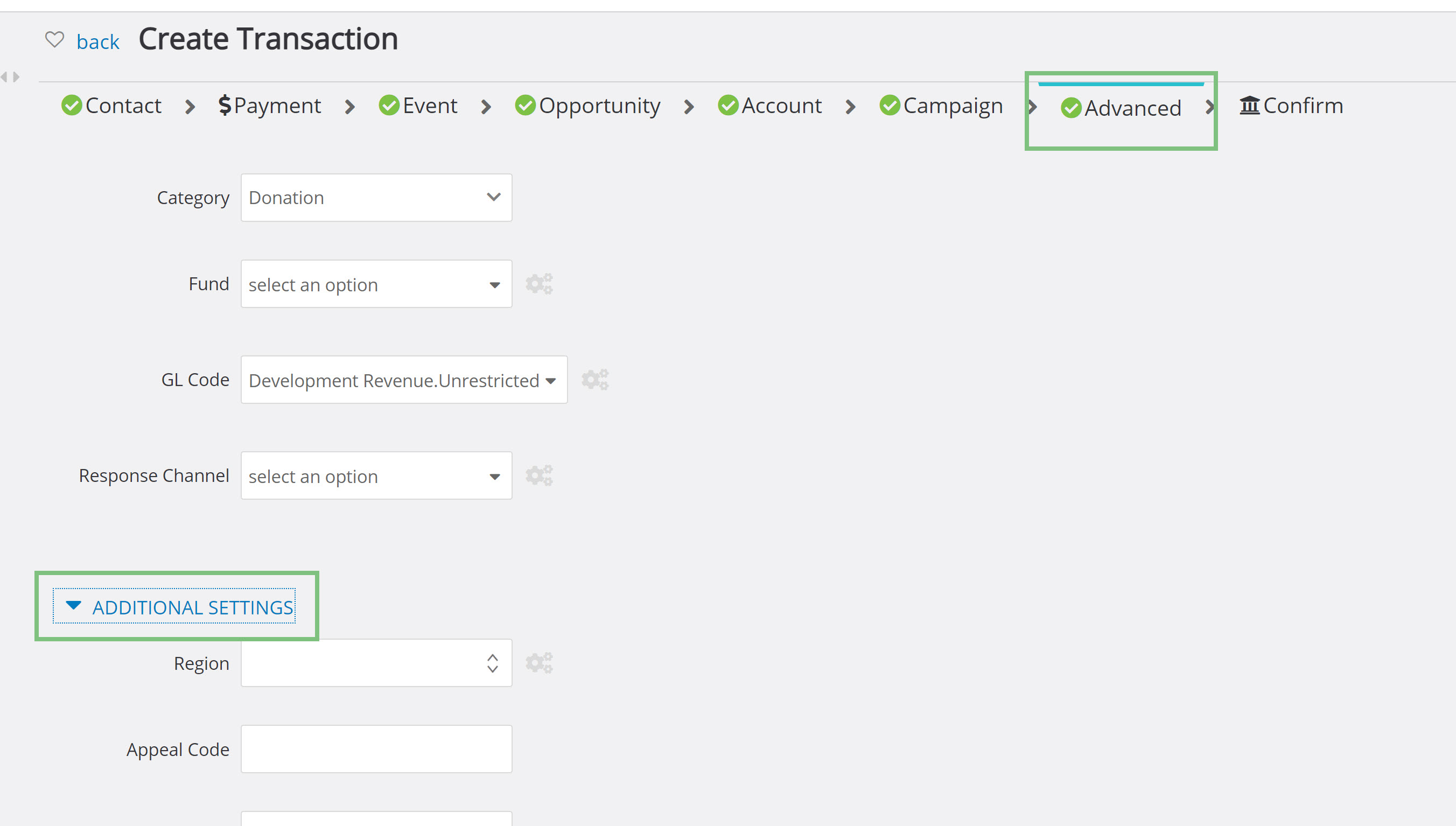 Use the Region drop-down to select the region.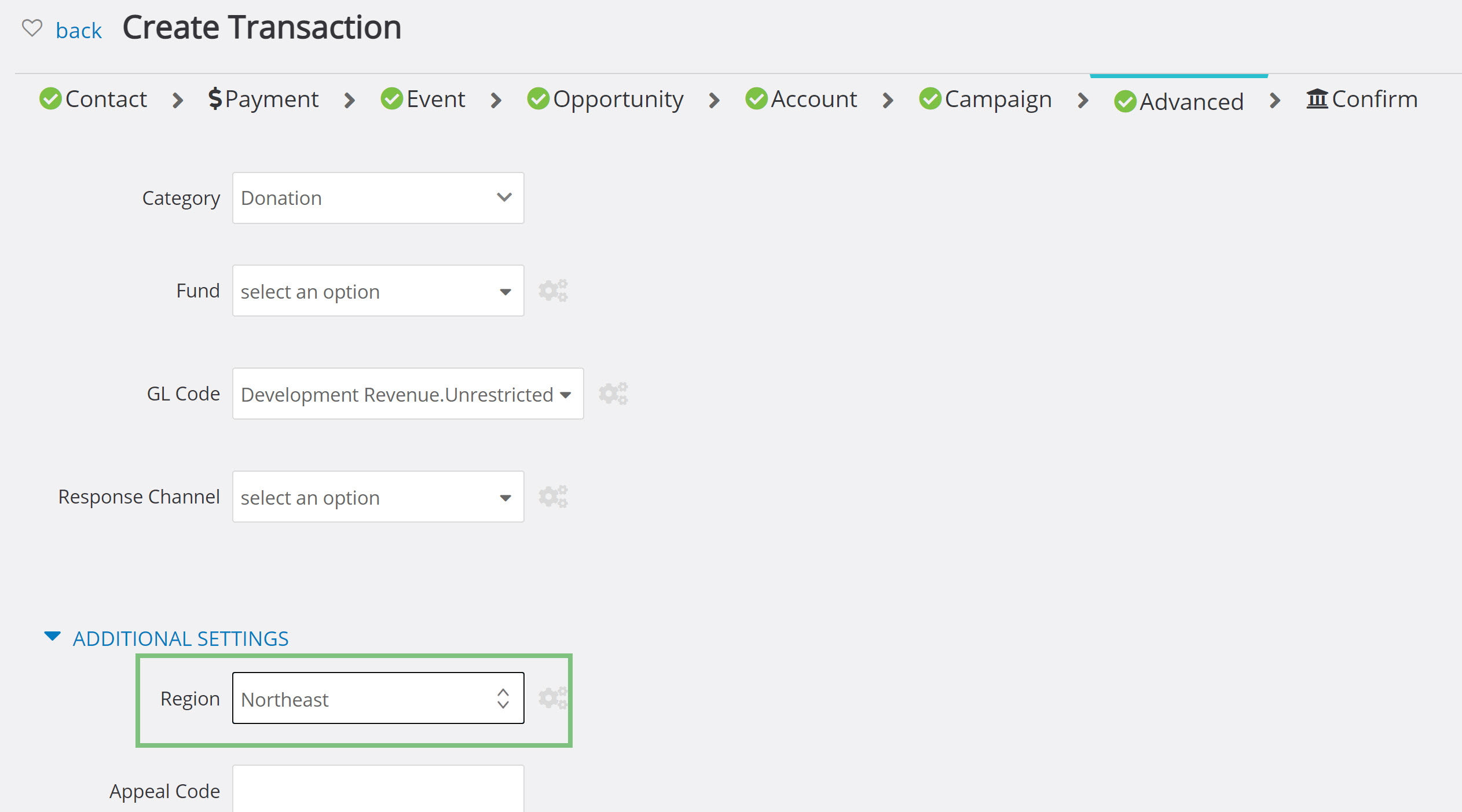 If the transaction has already been created, navigate to the transaction > Detail tab > Attribution tab > General Tab and use the drop-down to select the region.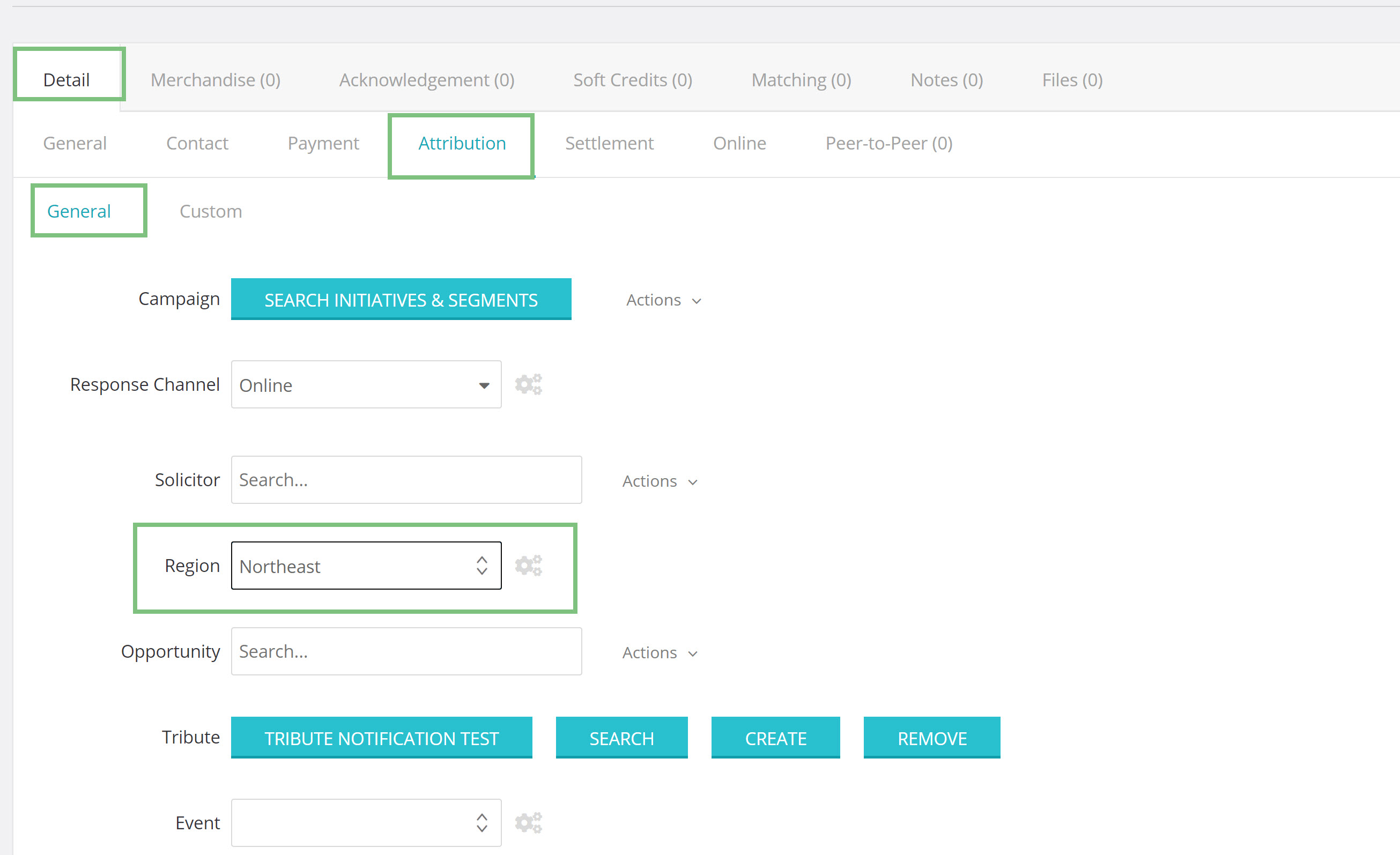 Note: Transactions can only have one region attributed to them.
Users can also filter transactions by region using the Advanced Filters on the Transaction Listing Screen.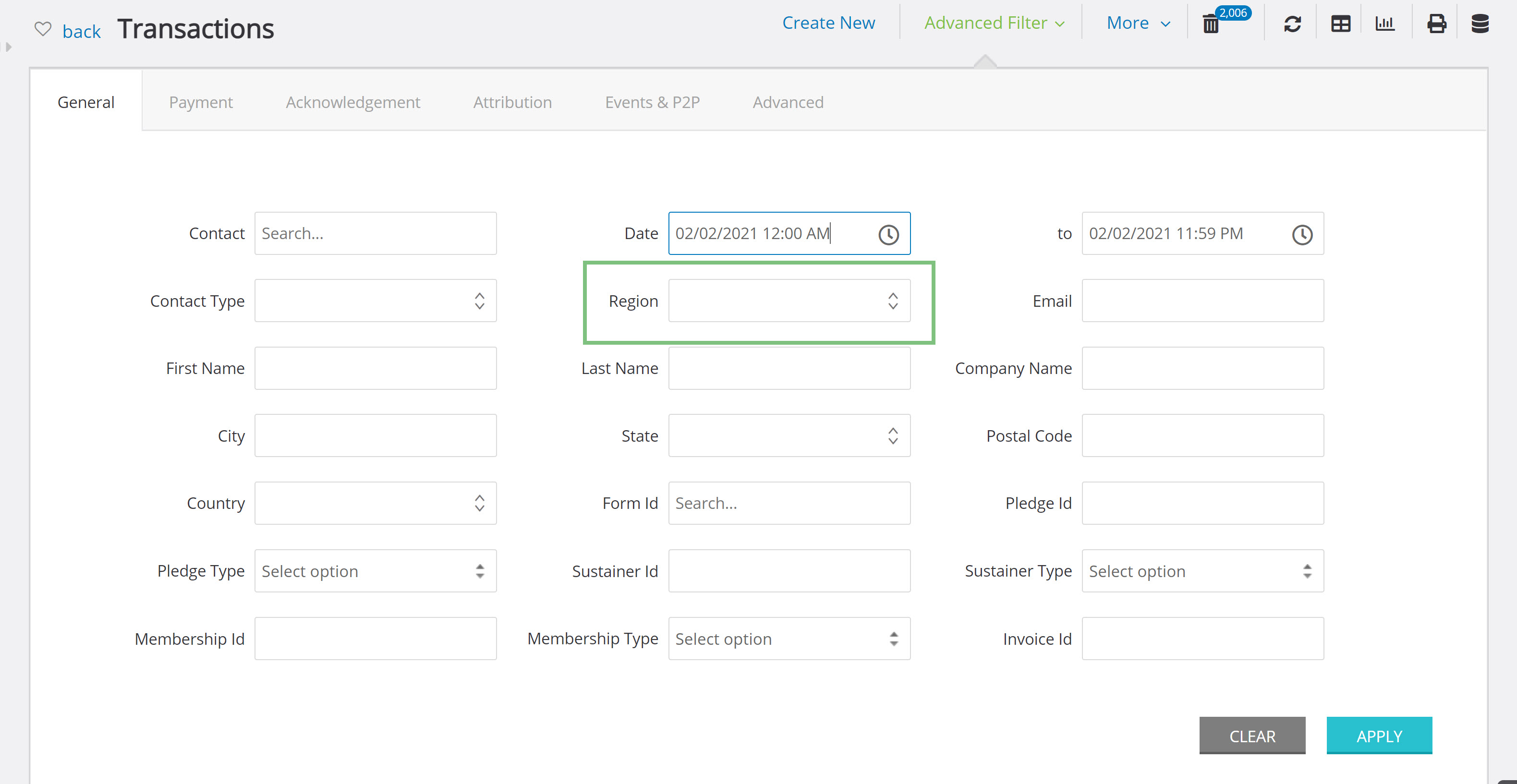 Web Froms
Regions can be set on Web forms as a way of data collection. Depending on the type of form, the data is collected in different ways. For example, if the form is a donation form, when the form is submitted, the region will automatically be attributed to the transaction.
To configure a region on a web form, navigate to the webform > Advanced tab > Regions and use the drop-down to select the region.



Note: Web forms can only have one region.
Events
When creating an event, users can attribute a region to that event. This will allow users to filter the event by region and analyze the event by region.
To attribute a region to an event, navigate to the event > General tab and use the drop-down to select the region.



On the events listing screen, use the Advanced Filters to filter for a region.



How to use the Data
The data collected by using regions can be used in a few different ways. As shown above, attributing regions to contacts, transactions, and events can allow for easy filtering on the listing screens, but additional actions such as building a query and viewing reports can also be preformed if regions are assigned.
Query builder
Regions can be used as a filter in the Query Builder tool to compile a list. The most common use for filtering for regions in queries is to create a list of contacts to send an email blast to.
To filter for regions in queries, add Region Name to the filter section of a query, as shown below.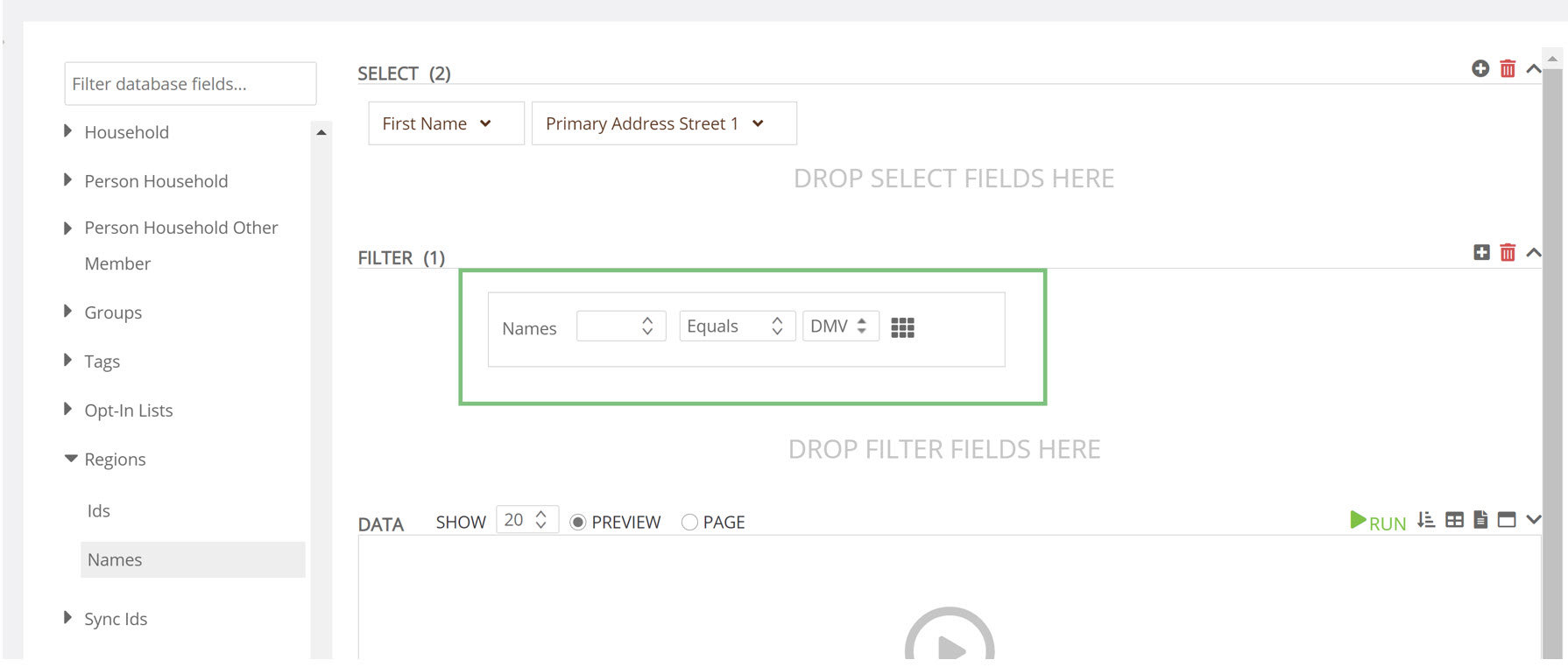 This list can then be used as the data source when sending an email blast.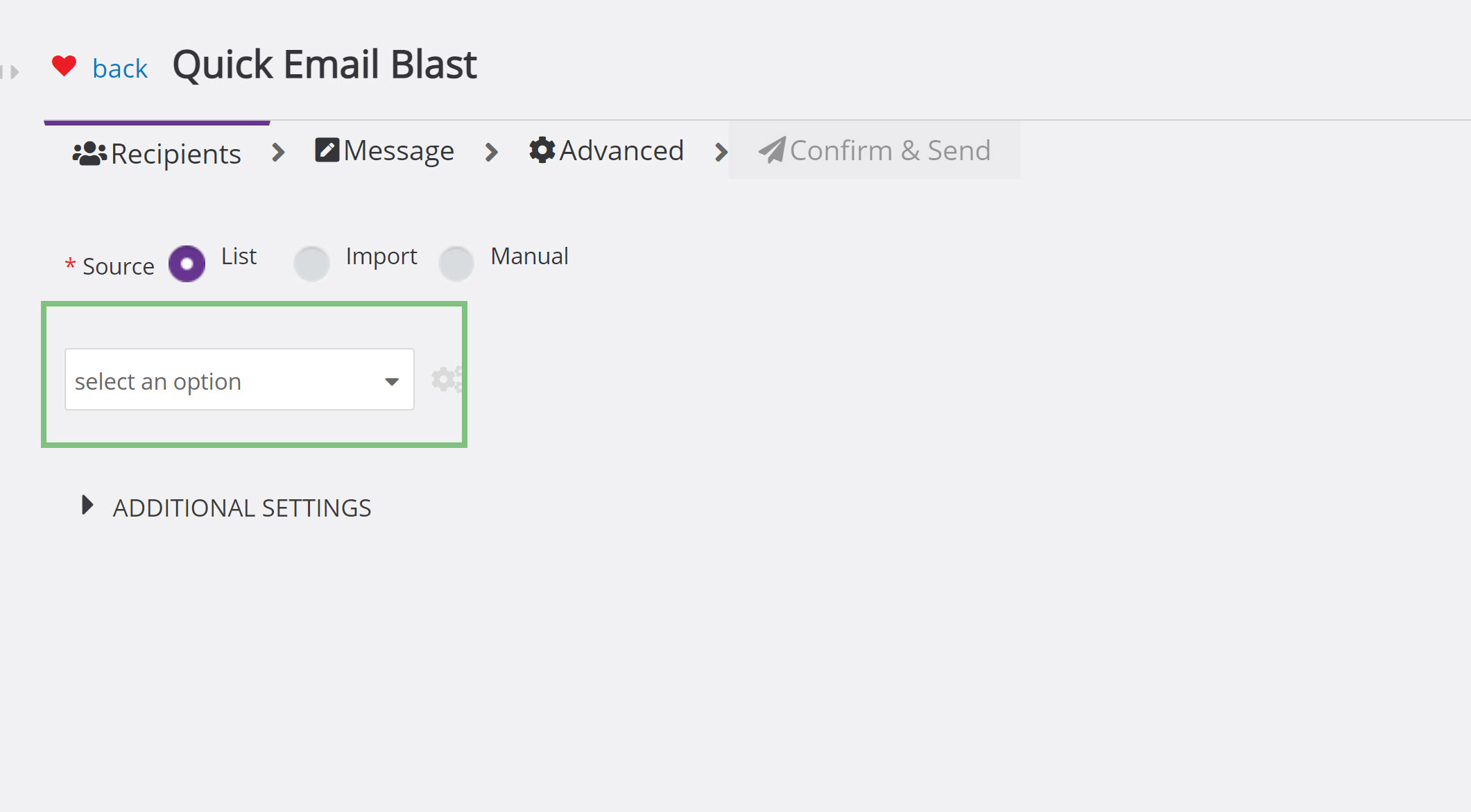 Reports & Analytics
In reports and analytics, there are several reports that focus on Regions that can be found, such as Revenue by Region and Events by Region. These reports will analyze data captured by using regions throughout CharityEngine.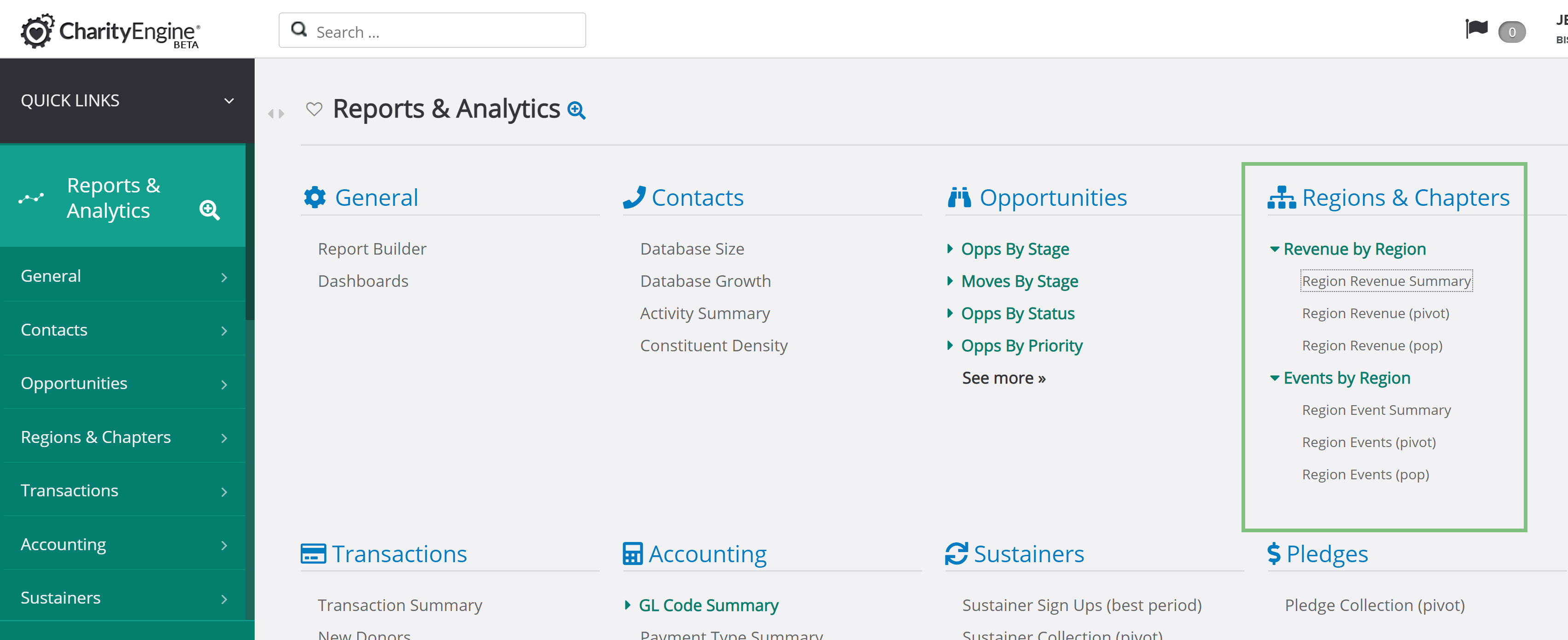 These reports will allow you to take a deeper look on how productive a region is and help to focus energy and resources on regions that either need help to promote giving or continue promoting in regions that are successful.