Online - Web Forms: Google Pay Payment Options
Introduction
Google Pay™ is a quick and easy way for your donors to give online without having to enter in their payment information! This payment option reduces donor friction and provides another way for your donors to support your organization through their preferred payment method. All out-of-the-box CharityEngine forms will now automatically include the Google Pay button. For customized forms, follow the instructions below.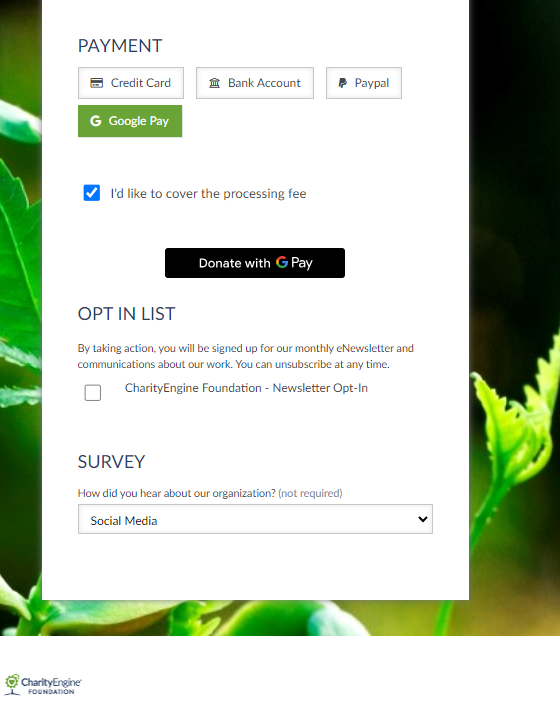 ---
Table of Contents
---
Including Google Pay on Out-of-the-Box Forms
You don't have to do anything! The Google Pay button will display automatically on all new and existing out-of-the-box forms. Instructions for creating a new form below:
Log into CharityEngine
Click on the lightning bolt
Under "Actions", select the Create Online Form




Create any form where gifts are collected (Donation, Event, Membership, etc...) and you will see the Google Pay button when you view the form online in the Payment section:




---
Including Google Pay on Custom Forms
You can add Google Pay to your custom forms in a few easy steps by adding our system's Google Pay Button form field:
Manage your existing custom form and go to the Layout tab. In the section where you have payment information, click on the + (plus) button to add a new field:





Name the field appropriately and click the Create Field button (Type can be left as "Text"):





Once the new field is created, expand the payment information section and click on the pencil icon to manage the new field:



4. Once you have been navigated to the form field settings, select "Google Pay Button (system)" from the dropdown:




After saving, navigate back to your form's layout and move the field up or down as needed to have the button displayed where you would like.


*All merchants must adhere to the Google Pay APIs Acceptable Use Policy and accept the terms defined in the Google Pay API Terms of Service.
---
FAQs & Additional Reading
Q. How will Google Pay transactions be presented through the transaction listing screen?
A. Google Pay transactions will be presented as a tender type of credit card and will continue to process through your current payment gateway. Users will be able to view usage of the virtual wallet through the transaction details.