Mobile Pay App

Introduction
Our Mobile Pay Application is a great fundraising tool and will allow you to take payments at events or at your headquarters or
visitor's
centers. This application is available for IOS, Android, and Microsoft so all users with a
smart phone
or tablet will be able to use this tool!
Prerequisites


Please note
, if you are interested in leveraging our Mobile Pay app, please reach out to your account manager for pricing options, including options for available devices.
If you need assistance in setting up your new mobile pay device, please see below for instructions.
Instructions
Once you have downloaded the application, your first step in configuring the app is to select your mode, either Process Donations or Kiosk for Self-Service Giving.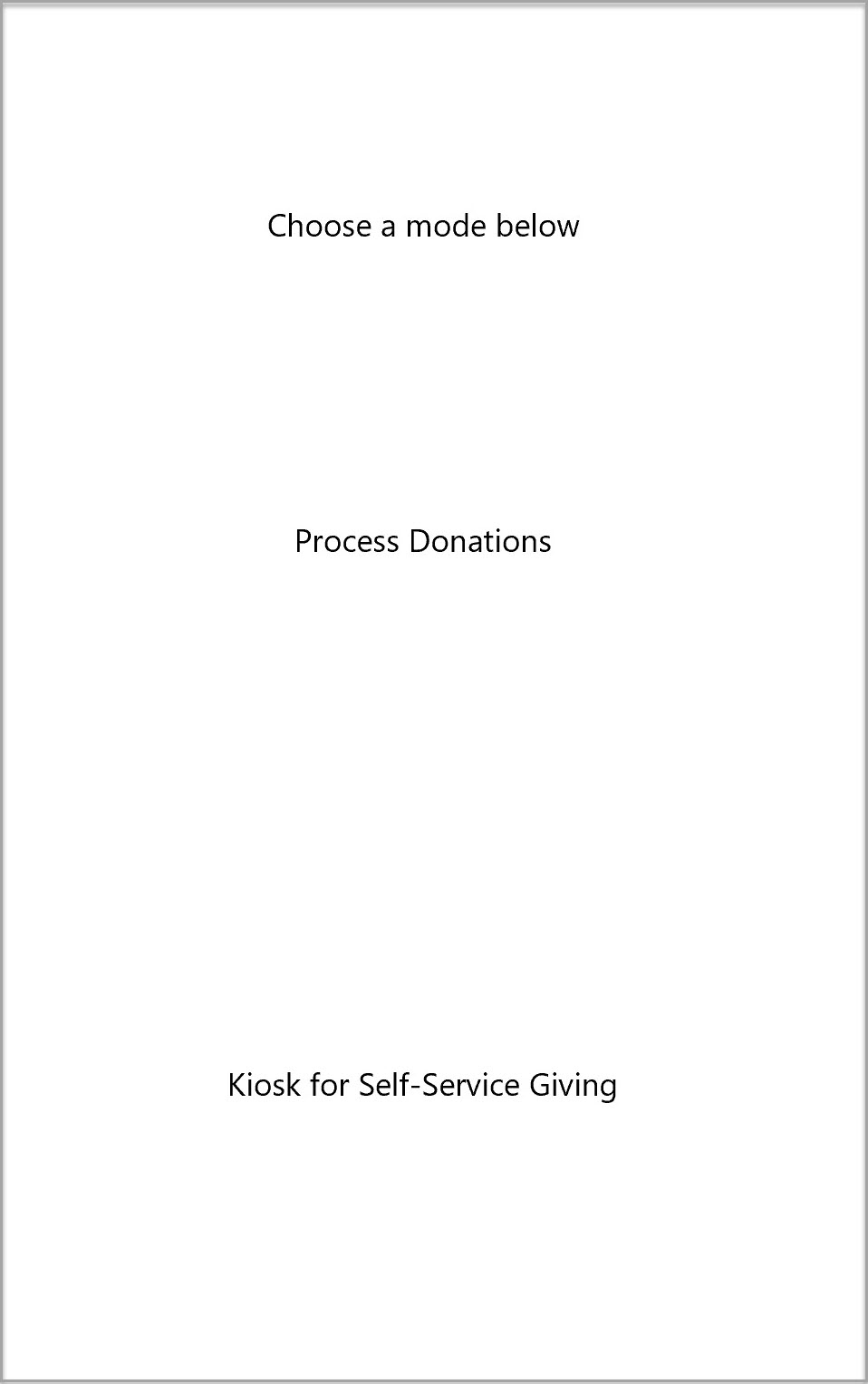 For events and fundraisers, the best option will be Process Donations. This will allow you to take payments from donors at the event you are at.
The Kiosk for Self-Service Giving would be applicable if you were to give your donors access to the app and they would make their donation themselves without even being at the event.
Once you have selected your mode, you will be prompted to log in and then you will be able to start processing your donations.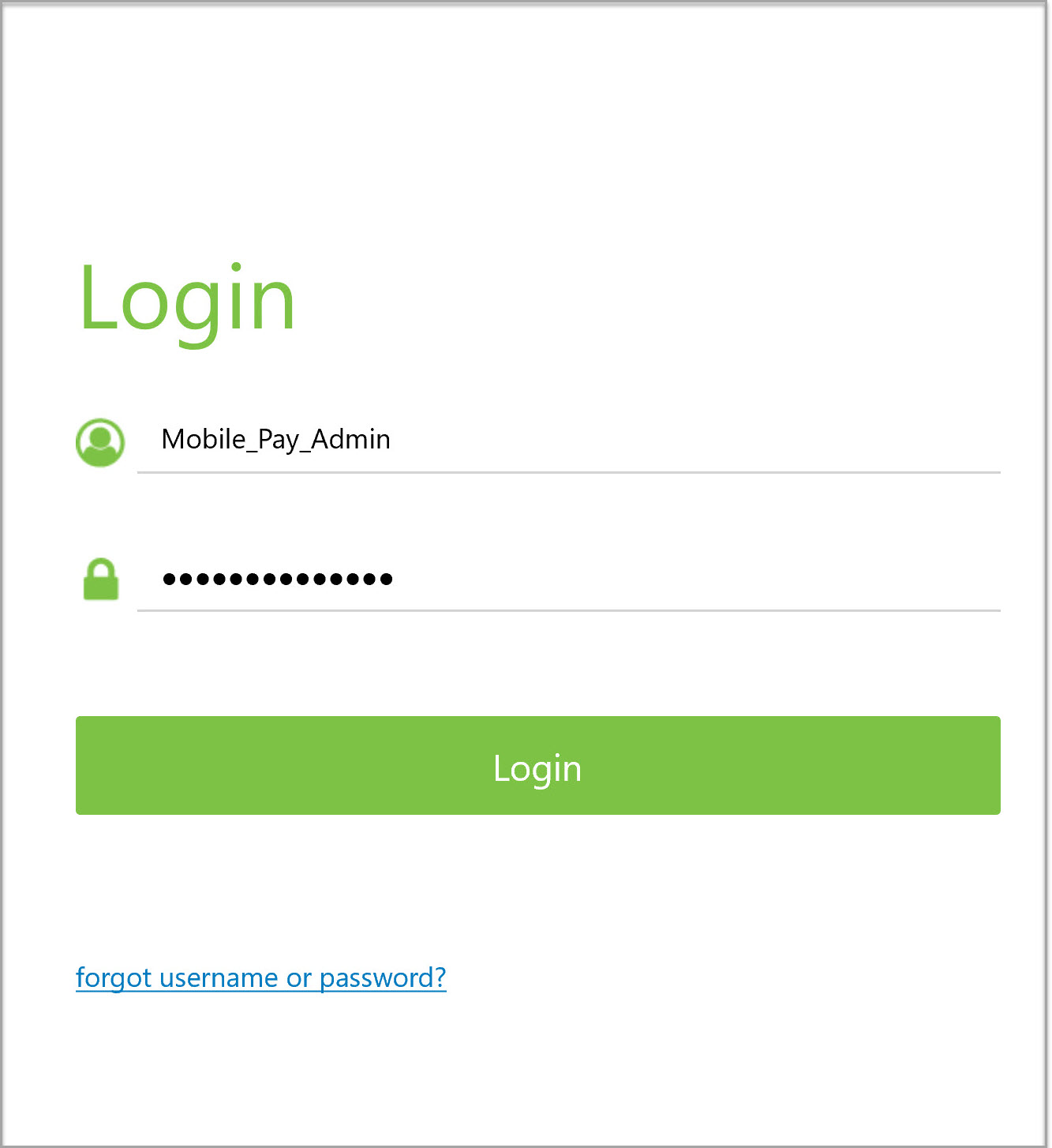 On the donation sceen, there are multiple fields that will need to be configured based on the specific donor. The first thing you will enter will be the amount the donor will be giving and their currency.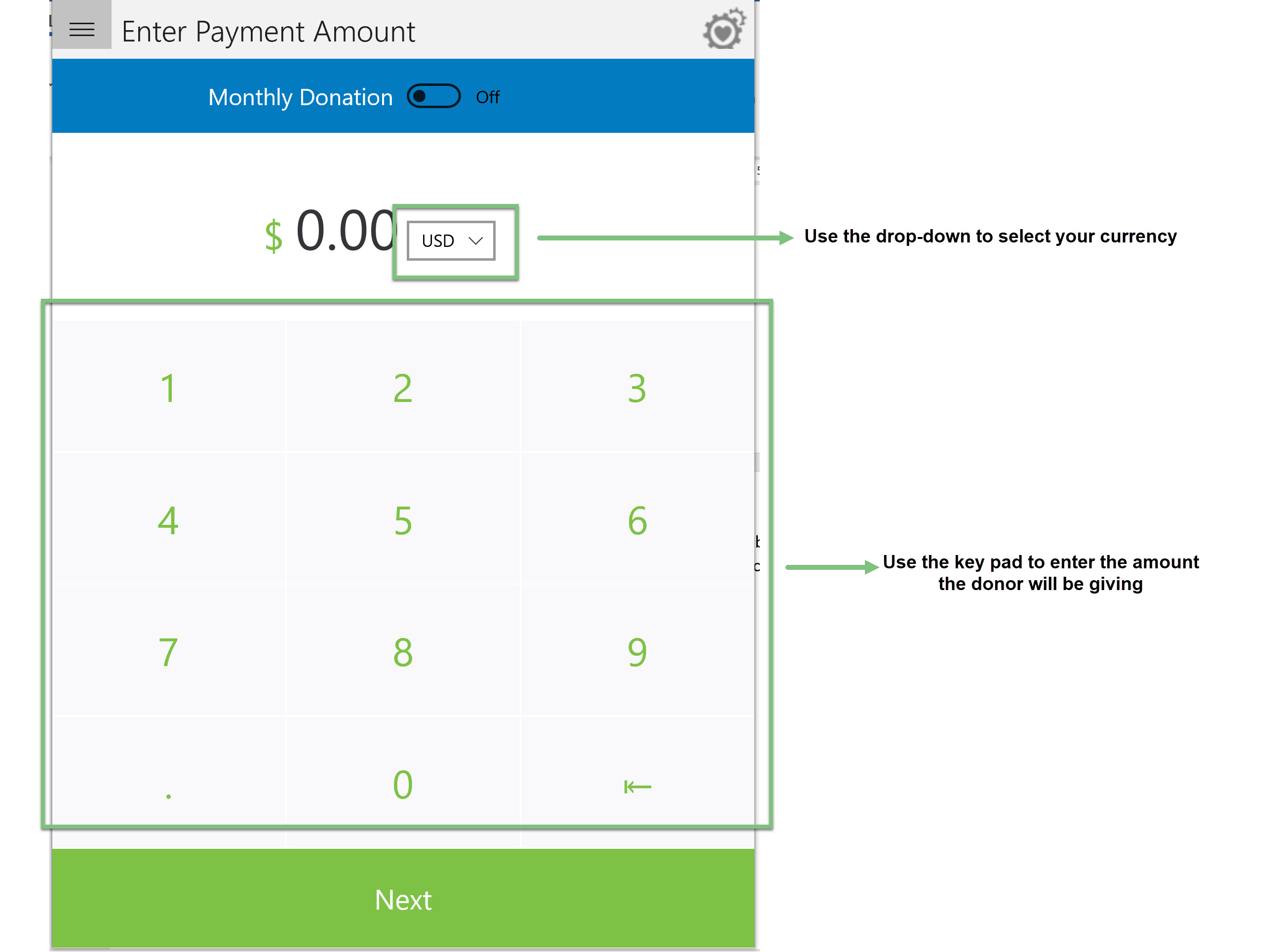 Once you have used the key pad to enter the payment amount, it will appear at the top of the screen.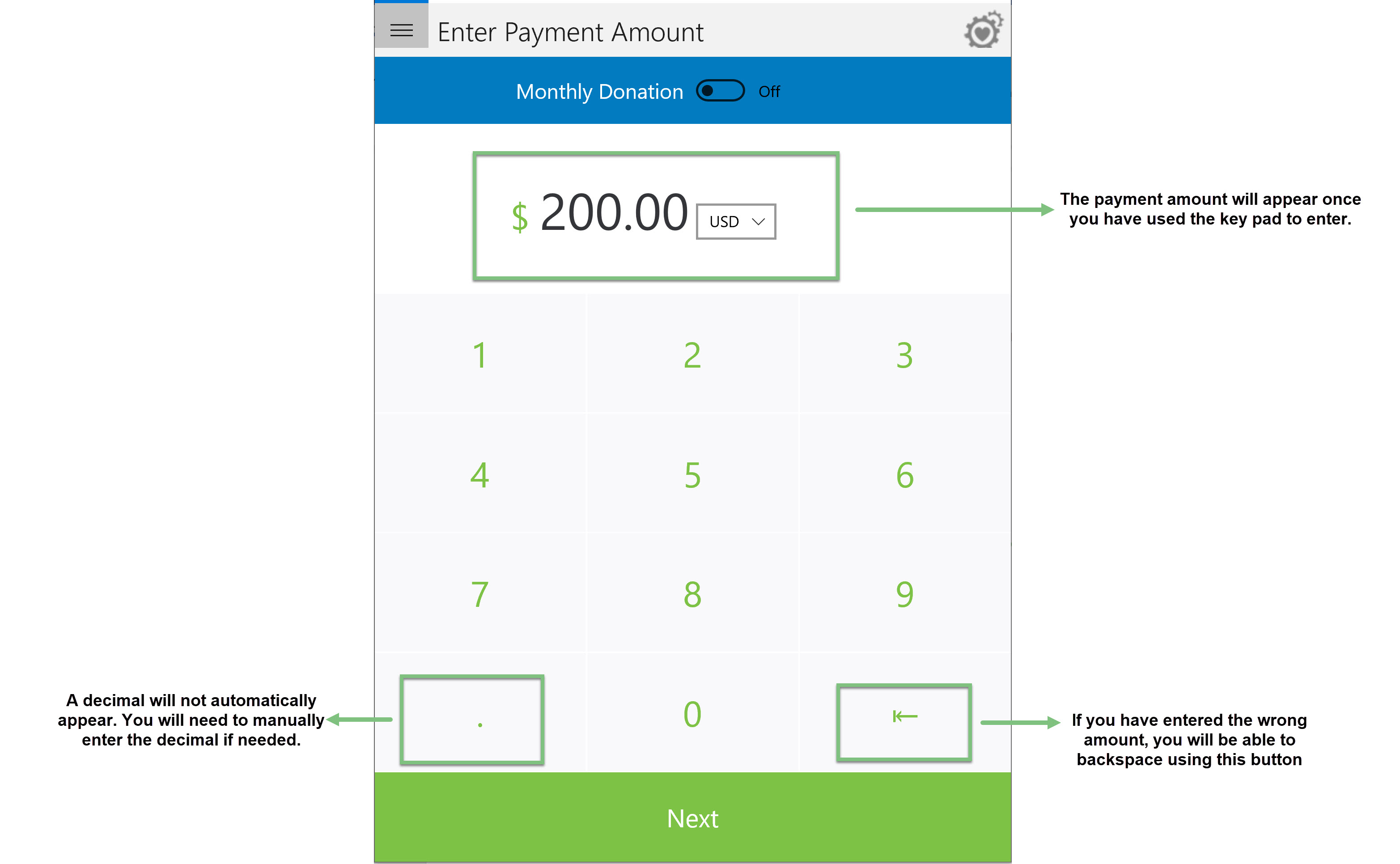 Note: Decimals are not required and are not automatically entered. Please be careful when entering the payment amount as it can be very easy to mistakenly enter $2000 when the actual payment was $20.00. if you have entered the wrong payment amount, use the backspace button to change the amount.
Another feature you will need to pay attention to is the monthly donation toggle at the top of the screen. Before moving on to the next step in the donation process, ask the donor if they would like to help support your mission by becoming a monthly donor. If they accept, toggle to yes and the CharityEngine Database will automatically configure their account to be charged monthly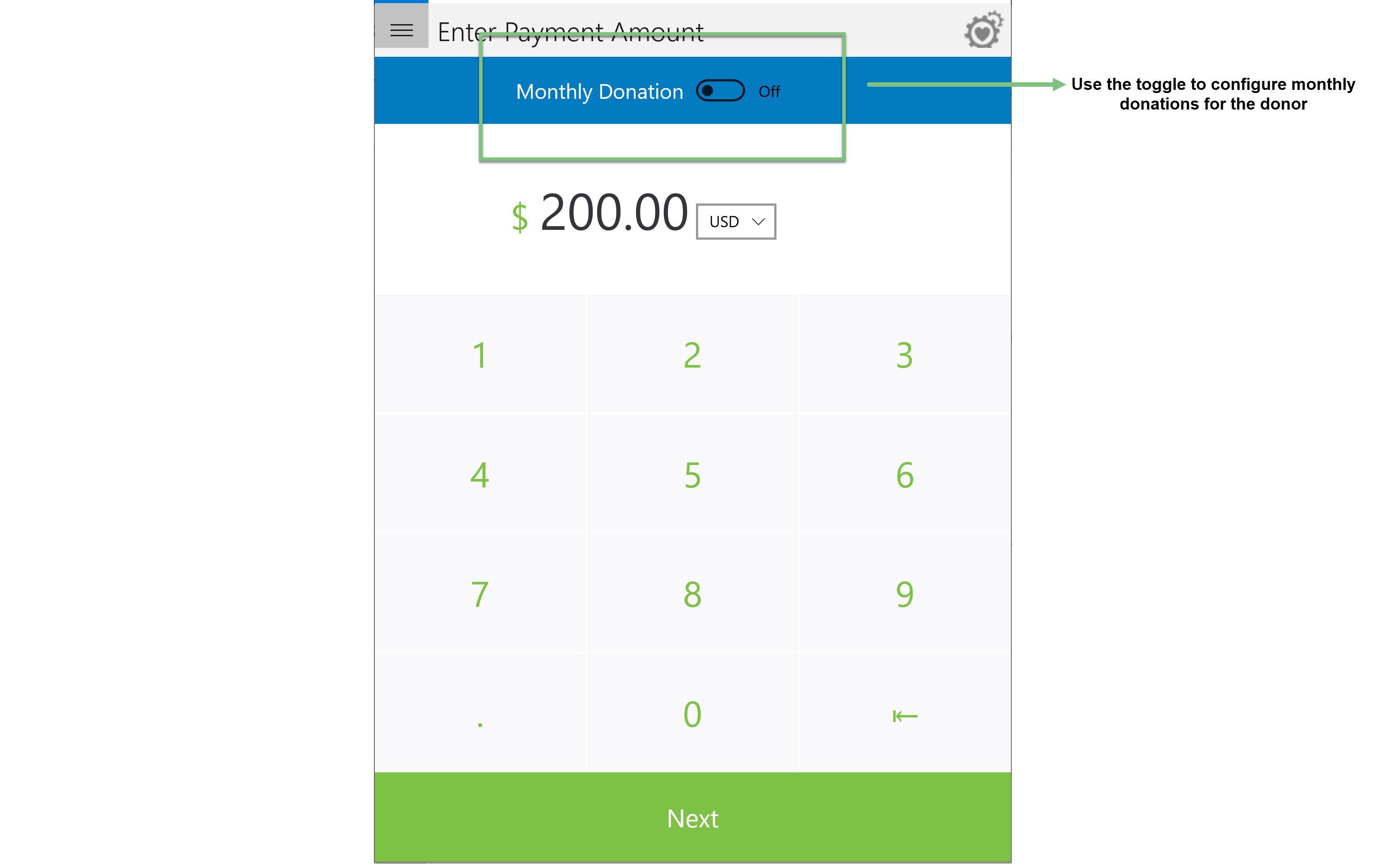 Next, the app will prompt
your
for the credit card information. Once all information is entered, the Next button at the bottom of the screen will turn green and you will be able to proceed to the next step.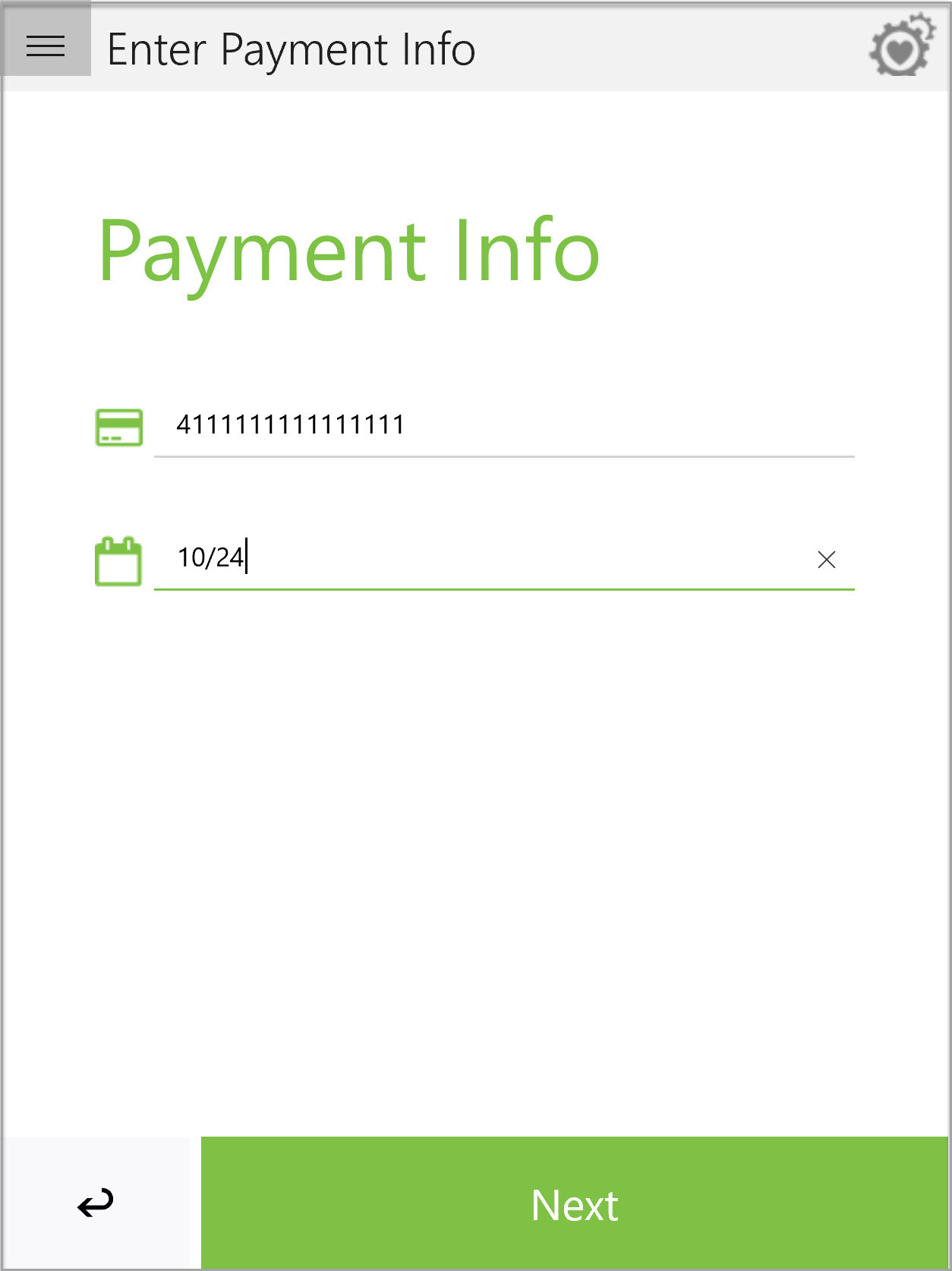 Now you will be able to enter the donor's information such as
Name
, email address, and address.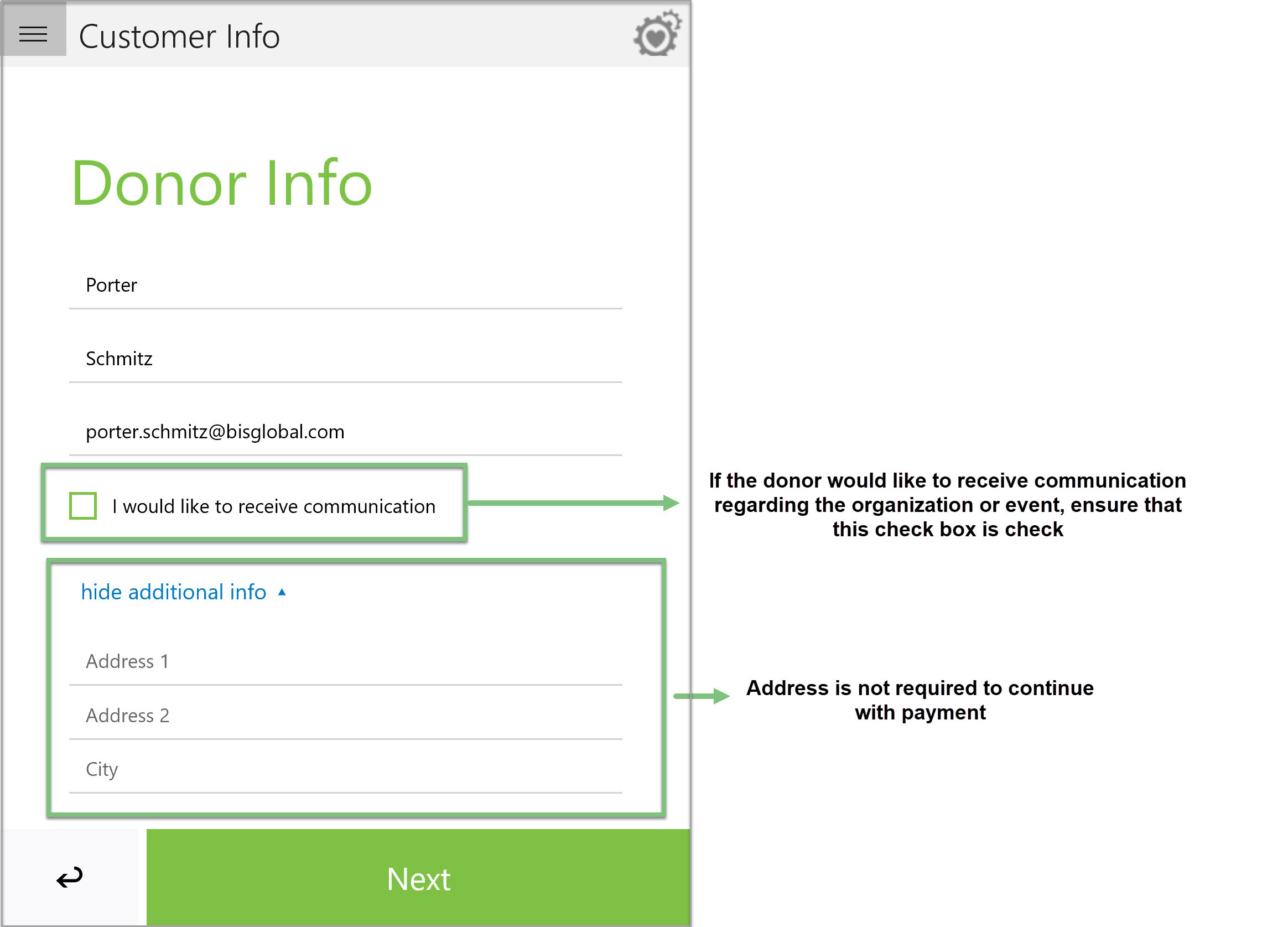 Before the payment is processed, ensure all information is correct with the donor and then click Process Now.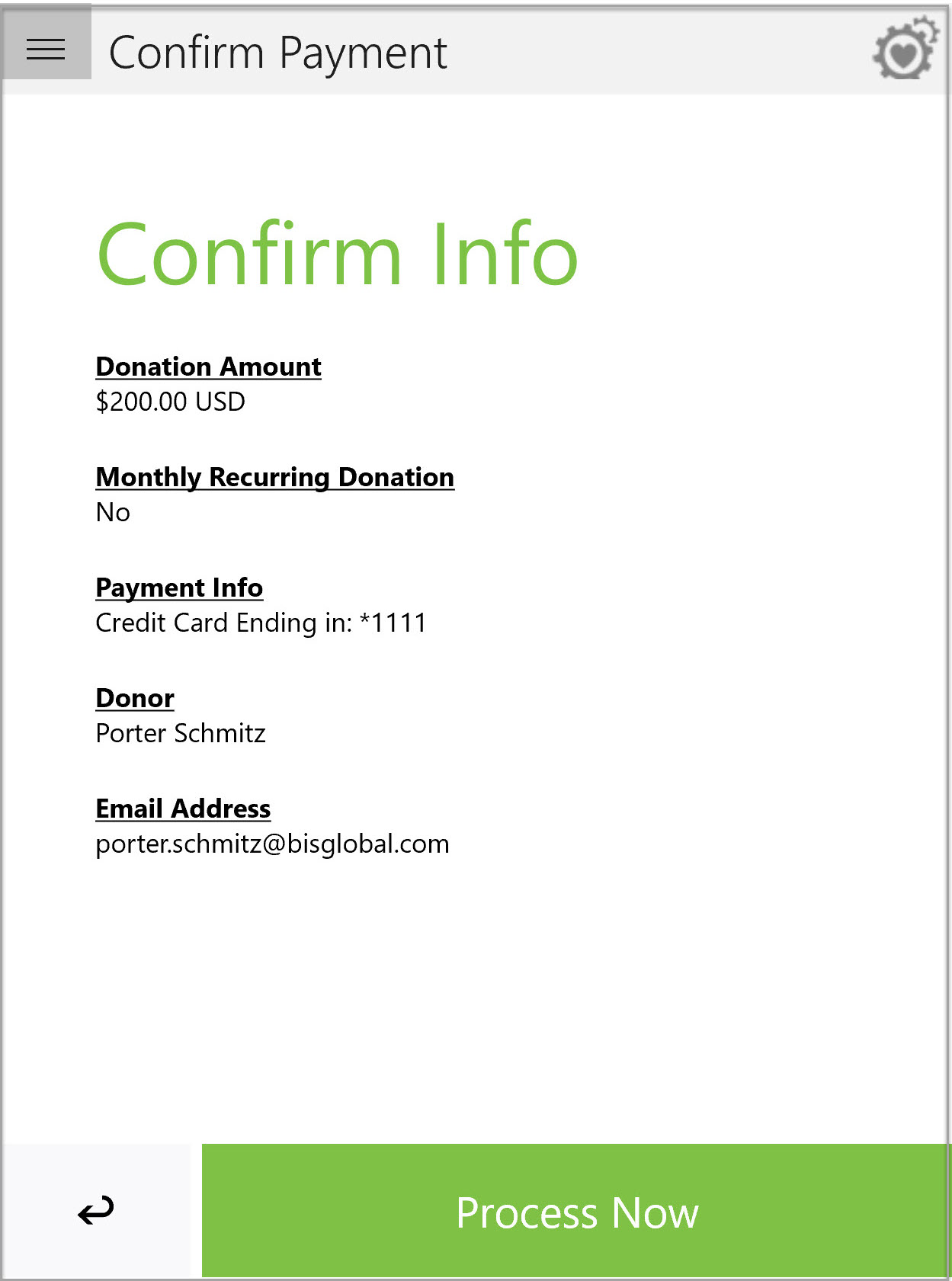 Now you will be able to send the confirmation email to the donor by clicking on Send Email Receipt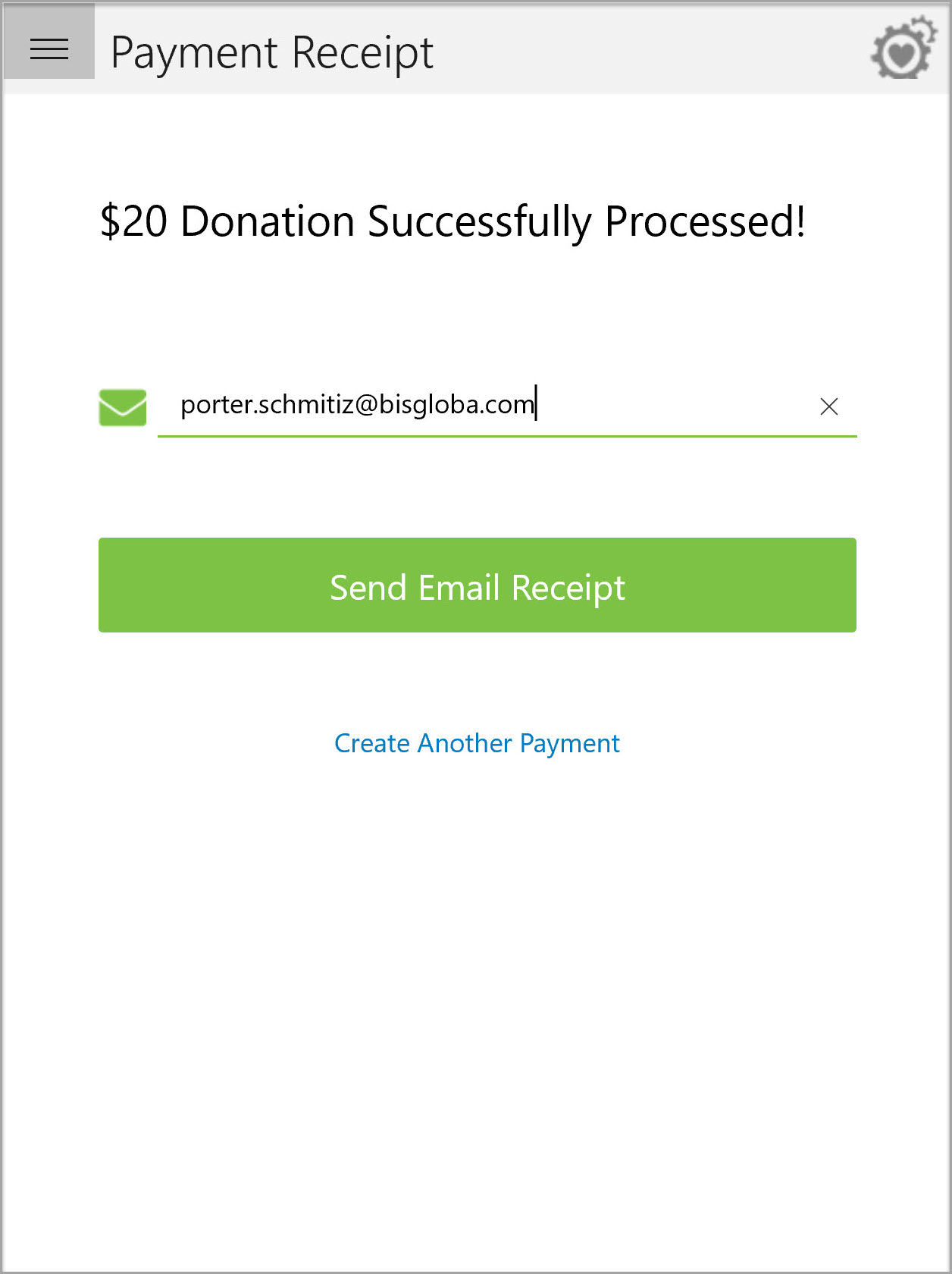 The email the donor will receive will look like the below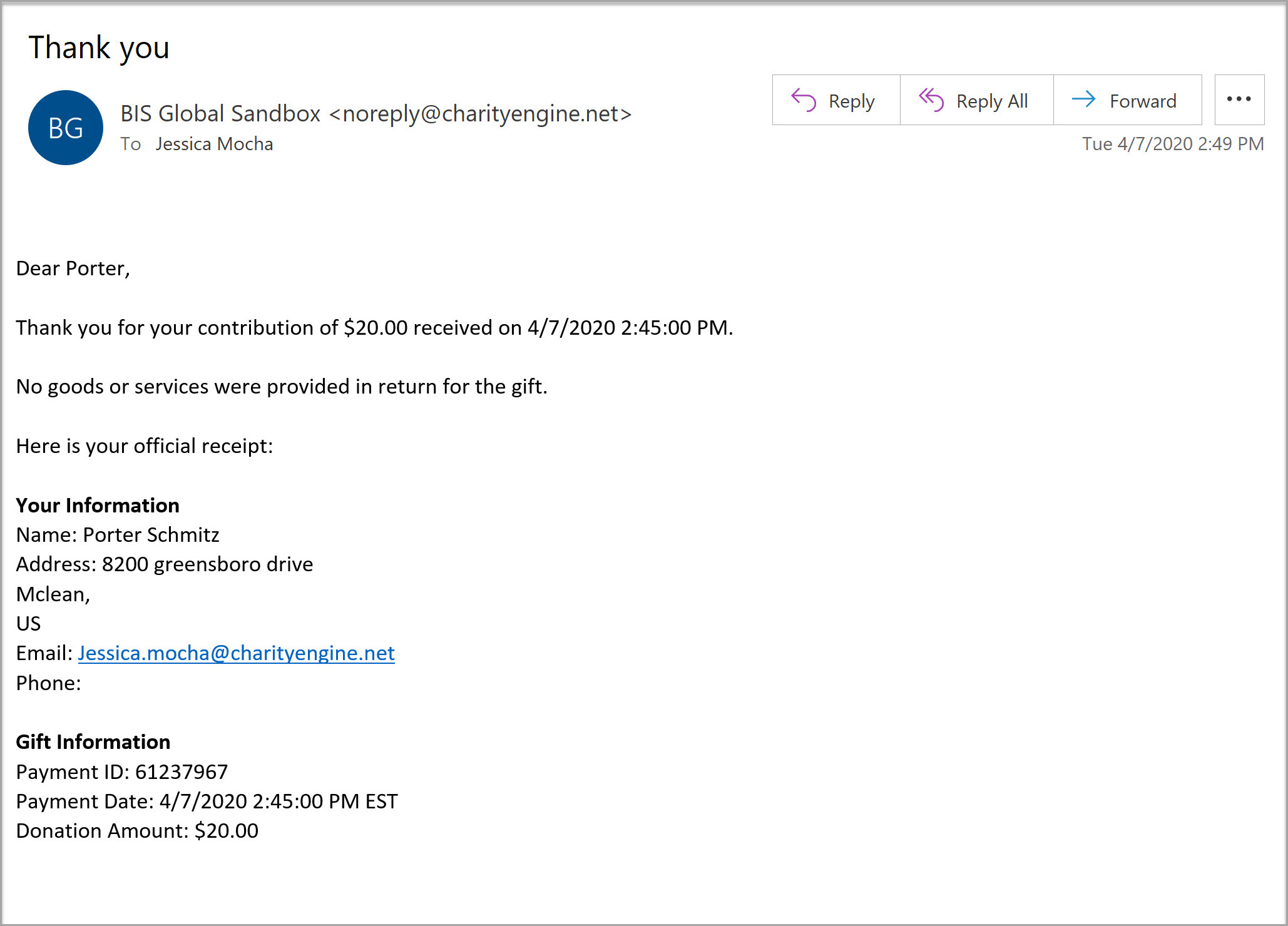 As a CharityEngine user, you will also be able to see their payment by navigating to the transaction screen. You will be able to see the contact information, the payment information, and that the payment was made through the MobilePay App.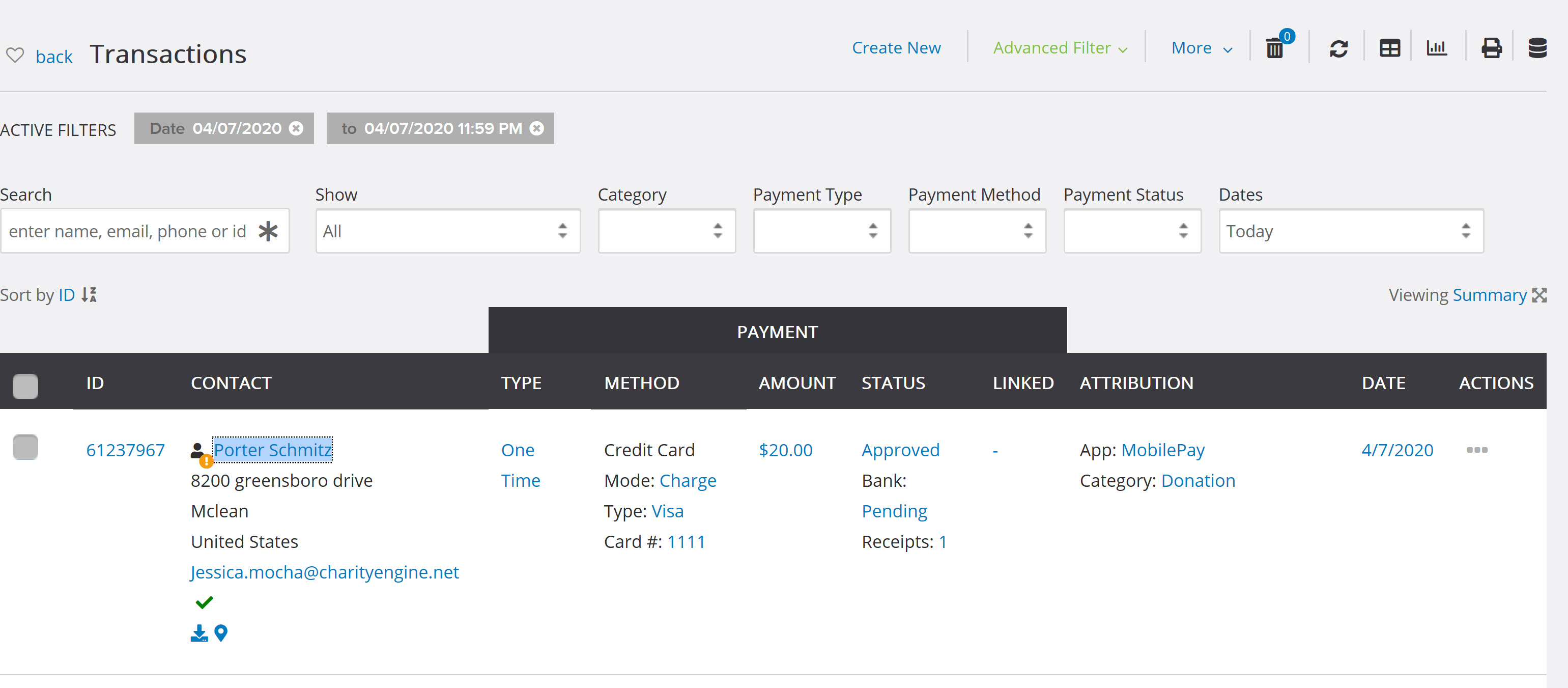 If you have a new mobile pay device and are setting it up for the first time:

1. Connect your swiper to your device
2. Log in with your CharityEngine user id and password
3. Select
Amount

4. Click
Next

5.Credit Card and Permission to Access the Device will display
6. Select
OK

7. Select
Previous

8. Select
Next
on the donation amount screen
9. You will now be ready to use Swiper (located below Credit Card Expiration you will see sample to use the swiper)
These steps will only be required for the first time when swiper is connected to the device or when the swiper is removed