General: How to Use Email Concierge to Perform Tasks in CharityEngine

Introduction
With the help of AI, CharityEngine allows users to access the CRM Mailbox Assistant to create activities and receive information directly to their email inbox by sending an email to the database email concierge. By adding your command to the subject line of your email, you will be able to perform tasks like creating an activity, view your accounts, or even write a fundraising email. This feature is available for all email service providers and not limited out outlook or other Exchange email providers.
Table of Contents
Prerequisites
In order to use the CRM Mailbox Assistant, you will have to have it provisioned in your account. If you do not already have it provisioned, please reach out to your account manager to discuss how to get it provisioned.
Instructions
To utilize the mailbox assistant, all you need to do is send an email to Assistant@CRM.CharityEngine.net with the command in your subject line, as shown below. To get started, type the word Help into the subject line and the database email concierge will send you back an email with commonly used commands.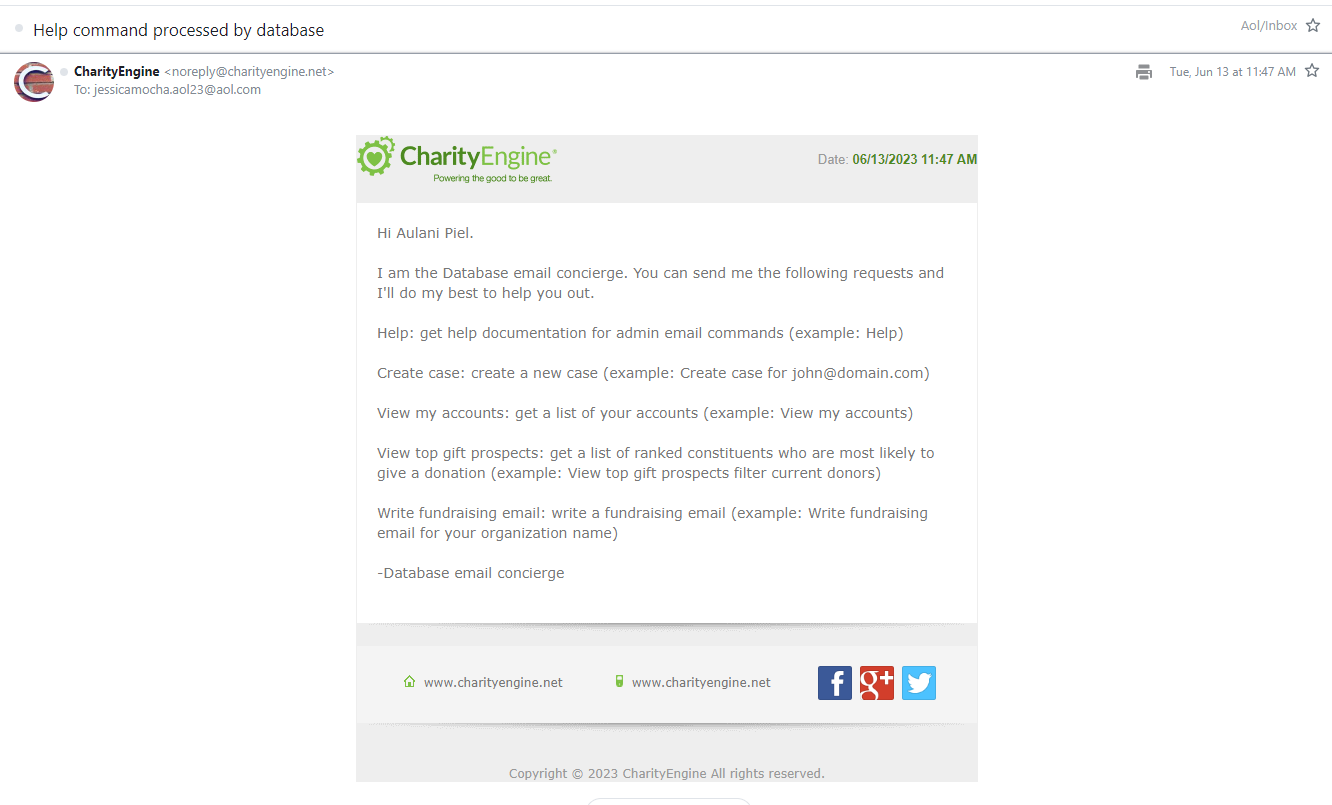 User Case: How to Create an Activity
If you want to use the CRM Mailbox Assistant to create an activity, use the command "Create an Activity to <insert activity name>".
For example if you want to create an activity to call a donor, put "Create activity to call donor" in subject line




To see the activity, navigate to the Contacts Application, and under the Activities section, click on Activities to see the Activity listing screen.





If you put any content in the body of your email, that data will be stored as a note on the activity.


Commonly Used Commands
By putting the below commands into the subject line of your email, various tasks will be performed in your CharityEngine account.
"Help" - get help documentation for admin email commands (example: Help)
"View top gift prospects" - get a list of ranked constituents who are most likely to give a donation (example: View top gift prospects filter current donors)
"Create Case" - create a new case (example: Create case for john@domain.com)
"Write fundraising email" - write a fundraising email (example: Write fundraising email for your organization name)
You will receive an email in response to each of these commands with the information requested or letting you know that the action has been performed.
---
Writer & Email Concierge - Using AI to Inspire Your Content
Users can use the power of AI to assist in crafting marketing content with the integration of the Writer feature.
Access the Campaign App > Create & Publish > Creative > Create New or Manage Existing
Click on the Writer to initiate the workflow

Add content to initiate the AI generated content
Select the Style of the message
Click GO

The AI generated content will be initiated: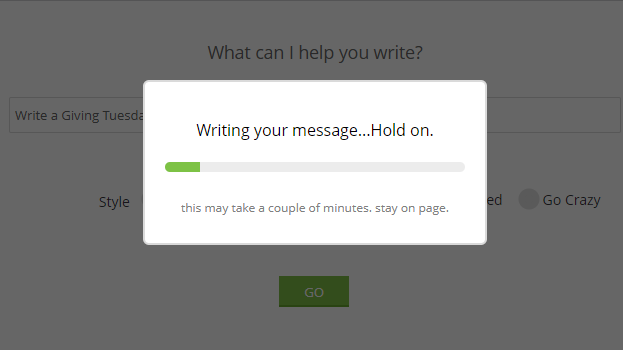 Once content is generated, a similar screen will appear with the suggested content. Users can select to Click here to modify the AI content. Or, users can click on COPY to copy the existing content and paste into the creative.
Be sure to update system tokens where needed (i.e. [Supporter's Name] - replace using the Merge Token feature to replace with [[initiative.audience member.first name]]).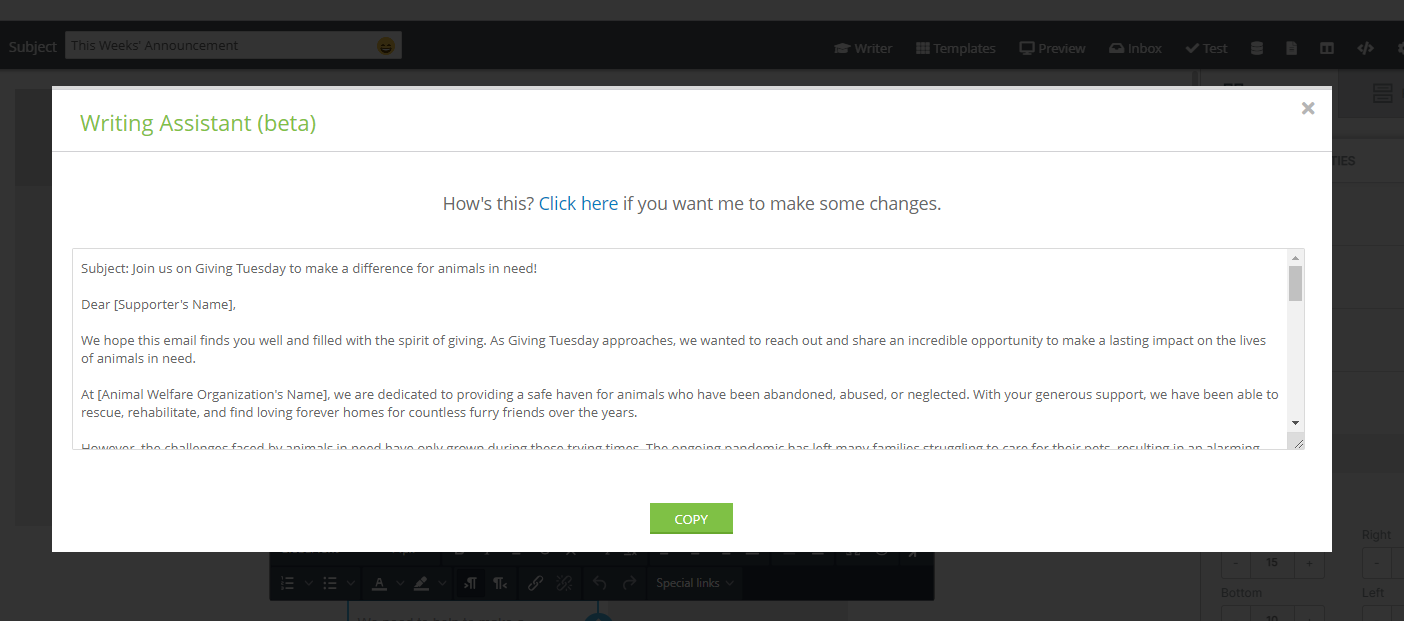 ---
FAQs & Additional Reading
Q. Is the AI writer available elsewhere in CharityEngine?
A. Yes. Throughout the applications, look for the Content Writer within the menu across web forms, surveys, websites, etc.