Reports & Analytics: How to Access Lapsed Donors Reporting
Introduction
As a fundraiser, monitoring for potential lapsed donors is a critical activity within your organization. CharityEngine has created out-of-the-box reporting for LYBUNT (last year but unfortunately not this year) and SYBUNT (some years but unfortunately not this year). These reports are just two in a series of available reports to ensure you have what you need at your finger tips to quickly and easily identify areas of opportunity and further drive your fundraising efforts. Leverage these reports, and others under Fundraising, to assist you in identifying the targeted audience for out reach through development activities.

Table of Contents
---
Prerequisites
Previous donor transaction history.
---
Instructions - LYBUNT/SYBUNT
Step 1: To view the LYBUNT Report, navigate to the Reports & Analytics App > Fundraising > LYBUNT Report.
Step 2: All contacts that fall into the LYBUNT category will appear in a list.
Step 3: Leverage the quick filter bar to filter by Mode: CY (calendar year) or FY (fiscal year if set your organization). Roll Up Yes will display roll up totals for Organizations (with associated employees) and Households (with associated members). Leverage Type: to filter on contact types, also available for filtering includes State and Country.

Note: in SYBUNT Report, the user also has the ability to access specific years a donor may have given.
Step 4: Leverage the Advanced Filters for additional filtering options including Solicitor, Campaign, Response Channels, etc.

Access the SYBUNT Report by navigating to the Reports & Analytics App > Fundraising > SYBUNT Report
---
Instructions - Account Adjustments
Want to see all of your membership, pledge, and sustainer account changes in one place? You can do that with our Account Adjustments report. Whether it's an upgrade, downgrade, new signup, or payment info update, you can see what is going on with your donors' accounts by going to this new report.
Why is this so fabulous? Because you could pull that record and hand-write a thank-you note to that donor. And you've dramatically increased your engagement with this donor. A personal note goes a long way toward building loyalty!
Step 1: Navigate to the Reports & Analytics App > Accounting > Account Adjustments
Step 2: Use the Quick Filters and/or Advanced Filter options to refine your report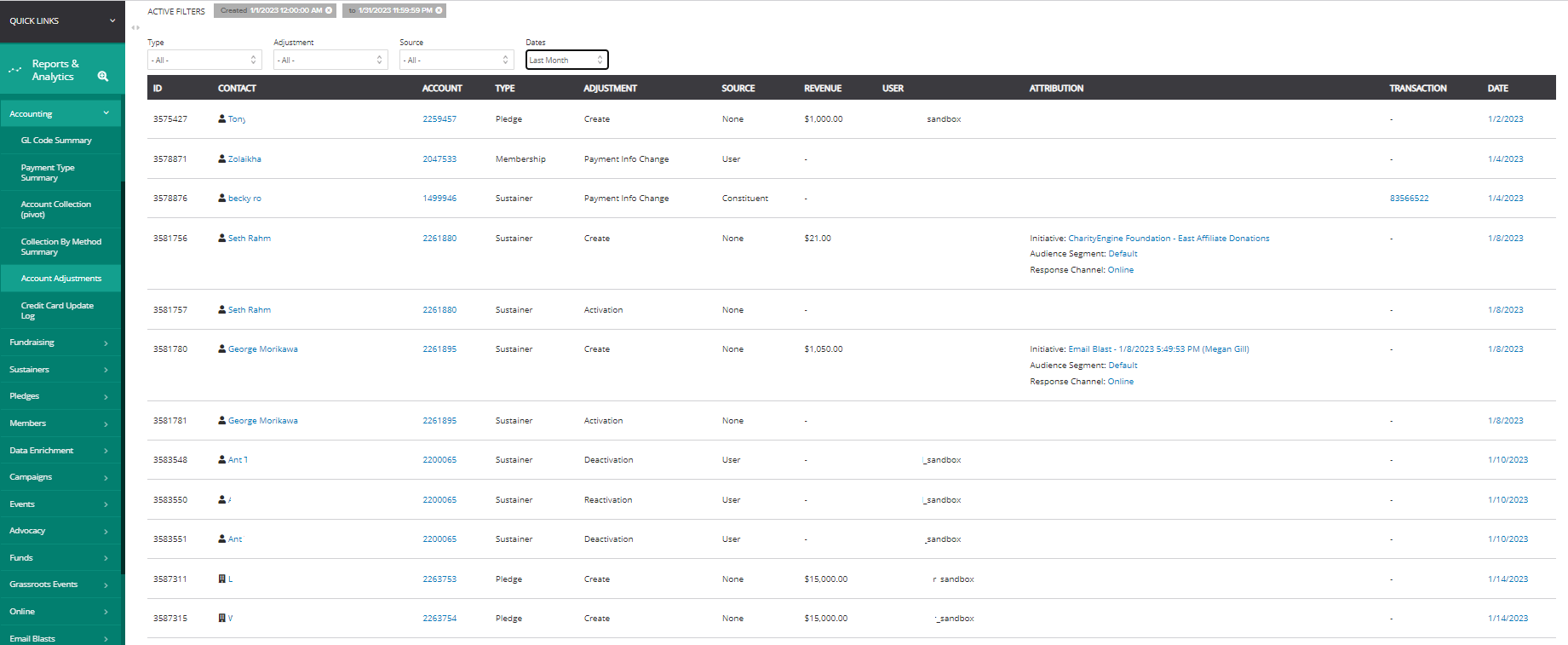 ---
FAQs & Additional Reading
Q. Now that I have my LYBUNT listing, how can I leverage this for donor outreach?
A. From the LYBUNT report, easily message your donors by selecting the More option from the right hand corner of the report and select Send Message. A pop-up will be presented for the user to create an email or mail message - as well as creation of an activity for the contact record. Follow the wizard to create and deliver your communication.

Q. Am I able to export my results?
A. Yes, easily export by navigating to the top right hand corner. Locate the four box export icon to generate your results. Note, the export file will also include additional contact details to assist you in outreach and analysis.
Q. Are there additional reports to assist me with monitoring donors?
A. Absolutely! Within our Reports & Analytics App there are a host of reports available to users of CharityEngine. As a fundraiser, please take a look at the Fundraising category to find reports such as:
Top Donors
New Donors
Top Donations
Donor Gift Summary