Advocacy: How to Manage Communication Opt-In Lists for Action Alerts

Introduction
Getting your supporters involved is paramount and for some organizations it's not always about gaining support with financial contributions. Advocacy campaigns are one of the most powerful ways for nonprofit organizations and membership associations engage their supporters without asking for money.
The action that someone took to support the organization is almost as important as the nonprofit's ability to understand who is engaged, so they can use that information in their lobbying efforts for public policy as well as the ability to solicit their support in the future.
As is true with donations, advocates who take action on an organization's behalf, may or may not care to receive further information about other campaigns to get involved. And organizations, by law, must comply with the wishes of the supporter (if this person reports that they do not care to receive messages about other campaigns in the future).
For this reason, in the CharityEngine system, supporters have 2 options to Opt-out of receiving communications from the nonprofit.
Supporters can specifically select to be included (or not) via a question on the online action form. This choice of Opting-In or Opting-Out is an extremely important component in increasing your email deliverability.
Please make sure to clearly label and explain what checking (or un-checking) an Opt-in question dictates. It is important to note that the system would not be able to understand intention. If a supporter un-checks a box, which says they do not want to receive further information, the system would not be able to tell if that supporter truly did want to Opt-out (or if that person just thought they were already on a list and didn't need to keep checking the box and answering "yes" to the Opt-in question when taking action). Just because someone donates and/or takes action for your organization, does NOT automatically mean that they also want to receive your communications.
Supporters can also "unsubscribe" from the email they receive (as well as "unsubscribe" from SMS communications). The CharityEngine system does provide options for supporters to "manage their preferences," where the supporters can select which communication methods and which topics they care to receive messages, instead of globally "unsubscribing" from all messages going forward.
CharityEngine makes it easy for nonprofit organizations to provide clear options on the online form for supporters to answer this important Opt-in/ Opt-out question.
If your group is reticent to have this Opt-in/ Opt-out question on your online forms, the CharityEngine system also makes it easy for groups to exclude this question on the form altogether. Omitting the Opt-in question would assume that someone taking action is Opted-In. Please be aware that this practice of omitting the Opt-in/Opt-out question will most likely negatively affect your overall email deliverability, due to those who push unwanted messages to SPAM/ unsubscribe and whether you know it or not – this would result in negatively impacting messages from being delivered to those who truly want to hear from your organization.
---
Table of Contents
---
Prerequisites
Before you can automatically add tags to be attributed to the donor records from your advocacy action alert form, you'll need to create an "issue," which equates to the online form page that will facilitate your advocates taking action. If you need assistance in configuring your advocacy action alert form, please read the linked articles below:
---
Adding or removing the Opt-in list option on action alert forms - Overview
[Step 1] Navigate to Advocacy > Issues; to view the advocacy module's "listing screen," which displays all of the available issue/ action-alert forms.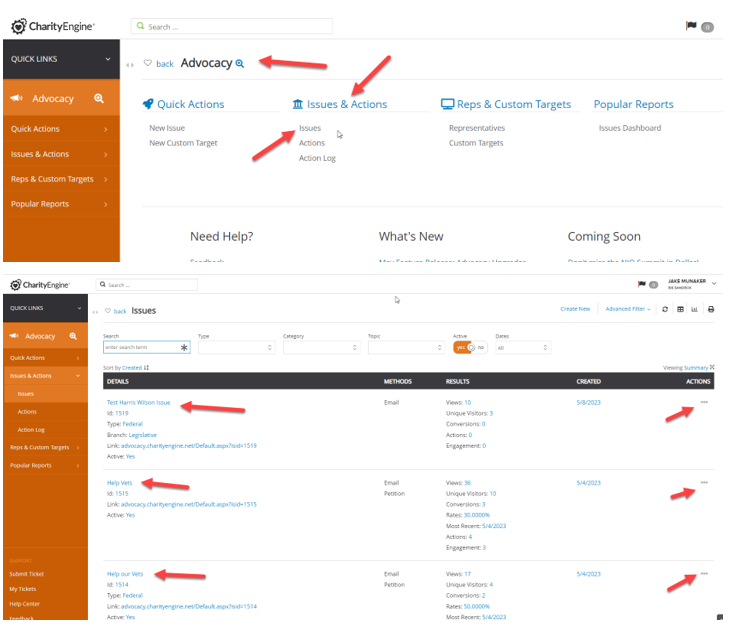 [Step 2] On the same line as the advocacy issue that you want to adjust, hover your mouse over the 3-buttons on the far right, which will display options to manage, delete or even duplicate the issue.



[Step 3] While hovering over the 3-button menu for the issue you want to adjust click on the "manage" option.
[Step 4] You will now see a screen that is managing/ "editing" the specific action-alert form, where there are various tabs to select from. Click on the "Sign Up" tab.



[Step 5] Once you select the "Sign Up" tab, you will see sub-tabs "general," "custom questions," & "tagging." Stay on the "general" sub tab, where you will see options to manage the Opt-in question on your form.



[Step 6] You will see that the form is defaulted to display the Opt-in question, which will ask your supporters to decide if they want to receive future communications. If you select to display this Opt-in questions, the default language will display as "Yes – I would like to receive updates." However, you have the option to change the wording on the question, to make it clear what answering this question means. For example, I changed the prompt to say, "I can change this message." You should probably use a phrase that is clear about what this refers to, such as "Yes - please keep me informed about other opportunities to support" OR "Yes – I want to stay on the mailing list" OR "Yes – I want to hear about other action alert opportunities" OR maybe "Yes – I want to keep receiving emails." You'll notice that for each of these customizations, I used the word "yes" to make sure they understand that this is a confirmation.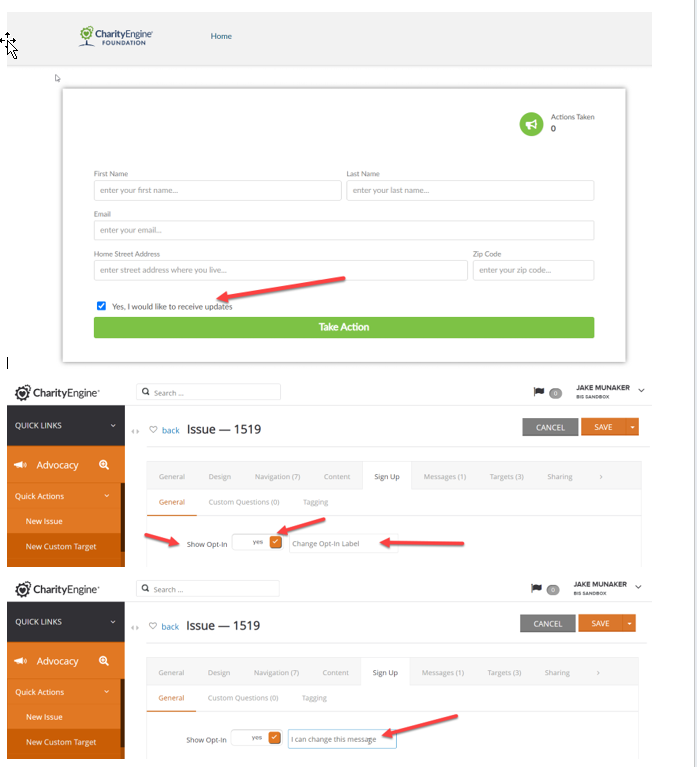 If you select to NOT display this Opt-in question, click on the highlighted YES slide-button and the display will change to a shadowed – NO option, which means the question will no longer be displayed on the form. Please note that the ability to customize the message will disappear if you select NO, because you do not need to adjust the messaging for this question, since this question will not be displayed on the form.



[Step 7] Once you make any adjustments to the wording for this Opt-in question OR if you select to NO, so the question will not be displayed, please make sure to SAVE! (good general practice to just save after making any small adjustments to the form before you leave this page).
---
Outcome
Now that you have followed the above steps, you should be able to manage the Opt-in question on your advocacy action alert forms, so that your supporters can accurately report their desire to receive future communications from your organization. This will help you follow-up with your engaged, advocate supporters and encourage them to continue taking action on your behalf. It will also help you gain a better understanding of your advocates and how they prefer to be communicated with.
---
FAQs & Additional Reading
Q: If I want to launch an advocacy action alert, is it required that need to manage this setting?
A: No- the system will default to displaying this question and will be defaulted to Opt-in your supporters. The advocate would have to consciously unselect/ uncheck this box, which is a deliberate choice to say that they no longer wish to receive your emails.
Q: What if my advocates think they are already on the mailing list and will unselect while they take action, so they aren't counted twice?
A: If your advocates unselect/ uncheck the Opt-in question, they will be Opted-Out. The system can not understand intention. A suggestion would be to change the messaging on the Opt-in question, so they better understand what this choice means.
Q: What if I find that many of my supporters are being Opt'ed-Out because they unselect the box "accidentally"?
A: Anyone that contacts you can/ should be instructed to go into their Online User Center and manage their communication preferences, to ensure that they are Opted-In for future emails.
Q: I know my advocates and anyone who takes action on our action alerts wants to still receive our emails, no matter how they answer. What can I do to make sure that my advocates are not Opted-out?
A: Though you may have a strong sense of how your advocates have engaged with your group, if someone makes a conscious decision to report that they do not want to receive emails, we would highly suggest that you proceed cautiously if you continue to contact this supporter. Many people who support organizations report that they do not want to receive emails for fear of being sent too many messages, which is common practice with many nonprofits. If you feel strongly that your supporters will want to remain Opted-in when they take action, then your organization should remove the question and assume that they should be Opted-in and leave it up to the unsubscribe button within the email.
Q: Can I configure the system so that this option is automatically configured for all of my advocacy forms?
A: No – this must be configured for each specific/ individual advocacy action alert form.