Constituent Outlook Ranking
The Outlook Card is a gift probability ranking that offers a quick glance analysis on donors' probability of making a donation. This functionality is geared toward major gift officers that want to see at a glance, the gift probability ranking of constituents and take any necessary action. CharityEngine offers 3 different outlook rankings.
Nurture: these are donors who haven't engaged in awhile and you may need to send something to remind them of you I.E for and ask for advocacy etc. or, it may mean that this donor has just recently given so you may want to consider not adding them to another outreach.
Warm: These are donors who are engaged, and have performed an action either in advocacy, sharing initiative or some action that is helping to get your message out.
Hot: These are donors that are high engagers, taking a lot of actions this would suggest that a major gift officer would want to give them a call to see if they would like to give.
To see your constituent Outlook Ranking, Navigate to Apps > Contacts > Search and Manage
On the Contact system page, you will see the outlook tab on the bottom right of the individual contact tile.

Click Outlook to see ranking.

Hoover on ranking to see suggestions based on ranking.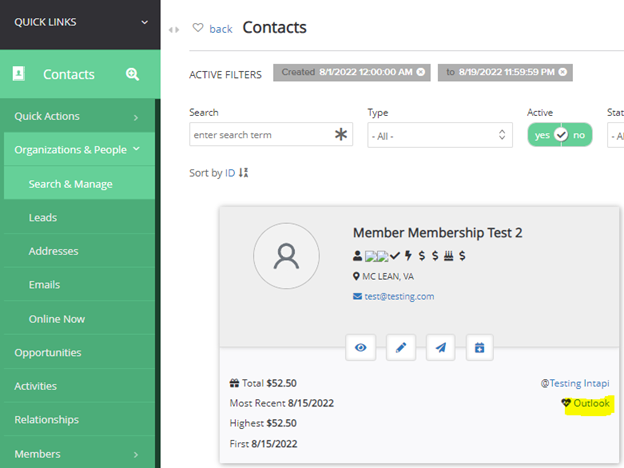 If you are using a summary view for your contacts, under the Actions ellipses, View the record. The Outlook ranking can be found on the top right corner of the screen



The Rankings are based off the 3 different sub-categories below. Donor, Champion, and consumer
Click on the ranking for more details: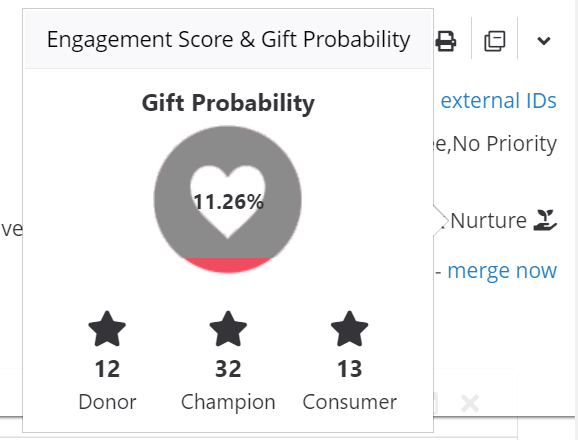 Donor:
Champion: These are Constituents who have engaged, visited some of the sites that you track or have performed some advocacy action.
Consumer: This is a Constituent that is consuming lots of data, viewing your website, clicking on links, but not necessarily taking action.