Landing Page URL

Introduction
Landing Page URLs are an easy way to track where donors are navigating from to view your forms or other online assets. The links can be different for each media channel social media, radio ads, email, television, or direct mail and you will be able to determine what method and even which ad or post is bringing in traffic and revenue to your forms and websites. Having different landing page URLs for each media channel helps support multichannel marketing and will help track where donations are coming from. This in turn can be used to make decisions, such what channels to invest time and resources in. For example, if you use different URLs for different radio ads, you will discover which radio stations are successful and produce the most revenue. Once this information has been uncovered, organization spending can be better directed in the next year.
Prerequisite
In order to create a personalized landing page URL, the user must purchase a domain and create a record in their DNS records that points to IP Address 209.183.221.32.
Instructions
Once the domain has been purchased and record has been created in the DNS, the user will need to create the domain in CharityEngine. To create the domain, navigate to Configuration > Campaigns > Domain Names click Create New.



Enter the domain name and ensure the Active box is checked.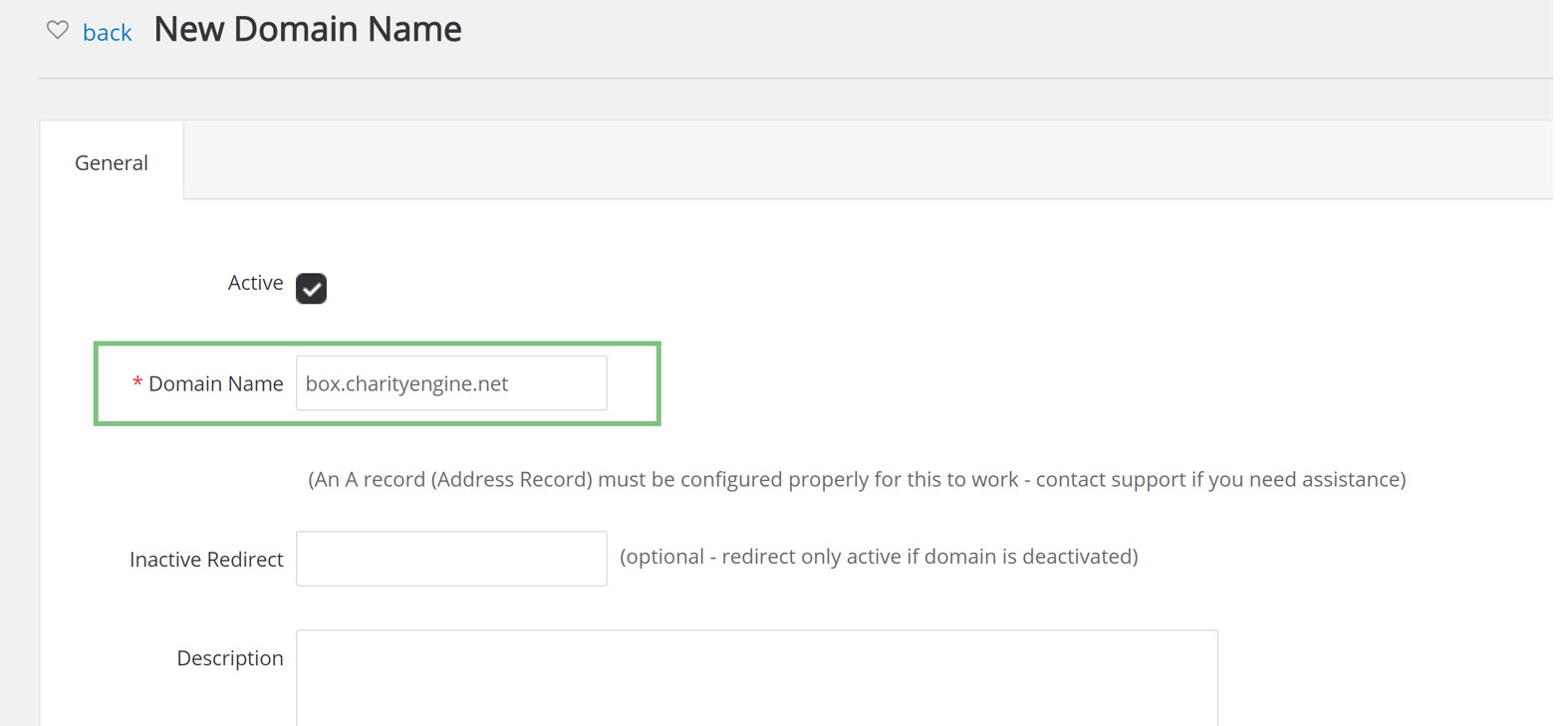 Once the domain is configured in CharityEngine you will be able to use it in combination with your landing page URLs. Navigate to Campaigns > Create & Publish > Landing Page URLs and click Create New.

Enter the Destination URL, which is the website or form you want donors to be sent to and select the link domain from the drop down. You will also want to enter a campaign token, which will add a suffix to the domain, such as Facebook-Halloween. The campaign token is not required, however it is a way to use the same domain for multiple links that feed into the same campaign. Typically, campaign tokens are used for online media channels such as social media or email and not for radio, tv, or direct mail. This is because it will be quicker and easier for the donor to type in the URL.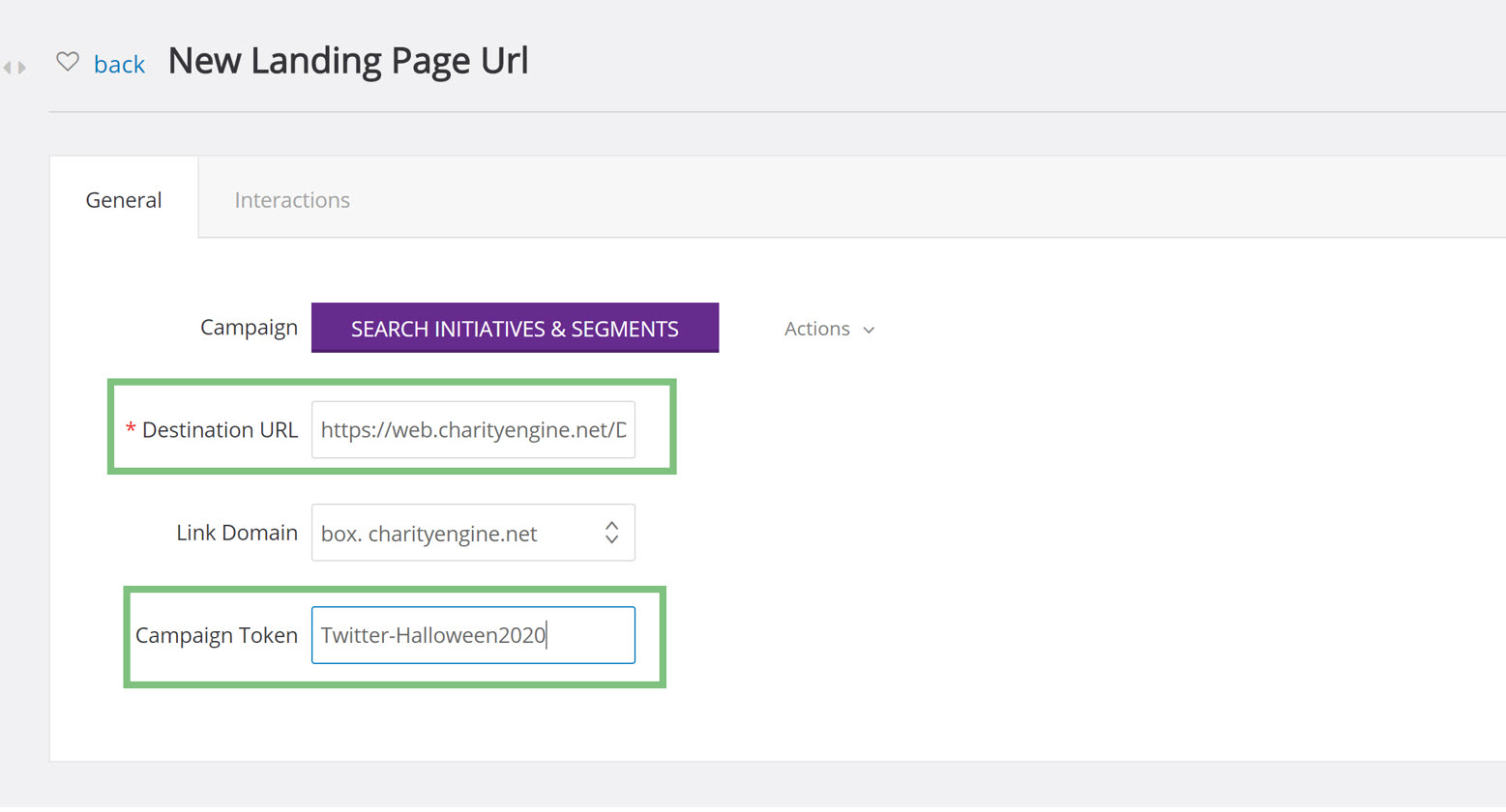 To link the landing page URL to an initiative, click on the Search Initiatives & Segments button.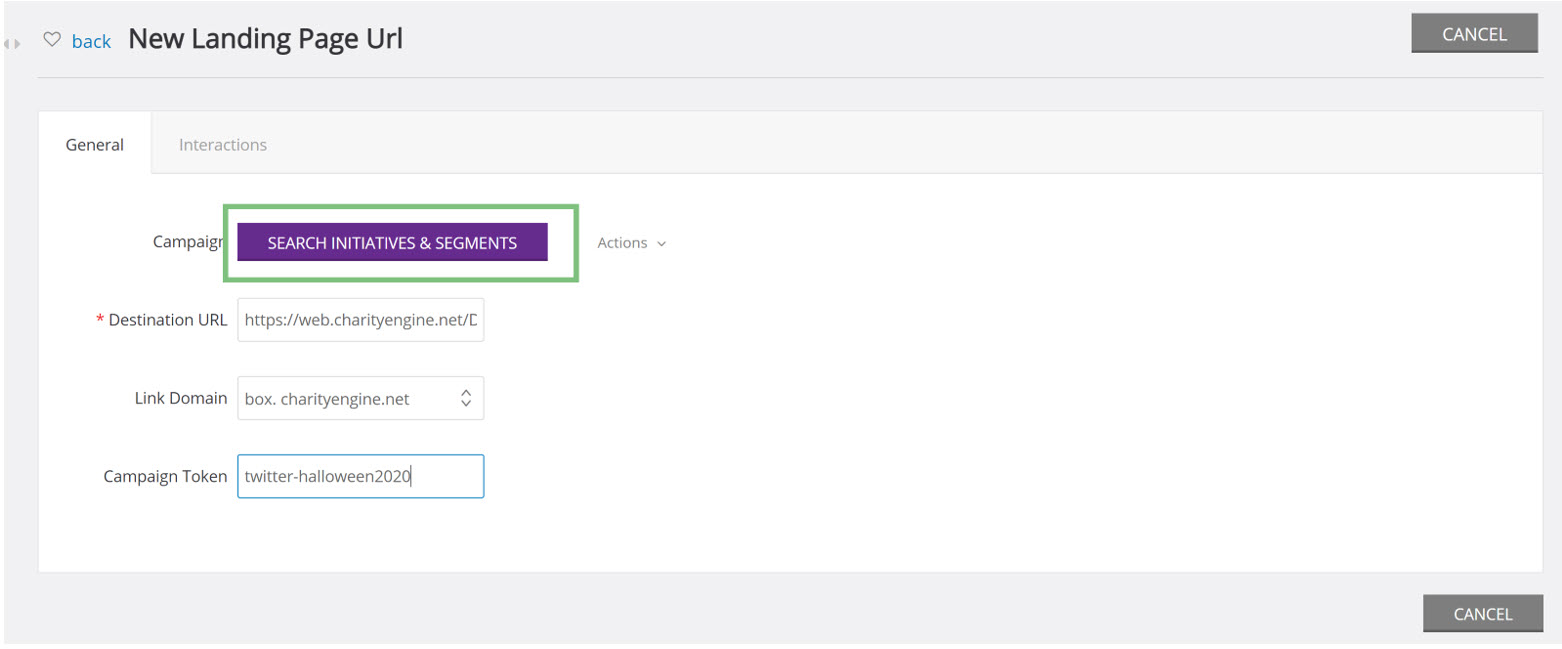 You will be able to search for the initiative by Segment name, Initiative Name, phone number, or recipient Id.



Note: you will produce a better result by inputting more specific information. For example, if you use the Initiative Name, there could be multiple initiatives with similar names and all of them will populate in the search. If you use the Initiative Id, only that initiative will populate.
Click the select button to select the initiative.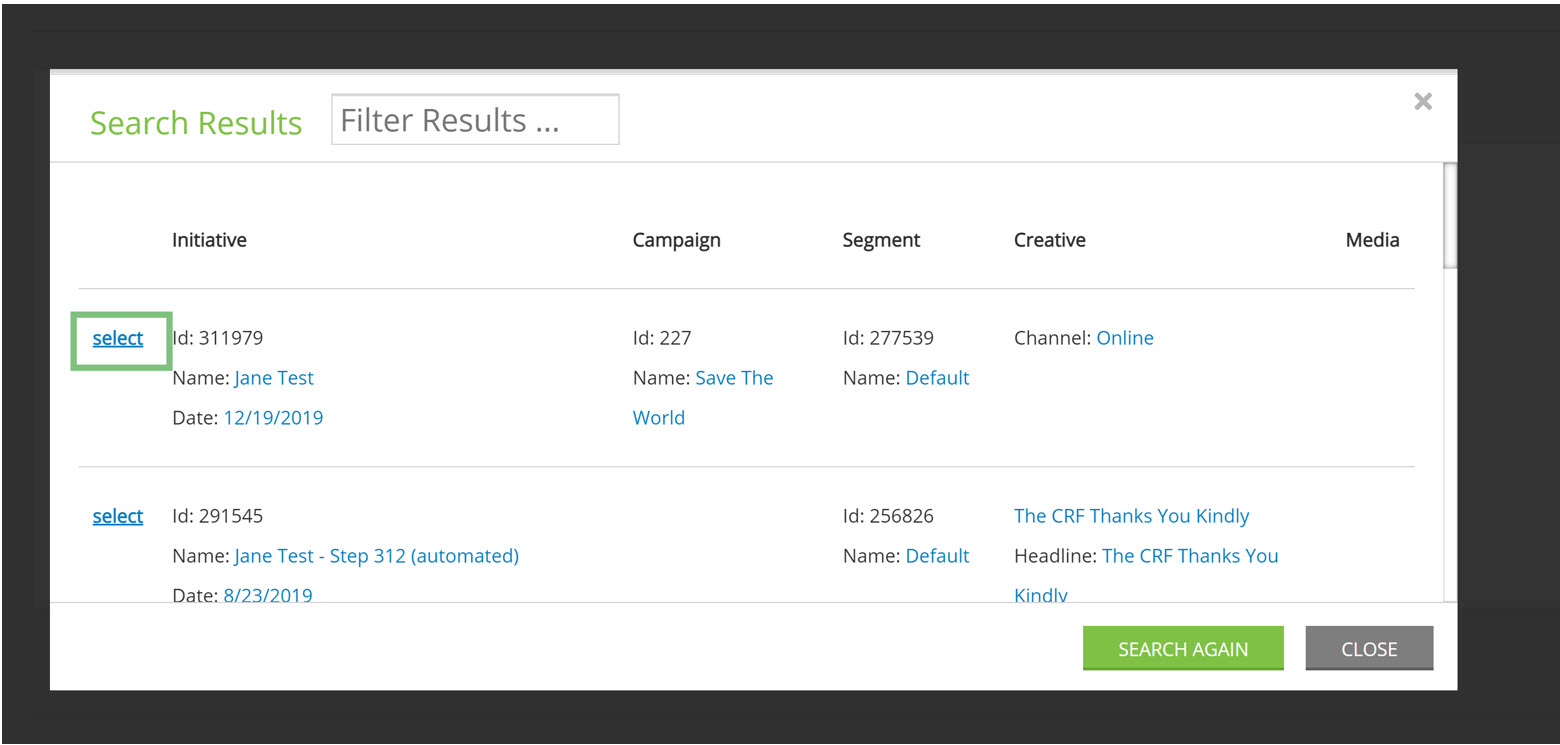 Clive save and your campaign URL will now appear under the Campaign URL.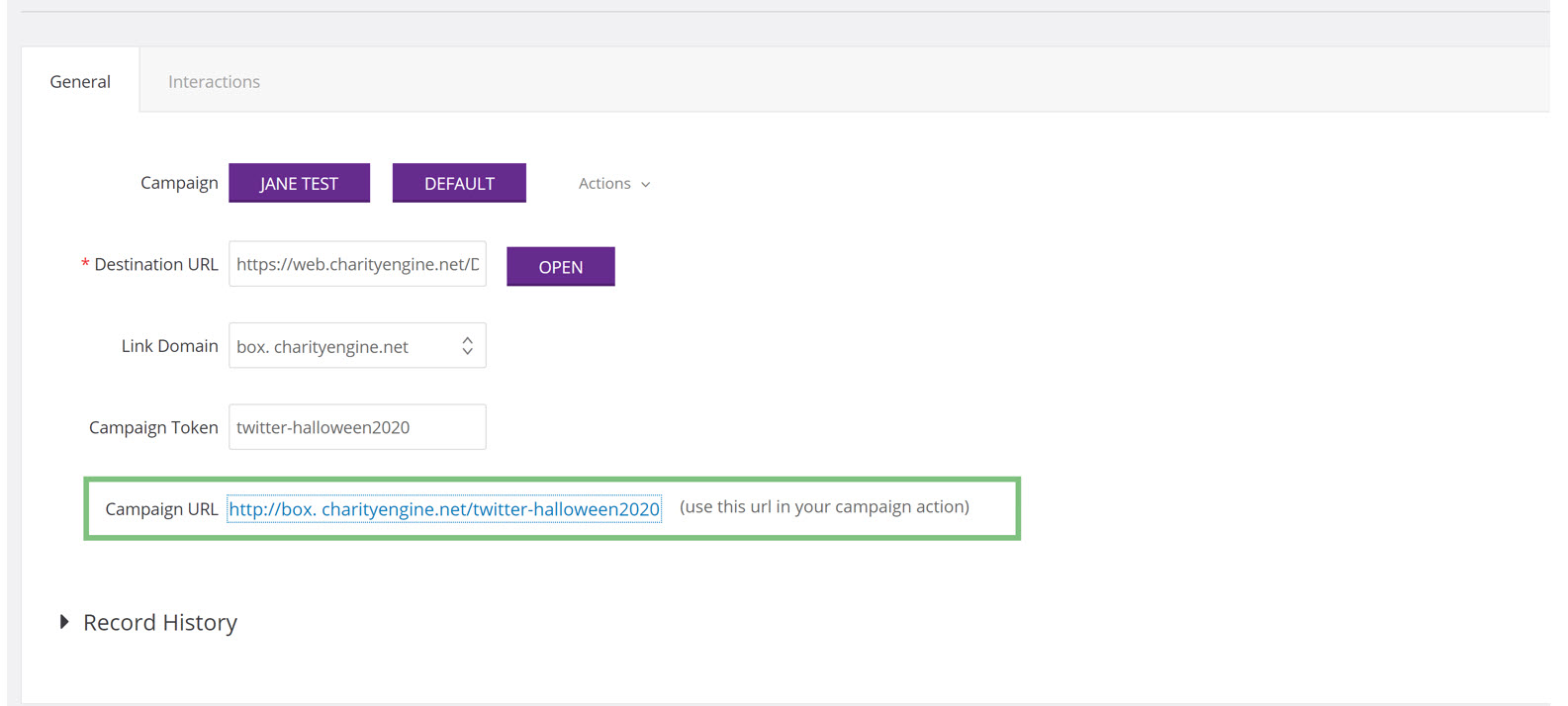 If someone donates after clicking on a landing page URL, the initiative and campaign configured as part of the setup of the URL will be attributed to the donation.