Reports & Analytics: How to Use the Constituent Density Report
Introduction
Non-profits can benefit from knowing where their consistent reside. In the CharityEngine out-of-the-box Reports & Analytics, the ability to leverage Google Maps will provide you with powerful visuals of your constituents. This reporting gives you easy access to geographic tools to analyze and deepen your understanding of your donor presence to further increase and educate your development, marketing, and strategic programming.

---
Table of Contents
---
Prerequisites
In order to leverage the Google Map reporting and integration, set up of the Google Map is required. Learn more at API: Google Maps Integration for Addresses.
The Geolocation must also be also be updated on contact records. Leverage the Data Enrichment Job from the Automation & Workflow app > General > Data Enrichment to create a bulk update. Rates may apply.
---
Instructions
Step 1: Navigate to the Reports & Analytics App > Contacts > Constituent Density report.
Note: This report is also easily be accessed as a Popular Report from the Contacts App

Step 2: On the main page of the activity summary, use the basic quick filters to search for specific status, priority, or contact creation dates on the map.
Step 3: Leverage Advanced Filter to expose additional filtering options including Groups, Tags, My Contacts, etc.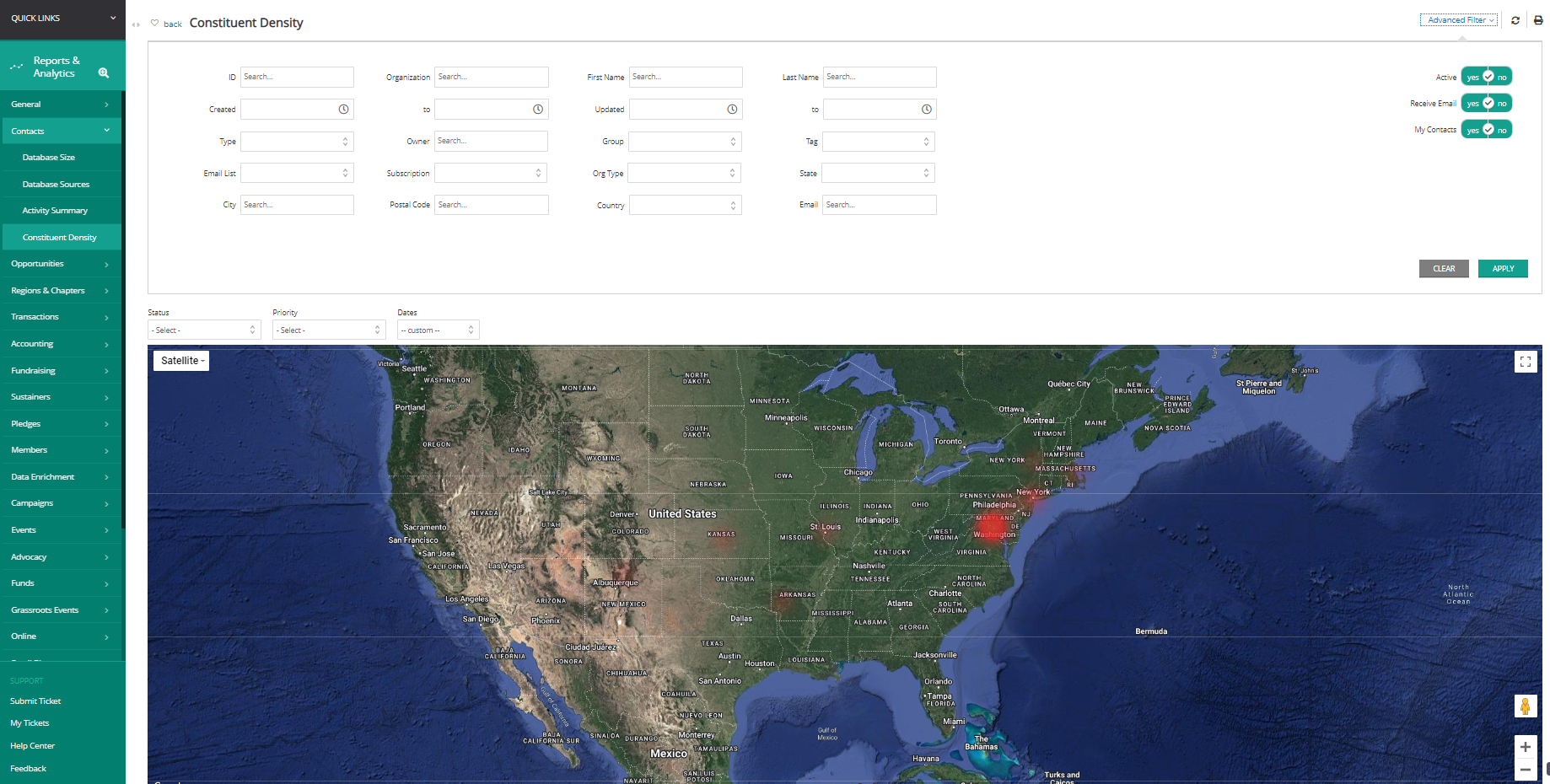 ---
FAQs & Additional Reading
Q. I am not able to return results when using this feature. Why is this happening?
A. There are two prerequisites required to leverage this feature:
Please confirm you Google Map API has been successfully connected. Learn more at API: Google Maps Integration for Addresses
Contact records also require a Geolocation assignment. If you wish to update, this can be completed leveraging Automation & Workflow app > General > Data Enrichment > Create New > Address Geolocation Update (note: fees apply)