Email Deliverability Best Practices

Introduction

Email providers have security measures in place to prevent unwanted messages from landing in their users' inboxes. Due to these rules, some wanted and subscribed-to messages may end up in spam and could be blocked from delivery altogether.
As an email sender, there are things you can do to improve your inbox deliverability:
1. Maintain your list.

This may sound simple and obvious, but it makes a difference! Being a good email sender is the number one most important contributor to your domain reputation and IP reputation which, in turn, is the largest contributor to whether your email lands in the inbox or is considered spam. Email providers notice if their users never open emails coming from your domain, so if someone has not opened a message from your organization for a long time, then it is recommended you remove them from your email list (even if they subscribed at one point).
Why does this matter? Because other recipients' lack of engagement on your messages can tell the email provider that your domain sends unwanted email and they could start sorting your messages as spam rather than desired inbox content, even to recipients who do like to open your mail.

Here are some key indications of a list hygiene issue to be on the lookout for:
Spam complaints
Invalid email addresses (hard bounces)
Spam trap hits
Third-party block listing
Engagement

2. Email List Cleaning.

Email list hygiene is recommended from time to time to make sure you are not emailing bad email addresses. Bad email addresses can range from a common domain misspelling (yaho, gamil, hotmal) to known spammy email addresses that end up in lists because of inaccurate data appends or bad list purchases. CharityEngine® uses an email verification tool on forms (Online Donation Forms, Advocacy Forms, Shopping Cart checkout, etc...) that is used as an opt-in verification, asking your donors if they would want to receive emails from your organization.

Another valuable tool is the email validation process that on a regular cadence, completes list cleansing leveraging a third-party vendors. Fees may apply. This validation of emails will ensure that there are no bad emails in your sending population and will help maintain a good list. If you are interested in learning more, please reach out to your account representative or Application Support!
3. Monitor Deliverability.

Use CharityEngine's robust campaign analytics to review the results and response rates of each of your sends. You are able to monitor any positive or negative results and adjust your tactics quickly. It is also recommended to use third-party inbox monitoring services if you are a medium or high-volume sender. The key benefit of using an inbox monitoring service is that to provide you with insights into how many of your emails are landing in the inbox for larger email service providers like Gmail and Yahoo. It will also provide anonymized statistics about occurrences of complaints and spam traps, which may indicate that you have a list hygiene issue.

While CharityEngine does not provide these services directly, our Client Services team has extensive experience sending email effectively and can recommend some good providers that we and our customers' have had positive results with.

4. Sending by Engagement

Consider behavior of constituents to remove sending practices for individuals who have not viewed/opened email in 6 or more months. Also, periodically prune your contact list, check for spelling mistakes, typos and remove constituents who either do not engage or have requested to unsubscribe.
5. Maintaining Email List.

Furthermore, you can turn Email Verification on. What does this mean? Anytime a new email address enters the CharityEngine ecosystem (through our importer tool, donating on an online form, taking action on an advocacy site, etc...) the email owner will receive an automated email asking them to verify their email address. Providers consider email verification a positive reflection of list management. Engaging with email verification is best practice for bulk senders.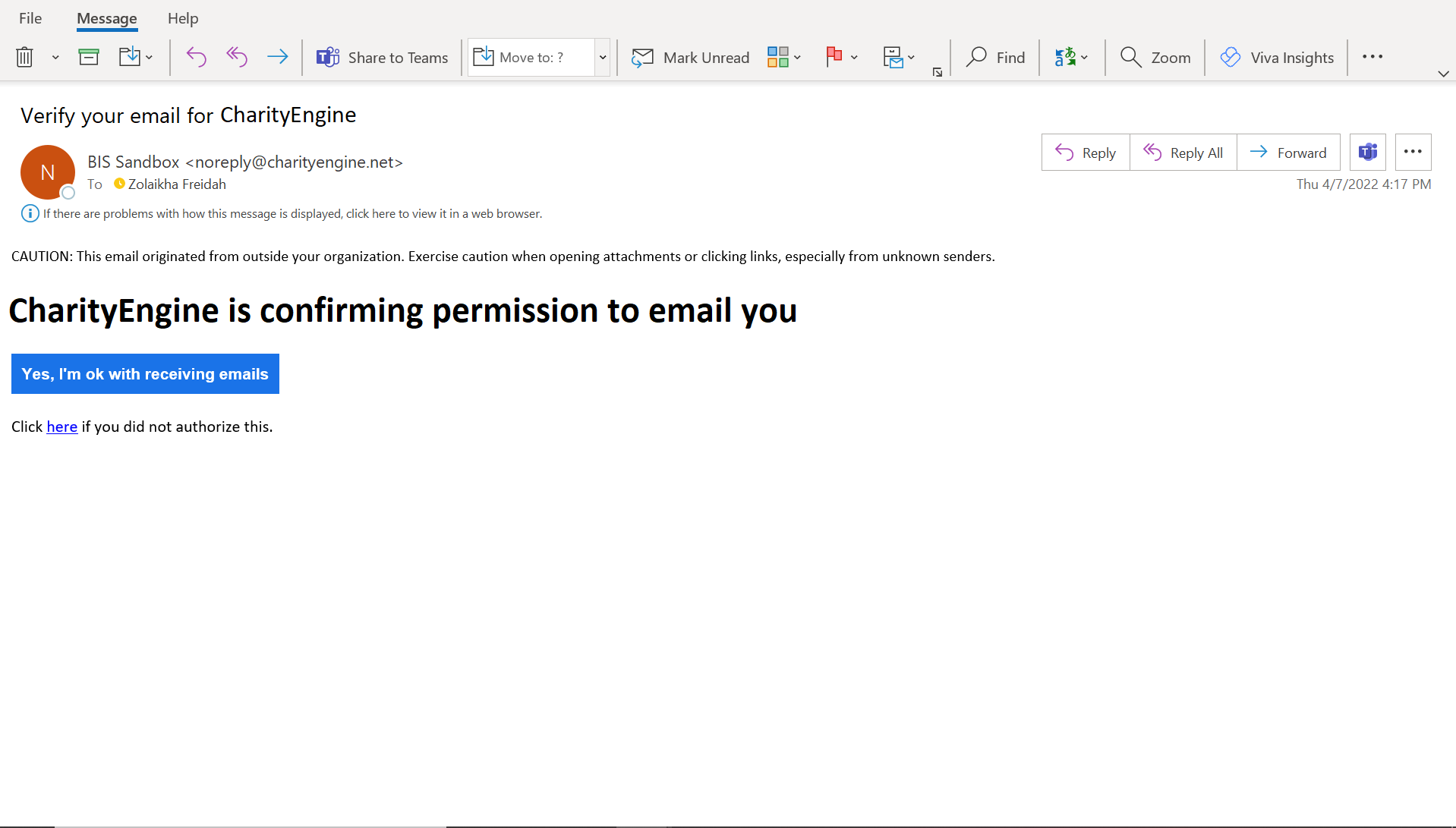 *Note: <CharityEngine> will be replaced with the client's name as identified within Configuration > General > Account Settings > Organization Name External


Regardless of how they respond, their response means that they are a real person and real people are who you should be sending to! You can even select this setting when sending out email blasts: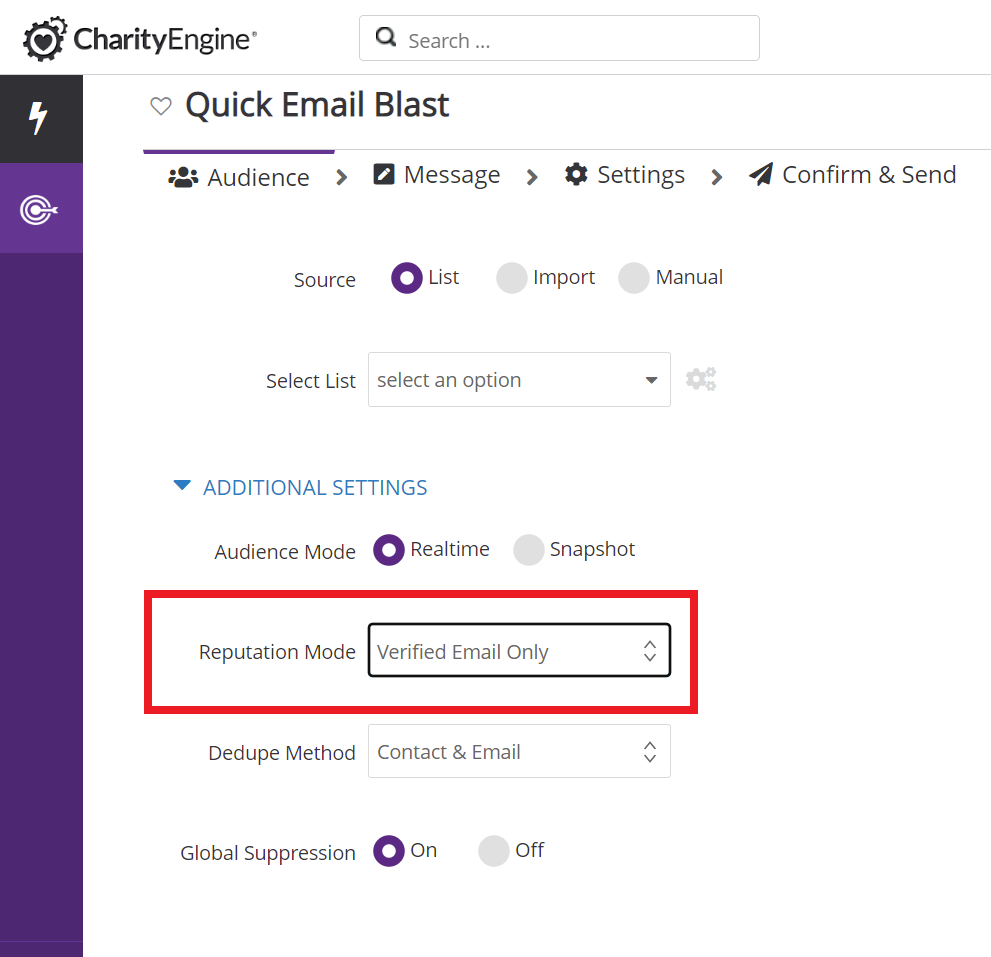 You can find where to manage your email validation and verification setting in your Campaign Default Settings under the Email Deliverability tab.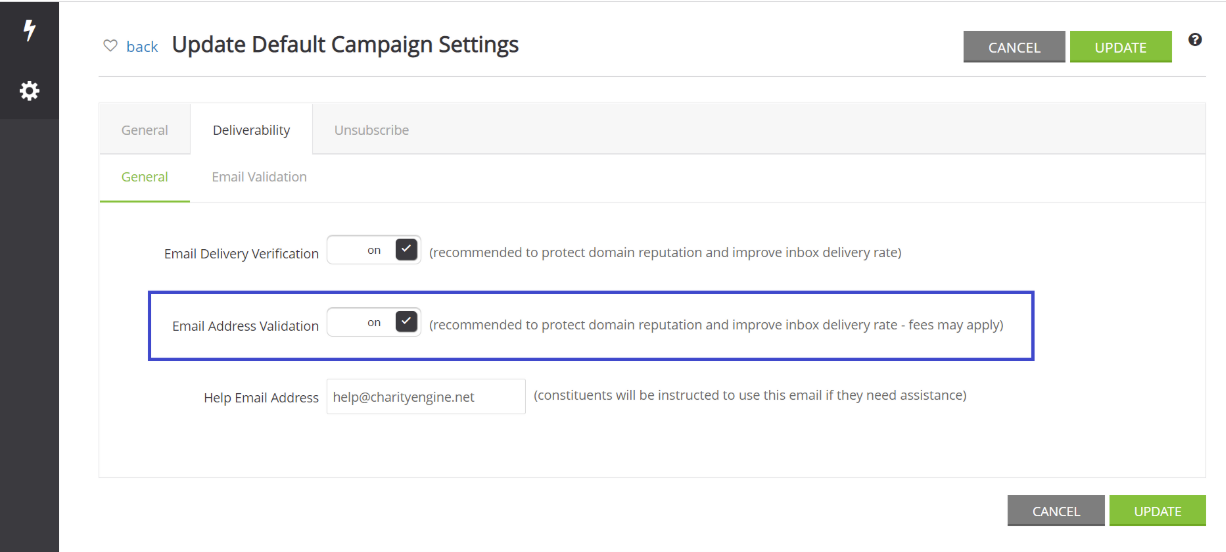 By accessing Automation & Workflow > General > Data Enrichment you can also complete a one-time bulk email address validation. (Fees may apply)





To see the status of each and every email address in your account, visit the list of all email addresses. You can also perform many other actions to email addresses on that screen!

6. Regularly Send Reminders to Contacts Who Have not yet Verified


CharityEngine makes it easy to send emails to contacts that have not verified their emails. First you will have to create your list by creating a query that identifies anyone who has not verified their emails. Navigate to Automation & Workflow application and under the General section, click on Queries, then click Create New. Select the Contacts Database from the dropdown and then select the Email Address table.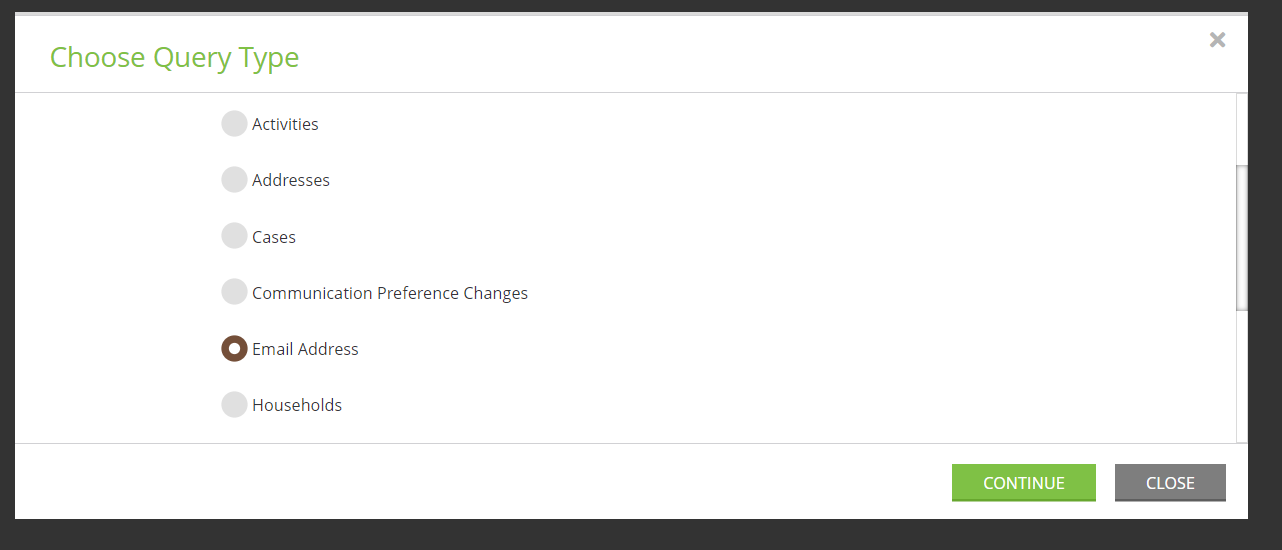 Add Contact Id, Email Address Id, and Verified to your Selected Fields. Then add verified to your filter section and set to equals false. This will provide you a list of contacts with emails that are not verified. Once you save the query you will be able to send emails to this list.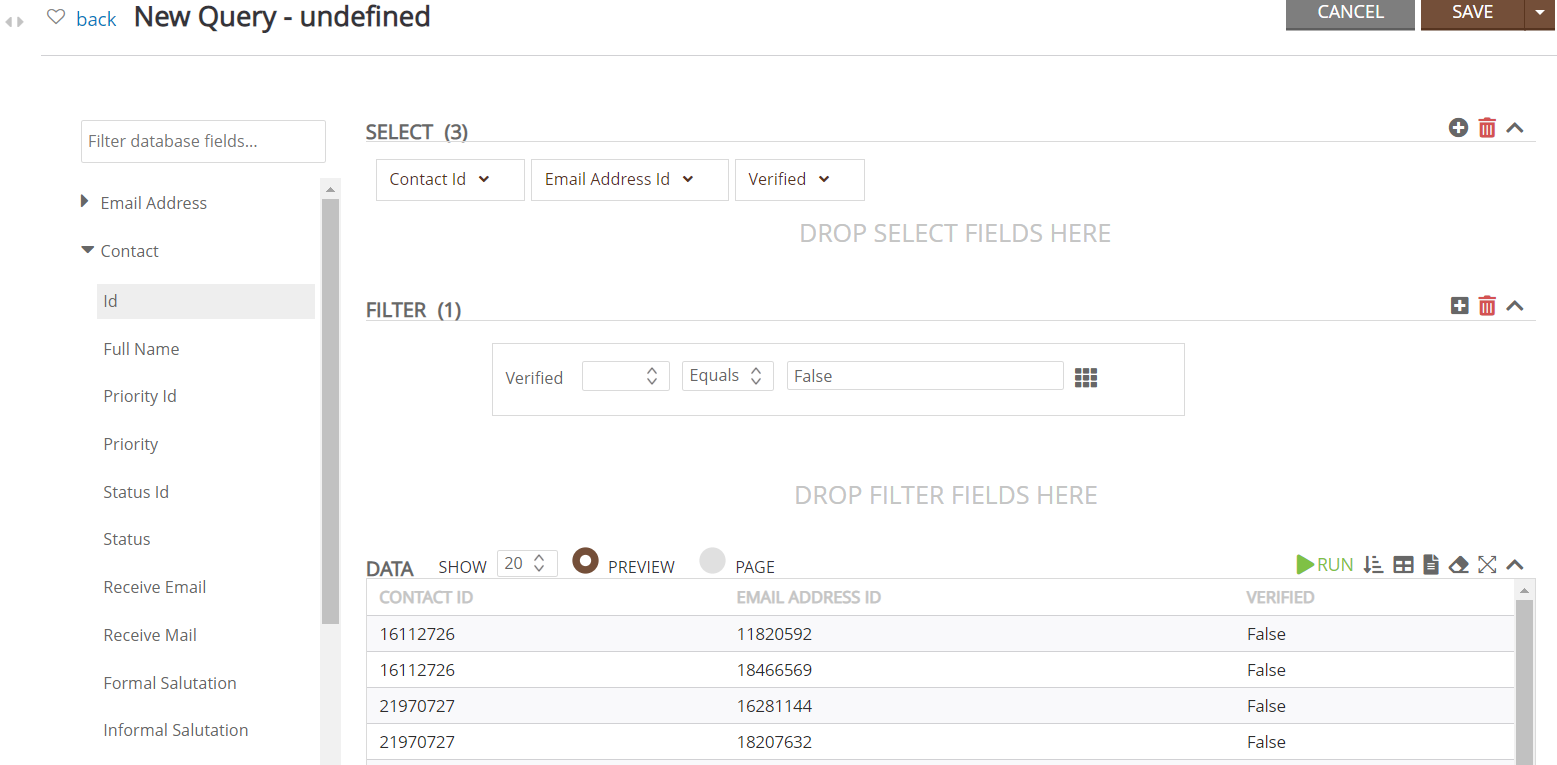 After you have created the query, you will need to create the email that you will send to these contacts. Navigate to the Campaigns application, and under the Create & Publish section click on Creative. Click on Create New and create your email message as your normally would. CharityEngine does have an out of the box token that you can insert into your email that will lead the contact to verify their email. In the creative tool bar, click on the Merge Tokens icon to find the Verification URL token.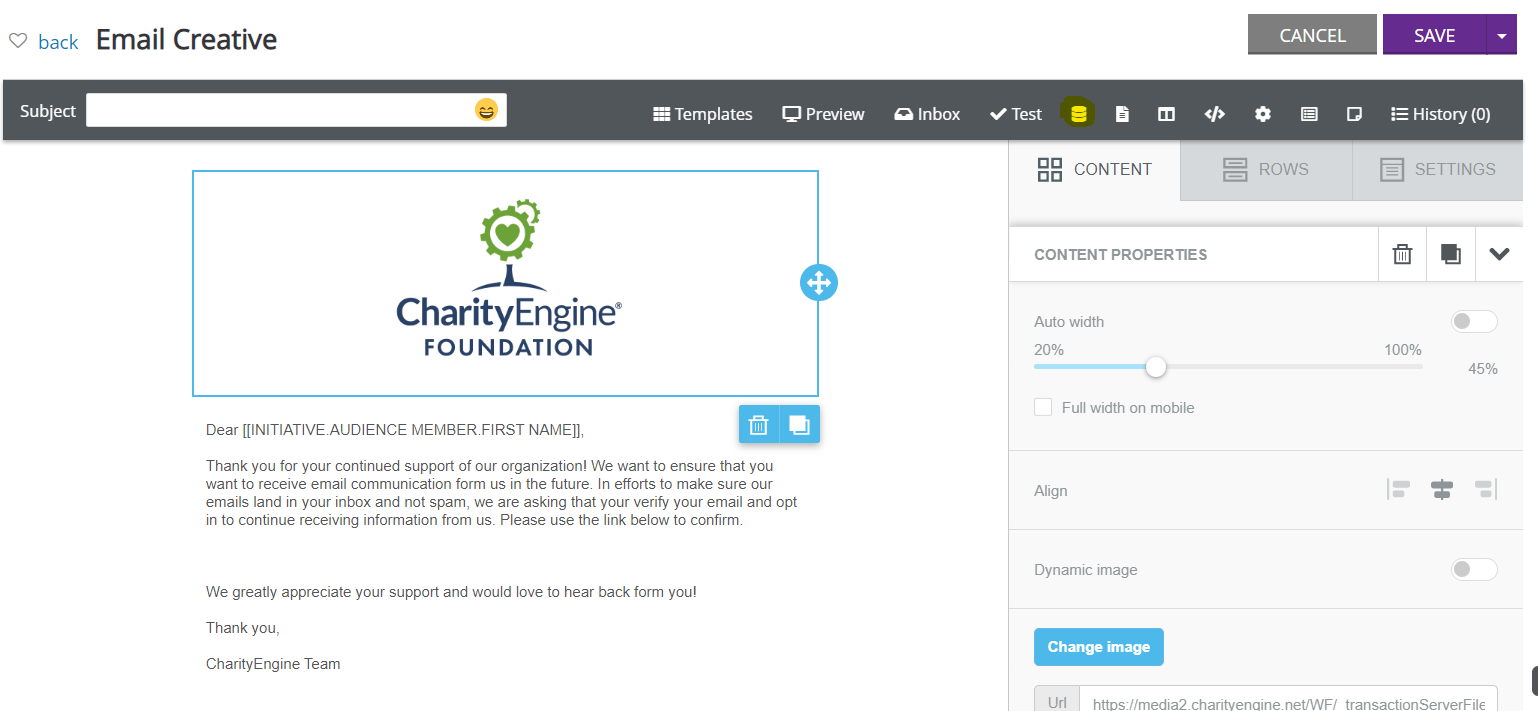 In the search box, type in Verification, then click on the token. Once clicked, click Copy Selected.





Paste the token into your email. This will populate the url for the individual when sent to your list.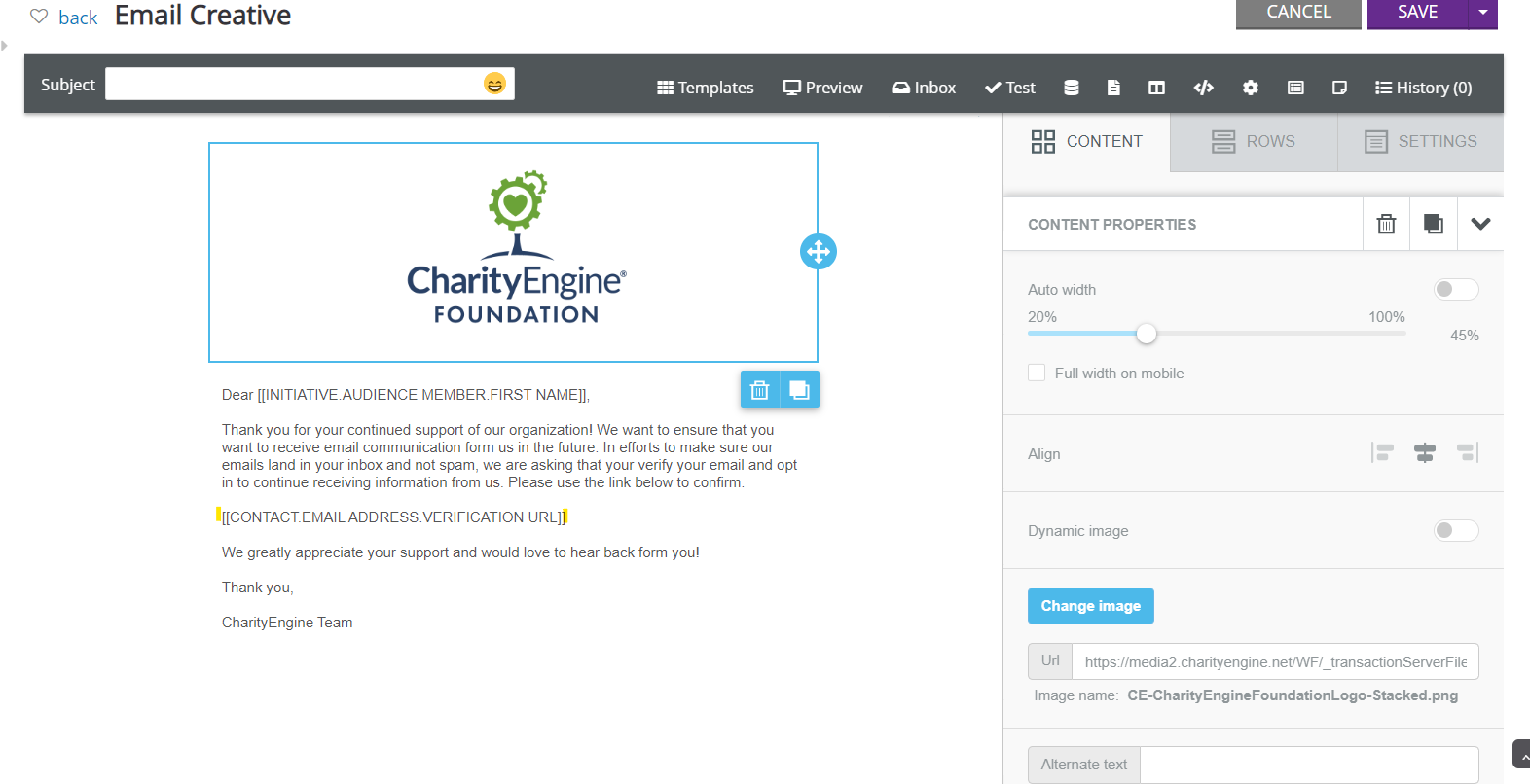 Once your email is saved, you can send it as your normally would and use the query you created as your audience.


7. Frequently Monitor your Configuration Analysis.


By accessing the Reports & Analytics App > Campaigns > Email Deliverability
Or by accessing the Campaigns App> Popular Reports > Email Deliverability

From this report, you can monitor your health of your SPF/DKIM/DMARC (if on a vanity URL) and also check for configuration of email address verification and/or email validation.