Data Enrichment Job: How to Update Zip Codes with +4 Ending

Having the most up to date and accurate information on a contact record is important to maintaining good data hygiene, this includes including the +4 on a zip code on a contact record. Including the entire zip code will also help if your organization is involved in advocacy to ensure the correct representatives are associated with the contact.
Note: Before preforming any data enrichment job, please review your contract as fees may apply per record data has been updated.
To ensure that your contacts are up to date, you will need to preform a data enrichment job, but first you must create a query to identify the contacts that will be updated in the job.
Navigate to Automation & Workflow > General > Queries > Create New and Select Contact from the Filter Dropdown and Select the Addresses Radio Button.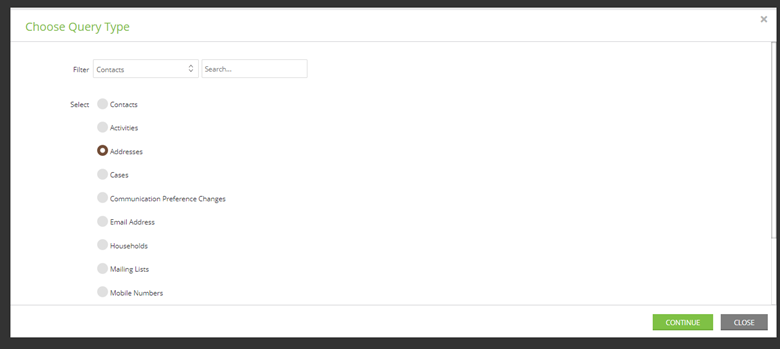 Add Address Id, Street 1, Street 2, City, State, Postal Code, and Contact Id to the select section and add Contact Id to the filter section



Note: if you are preforming the data job on all contacts, you do not have to have the contact Id filter. Otherwise enter the contact Ids of the contacts you want to update.
Save your query and navigate back to Automation & Workflow > General > Data Enrichment > Create New and select Zip+4 Update (USPS) as the type from the dropdown

Select the query you made as your data source and continue creating the data enrichment job.



Name the data enrichment job and click next.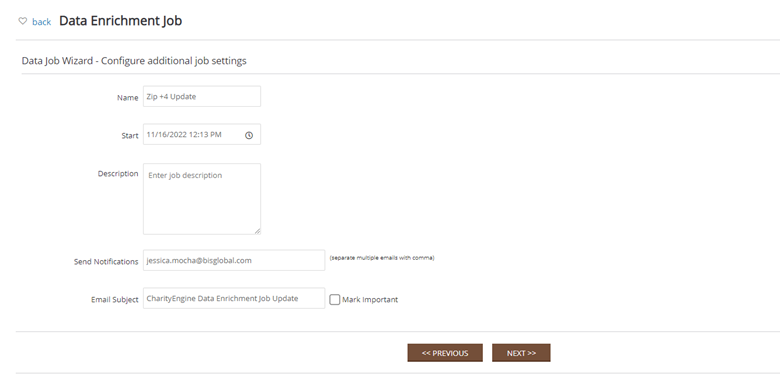 You will see a warning at the top of your screen informing that data rates will apply per record updated and that these actions cannot be reversed. Please check your contract before you make any data enrichment jobs.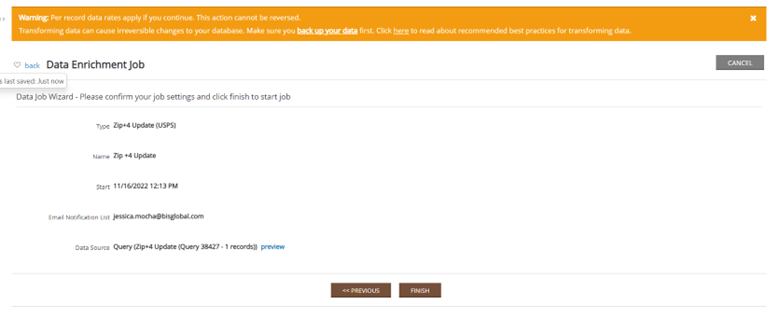 Once you finish the job, you will be navigated back to the Data Enrichment job listing screen where you can monitor the updates.