Email Campaigns: How to Bulk Add to an Opt-In List through the Importer Tool
Table of Contents
Introduction
CharityEngine allows users the ability to easily add several CharityEngine contacts to an opt-in list. Adding contacts to an opt-in list will allow for easier and faster set up for email sending practices.
Prerequisites
-In order to complete these steps, you will need to identify the CharityEngine contacts (with their CharityEngine contact ID) to be used with the Importer tool
-Your Opt In list should also be created and available for selection. To create an opt-in list, please see our article here.

Instructions: How to prepare your bulk opt-in list for appending
Step 1: Locate your target audience by navigating to the Contacts App > Search & Manage > Advanced Filters
Step 2: Use the Advanced Filters to target your audience > Make your selection and click APPLY
In this example, we will locate contacts added between a specific date range
Step 3: Once you have the results, click on the Export icon in the top right hand corner to export your list and click on Download File once available

Step 4: Once you have your export file, you can delete all other fields and maintain your CharityEngine contact IDs

Step 5: Save your file to your local network
Step 6: Navigate to the Automation & Workflow App > General > Import & Export > Create New > Import

Step 7: Select Import To: People
Step 8: Click on the LIST ASSIGNMNET (OPTIONAL) option to expose the opt-in list assignments
Step 9: Use the drop down to select your opt-in list under Available Opt-In List and click ADD to add to the Assigned Opt-In List
Step 10: Click NEXT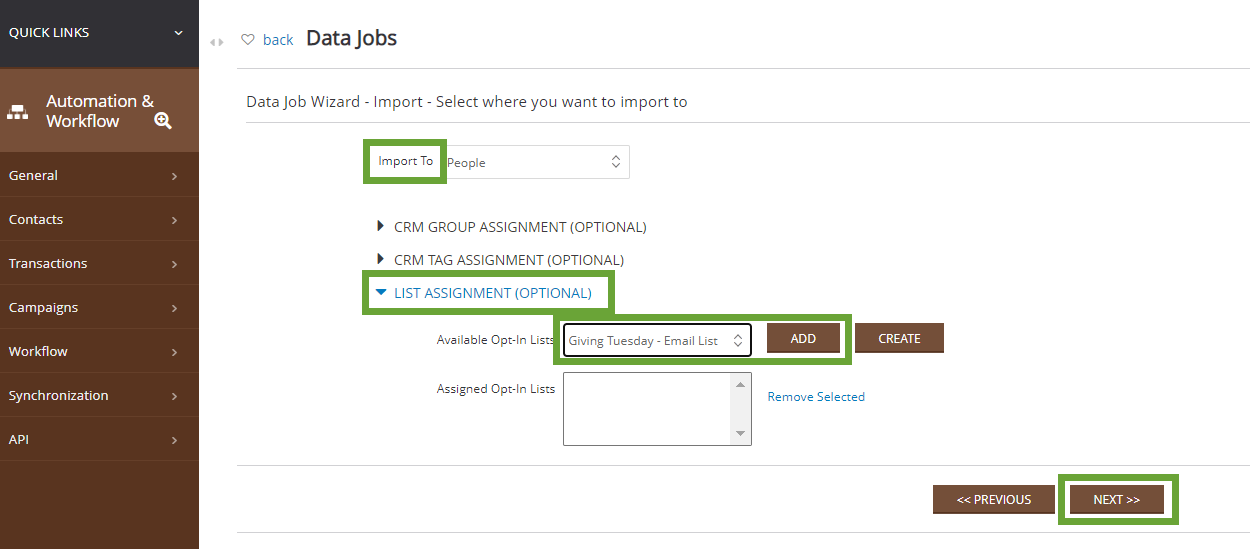 Step 11: From the add Fields, locate Contact Id (as the first available field); click on the value to add to the fields
Step 12: Click NEXT

Step 13: Click Upload a File

Step 14: Click on Choose File and locate your file from step 5. Click NEXT.

Step 15: Review your import details and click NEXT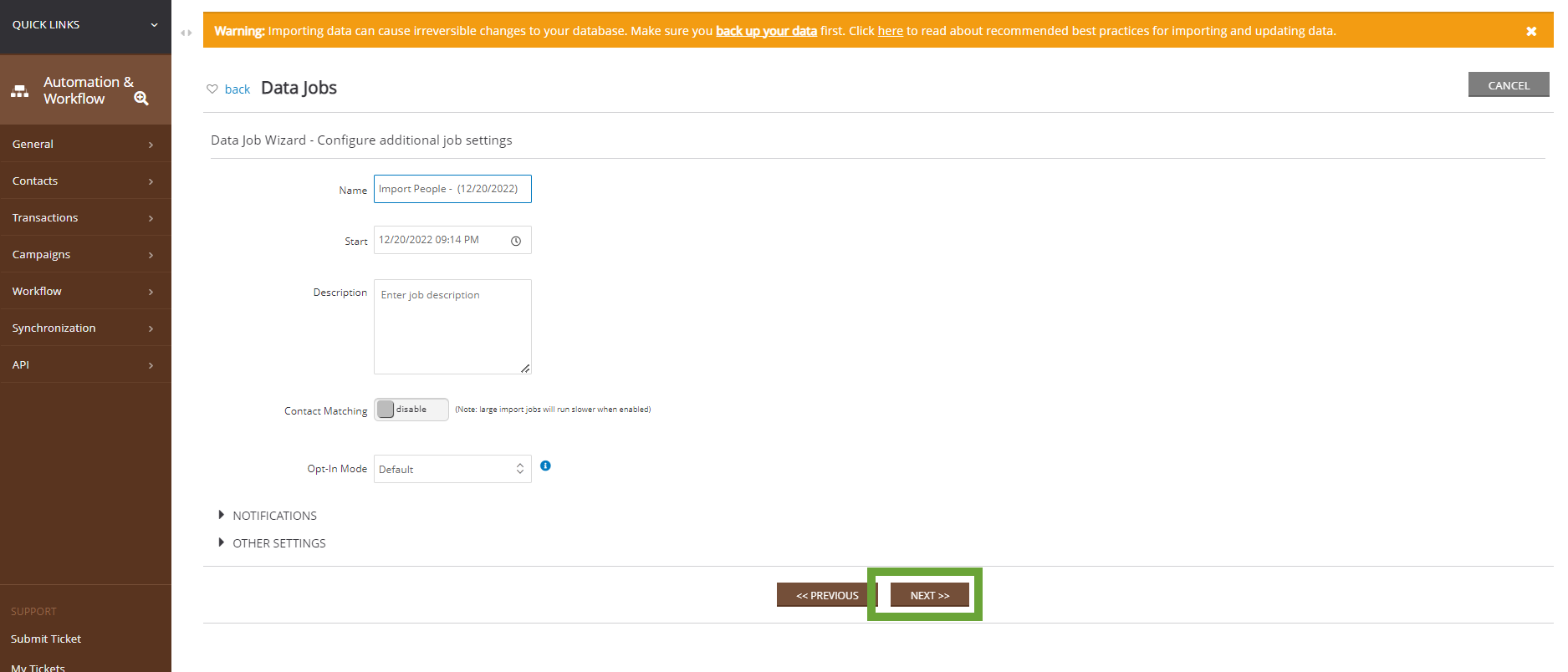 Step 16: As a final review, you will see your import is assigned to your selected Opt-In List. Click FINISH to initiate the data appending.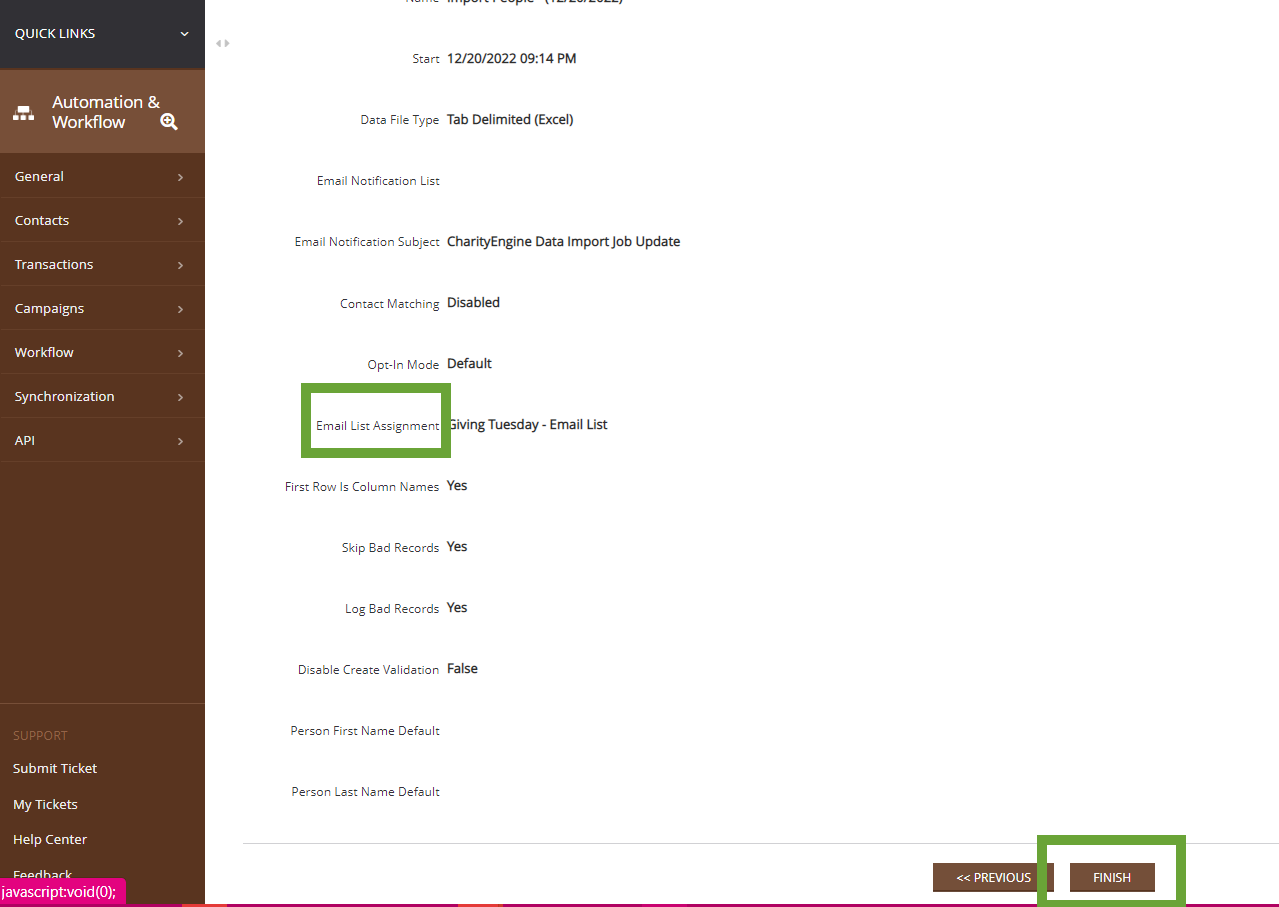 Step 17: You can monitor the job or you will be alerted by email once the append job has been completed.
Step 18: You can now review your contact records and use the Go to: to navigate to the Opt-In Lists and verify the assignment

Step 19: From the Campaigns App > Quick Actions > Email Blast you can now leverage Source = List and use the Select List drop down to locate your opt-in