Email Campaign: How to Schedule an Email
Introduction
When creating an email, scheduling it to be sent is an important step. Scheduling the email to be sent at a certain time allows you to create the email ahead of time and send it later. This feature will save users time when it comes to sending emails. Scheduling can be done when you are creating the email or after the email has already been created.
---
Table of Contents
---
Prerequisite
This article assumes usage of creating an email. Please see our article on How to Create a Simple Email
---
Instructions: How to schedule an email
Step 1:Navigate to Campaigns App > Quick Actions > Email Blast
Step 2. Select your recipients for your email. Navigate to
Source
to select your audience list and then click
next
-List: Refers to an existing Opt-In List or other Query (as created from Automation & Workflow)
-Import: Refers to the ability to create an email list from an external source (CharityEngine ID minimum requirement)
-Manual:

Refers to the ability to physically type email address(es) directly into the entry field



Step 3: Review the message you just created and click next

Step 4: Finalize all Settings - and now schedule for later
Decide to Send Now or Schedule for Later

Note: When selecting Schedule for Later, enter in the date and time for your email to be sent

You may modify the Initiative Name or leverage the system generated value
Delivery Mode allows you to send to your audience or perform a test send (to receive three versions of your email in Standard, HTML and Text Format for review)
Leverage ADDITIONALSETTINGS to modify additional attributions such as campaign, funds, display name, reply to address, etc.)
Complete all change and proceed to next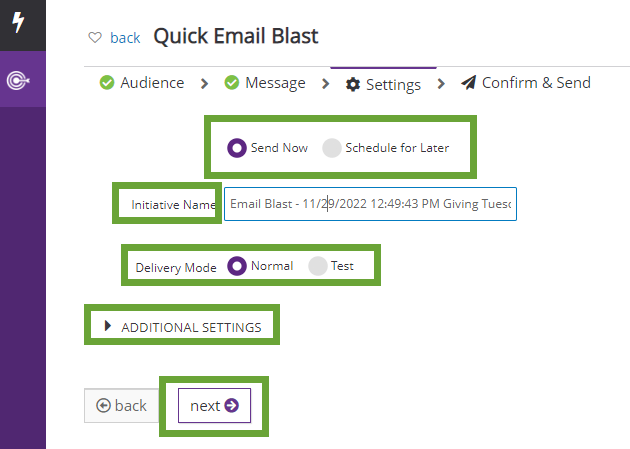 Step 5: Review your email campaign details and proceed to PROCESS to send your email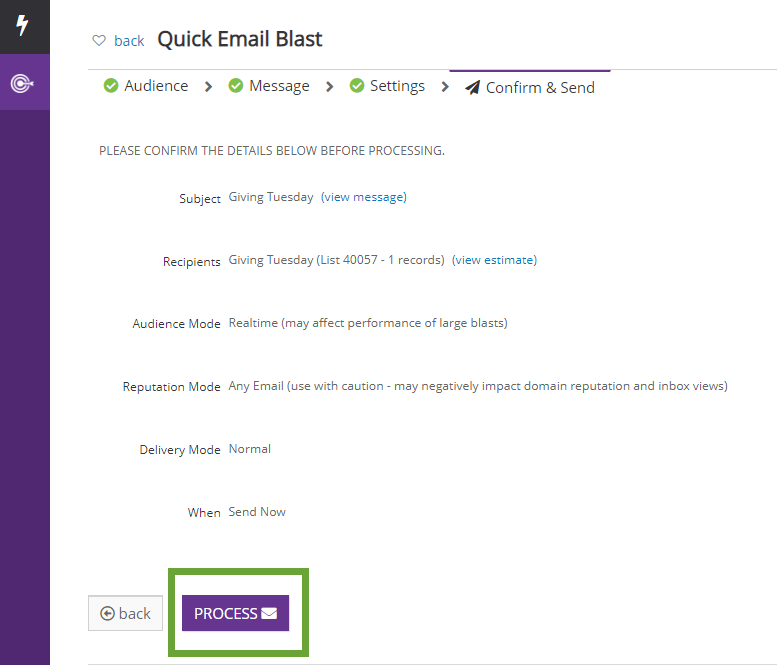 ---
Instructions: How to review and monitor future dated campaigns
Step 1:Navigate to Campaigns App > Create & Publish > Initiatives > Quick Filters Status: Pending

This will provide you with a listing of all scheduled emails in queue. Within Details column, reference the Email Blast Dates to see the scheduled date/time.



Leverage ACTIONS to make modifications, delete, etc.
---
FAQ & Further Reading
Q. I've already created my creative and I would like to make this email a recurring notification. How can I achieve this?
A. If you have a recurring email that you want to schedule, navigate to the Campaigns App > Create & Publish > Creative and find the creative you want to schedule. Under ACTIONS, click Schedule.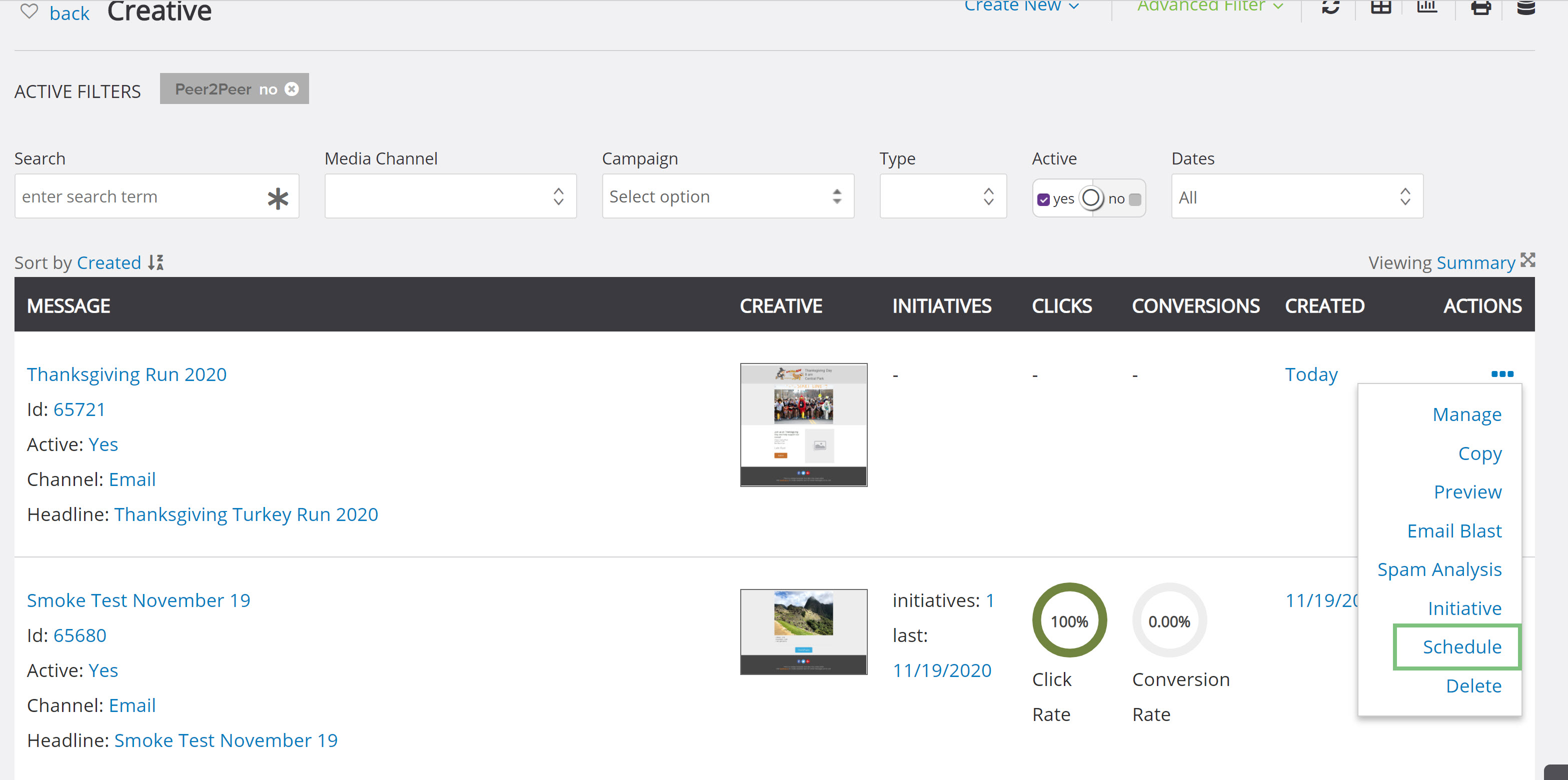 You will be navigated to create the data job and configure the send date, the campaign, the opt-in list, and the de-dupe method.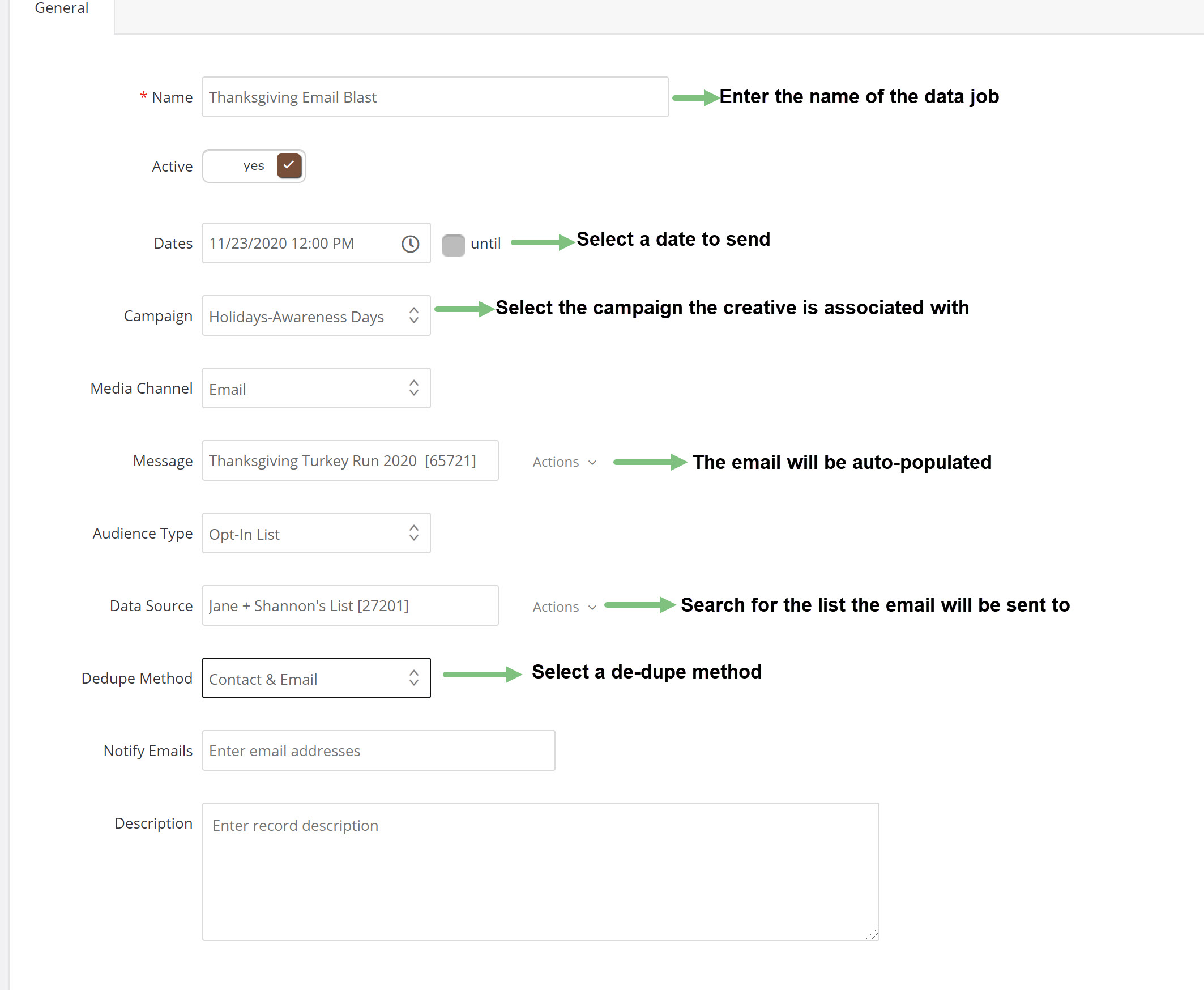 Click save and then you will be able to configure the trigger to send the email. Use dropdowns to select when the email will be sent.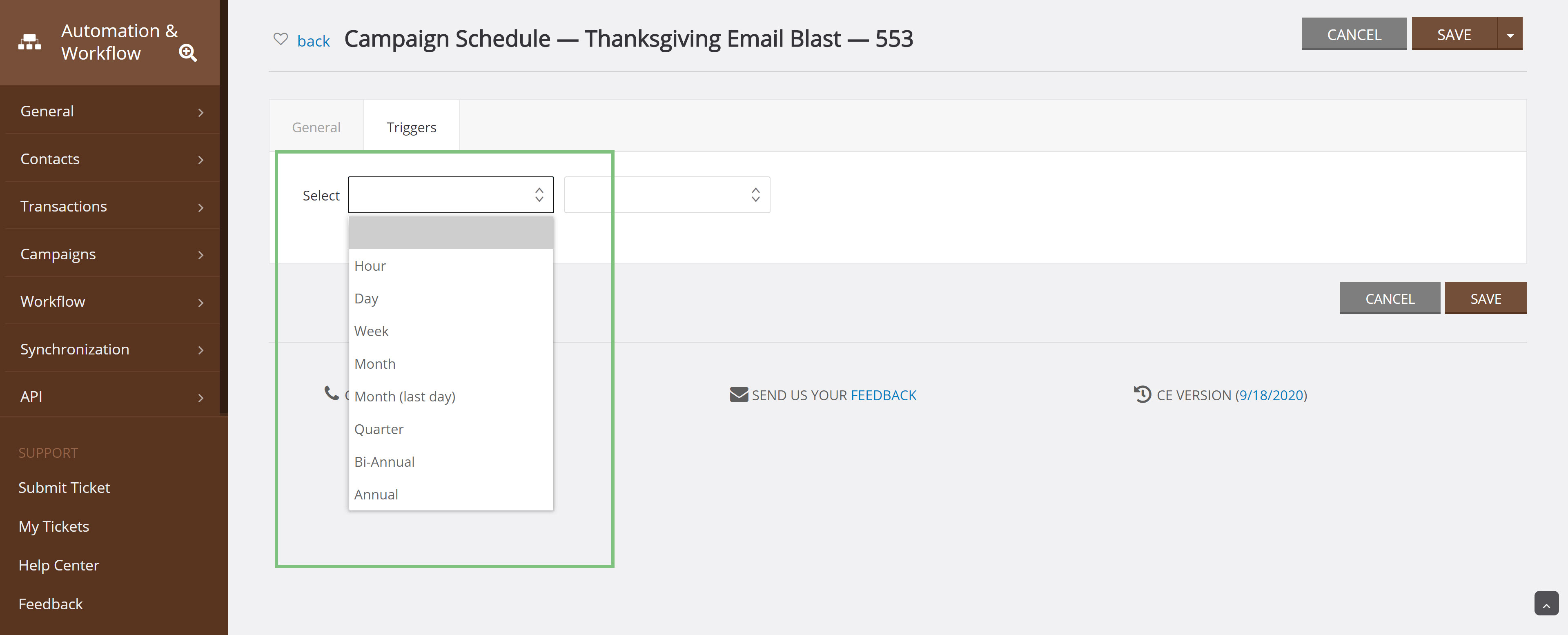 Click SAVE and your email will be sent when it is scheduled.
Q. Where can I review the sending results of my email campaign?
A. Initiative Analytics are easily located in the Popular Reports section within the Campaign App. Read more here on email analytics to monitor your sending results.

Q. How can I ensure my emails are delivered?
A. Email Service Providers (ESPs) have rules in place to prevent unwanted messages from appearing in their users' inboxes. Due to these rules, wanted and subscribed-to messages may end up in spam and could be blocked from delivery altogether. As an email sender, there are things you can do to improve your inbox deliverability. Read more here.

Q. What other best practices does CharityEngine recommend when sending emails?
A. Managing your email list is crucial for not only reaching your constituents but for also managing your reputation as a sender. CharityEngine provides a variety of features and tools to ensure you can manage your email lists and increase the success of your emails reaching your constituent's inbox. Read more here.

Q. Can I schedule an email based upon time zone?
A. Yes - Clients can schedule email sends in different international time zones. When you've done the research and understand the best time to have emails hit donors on the West Coast, for example, it's nice to be able to schedule that send when you know it's going to be most effective. Simply navigate to Campaigns > Quick Actions > Email Blast > complete the Audience > insert Message > Settings > Schedule for Later > select date/time and time zone