Shared email domain
CharityEngine recently issued an upgrade that will benefit our clients in two ways:
- Email deliverability will be increased
- Domain management will be handled by CharityEngine
This free upgrade includes a shared email sending pool, which will replace dedicated server domains for most of our clients. This change will be automatic.
It's important to note that you can still opt into a dedicated server domain, and if you choose this feature, CharityEngine is adding monitoring services to ensure proper domain management.
It's likely you still have some questions, so we wanted to offer a more detailed explanation of why this upgrade is important.
Who benefits from this upgrade?
- Clients who send emails from custom domains
- Clients who send emails infrequently (weekly is considered frequent)
- Clients who don't send emails to a large audience (more than 5,000 recipients is considered large)
- Clients who don't have the internal resources to manage the complexities of email domain reputation management

Why do I need to move to a shared email sending pool?
- If you send an email to 5,000 from a custom domain and even five emails are reported as spam, the whole send can easily be considered spam. This is a mark against your domain.
- If you continue to send emails marked as spam, your "spam score" increases. 
Getting a bad spam score is easy – fixing it is hard and time-consuming and damages the integrity of your domain. 

How does a shared email pool help me?
- Sending your emails from a shared domain that sends emails in bulk will not trigger spam labels. 

- There's safety in numbers. Your smaller group of recipients is pooled with many more, so the emails are considered legitimate. 

- Your email deliverability increases. 

- Your domain is protected.

Will recipients see a shared domain email address?
- No, with every modern domain, you have the option of a "friendly from," or a display name that shows instead of the email address.

- Everyo
ne can set a display name and a "reply to" email address – the
default can be overwritten for individual creatives, opt-in lists, scheduled campaigns, and email blasts. For standard accounts, the sender email address is not editable.
In CharityEngine, it looks like this: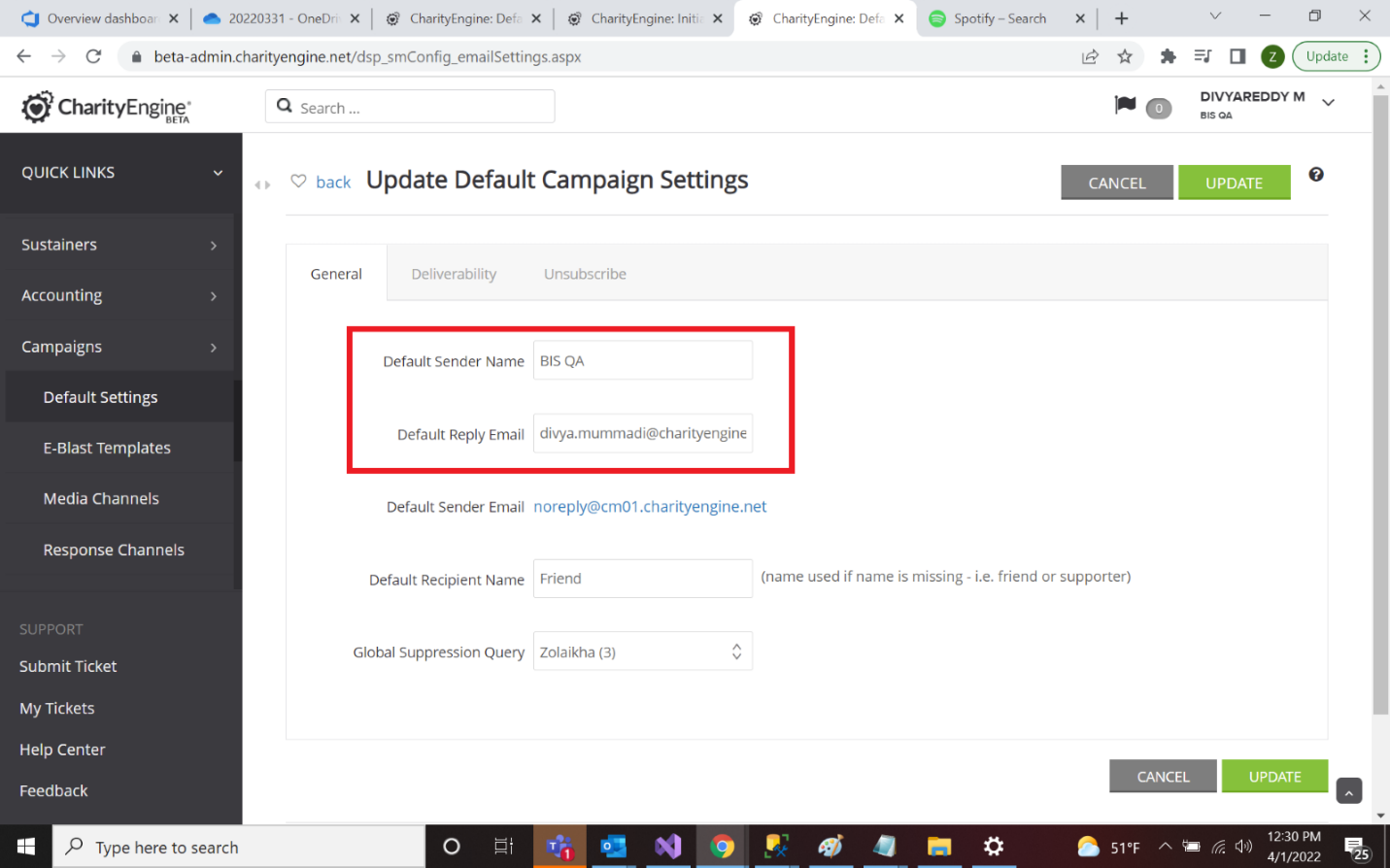 How can I customize the email address without having a custom domain?
If you would like to opt into a slightly more customized solution, you can choose the shared email domain but can choose a plan in which the default sender email can be customized prior to the @ sign.
What if I still want a custom domain?
Not a problem. We are more than happy to set you up with a custom domain and manage it for you. In this case, you'll be able to choose the entitled domain and customize the mailbox.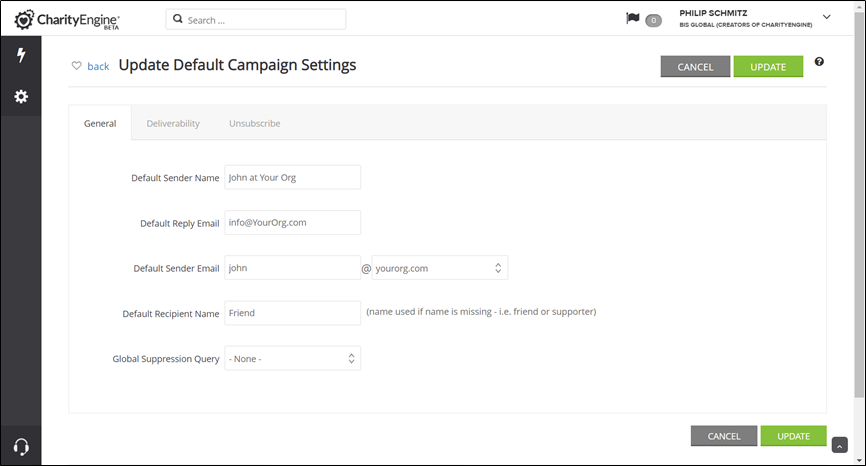 If you don't have or opt in to a custom domain, your account will transition to the shared domain.

Still have questions? Just reach out to your account manager!