SMS Campaigns: How to Set up SMS/Text to Give Functionality
Table of Contents


How to Set up SMS/Text to Give Functionality

CharityEngine® offers the ability to leverage texting to interact with your donors. One feature available to customers is our SMS - Text to Give Functionality. This feature will allow your donors to text your organization and engage with a donation webform or event form. This is a great technology for live fundraising events and a quick way for your donors to engage in fundraising. If you are interested in learning more, please contact your account manager for more information.




Preparing Your SMS Auto Responder Code

If your contract includes our SMS Package to support sending and receiving of long codes, you will want to prepare your instance for the auto responder(s) needed for your campaign. You can locate your Sender Phone Number as well as prepare your auto responder(s) by navigating to the Campaign app. While the SMS Campaign Blast can be best used for outreach to your donors, use of the SMS Auto Responder Code is great for in person events or advertising materials. This tool allows your donor to initiate action with your organization.

Navigate to the Campaigns App: Campaign > Create & Publish > SMS Numbers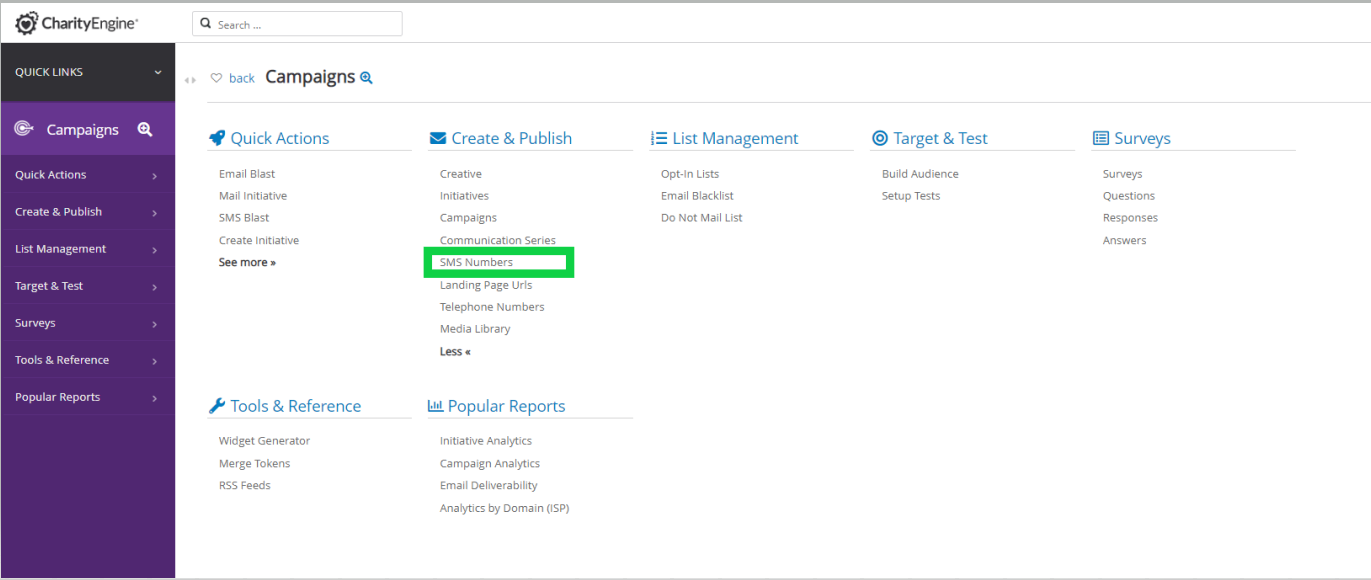 The organization's assigned number(s) will be presented here. To update or create an auto responder, navigate to Action > Manage




From this screen, the default responder message can be managed. To create a new or update an auto responder, navigate to the Auto-Responders tab.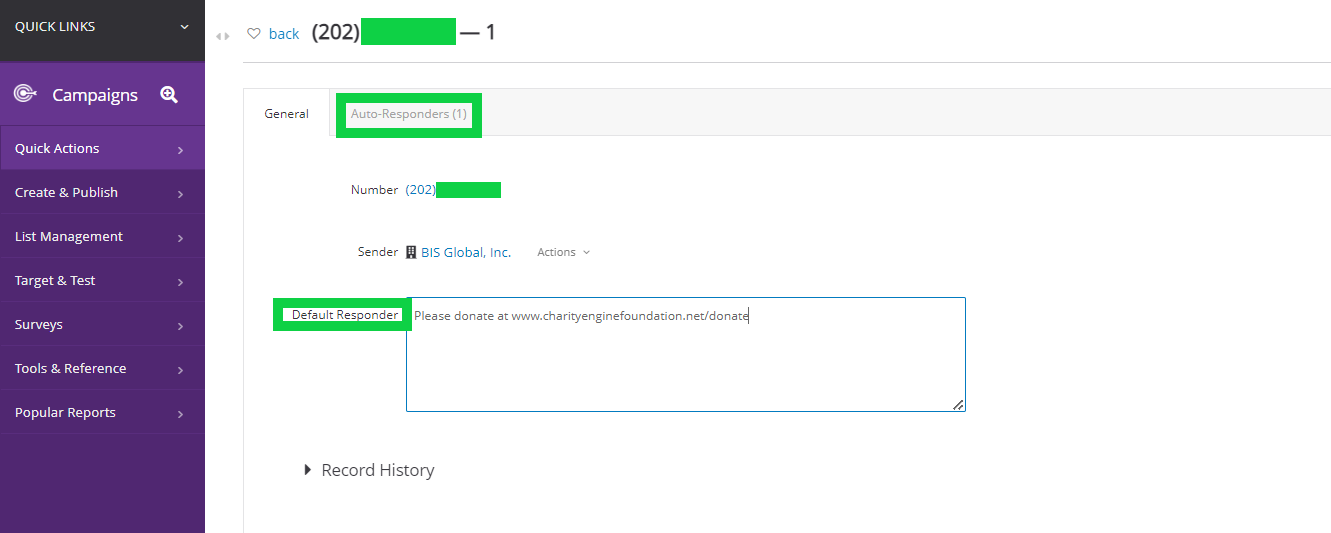 From the tab Auto-Responders click on Add New (top right) and update your Inbound Message and Response message. Then click Save.




To test your message, text the organization number with the Inbound Message. Once sent, you should immediately receive the assigned response.



FAQs and Additional Reading

Q: How do I set up an opt in list for SMS campaigns?
A: Setting up an opt in list for SMS campaigns is done in the same way you would set up any other opt in list. If you would like additional help on how to leverage SMS in reaching your donors, please read this article

Q. Can I create a web form for users to opt into SMS messaging?
A. Yes. Please read our article Web Forms: How to Create an SMS Opt-In Form for SMS Campaigns


Q. How do I initiate an SMS Blast (communication)?
A. Read our article How to leverage SMS Campaign Blast Feature to Reach Your Donors