How to leverage SMS Campaign Blast Feature to Reach Your Donors

Reaching your Donors through CharityEngine

®

SMS & Text to Give Functionality
CharityEngine® offers the ability to leverage mobile phone numbers to interact with your donors through text messaging. Our feature includes the ability to reach out to donors and also to use response codes that allow your donors to easily access mobile forms. If you are interested in leveraging SMS auto-responder functionality, please reach out to your account manager for more information.

Please Note: To leverage the SMS Campaign Message feature, contact records must have the following attributions: Phone Type = Mobile, Primary Mobile Number = Yes, AND Text/SMS Opt In = Yes.

Preparing Your Donor Records for Sending an SMS Campaign Message
When using the Campaign Creative function for SMS campaigns communications, the audience selection will need to include contact records that contain phone number assigned with the following attributions: Type = Mobile, Primary Mobile Number = Yes, and Text/SMS Opt In = Yes. If these three attributes are not set, the contact record will be excluded from the SMS Campaign Blast.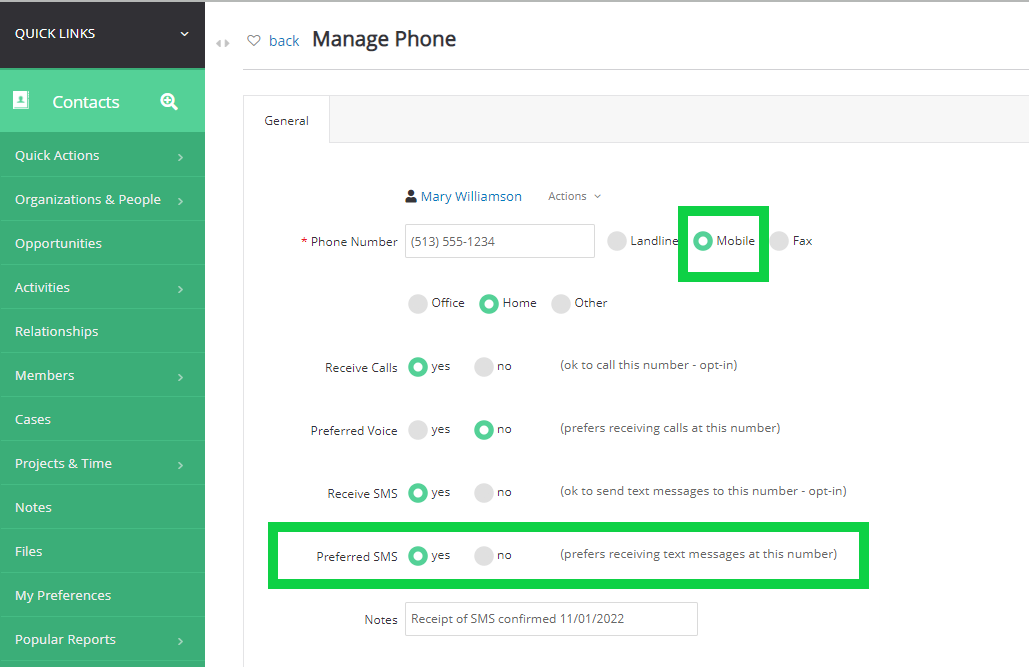 If your data requires bulk appending, this can be achieved by leveraging the Automation & Workflow app. This will allow users to correct contact records in advance.

For bulk update or data append, navigate to: Automation & Workflow > General > Import & Export > Create New > Import To: People - recommended fields provided below



Preparing Your Opt-In List for SMS Campaign Blast
Creating an Opt-In List follows the same steps as email campaign Opt-In lists. Below are two methods for Opt-In list creation.

Option 1 - Query Creation
Important Note: If using a query for an SMS Campaign Blast, the query will require the presence of Contact ID and Primary Mobile Phone Number. Please ensure your contact records have been properly assigned with the following attributions for the identified phone number: Phone Type = Mobile, Receive SMS = Yes, Preferred SMS = Yes. If the three attributions are not associated with the contact record, the SMS Campaign Blast will not include the contact record in your initiative.

To create a query navigate to Automation& Workflow app > General > Queries > Create New >


Option 2 - Opt-In List Creation


Navigate to
Campaigns app > List Management > Opt-In Lists > Create New

Insert
Name
and click
SAVE
(top right)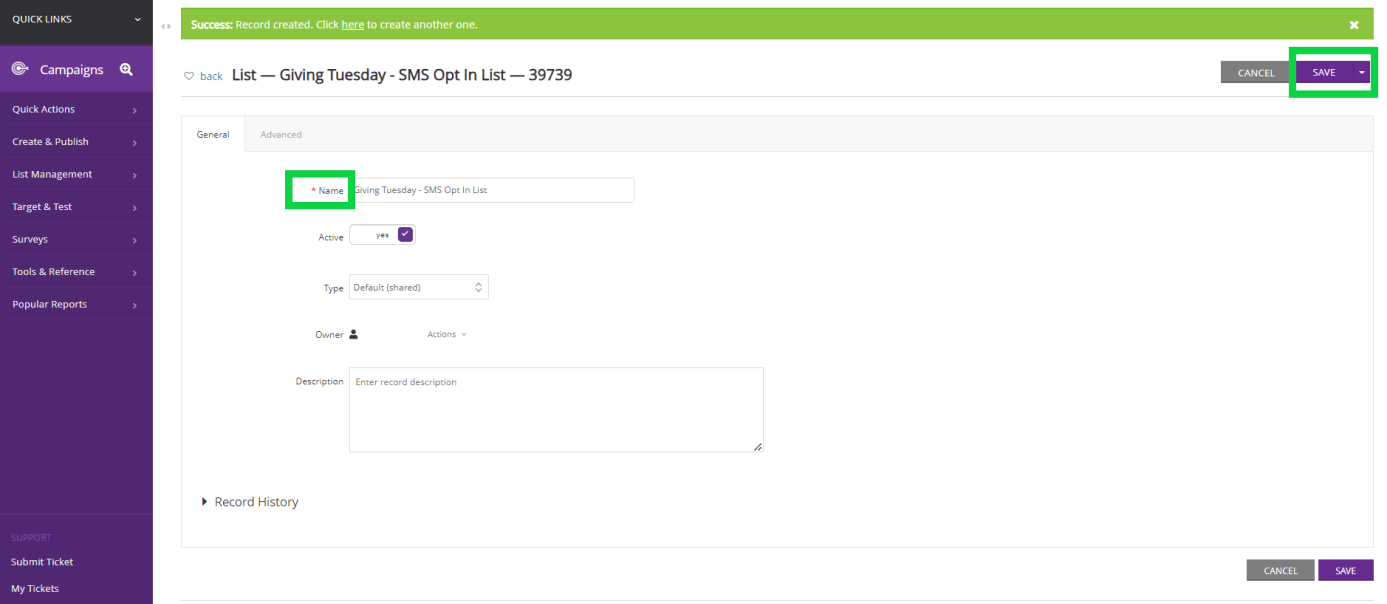 Next, assign contacts to your Opt-In List. This can be achieved several ways.

Option 1: Smaller Lists

Navigate to the
Contact app > Organization & People > Contacts

In this example, we are leveraging the
Advanced Filter
option to obtain contacts created between 11/01/2022 - 11/11/2022. In addition, we filter our population with
Receive SMS = Yes.
Click Apply to locate your results.

You can then click the top Checkbox to select all contacts displayed on that page, or you can select at the individual contact record. Once population is selected, click on the drop-down option to select "Add to Opt-In List" and select your Opt In List.

Note: Above Actions ensure you are Viewing as Summary vs. Card
Note: By "Checking All" this will ONLY select contacts displayed on the screen. If there are additional pages, continue to navigate through your pages to select the appropriate records.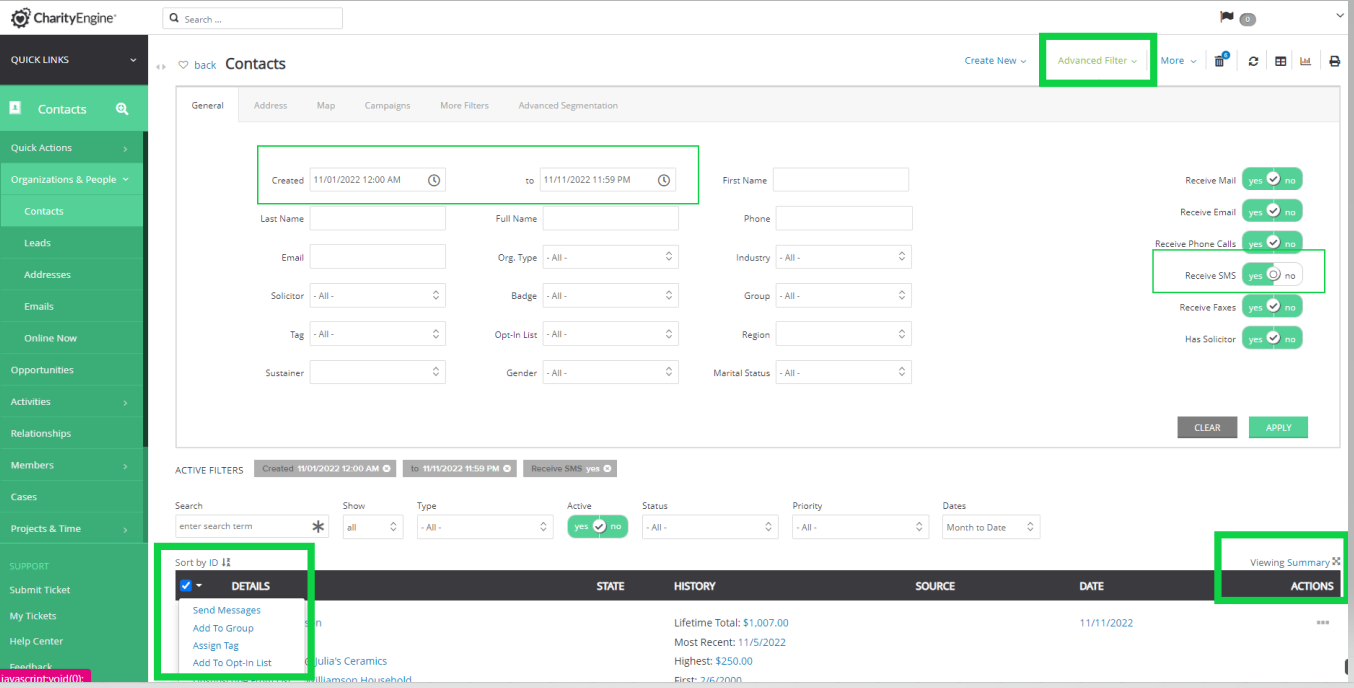 Option 2: Larger Lists - Recommend leveraging query to identify CharityEngine Contact ID

Navigate to the
Automation & Workflow app > General > Import/Export > Create New > Import > Import To: People >
on the same screen navigate to
List Assignment >
Locate List and select
ADD >
click
Next


Under
add Fields
locate
Contact Id
(CharityEngine Contact ID), download import template to add your identified list, then click
Next
to continue with the steps for appending your Opt-In List to all identified contact records.

Preparing your first SMS Campaign
CharityEngine® SMS messages can be a great way to send campaign messages to opted-in SMS phone numbers within your contact database. SMS messages can be used to send quick reminders to donors about events or campaigns. SMS messages have limited configuration, however links and important details can be shared quickly through them. These messages can be created and edited within the Campaigns application.

Note: Contact records must contain the following attributions to be included within the SMS Message Blast: Phone Type = Mobile, Receive SMS = Yes, Preferred SMS = Yes

To begin, navigate to Campaigns > Create & Publish > Creative > Create New (top right) > SMS Message




Complete entry of Name, Headline, Content and then navigate to Save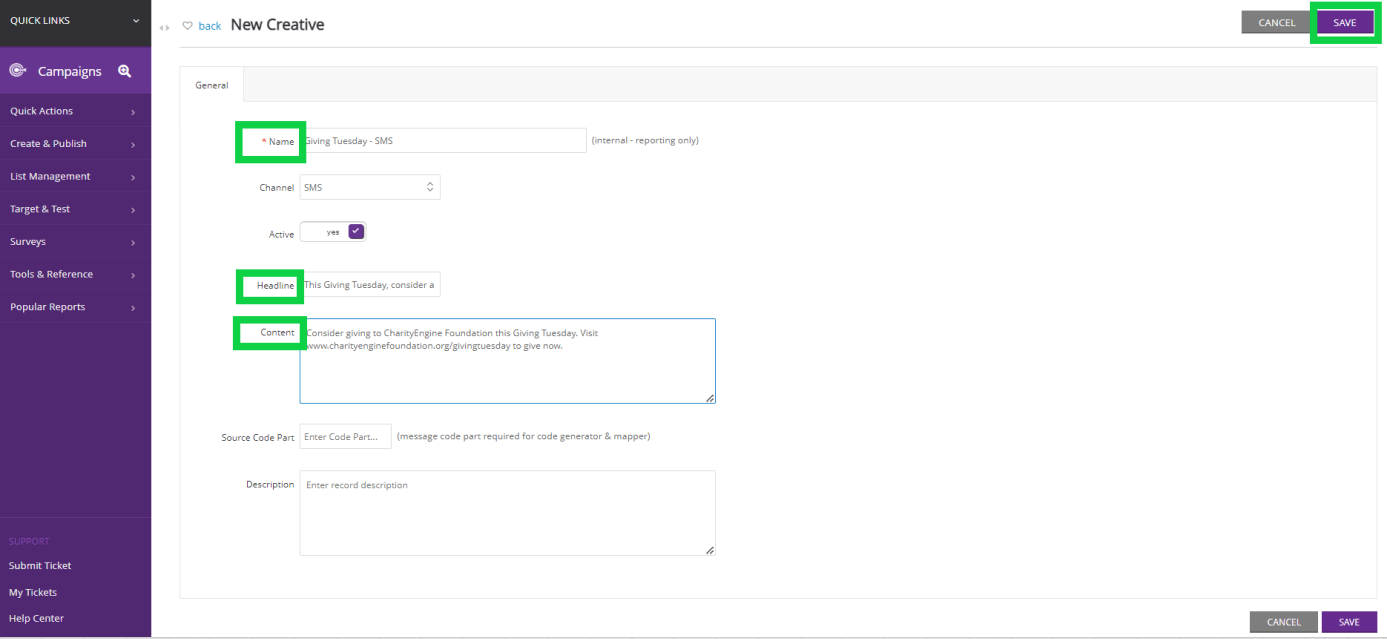 Now you are ready to start your SMS Blast. Once saved, navigate to Save > Arrow > SMS Blast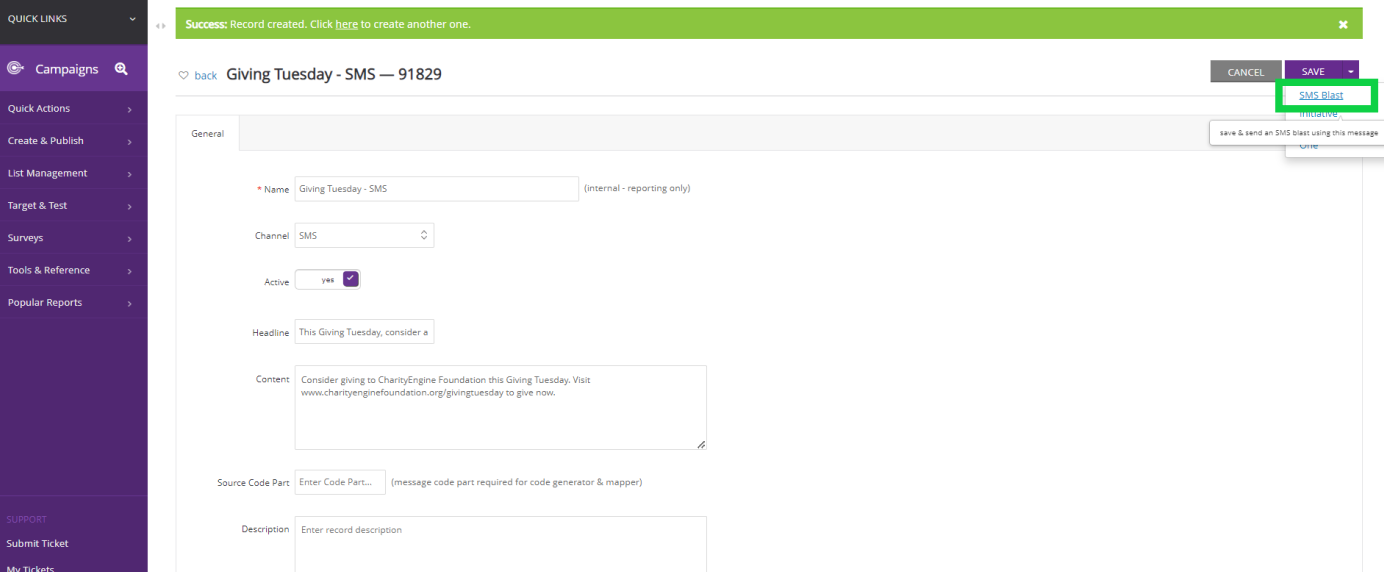 From here you can quickly Test your SMS Blast by toggling to Test. Simply enter a mobile number to proceed.
Once you have completed your test, Select Audience by toggling to List and select your Opt-In list or Query. In this example we have both an Opt-In List (Giving Tuesday - SMS Opt In List) and a query (Query: Giving Tuesday - SMS Opt In)
Please also proceed to select any Advanced options by navigating to Advanced



Click SEND NOW to initiate your initiative.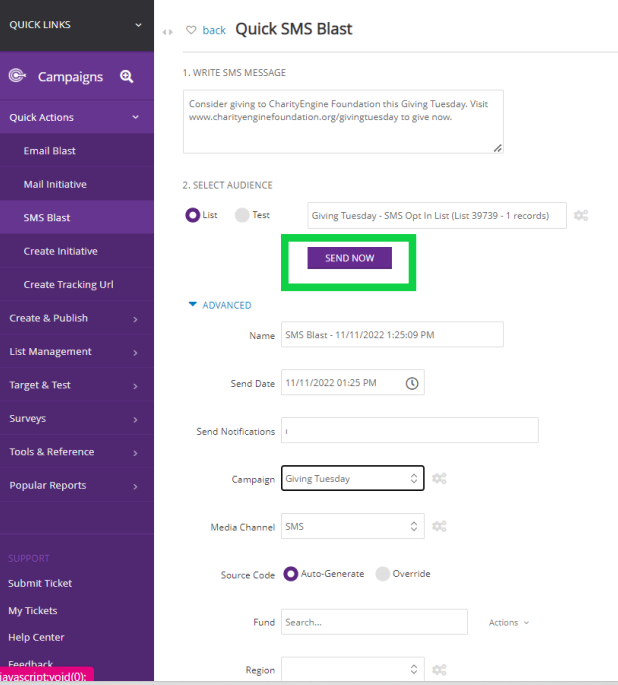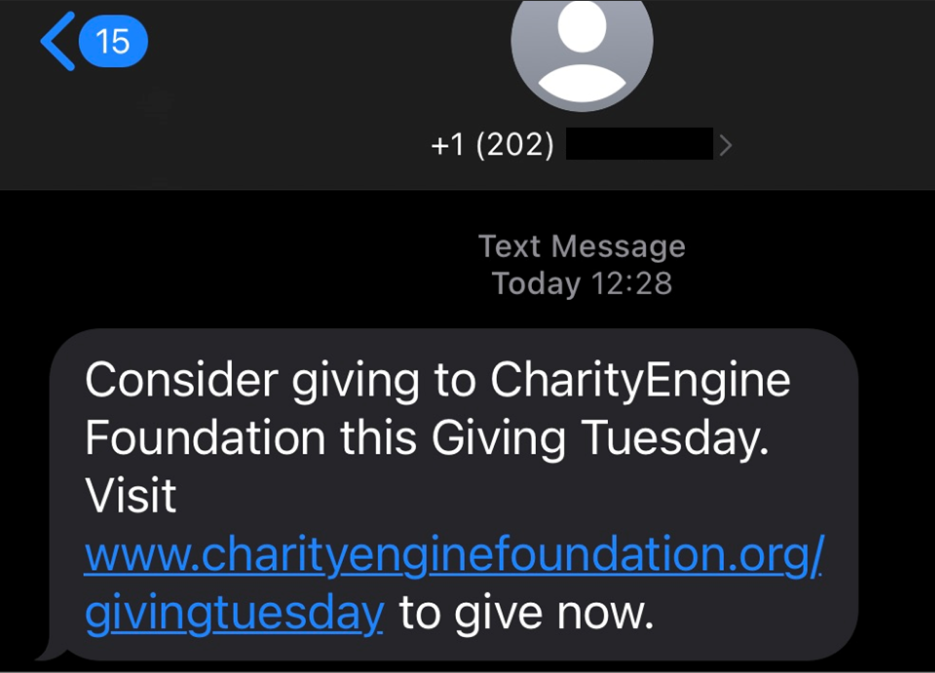 You will also be prompted to View Initiative Results. You can view now or can continue to monitor by navigating to the Reports & Analytics app > Campaigns > Initiative Analytics





Troubleshooting Your SMS Campaign Blast
My Initiative status is returning as Failed

A status of failed maybe an indication that your source file does not contain qualifiable records.
Ensure that your targeted contact record contains all of the following attribution:

Phone Type = Mobile
Receive SMS = Yes
Preferred SMS = Yes





Frequently Asked Questions
Q. How long will my SMS Campaign Blast take to process?
A. Times will depend upon the size of your targeted list, smaller lists can be delivered within minutes. Larger lists may take several minutes.

Q. How can donors opt-out of SMS messages?
A. Donors can text STOP to be opted out of all text/SMS communication from your organization. By typing START, donors are re-subscribed. Organizations can add these to the Auto Responder for donor clarity.
Q. How do I prepare my SMS Auto Responder Code?
A. If your contract includes our SMS Package to support sending and receiving of long codes, you will want to prepare your instance for the auto responder(s) needed for your campaign. You can locate your Sender Phone Number as well as prepare your auto responder(s) by navigating to the Campaign app. While the SMS Campaign Blast can be best used for outreach to your donors, use of the SMS Auto Responder Code is great for in person events or advertising materials. This tool allows your donor to initiate action with your organization.

Navigate to the Campaigns App: Campaign > Create & Publish > SMS Numbers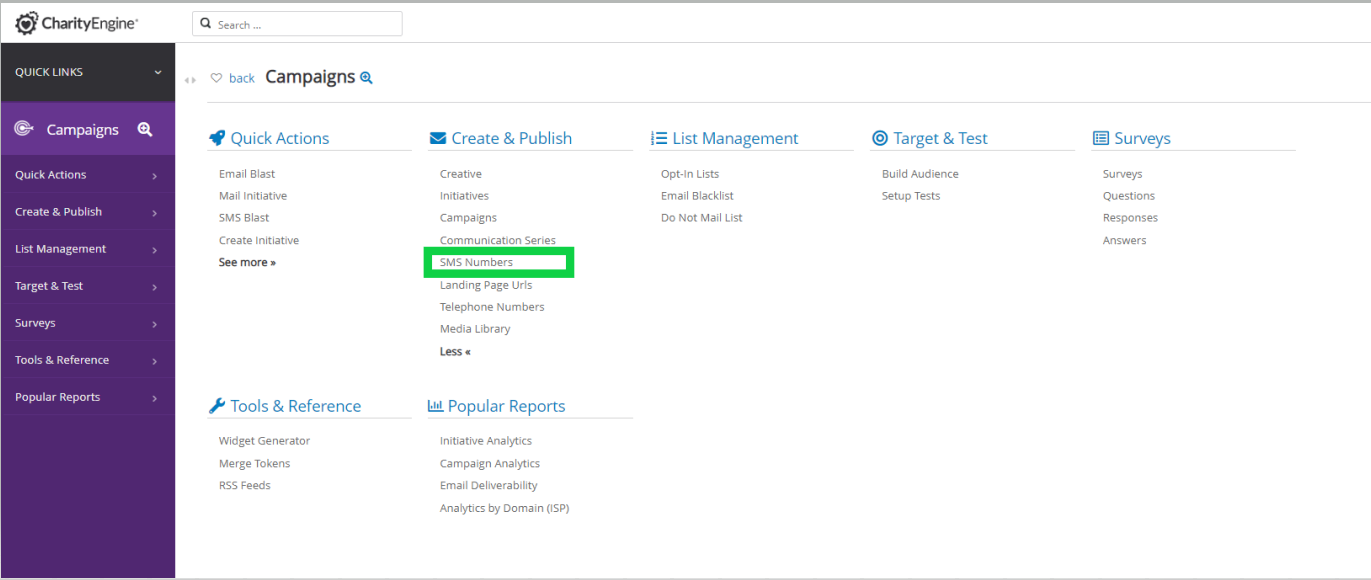 The organization's assigned number(s) will be presented here. To update or create an auto responder, navigate to Action > Manage




From this screen, the default responder message can be managed. To create a new or update an auto responder, navigate to the Auto-Responders tab.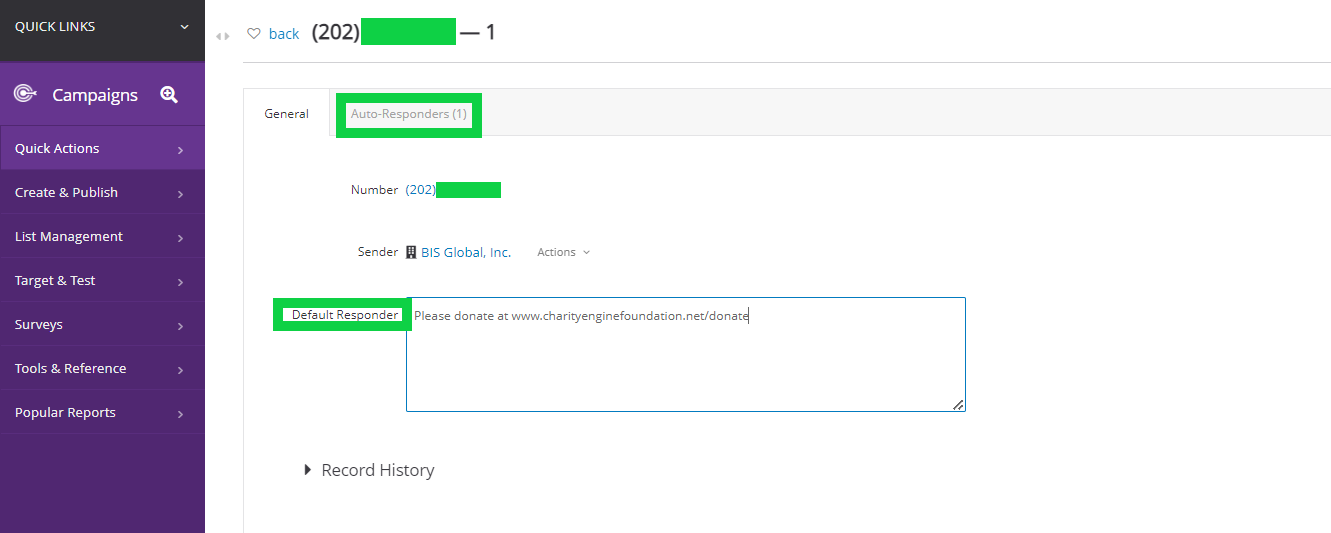 From the tab Auto-Responders click on Add New (top right) and update your Inbound Message and Response message. Then click Save.




To test your message, text the organization number with the Inbound Message. Once sent, you should immediately receive the assigned response.