Email Deliverability Best Practices

Email providers have rules in place to prevent unwanted messages from appearing in their users' inboxes. Due to these rules, wanted and subscribed-to messages may end up in spam and could be blocked from delivery altogether.
As an email sender, there are things you can do to improve your inbox deliverability:
1. Maintain your list. This may sound simple and obvious, but it makes a difference! Being a good email sender is the number one most important contributor to your domain reputation and IP reputation which, in turn, is the largest contributor to whether your email lands in the inbox or is considered spam. Email providers notice if their users never open emails coming from your domain, so if someone has not opened a message from your organization for a long time, then it is recommended you remove them from your email list (even if they subscribed at one point).
Why does this matter? Because other recipients' lack of engagement on your messages can tell the email provider that your domain sends unwanted email and they could start sorting your messages as spam rather than desired inbox content, even to recipients who do like to open your mail.

Here are some key indications of a list hygiene issue to be on the lookout for:
Spam complaints
Invalid email addresses (hard bounces)
Spam trap hits
Third-party block listing
Engagement

2. Email List Cleaning. Email list hygiene is recommended from time to time to make sure you are not emailing bad email addresses. Bad email addresses can range from a common domain misspelling (yaho, gamil, hotmal) to known spammy email addresses that end up in lists because of inaccurate data appends or bad list purchases. Note: CharityEngine® uses an email validation tool on forms (Online Donation Forms, Advocacy Forms, Shopping Cart checkout, etc...) and on data imports, API calls, or manual entry in Admin Console when an email is submitted. This will help you maintain a good list. If you are interested in learning more, please reach out to your account representative or Application Support!
3. Monitor Deliverability. Use CharityEngine's robust campaign analytics to review the results and response rates each time you send and adjust your tactics quickly if you are seeing positive or negative results. It is also recommended to use third-party inbox monitoring services if you are a medium or high-volume sender. The key benefit of using an inbox monitoring serivce is that it will provide you with insights into how many of your emails are landing in the inbox for larger email service providers like Gmail and Yahoo and it will provdie anonymized statistics about occurences of compliants and spam traps that can indicate you have a list hygiene issue you need to remediate. While CharityEngine does not provide these services directly, our Client Services team has over 100 years of combined experience sending email effectively and can recommend some good providers that we and our customers' have had positive results with. If you start using a third-party inbox monitoring service to supplement CharityEngine's deep analytics, adding your provider's seedlist email addresses to your CharityEngine account is easy.
4. Maintaining Email List. Furthermore, you can turn Email Verification on. What does this mean? Anytime a new email address enters the CharityEngine ecosystem (through our importer tool, donating on an online form, taking action on an advocacy site, etc...) the email owner will receive an automated email asking them to verify their email address.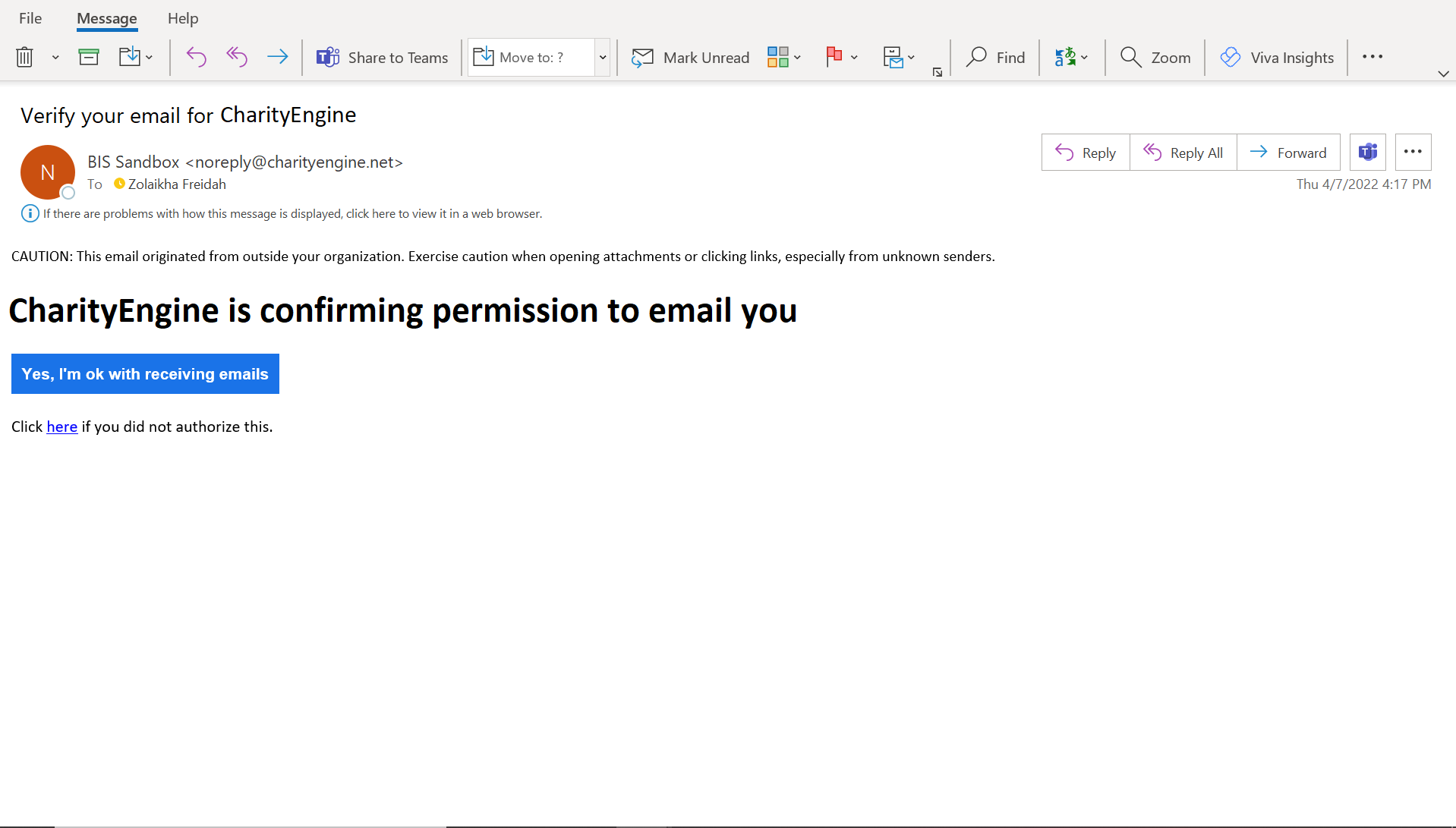 *Note: <CharityEngine> will be replaced with the client's name as identified within Configuration > General > Account Settings > Organization Name External


Regardless of how they respond, their response means that they are a real person and real people are who you should be sending to! You can even select this setting when sending out email blasts: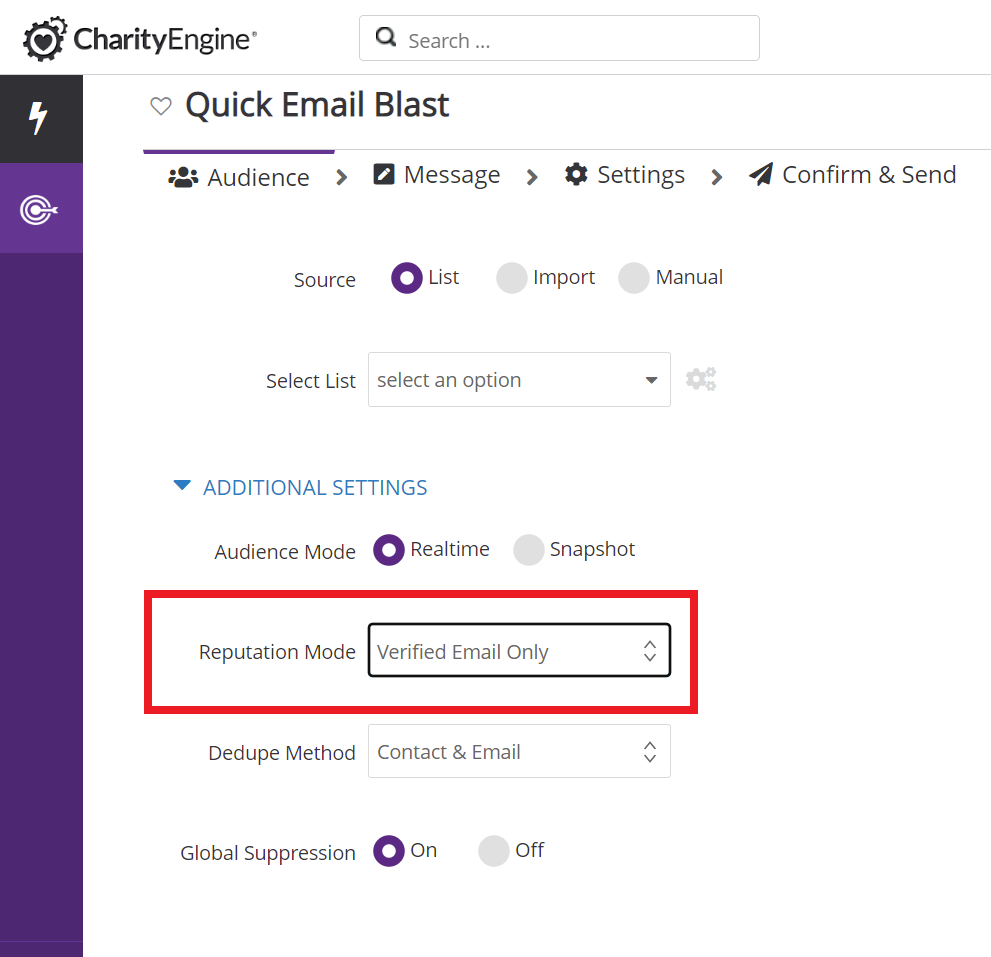 You can find where to manage your email validation and verification setting in your Campaign Default Settings under the Email Deliverability tab.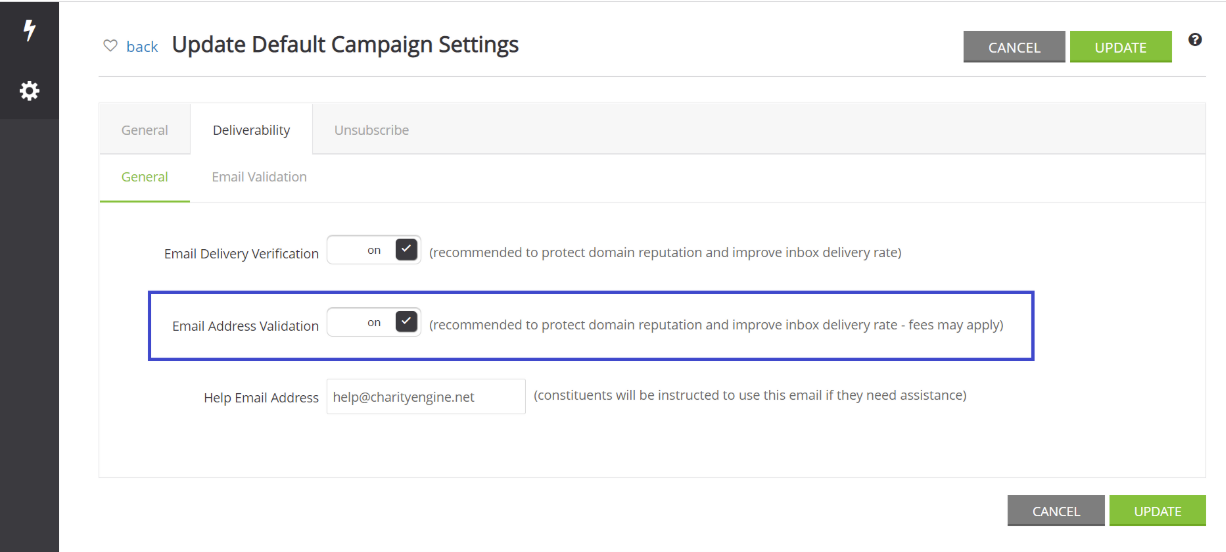 By accessing Automation & Workflow > General > Data Enrichment you can also complete a one-time bulk email address validation. (Fees may apply)





To see the status of each and every email address in your account, visit the list of all email addresses. You can also perform many other actions to email addresses on that screen!