Advocacy: How to create an audience for a communication initiative
Introduction
Communicating to your constituents is an important aspect to initiating action for advocacy. Once you have established your issue within the advocacy app, now you can begin your communication strategies. The information below will provide you with steps to create a targeted communication list.
Table of Contents
Prerequisites
We recommend creating your advocacy issue prior to creation of your communication distribution list.
Please also have your email creative ready for your email initiative to initiate and scheduling.
Instructions
Step 1: Navigate to the Contacts App > Organizations & People > Contacts > Advanced Search.
Step 2: From here, you can begin to refine your targeted population. In addition to selecting districts and/or representatives, you can also use other filters such as active or receiving email opt in. To select contacts who are located within a specific district or covered by a specific representative navigate to the Address tab in the advanced search. Locate District and/or Representative. Begin to select your identified district(s) and/or representative(s). Use the red X to remove options.
Step 3: Save your report by accessing the save search & export setting feature in the top right hand corner.
Step 4: Enter a Name for your report.
Step 5: Add data elements that will be helpful to your report by clicking on the data element under Available Columns. Note, for email initiatives, Contact Id is the minimum required field.
Step 6: Click SAVE to secure your changes.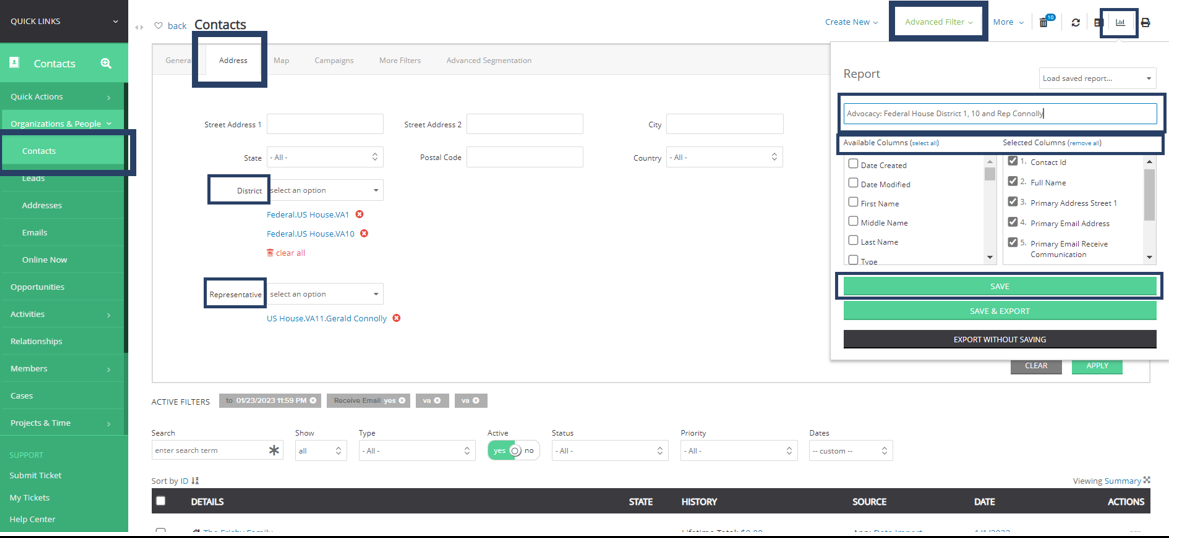 Step 7: Once saved, navigate to the More drop down menu in the top right-hand corner.
Step 8: Click on Send Message.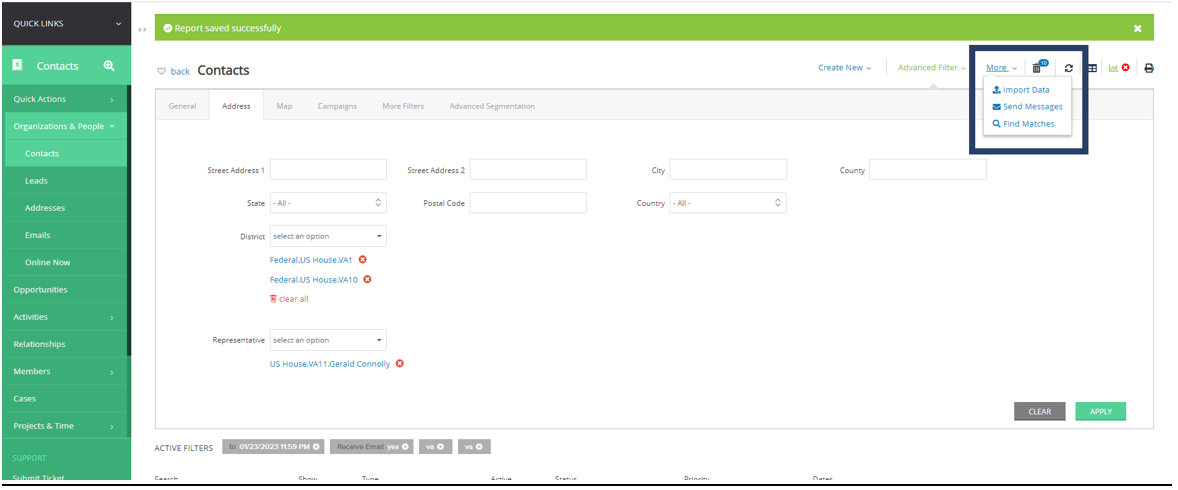 Step 9: Click on Email Blasts in the popup menu.

Step 10: You will then be navigated to the Campaigns App > Quick Actions > Email Blast. Your newly created report will be defaulted in the Select List section. Proceed with creation of your email initiative.

FAQs & Additional Readings
Q. I'm not ready to initiate my email send. Can I still access my list through the Campaigns App once I am ready?
A. Yes, as an alternative, once you are ready to schedule your email initiative, simply navigate to the Campaign App > Quick Action > Email Blast. From the Audience tab, select Source: List and in the Select List, type in the name of your saved report to locate your audience.

Q. Once I create my report, do I need to refresh to capture new contacts/constituents?
A. No. Once saved, if new constituents are added to your database, the report will refresh during the email blast workflow to capture any new edits (adds or deletions).