Accounting: Accounting and Financial Reconciliation
Introduction
For our financial teams, financial reconciliation is an important aspect when processing financial transactions through donations, events, or other fundraising activities. CharityEngine performs financial settlements through FirstData daily and can be tracked and managed easily within our Accounting app. The following article will provide you with guidance on leveraging our account reports as well other helpful reporting tools to assist you in reconciliation and other contractual needs.
In addition to financial reconciliation, there are also a host of pre-configured reports to monitor for transaction performance (approvals, declines). It is important for you to monitor transaction performance to determine if there are specific issues with processing of transactions or webform performance. See below for further details on transactional reports available through CharityEngine.
---
Table of Contents
---
Prerequisites
The Accounting App will provide reporting for all financial transactions processed through your FirstData payment gateway. If you are processing transactions via PayPal, these are excluded from the billing engine and can be located by accessing the Transactions App listing screen and filtering by Type of PayPal. If you are processing transactions via other API integrations, you can also leverage the Transaction App listing screen to filter for these transaction types.
Please note, while CharityEngine completes daily settlement activities, receipt of funds to your financial institution may be delayed due to banking holidays or other non-business bank processing days
---
Instructions - Daily Financial Settlement Reporting
Bank Settlements:
Navigate to the Account App > Payment Gateway > Bank Settlements
Use this report to balance total settlements processed by CharityEngine's billing app.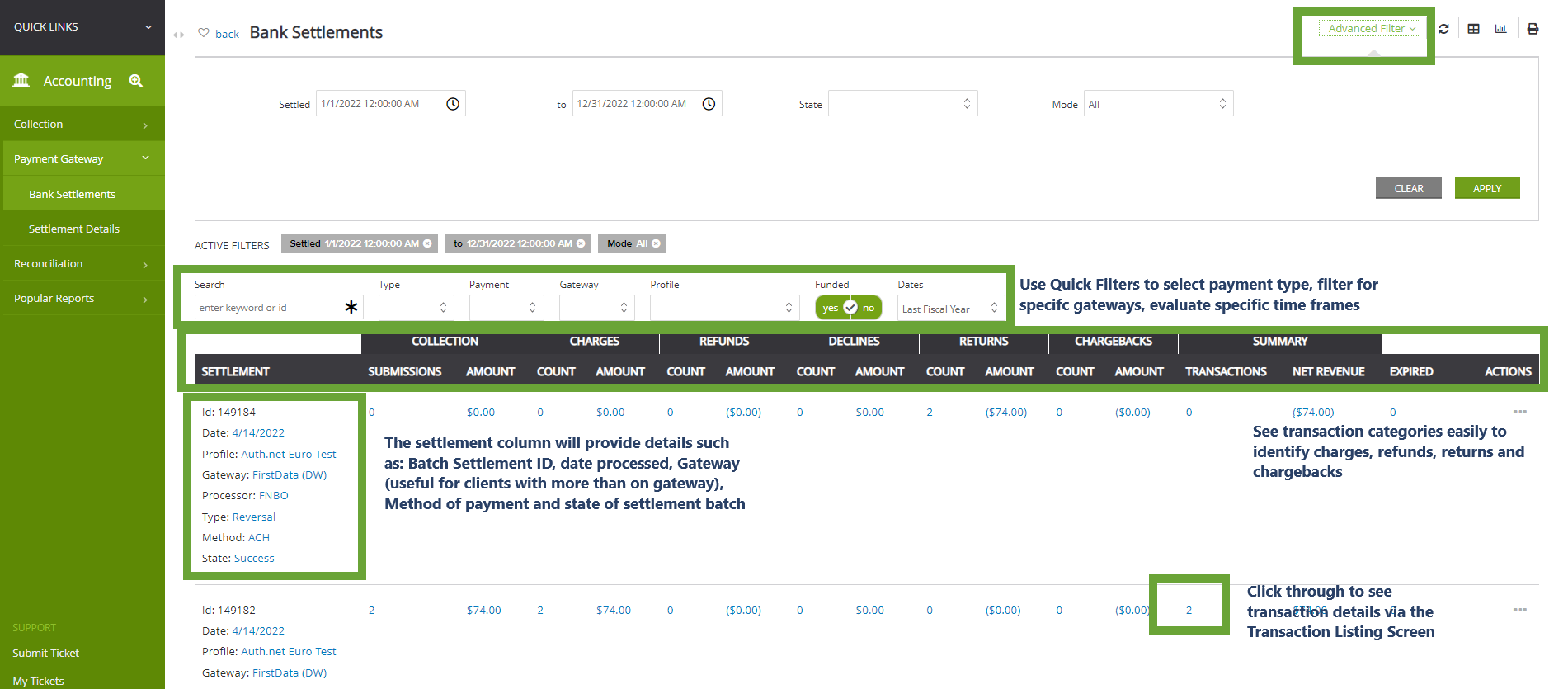 Bank Transactions:
Navigate to the Account App > Reconciliation > Bank Transactions
Use this report to review a listing of billing engine settlement IDs.

---
Instructions: Transaction Monitoring and Performance
While the above material will support settlement activities, it is also important to monitor your transactions for Payment Type (One Time, Sustainer, Pledge, Membership, None) and Payment Status (Paid (or approved), Declined/Unconfirmed, or Pending). This will assist in monitoring for declined transaction rates.

Step 1: Access Reports & Analytics > Transactions

Step 2: The Transaction Summary report can be used to see performance by time intervals and payment method for an easy snapshot of trends. Used the Advanced Filter option for further refinement in reporting options.


---
Instructions: Sustainer Monitoring and Performance
Step 1: Navigate to Reports & Analytics > Sustainers to see an array of reports to monitor your sustainer performance and transaction processing.
Step 2: The Sustainer Type Revenue is an example of the reports available to you to monitor collected vs. uncollected revenue for your sustaining donors.


While these are just two examples of transactional reports, there are many more available for your reporting needs. Please be sure to check the other available reporting options by accessing Reports & Analytics.
---
FAQs & Additional Materials
Q. When I access my CardPointe account, why can't I see transaction details?
A. CharityEngine is a payment processor and does not transmit transaction level details through CardPointe. If you need to access transaction level details you can access the above reports to click through to see transaction details.
If you wish to see the collection of transaction processed, you can also leverage the Donations App > Transactions > Search & Manage reporting feature.
This can include use of the Quick Filter to filter by Payment Method (to view ACH or Credit Card transactions), Payment Status (to view Paid or Declined or Uncofirmed), and/or Dates (including yesterday, Last Month, Month to Date, Year to Date, etc.).
Use the Advanced Filter and navigate to the Advanced tab to filter by Merchant Gateway and click APPLY. This is useful for users who host two or more payment gateways.
Once you have selected the appropriate filtering method, scroll to the bottom of the listing screen to see total transaction counts and total transaction dollars.
You can also use the export feature to export all transactions.
Finally, use the Report Builder feature by clicking on the Graph icon to save your filtering options by naming your report and clicking SAVE.

For example if you use a monthly report for Payment Type: ACH, Payment Status: Confirmed, Date: Last Month, Merchant Gateway: FirstData Payment Gateway 501c3, you can use the Report Builder to quick access this report each month.