Online: User Center Ticket Management
Introduction

CharityEngine's User Center is the self-service center for an Organization's constituents. Leveraging the User Center will allow your donors to execute a variety of activities including obtaining end of year tax statements, updating credit card information for sustaining transactions, opting in to organization's newsletters, or learning more about upcoming events. Any contact that exists in CharityEngine also has credentials to manage their Contact in the User Center. The User Center is a great opportunity to include in your organizational website footers and creates deeper engagement with your donors.


In this article, we will cover the self servicing options for your donor's ticket management for events and raffles.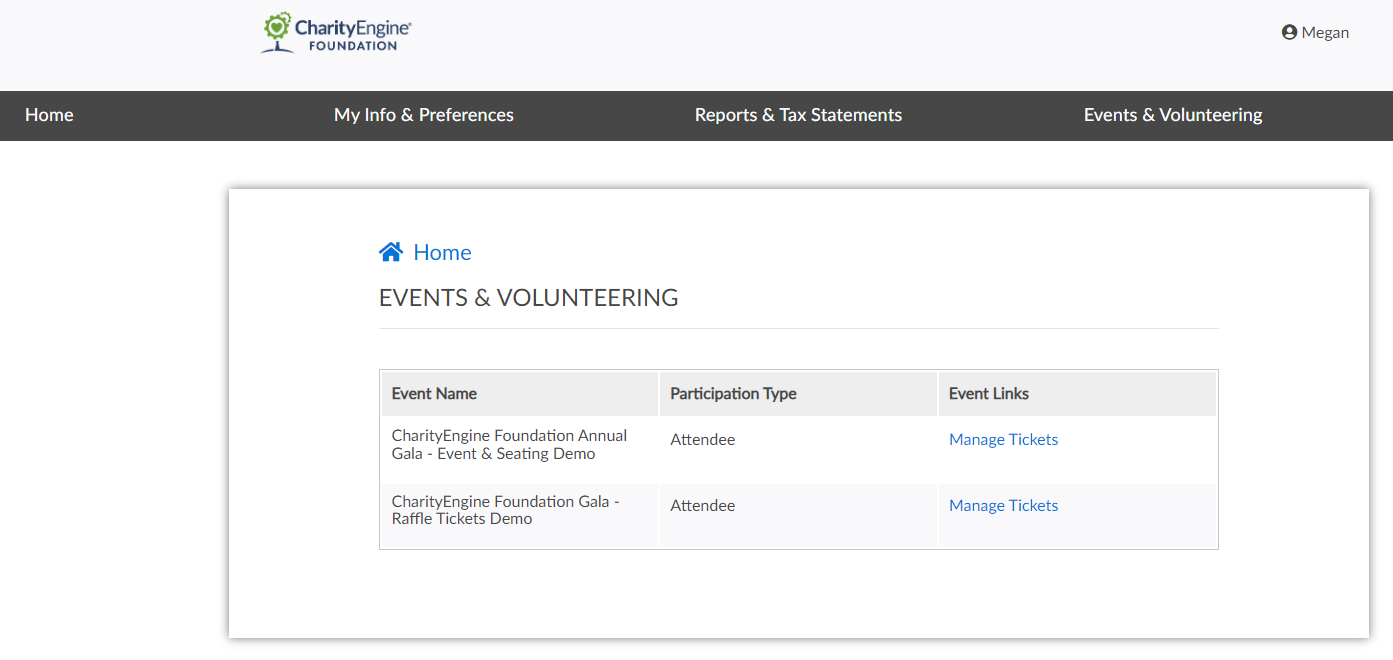 ---
Table of Contents
---
Prerequisites
Enabling and configuring your user center is a great way for your donors to self-service and manage event tickets, sustainer/pledge/membership account, print annual tax receipts, and more. Learn more on basic set up and configuration in our article Online: User Center Configuration
---
Instructions: Accessing Ticket Management for End Users
There are two ways to navigate to the ticket management screen:
1. Clicking on a special token that logs registrants into the User Center in a semi-authenticated mode or
2. Logging into the User Center and navigating from the Events section.
This ticket management feature is available to registrants until the Event End Date or the Ticket Management End Date (whichever is sooner) has been reached.
Semi-Authenticated Mode
Registrants can navigate to the ticket management screen after submitting a registration on a web form or when receiving a registration receipt that includes in the Event Ticket Management URL token. Include the following token in the Event Web Form.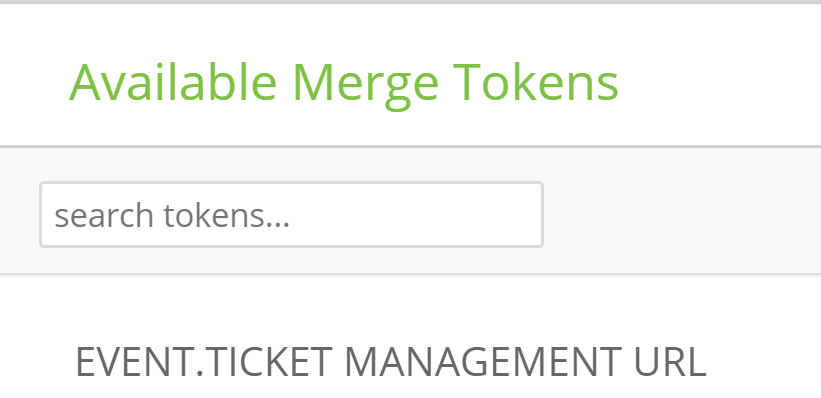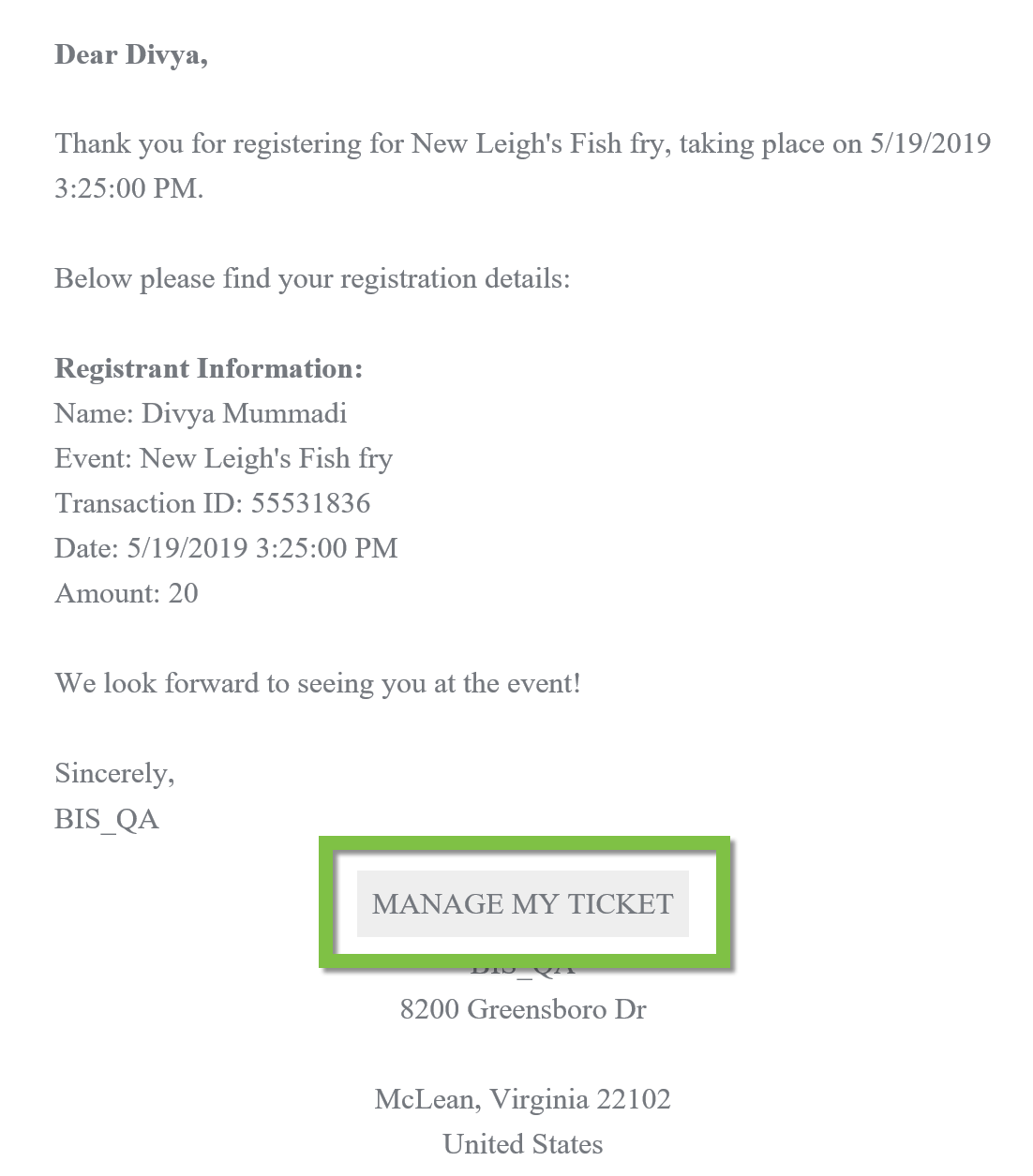 After clicking on the event management URL or Manage My Ticket button, registrants will navigate to the first step of the Ticket Management process, which will ask registrants which tickets they want to manage.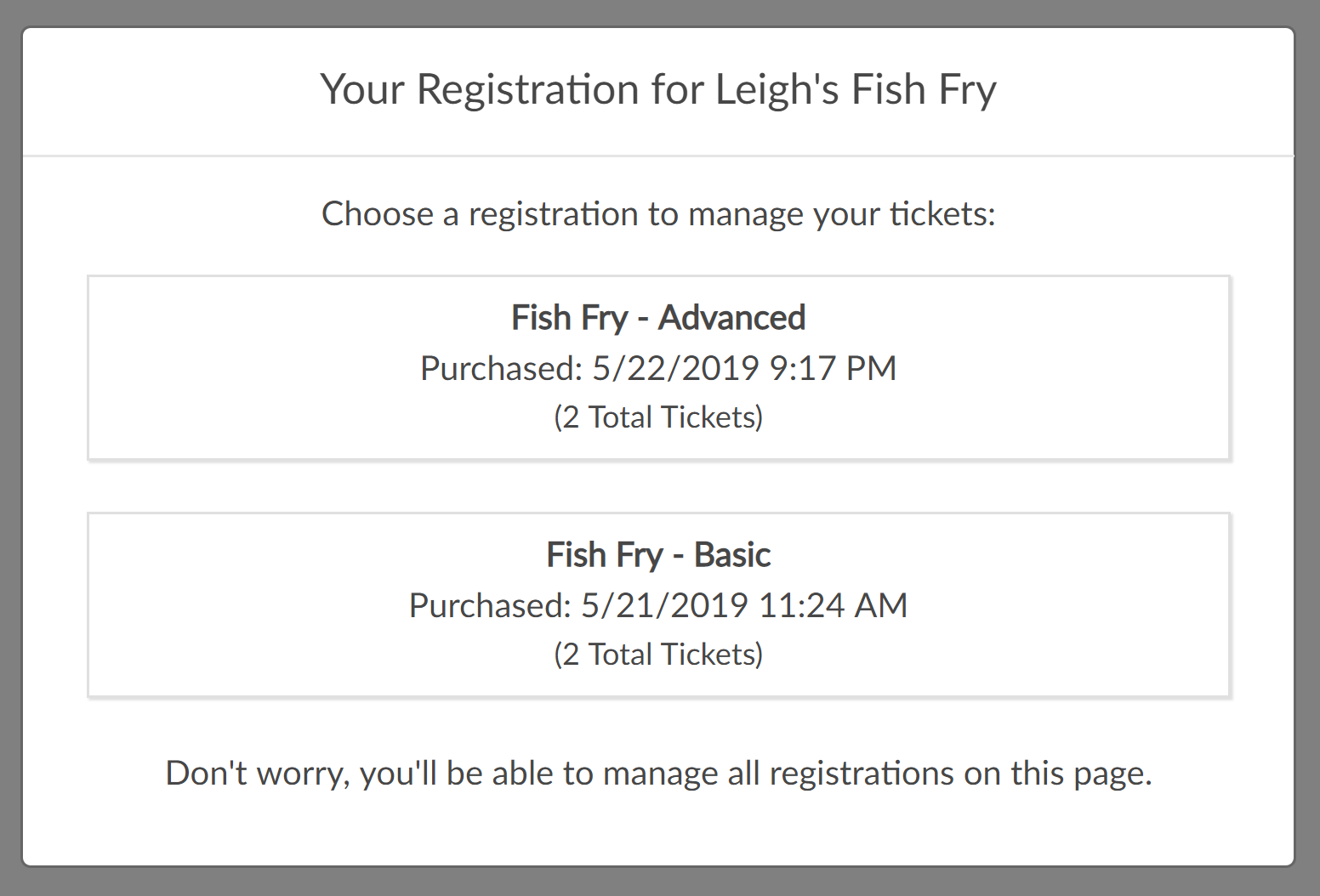 After selecting which tickets they want to manage, they will be taken to a page where they can update their information and/or their guest's information.


Managing Tickets from the User Center
Alternatively, user can log into view tickets via the organization's user center site. After logging into the User Center, the end user will navigate to the Events section and click on Manage Tickets.
Please ensure the organization's user center has enable the ability for end users to manage event tickets. Please review by navigating to the Online App > User Center > Configure > Events > Events = enable



The user will navigate to Events & Volunteering to access their purchased tickets. The user can click on the ticket to assign and distribute additional purchased tickets to other participants.



Select the ticket you want to manage and the ticket management screen will appear.
---
Ticket Management




By clicking on Edit > Additional Information, registrants can enter contact information for their guests as well as any dietary restrictions they might have.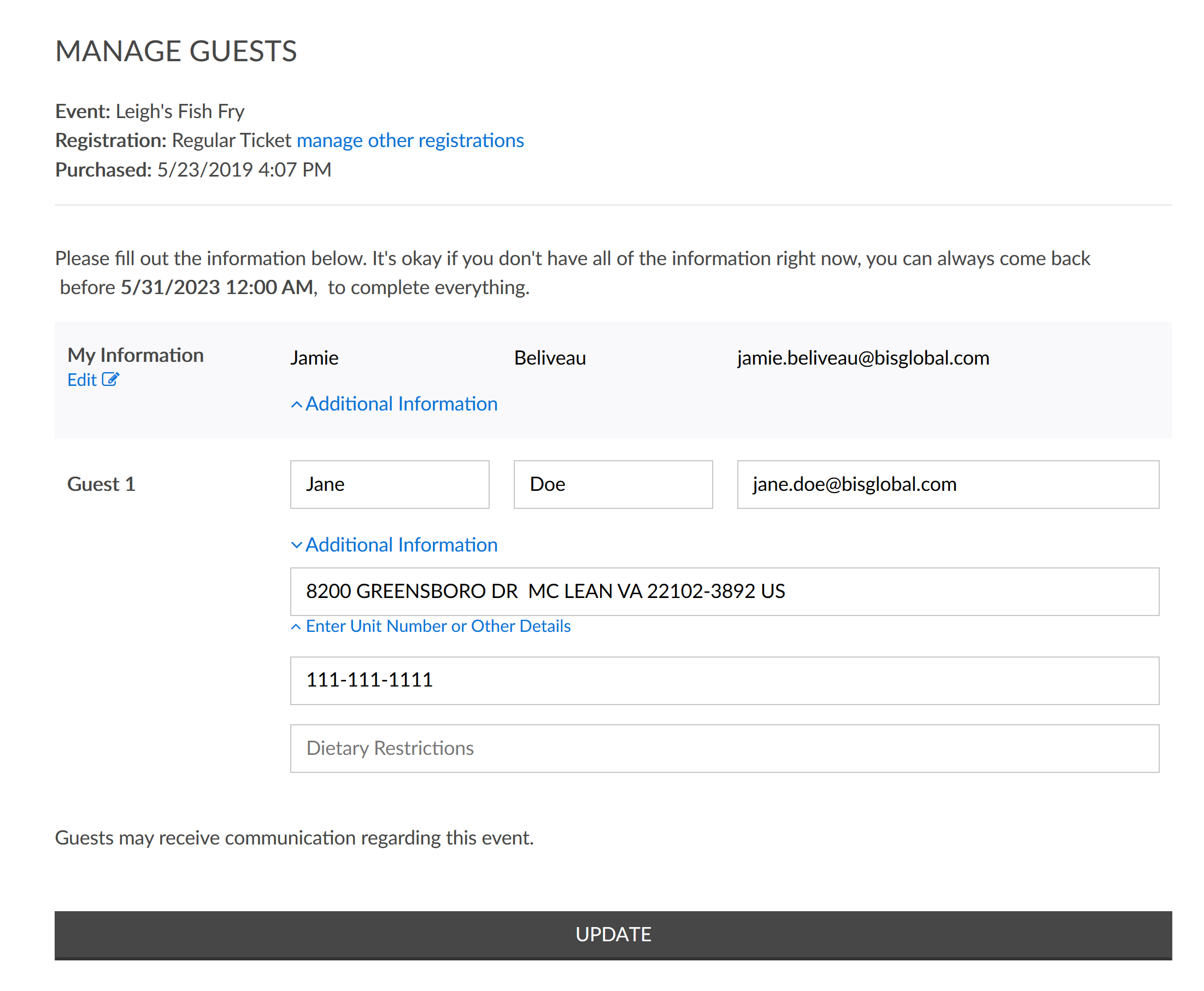 After entering in their ticket information, click on Update to update their registrant and ticket information in CharityEngine.


Note: Clicking Edit under My Information will cause a popup to appear. This popup is alerting the user that updating the email and name under My Information may remove their ability to manage their tickets.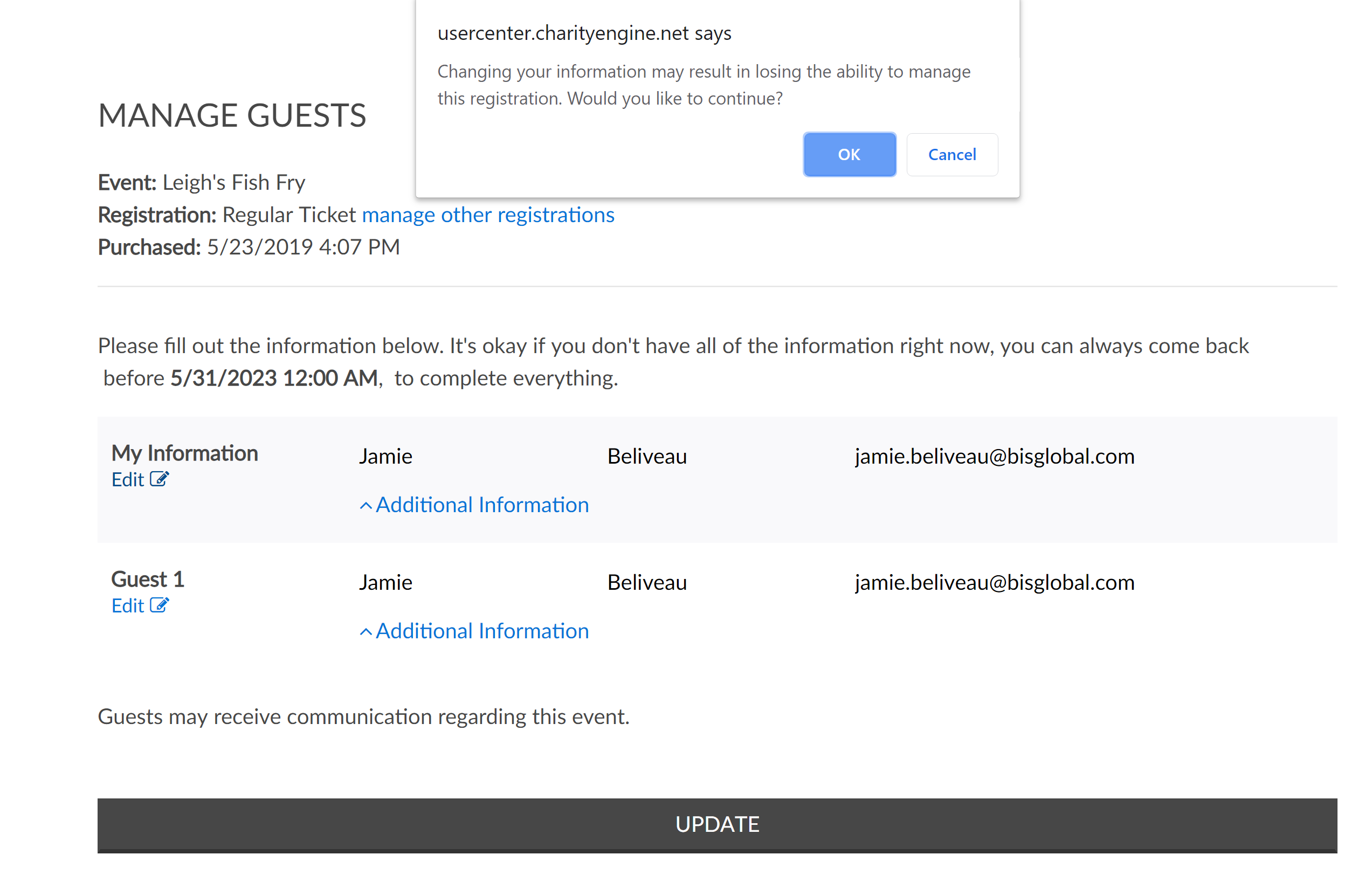 At the very top of the page, note the information about the event and the link to manage other registrations. This section is telling registrants about the ticket they are managing and is also giving them the ability to manage other registrations if they purchased tickets in another transaction.



---
Raffle Ticket Management
If the non-profit is leverage event web forms to support raffle tickets, donors can also access and locate raffle ticket assignment through the user center.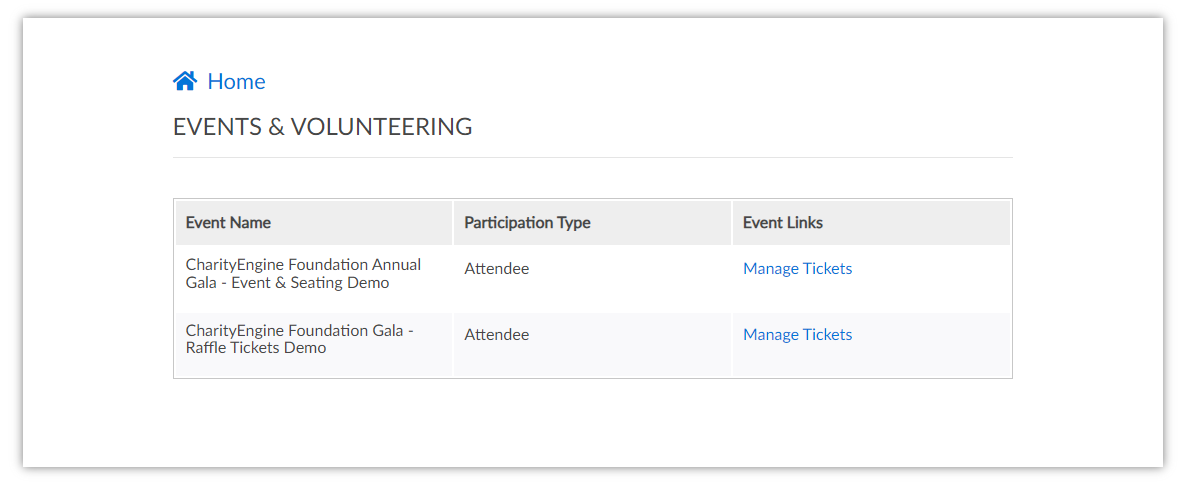 The end user/donor can navigate to the Events & Volunteering section, locate the raffle event and click Manage Event to view purchased raffle tickets: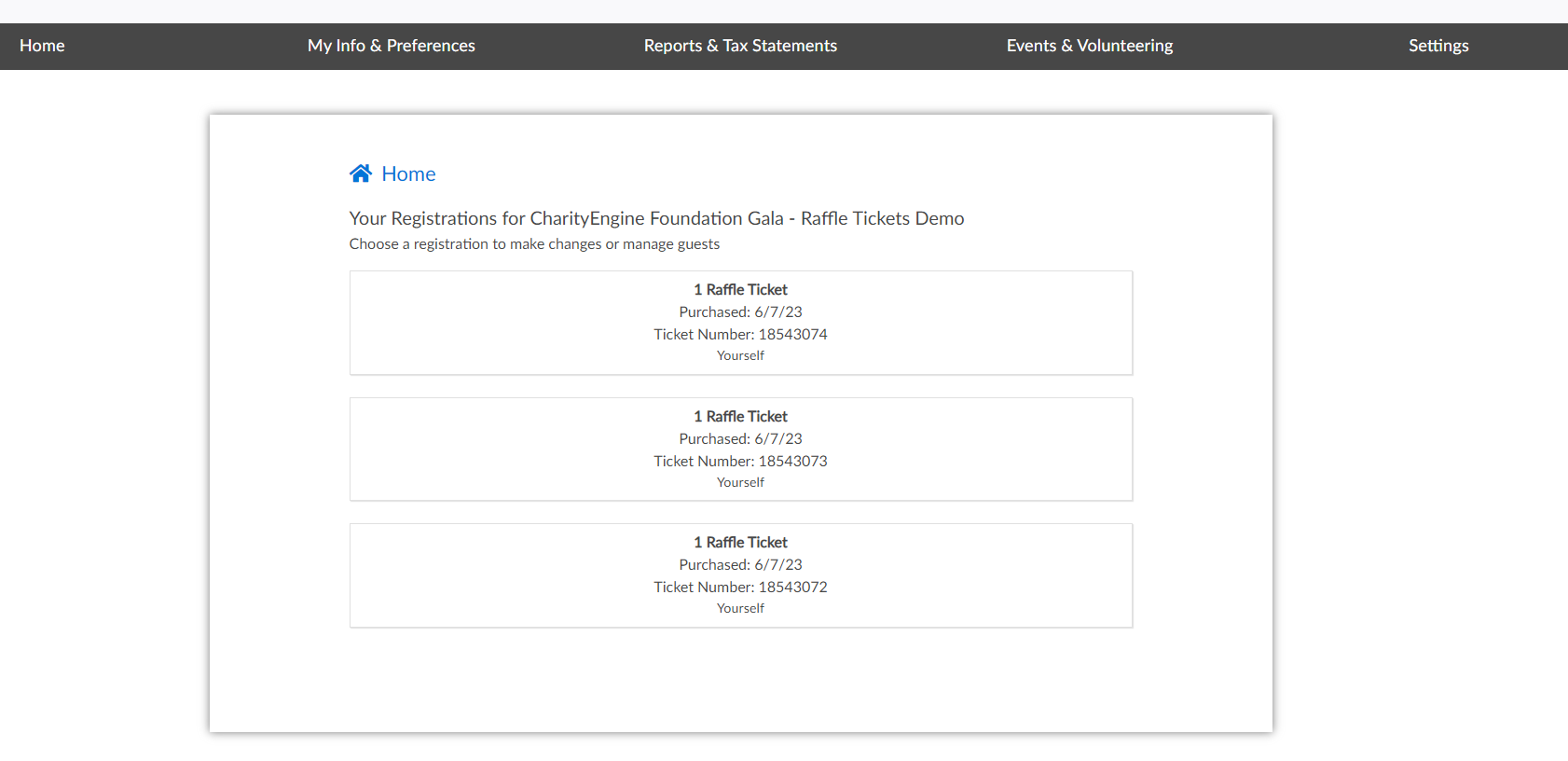 ---
FAQs & Additional Information
Q. Where can I learn more about User Center Configuration and Set-Up?
A. Learn more about quick and simple set up in our article Online: User Center Configuration
Q. Where can I learn more about the end user experience and features for the user center?
A. Learn more about the end user experience in our article User Center Front End