Data Governance: Best Practices for Backing Up Data
Introduction
Backing up data is a part of maintaining good data hygiene and is the process of creating a copy of the data you use for recovery in case your original data is deleted or overwritten by other users within your organization. Creating protocols for recurring backup will improve recovery time and costs in the event of an error or loss. Backing up data can be executed easily within CharityEngine and can be scheduled as often as needed.
---
Table of Contents
---
Prerequisites
Develop business rules for data governance and oversite of your database. This should include evaluating important data elements that may be unique to your environment, frequency in which backups should take place, storage and protection protocols of sensitive information.
Evaluate and assess which data sets are required and critical for your organization. While contact information is critical, some organizations may have unique use cases to ensure other CharityEngine databases are also included in any data backup protocols.
Please ensure you are following PCI and PII protocols to ensure the security and storage of your data.
Note: Due to PCI Compliance, payment information, such as credit card or banking information, cannot be exported. Please contact your account manager if you have any questions or concerns.
---
Instructions
The following instructions will be applied to the Contacts App for demonstration and can be applied across the various databases and tables within CharityEngine. Please ensure you have evaluated important data needs for your organization and apply exporting needs where appropriate to your organization.
Step 1: Access the Contacts App > Organizations & People > Contacts
Step 2: Use the Quick Filter and/or Advanced Filter to narrow your data needs
Best Practice: ensure Date filter is adjusted to All to capture historical records
Step 3: Use the Export feature in the top right hand corner to export all available records and fields
Step 4: Once the export has finished Click here to download file to access the excel file
Note: If the export feature includes more fields than needed, leverage the Report Builder to select the specific fields needed for your data back up needs.

---
FAQs & Other Reading
Q. I have a large dataset and exporting is not feasible. Are there other options?
A. Yes. Use the Report Builder tool to create a report, selecting all necessary fields for your data back up. Name the report and SAVE. When you are ready to run this back up job, access your saved report and click on use data export app located on the bottom of the pop-up screen.

You will then be navigated to the Automation & Workflow App to initiate an Export Data job.
Your report will be presented as the Data Source default. Click next to proceed.

Next, update the Name, include a Start date (consider running after hours to reduce strain on your database), add a Description (optional), select a File Type (default Comma Delimited (Excel)). Expand Email to deliver to one or more users. Expand FTP Delivery if you wish to add security of the file, based upon size, you can have your file delivered directly to your organization's FTP site. Expand Email Notifications to add other users for notification of job completion.
Click NEXT.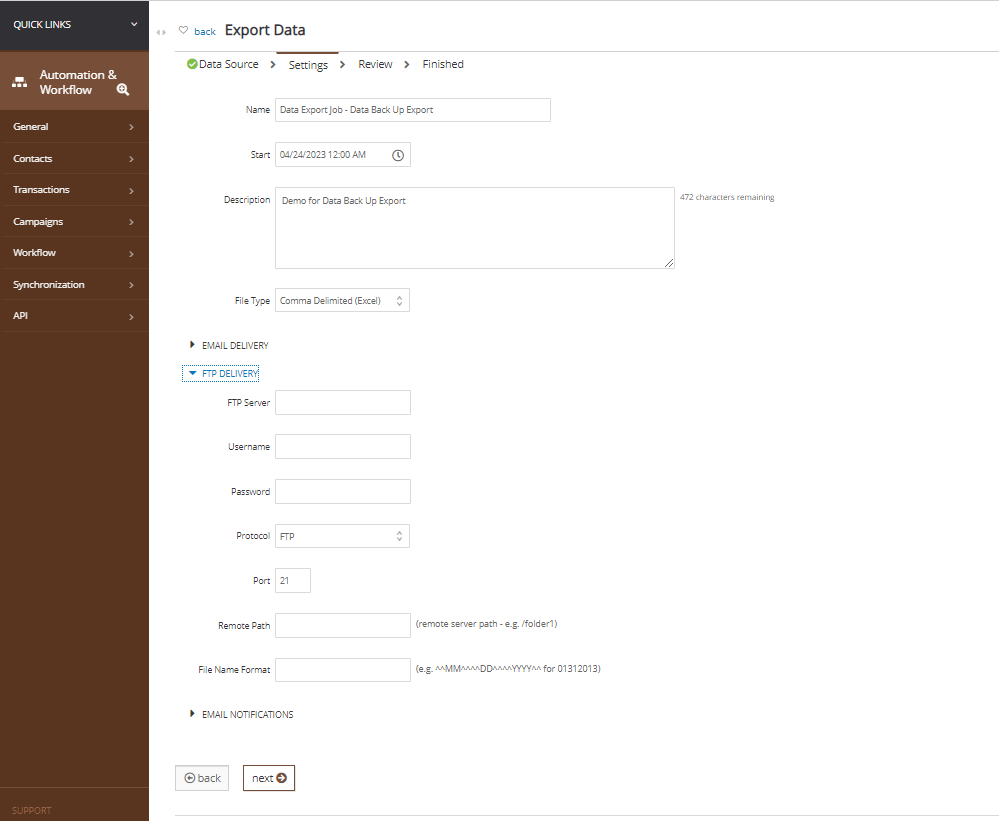 Review your selection and click PROCESS to initiate the export job. Click OK to confirm and proceed.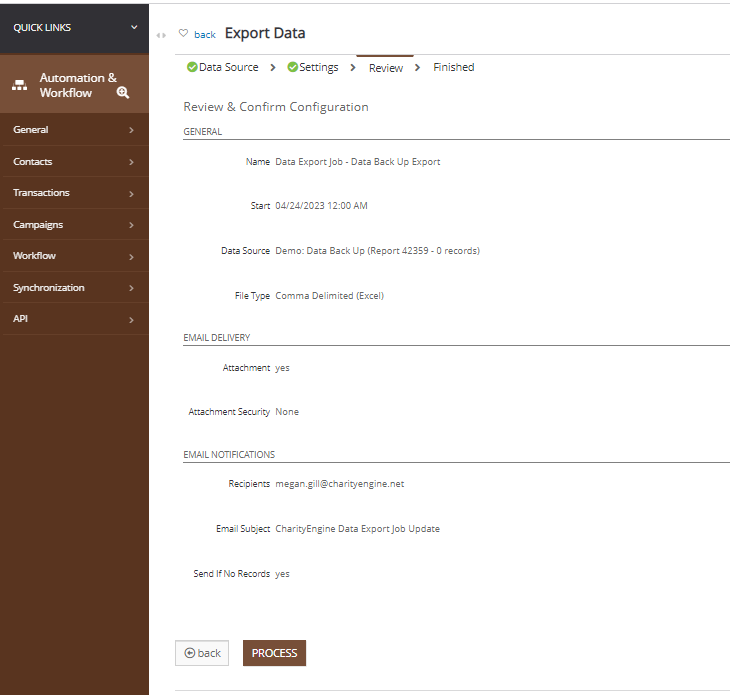 From here your job will be initiated and you can View Job Status, Export More Stuff, or Setup Recurring Schedule - this is a great option to automate back-up of data based upon the need of your organization.


Q. The listing screen nor Report Builder option provide me with specific fields that are unique to our organization. Are there other options for capturing data for back-up needs?
A. While the listing screen exporting and Report Builder will provide much of the data needed, you may find it necessary to create a custom query to identify data points specific to your organization. Please review our articles regarding Query building, exporting and scheduling for custom needs. Automation & Workflow: An Introduction to Queries
You may see a performance warning depending on how much data the query contains. Be sure you are capturing the data needed. Performance warnings indicate that processing of the query will take additional time and may create slowness in usability while the query is running. Consider time of day for scheduled runs to limit impact to usability of the database.
Note: Due to PCI Compliance, payment information, such as credit card or banking information, cannot be exported. Please contact your account manager if you have any questions or concerns.