List Management: How to Create an Opt-In List
Overview

When sending emails you will find it easier to select your target audience by creating opt-in lists. By creating opt-in lists you will be able to easily select a group of contacts that have showed interest in a specific topic. These opt-in lists can contain all of your contacts who have opted-in to receive emails or can be very specific segmentation of your contacts.
---
Table of Contents
---
Create Easy Emailing or SMS Blast Lists
Step 1: Under the Campaigns App > List Management, there is an option to create easy opt-in lists that constituents can subscribe to and can be used as the target audience for email blasts or sms campaigns.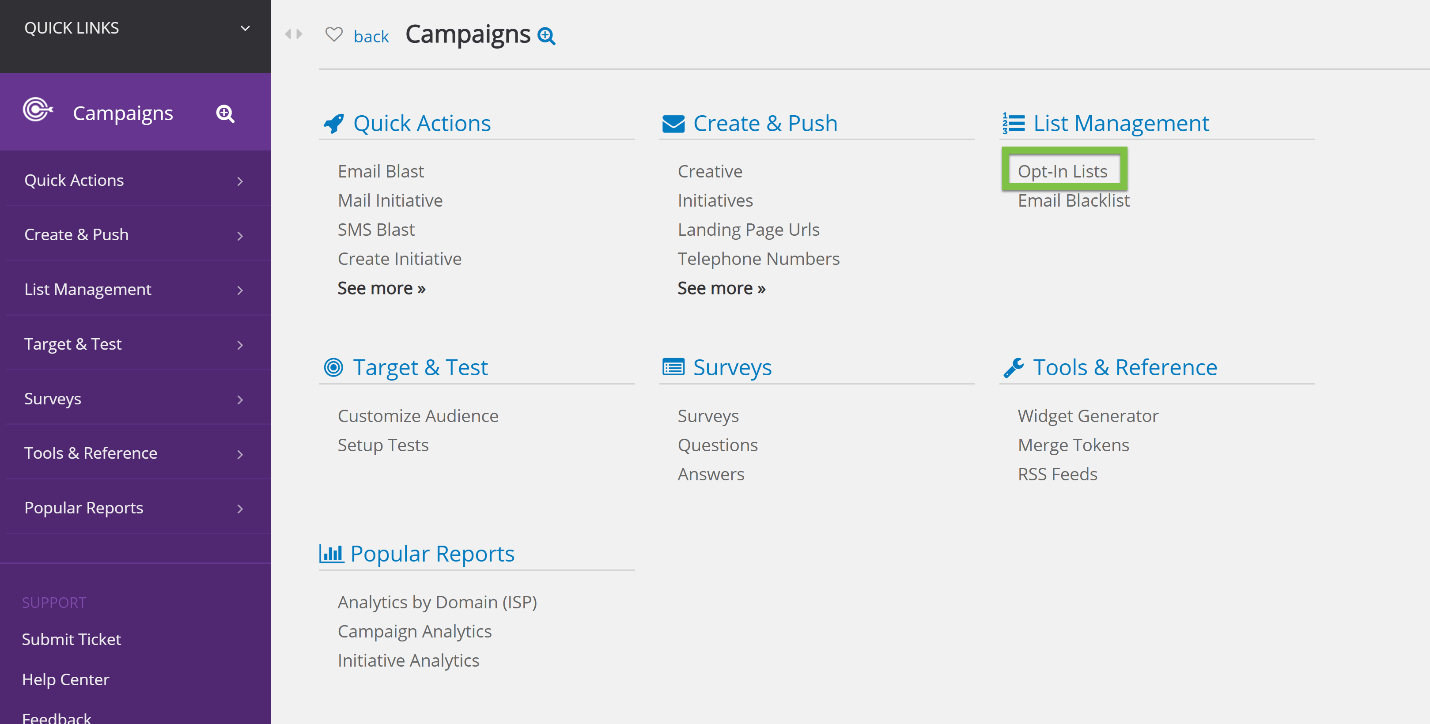 Step 2: To create a new opt-in list, click Create New on the Opt-In Lists page.





Step 3: On the General Tab, you will be able to enter in a Name for the opt in list, determine if this is is shared for your whole organization or private just for your user, and enter in a description of the list if necessary.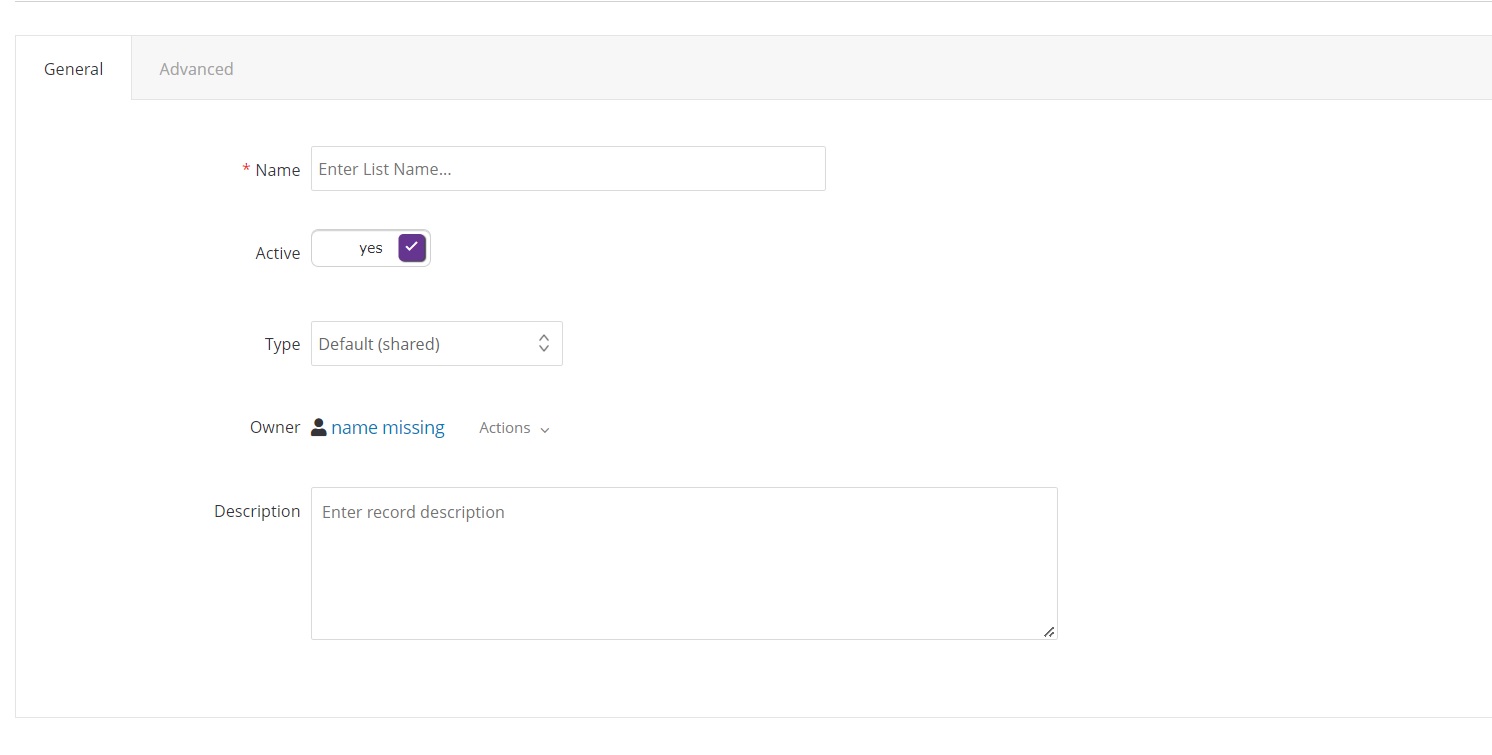 Optional: On the advanced tab, you will be able to configure some advanced options, such as toggling on/off sending emails to contacts marked as deceased, the sender and reply to email overrides, and the default recipient name. if you do not enter anything in the sender name or rely email, your default global settings will be used. For sms lists, these settings will not apply.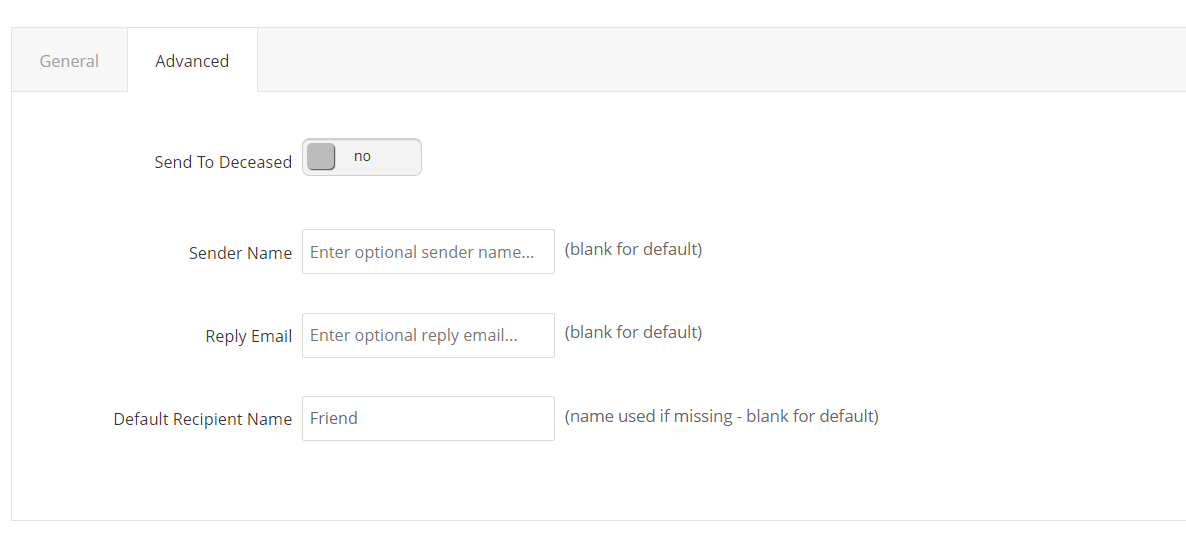 Step 4: After creating, click the Back button to return to the main page of opt-in lists.



---
Filters
Like on many pages throughout CharityEngine, the Opt-In Lists page has filters to help easily narrow down your search for any specific lists, including the Advanced Filter.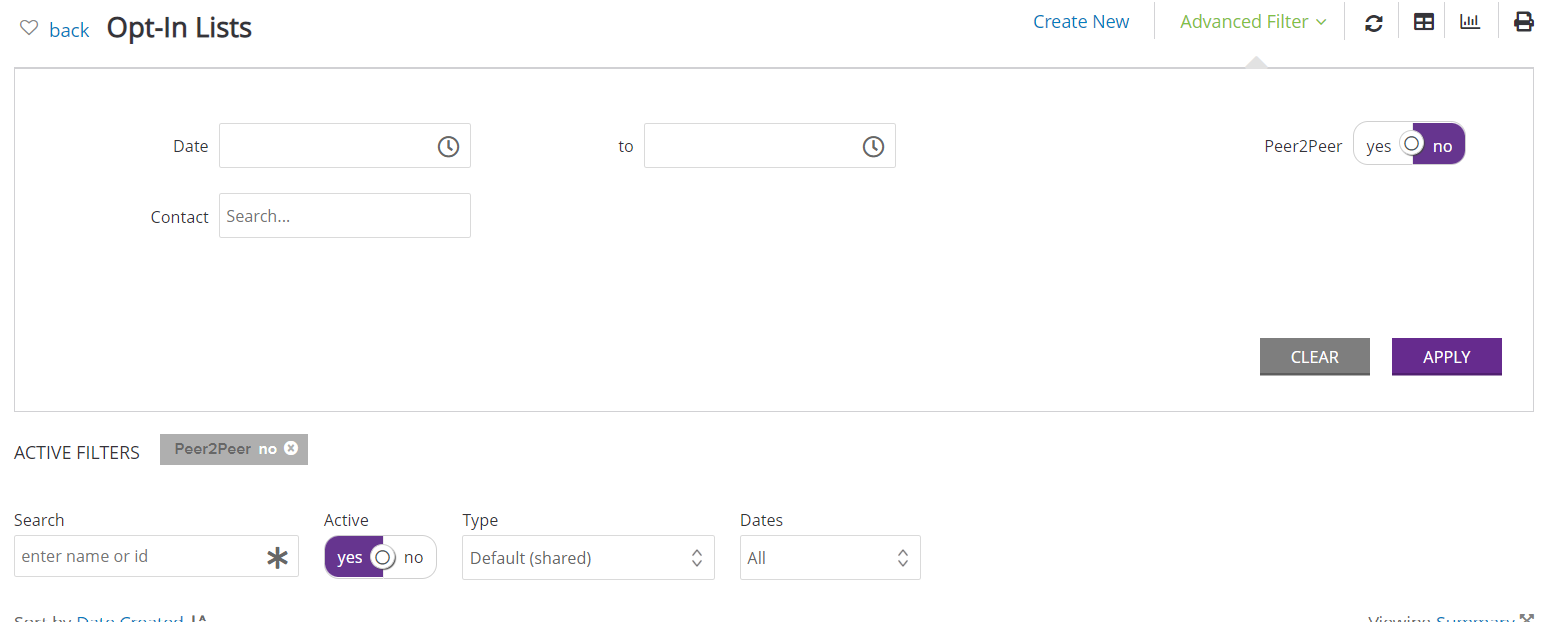 ---
Adding People to Opt-In Lists
You can add people to your opt-in lists through the Contacts App.
Step 1: To add people to an opt-in list you have already created, navigate to Contacts > Advanced Filter.
You can use both the Quick Filters and Advanced Filters to filter and pull a list of people that you would like to add to your opt-In list. Select your filters and then select Apply. A list of all contacts with the applied filter will then be displayed.



Tip: For SMS opt-in lists, pay close attention to the Receive SMS filter on the right. Deselect the no option, to ensure everyone on your SMS list is opted-in to receive SMS messages.

Step 2: You can then individually select contacts by selecting the check box to the left of their name or bulk select contacts by selecting the top left check box in the header. After you have selected the contacts you want to add to your list, select the drop dox arrow from the top left check box and select Add to Opt-In List.


NOTE: To access these options, you may need to change your Viewing preference to Summary vs. Panel. Navigate above the ACTIONS column to click on the hyperlink to change to Viewing Summary. This will expose the Bulk Actions options.
Critical Note: This will only assign to those on the listing screen. If you several contacts to add, please use the Automation & Workflow > General > Import/Export > Contact to bulk add your contacts to an opt in list or groups/tags.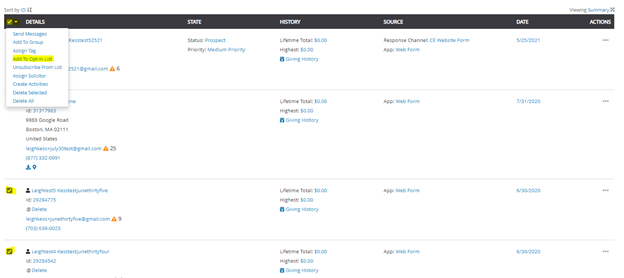 Step 3: In the pop up window, you have the option to add the select contacts to an existing list or create a new list. We do not recommend creating a new list this way. Next, you can select the drop-down arrow in the Opt-In List box and search for the existing Opt-In list. Then, select Process.



Note: You also have the same option to add contacts to an Opt-In list on the Transactions listing screen and the Event Registration listing screen by following the same method above within the Donations App and the Events & Volunteers App.
Step 4: Once you have created your opt-in lists and added people to your lists, you will be able to select your lists when sending an email. This will make sending emails much easier as your lists will already be created and you will not have to select individual people each time you want to send a mass email.
---
FAQs & Additional Resources
Q. Can this be used to create opt in list for SMS?
A. Yes. This can be used for all initiatives including email, mail, and SMS.

Q. Can I create custom segments to create opt in lists?
A. Yes. Learn how to use the query builder to segment your opt in lists: Emails: How to Build Opt In List - Using Query Builder to Segment Existing Lists -

Q. Can i automatically add contacts to an opt in list?
A. Yes. Learn how to use the trigger tool to automatically add contacts to an opt-in list: Trigger Tool – Creating an Opt-In List

Q. Can I import external contacts to an opt in list?
A. Yes. Learn how to use the importer to assign contacts to lists, groups, and tags: Assigning Groups, Tags, and Opt- In Lists Through Importer
Q. Is there any ability to override opt out restrictions when sending an email?
A. While this is possible, this should be managed with extreme care. Within CAN-SPAM Act requirements, users who opt-out of marketing communications should be considered with care. If email content is transactional in nature, these instances may qualify the need to notify a user who opted out of email communication (i.e. donation/transactional notifications). This can accomplished through configurations within the Automation & Workflow feature. From the listing screen navigate to ACTIONS > Initiatives Settings. From the Advanced tab, toggle No for Include Unsubscribe Link, Auto-Suppress Query Opt Outs, and Auto-Suppress Contact Opt-Outs. These should only be disabled for communications that do not fall under the scope of the CAN-SPAM Act.