Online: User Center Configuration
Introduction
CharityEngine's User Center is the self-service center for an Organization's constituents. Leveraging the User Center will allow your donors to execute a variety of activities including obtaining end of year tax statements, updating credit card information for sustaining transactions, opting in to organization's newsletters, or learning more about upcoming events. Any contact that exists in CharityEngine also has credentials to manage their Contact in the User Center. The User Center is a great opportunity to include in your organizational website footers and creates deeper engagement with your donors.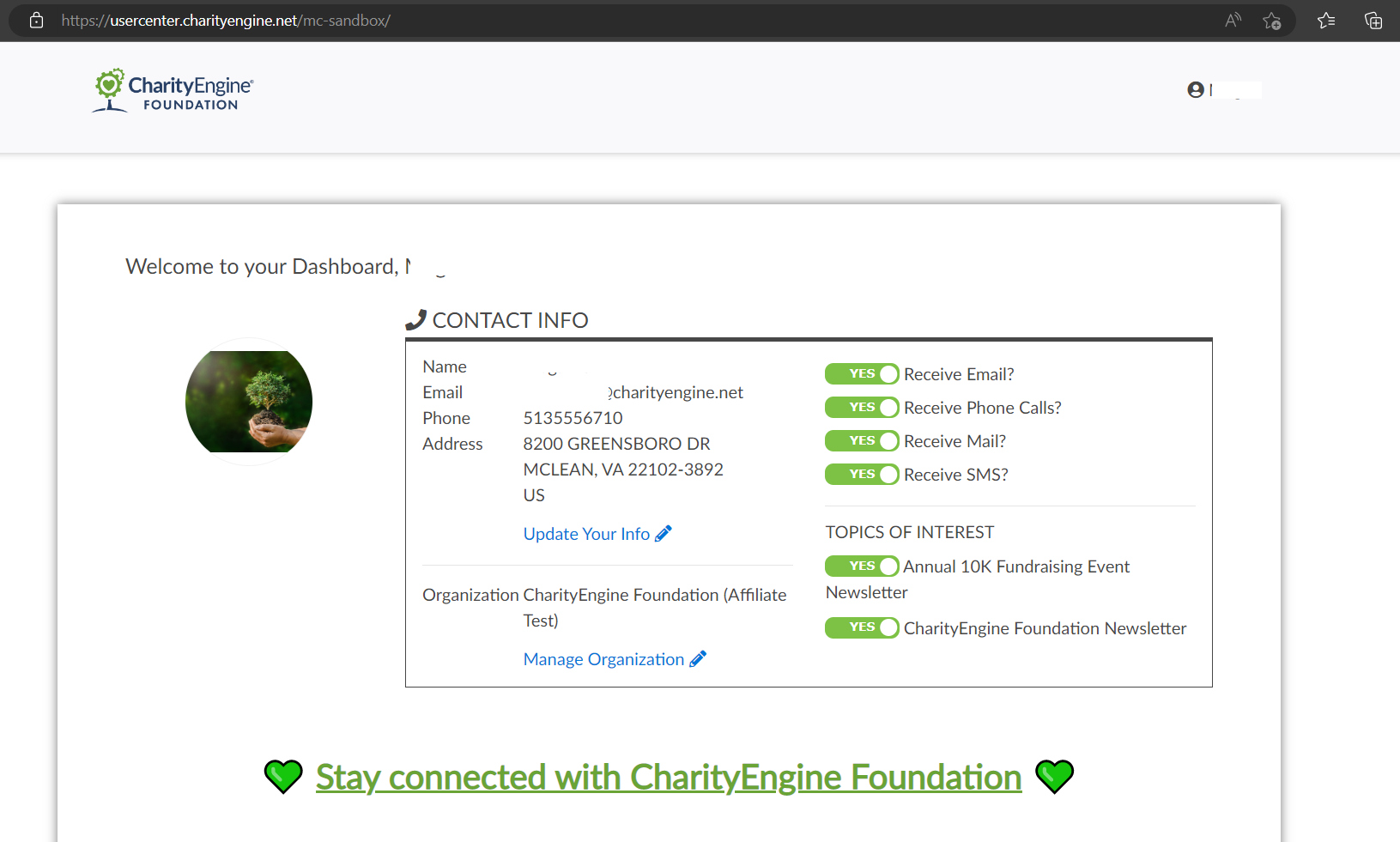 ---
Table of Contents
---
Prerequisites
Note: If you plan to use an out of the box template, please select Standard Center Theme (see step 2 below for details).
---
Instructions: How to activate your user center
Step 1: Navigate to the User Center by navigating to the Online App > User Center > Configure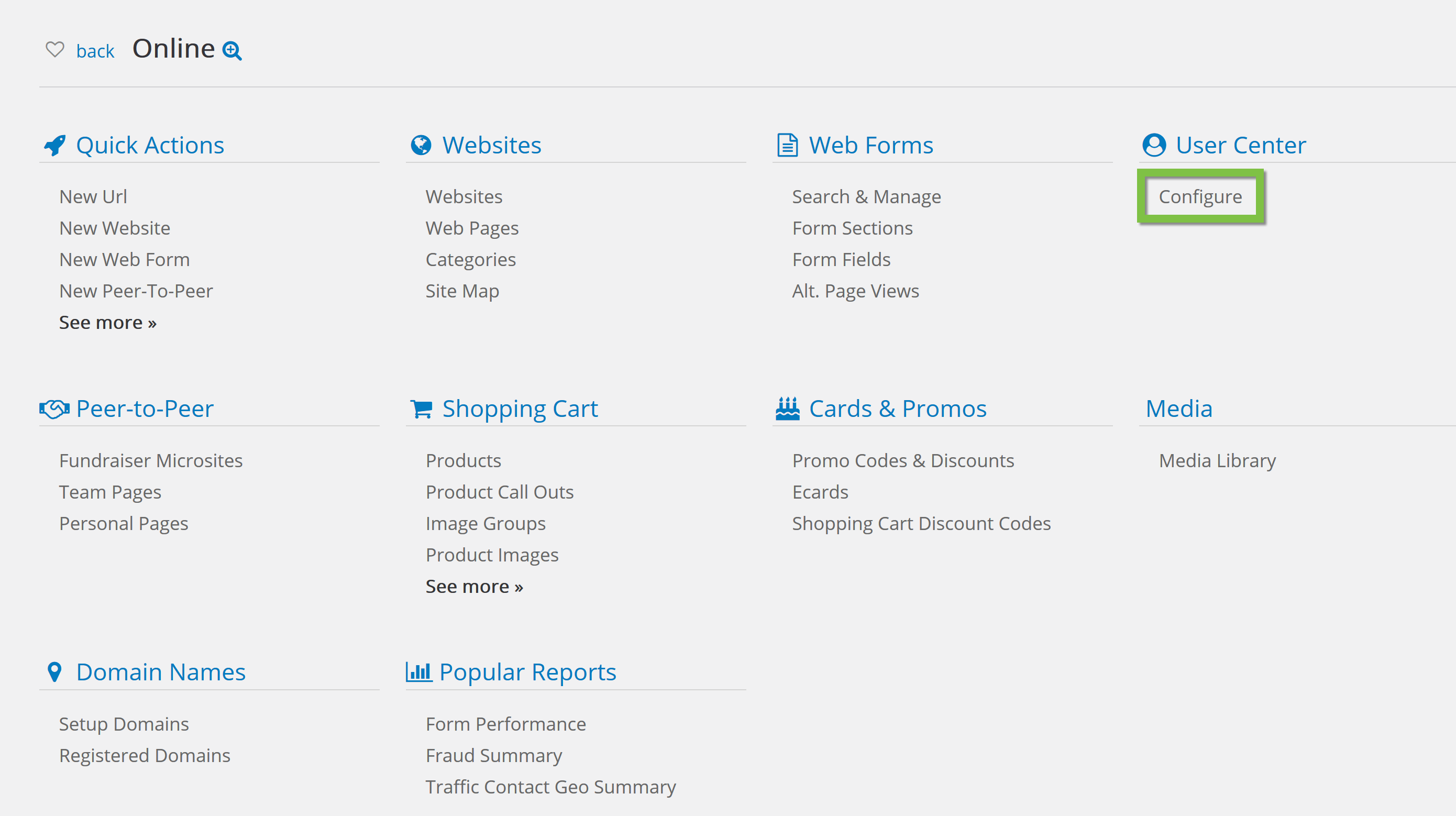 Step 2: Mark the User Center as Active if it not is already active and select Standard Center Theme as the template.
Note: The Starter Template includes Global Tokens configured about your Organization like External Name, Logo, and Address. To update or this data, go to your Account Settings).
Note: The Url for your user center can be leveraged to embed within your organization's website or in email communications.


Instructions: How to configure options with your organization's user center
Dashboard Tab
Step 1: Leverage the dashboard as a communication tool to your organization including announcements, news, and coming events.

Note: leverage the tool bar for more customization including inserting source code customization, adding buttons, icons, etc.

Signup Tab
To allow users to create new accounts for the User Center, turn on Enable Signup.

Donations Tab
Step 1: To show the donation history of the logged-in user in the User Center, click on Show Donations.

Step 2: Donors can download their tax receipts for each of their donations if the Tax Acknowledgements is enabled.
Note: If the Tax Acknowledgement is enabled, you can also provide a year end giving summary by creating a statement template within the Statement Template. Learn more here on how to create a statement template.


Step 3: Tax Ack. Template can be used for all receipts generated in the User Center.

Note: By default, the three most recent gifts will appear. To see the full history, users should select See More.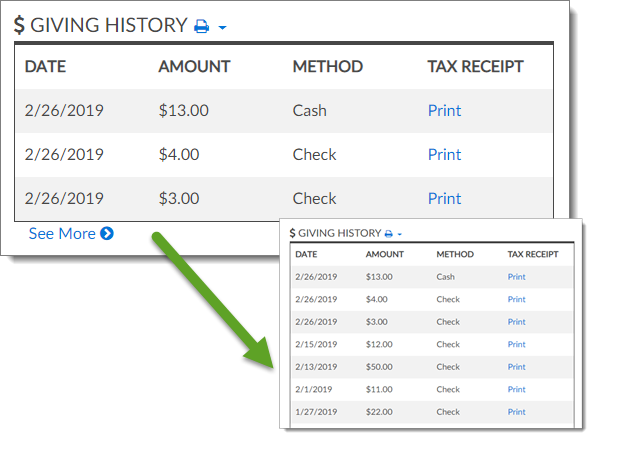 The tax receipt for any single gift can be generated in PDF form by clicking on Print under Tax Receipt.
The Print icon gives users the option to download receipts for all transactions from the current tax year and the last tax year.

Subscriptions
In this tab administrators can configure the options they want available for users to view and/or update their memberships and sustainers in CharityEngine. To show the section, either Enable Sustainer or Enable Memberships need to be marked as Yes.

Events Tab
To show the upcoming event registrations of the user, Enable Events in this tab.

Email Tab
In this tab, administrators can configure the auto-responder templates for Account Verification (if signup is enabled) and Password Reset. By default, two templates are available to use, but the Email Subject, Email Reply To, and Email Display Name must be configured.


Domains Tab
The web address of the User Center is determined on the Domains tab. From the Domains drop down select usercenter.charityengine.net (which is the default URL location) or a custom domain already configured for the User Center and enter what you would like the domain suffix to be and Click Add.


Note: If no custom domain is configured, a good suffix is your organization's name.
After configuring the User Center's domain and selecting charityenginefoundation as the Suffix, the User Center in this example, can be found at: https://usercenter.charityengine.net/charityenginefoundation
Note: If you would like to use a vanity domain, contact support or your account representative.


NOTE: Make sure you update your domain before saving!
Opt-in Lists Tab
General Tab
To show Opt-in Lists for that users can subscribe to, mark Enable-Opt In List as Yes. To allow users to unsubscribe from Opt-in lists, mark Enable Unsubscribe as Yes.


Note: If the opt-in list is enabled in the user center, you must also enable the Unsubscribe or donor will not be able to unsubscribe.
Lists Tab
On the lists tab, administrators can configure which lists they want users to be able to subscribe to or unsubscribe from. To add a list, select an already configured list in the Campaigns section of CharityEngine and enter the external/friendly name that should appear in the User Center and Click Add.
The order that lists are added is reflected in the User Center, so add the lists you want to appear at the top first.

You can change the name the constituents see in the User Center by changing the Friendly Name. You can edit the Friendly Name by managing the List.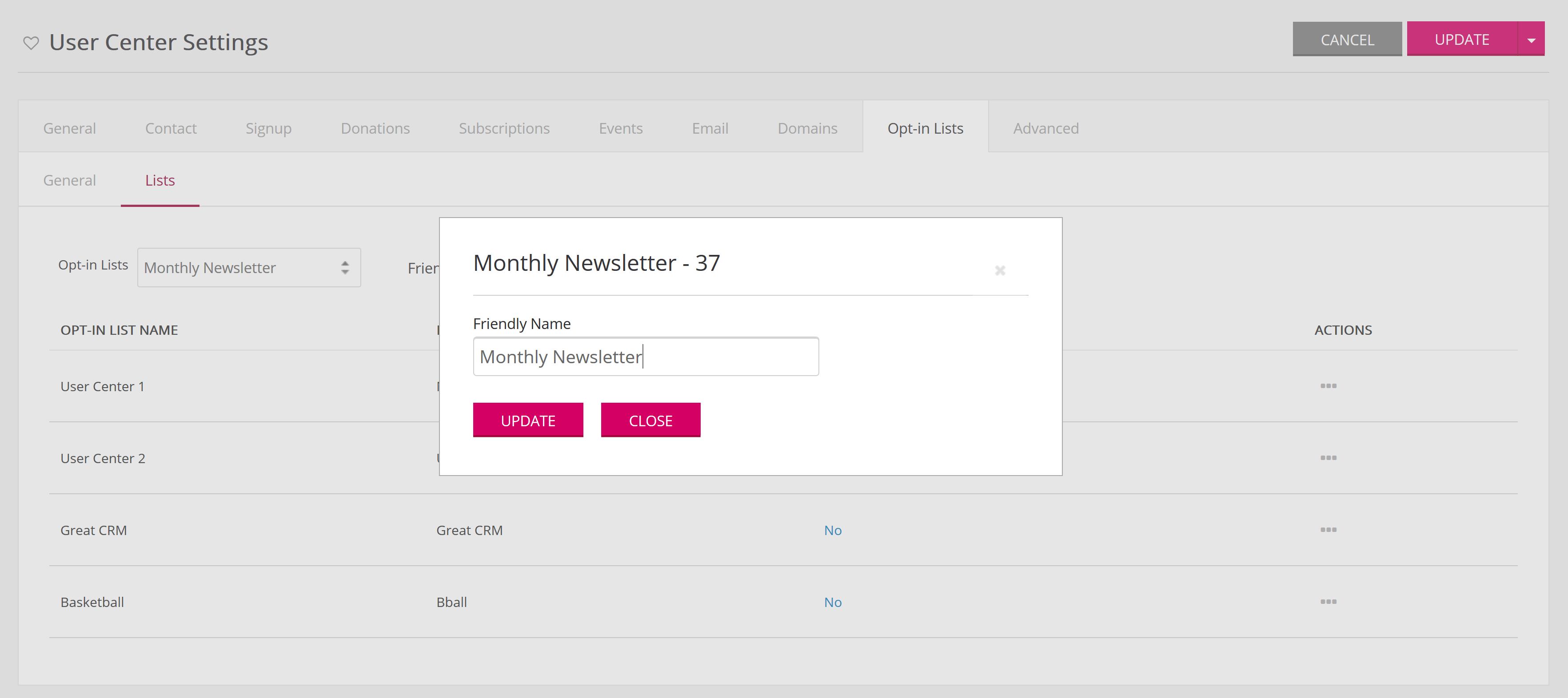 In addition, you can group Opt In Lists for your end user. In this example, the user can opt in/out of three various newsletters related to volunteer information.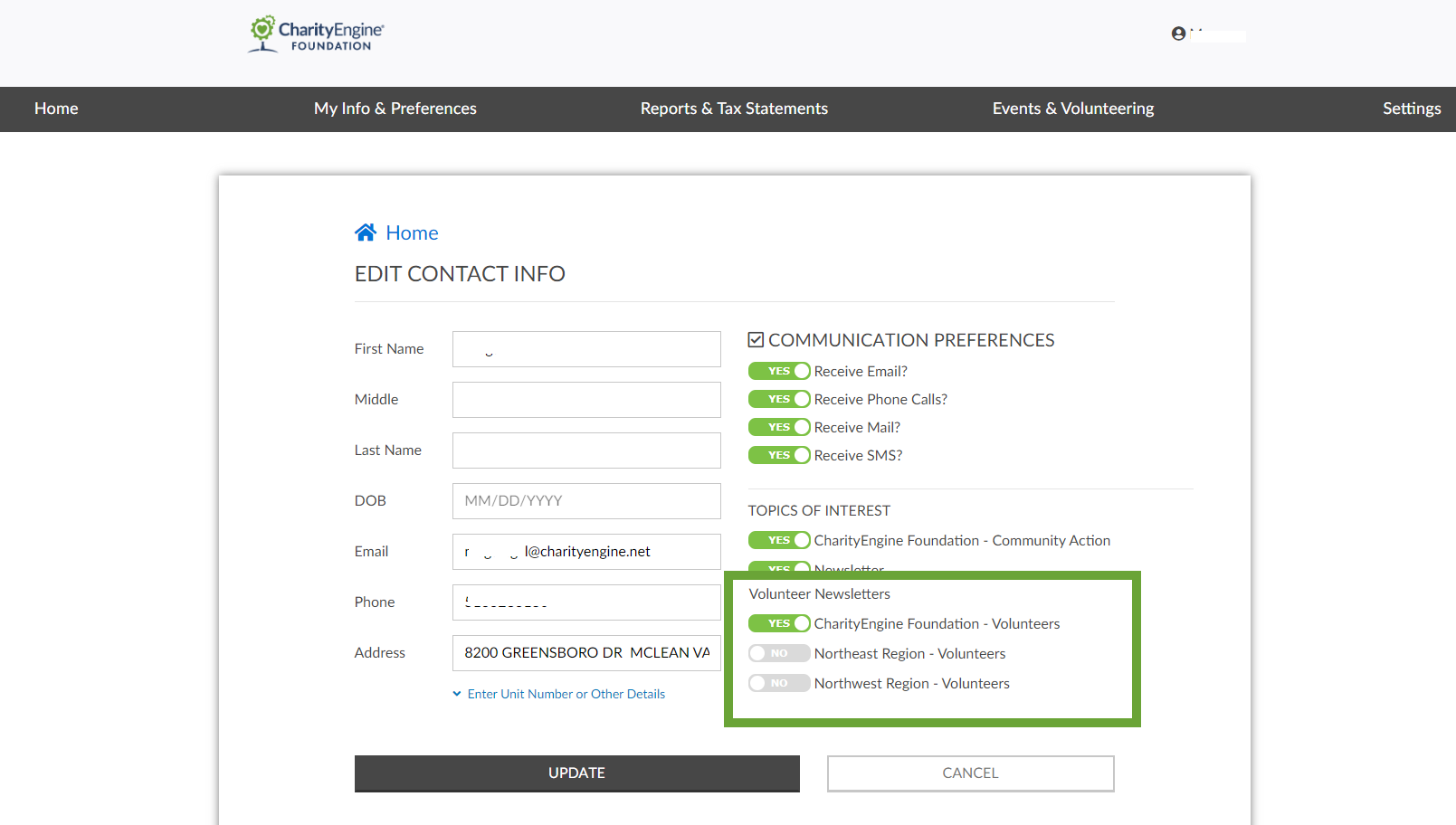 Add the opt in list and the group name in
Enter Group Name
field and click
ADD.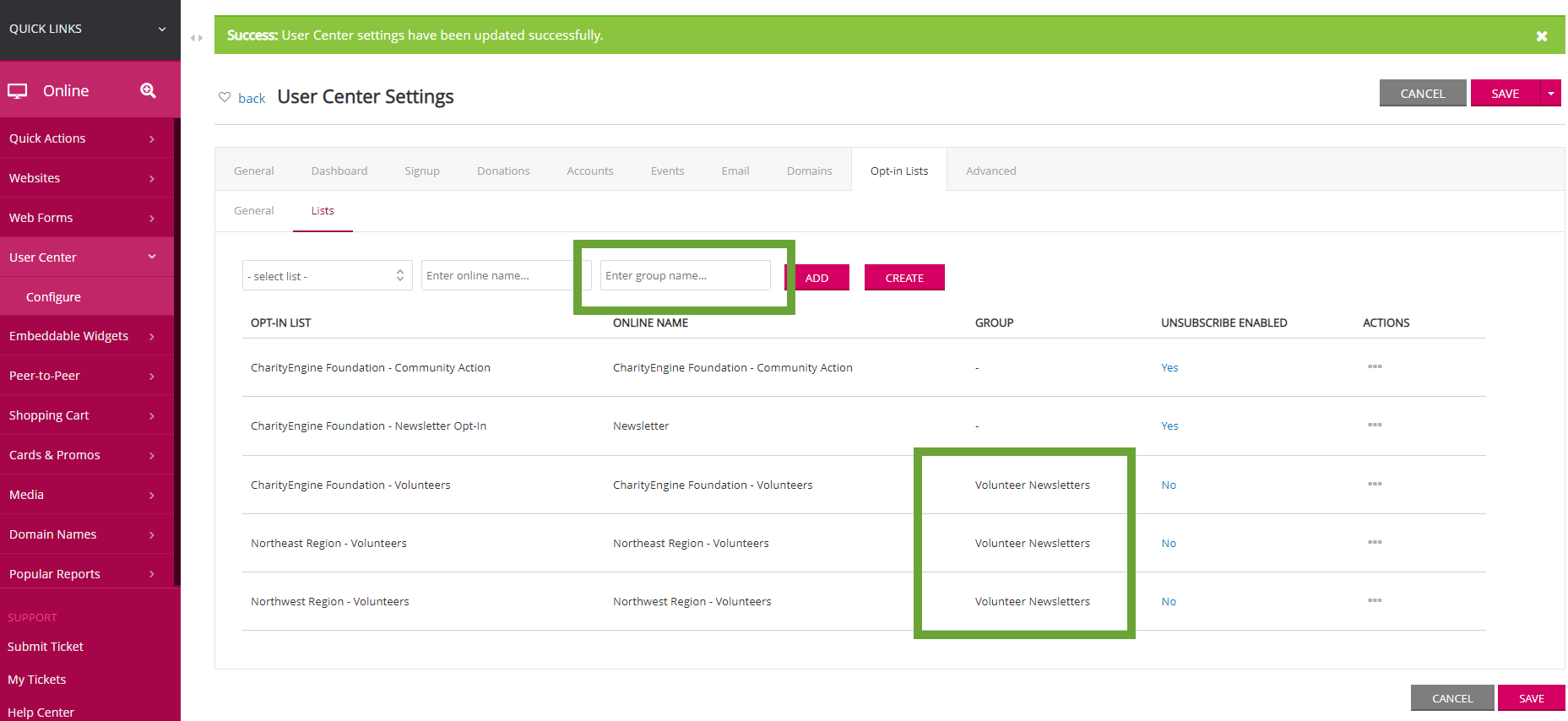 Note: For directions on how to create new Opt-in lists
click here.
QR Codes
A prepopulated QR code is available for use by navigating to the General tab > QR Code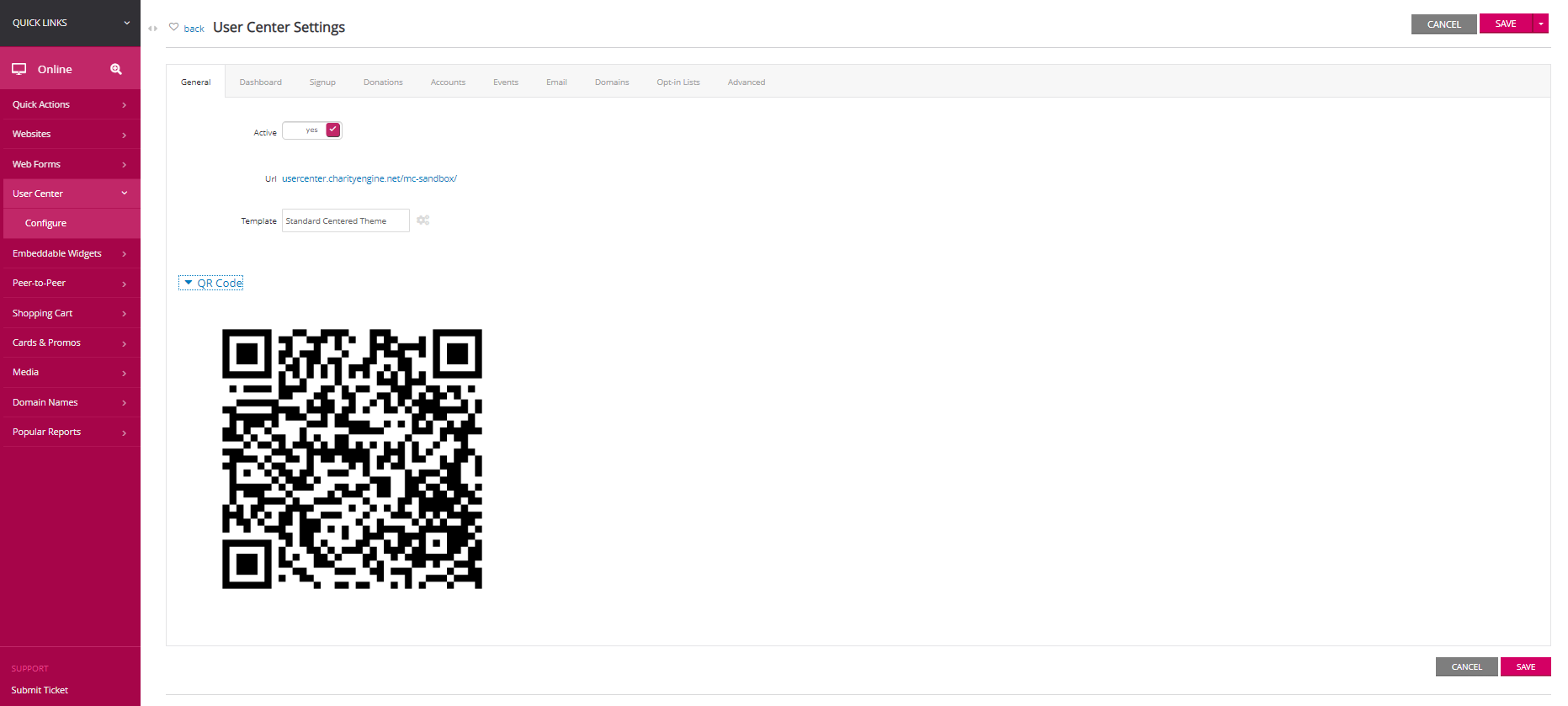 ---
FAQs & Further Reading
Q. I'd like to set up end of year tax statements for my donors. How can I set these up for my donors?
A. Follow our steps here for information on
how to create an annual tax statement
for donors to easily access and print.