In-Kind Gifts: How to Create and Manage In-Kind Gifts - A Comprehensive Guide
Introduction
An in-kind gift refers to a donation made in the form of goods, services, or non-monetary items rather than cash. These gifts can take various forms including:
Goods: Tangible items such as clothing, food, equipment, books, or other physical products donated to a person, organization, or cause.
Services: Professional services offered for free or at a reduced cost, such as legal advice, consulting, healthcare services, or skilled labor like construction or maintenance work.
Use of Property or Space: Providing access to facilities, venues, or spaces for events, meetings, or other purposes without charge.
Stocks or Securities: Donating financial instruments like stocks, bonds, or other investments to a charitable organization.
Volunteer Time: While not a traditional in-kind gift, the value of volunteered time and expertise can be considered an in-kind donation, especially when professionals offer their services without charge.
Organizations and individuals often make in-kind gifts to support charitable causes, nonprofits, or community initiatives. These donations can be tax-deductible in some cases, depending on local tax laws and the status of the receiving organization. Proper documentation and valuation of the gift are essential for tax purposes.

In-kind donations can be vital for organizations as they provide necessary resources or services that might not be affordable otherwise, contributing significantly to their mission and impact. CharityEngine has a comprehensive integration to support in-kind gifts for non-profit tracking.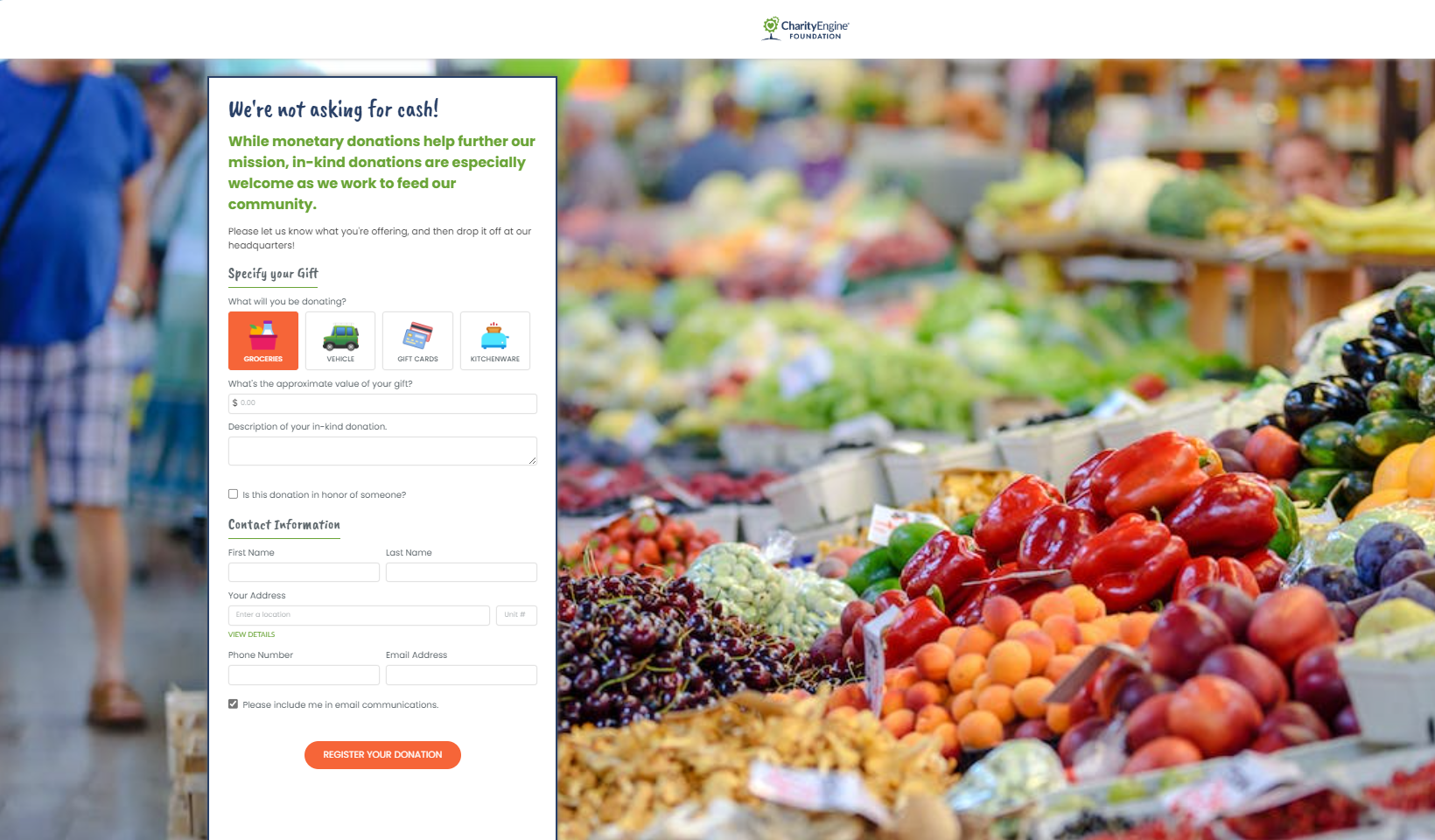 ---
---
Prerequisites
To establish custom In-Kind names/types see the Instructions - Configuration In-Kind Types section below.
---
Introduction - A Basic Understanding of In-Kind Transaction Structure within CharityEngine
CharityEngine offers users the flexibility to track and manage in-kind donation types across the organization. Whether tracking food poundage for food drives, stock donations, real estate, or other goods, CharityEngine allows users to actively track and manage through a multitude of input options.
---
Instructions - Configuring In-Kind Gift Types
The user can create one or more in-kind gift types to support organizational tracking and management.
Step 1: Access the Configuration App > Transactions > In Kind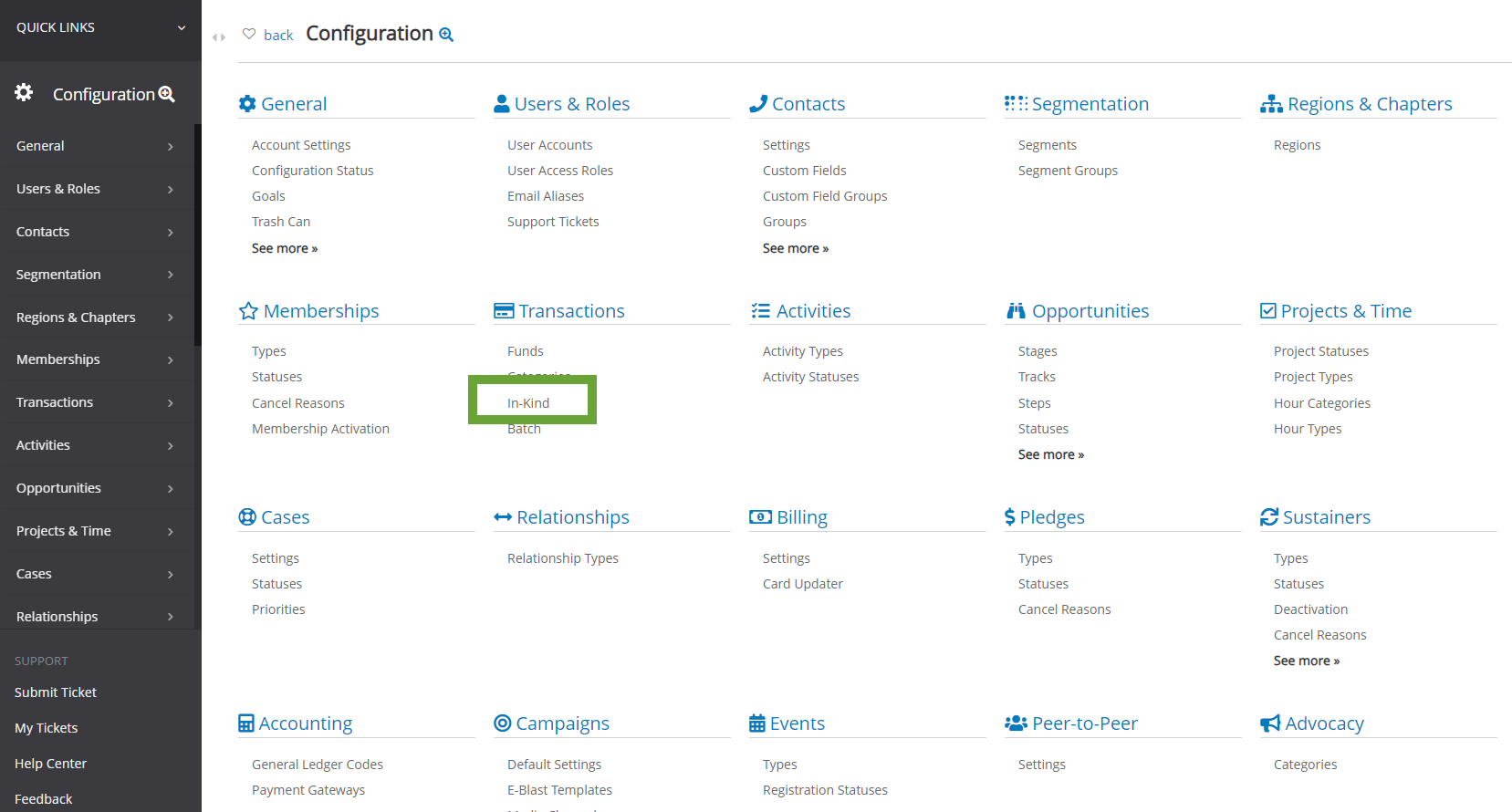 Step 2: Click on Create New in the top right

Step 3: Select the Class and then customize a Type name. This value will be presented to CharityEngine users when entering in-kind transaction types. Add a description as needed. Click SAVE to secure.

---
Instructions - Creating an In-Kind Transaction
Step 1: To create an In-Kind Gift transaction, navigate to the Donations App > Quick Actions > New Payment
Step 2: Begin the transaction entry flow with entry of the donor's name. Click next to continue.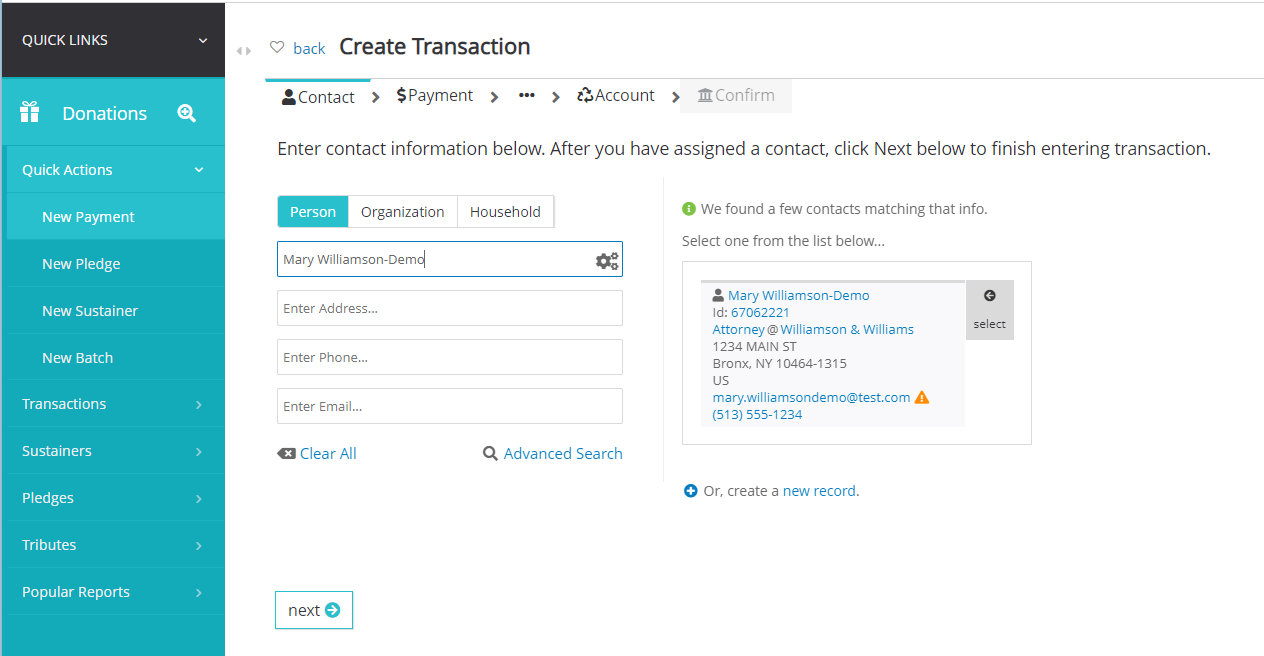 Step 3: Here, record the transaction method as In-Kind. Once selected, the user will have the ability to select the Type based upon configurations as outlined above for the organization.
Step 4: Record the fair market value, date, and other applicable values for the in-kind gift. Click next to proceed.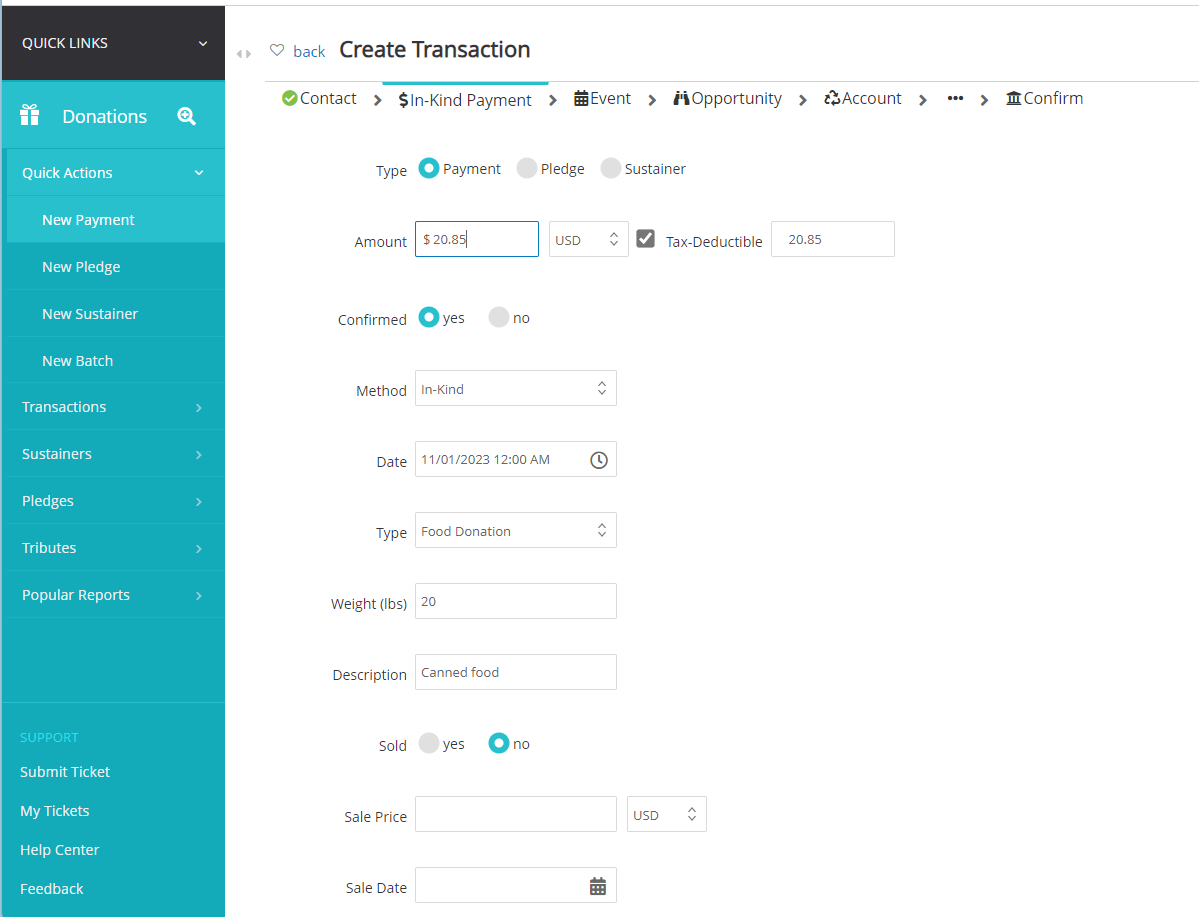 Step 5: Continue through the transaction entry flow to proceed with additional attribution assignment and gift acknowledgement/receipting needs.

---
Instructions - Managing an Existing In-Kind Transaction
If the user needs to performance maintenance on an in-kind gift record, this can be achieved easily through the Transaction listing screen.
Step 1: Navigate to the Donations App > Transactions > Search & Manage > locate the in-kind transaction record > ACTIONS > Manage
Step 2: From the Contact tab, update transactional contact details
Step 3: From the Payment tab, update specific details related to the in-kind gift attribution including fair market value, type, description, etc.
Step 4: Use the Attribution tab to modify transactional attribution needs.
Step 5: Click SAVE to secure all updates
---
Instructions - Viewing In-Kind Transactions on the Contact Record
In-kind donations can be located in the Transaction panel of a contact record by navigating to the Contacts App > Organizations & People > Contact > locate your contact > Manage the record > Go To (top right hand corner) > Transactions

---
Instructions - Creating an "In-Kind" Type Web Form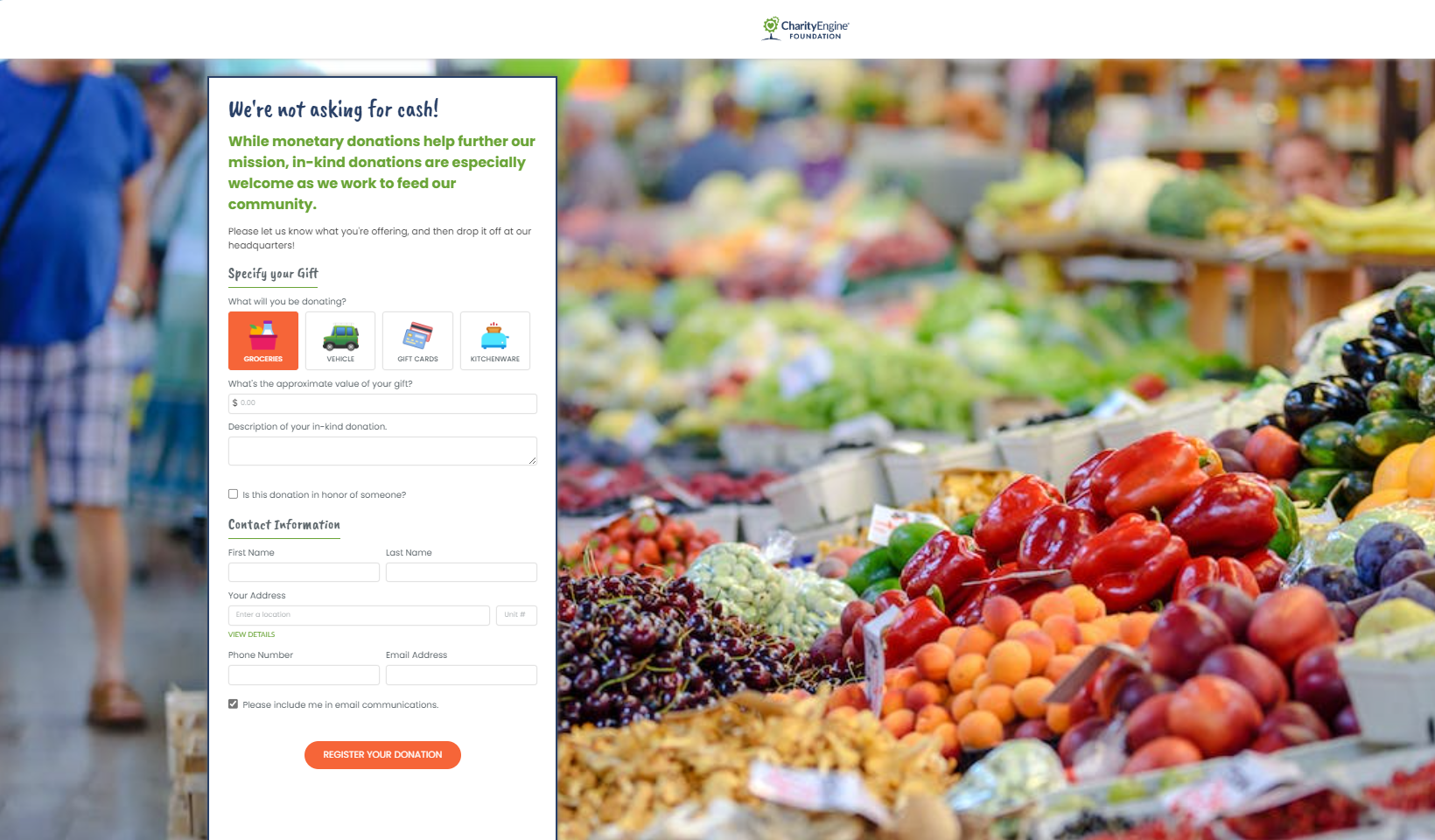 Step 1: Navigate to the Online App > Quick Actions > New Web Forms
Step 2: Select In-Kind Donation from the starter kit

Step 3: Select the In-Kind donation types to be exposed. Note, these are based upon types configured above.

Step 4: Modify the name to meet the organization's naming conventions. Note, the type will default to Donation. Complete any additional attribution as needed from the General tab and click SAVE to secure changes.
Note: To access the live in-kind form link, click on the URL next to the Link section under the General tab. Once viewing the pledge web form, the user will have better insight into the out-of-the-box form fields created for the form.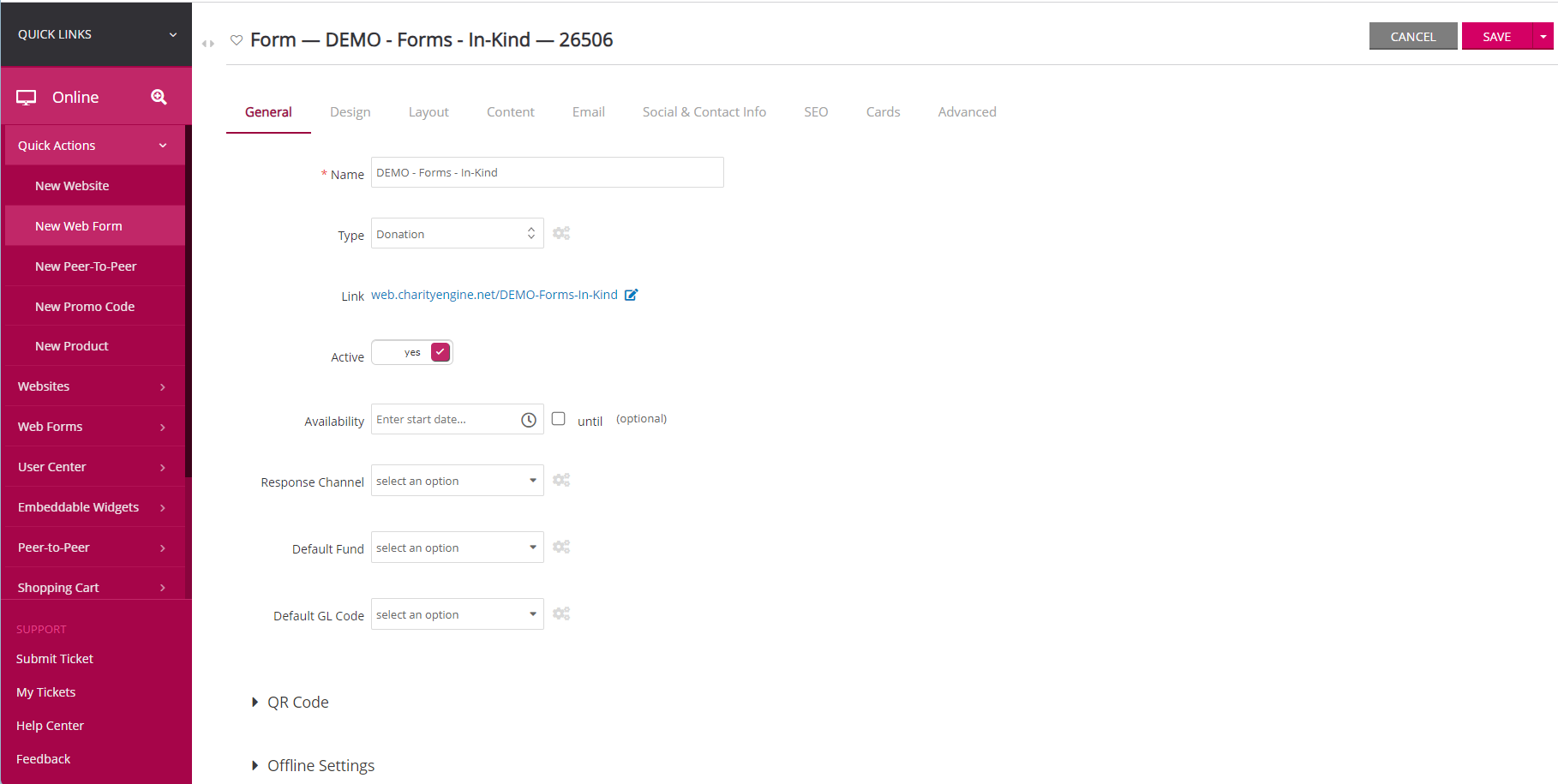 Step 5: Access the Design tab to apply any organizational branding requirements or pre-configured web templates.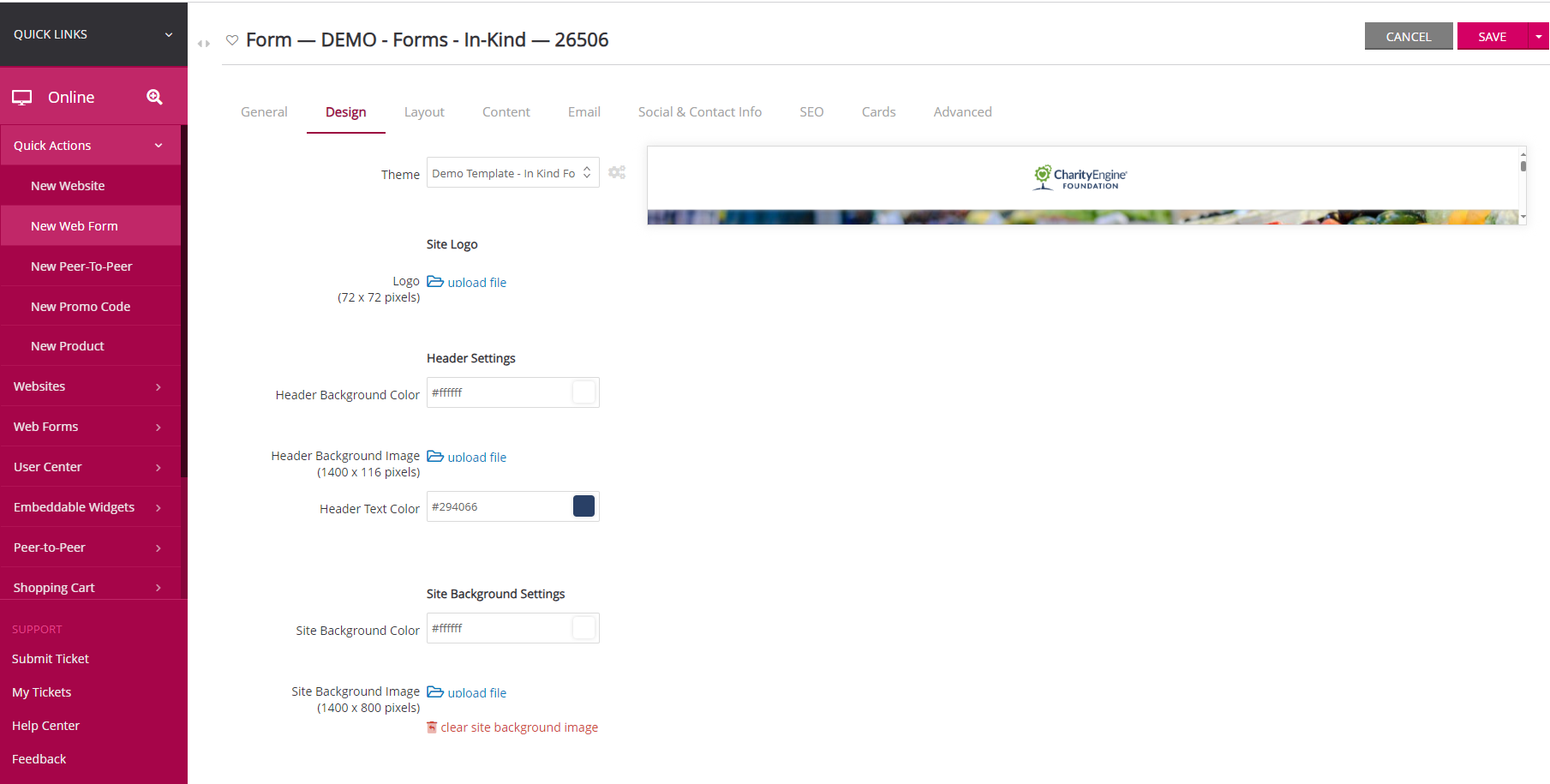 Step 6: Access the Layout tab to customize required fields for the donor when capturing a pledge record. Also use this tab to remove and move pre-configured blocks.
For more details on configuration and customization options, see Web Forms: Creating a Donation Form - What's Out of the Box?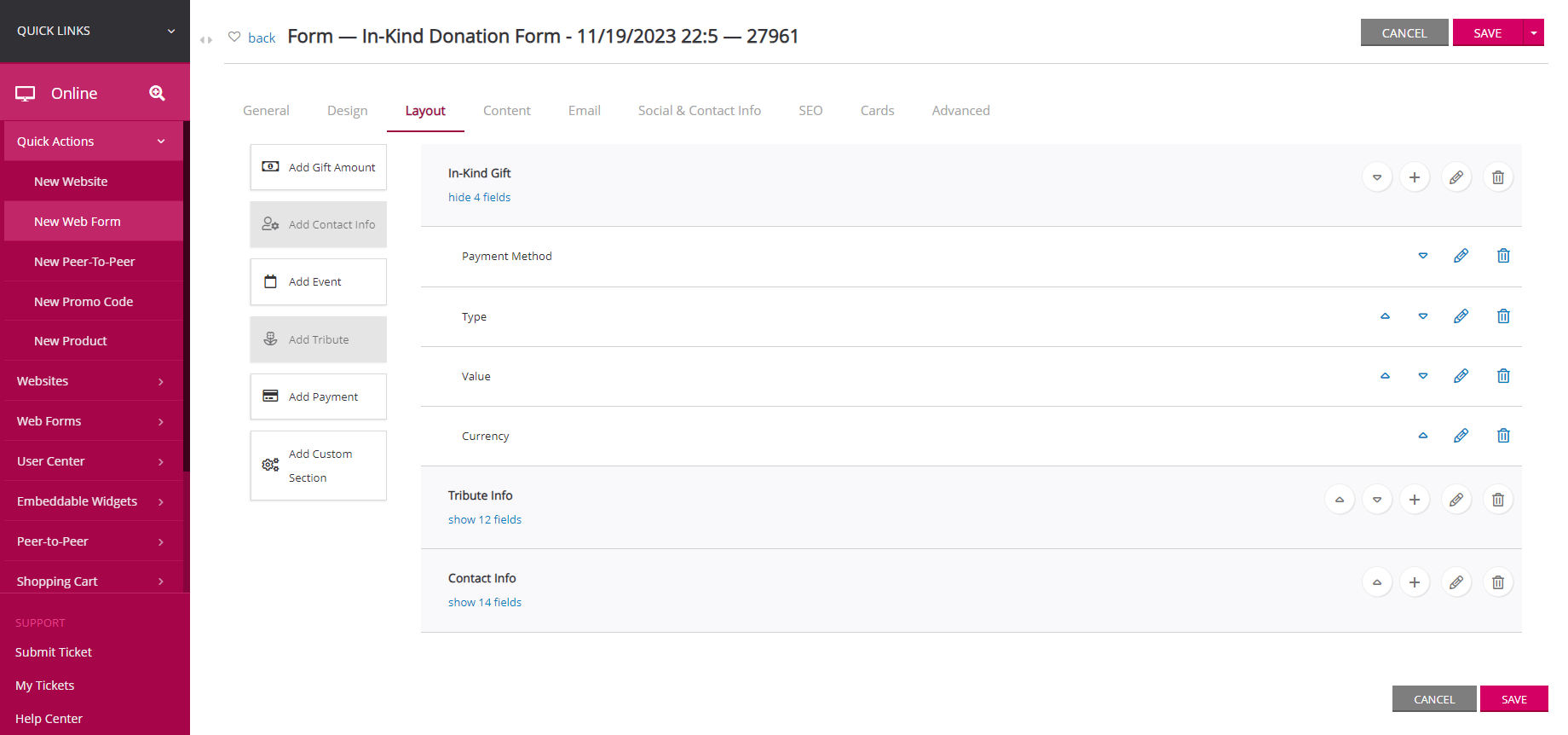 Step 7: Complete updates to the Content tab for customization on language related to headers, footers, and customized pages.
Step 8: Complete updates to the Email tab, including selecting a customized acknowledgement and/or receipt message. This is also the location in which carbon copy can be applied for internal notification.
Step 9: Complete updates to the Social & Contact Info tab for customized social media sharing.
Step 10: Complete updates to the SEO tab to support search engine optimization needs.
Step 11: Complete assignment of eCards where applicable using the Cards tab.
Step 12: Use the Advanced tab for special attribution needs (i.e. initiative/campaign, funds, tags) and ensure a Payment Processor has been assigned.
---
Importing In-Kind Transactions
Is the user wishes to update in-kind transactions through a bulk import or to append attributions to existing in-kind transactions, users can leverage the Import/Export feature. In this use case, the user will import donor in-kind donations for a food drive based upon total weighted cans donated.
Step 1: Access the Automation & Workflow App > General > Import & Export > Create New > Import (new) or Import (classic) > Import To: Transactions/Mode: Standard > NEXT
Step 2: Add import fields including
Contact ID (minimum requirement - or alternatively utilize Customer First Name/Customer Last Name + address + email to create new or append to existing)
Amount (minimum requirement)
Tax-Deductible Amount (if applicable)
Date (if applicable, default is date of import)
Category (if applicable, default of "Donation")
Payment Method (if applicable, for In-Kind use "In-Kind")
Payment Confirmed (if applicable)
In Kind Type Id (see Configuration App > Transactions > In-Kind to locate ID)
In Kind category (in this example, In Kind Weight (lbs))
In Kind Description (if applicable)

Step 3: Download import template and add data points. Save to locale drive.
Step 4: Click NEXT. Click Upload a File and locate file saved in step above.
Step 5: Click NEXT. On the Data Jobs screen, update job name, set scheduled time (if applicable), and set other settings as needed. Click NEXT.
Step 6: Review prior to import and click FINISH to initiate the import job.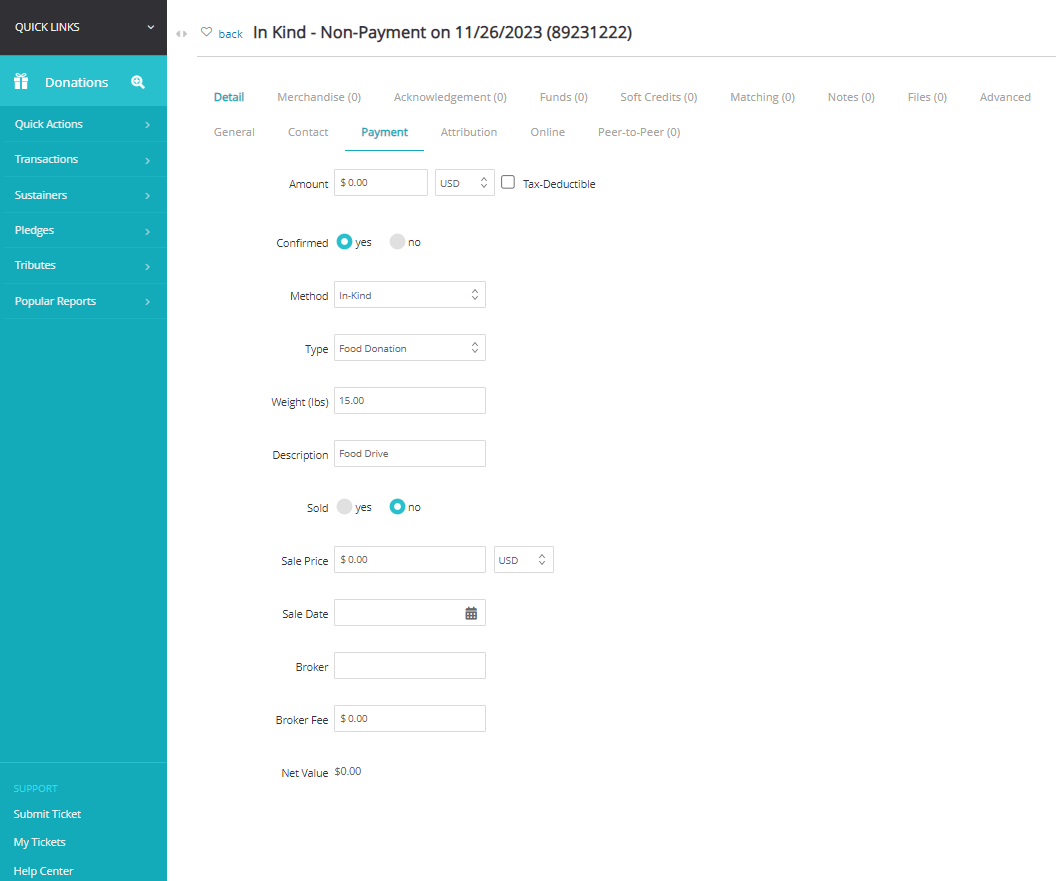 ---
FAQs & Additional Reading
Q. Are you able to import Pledge Accounts in bulk?
A. Yes - learn more about importing Pledge Accounts, establishing installments, and importing historical pledge transactions by accessing our Help Center Article Data Importing: How to Import Pledge Accounts & Historical Pledge Transactions