Campaigns & Marketing: Creating and Managing a Communication Series
Introduction

An automated email communication series is a set of pre-planned and pre-written emails that are sent to a specific audience over a period of time. This series of emails is designed to deliver valuable content, nurture relationships, and guide recipients through a specific process or journey. Whether you want to onboard new donors, engage and cultivate donors and volunteers, promote events and campaigns, or educate subscribers, an automated email series can be an effective way to automate and streamline your communication.
Examples of automation can include:
Welcome and Thank You series for new donors/volunteers
Getting Started Guide to introduce your donors/volunteers to your organizational mission, activities, and events
Personal Support and Assistance
Exclusive offers or membership packages for donors/volunteers
Feedback and testimonials
Remember to personalize these emails as much as possible and include relevant information based on your specific organization, mission, and opportunities. Test and optimize your email series over time to improve engagement and conversion rates. And leverage automated activity assignments to supplement a personal out reach through members of your donor services team.
This article aims to guide non-profit organizations in understanding and implementing effective communication drip series, emphasizing the importance of storytelling, personalization, automation, and relationship-building in nurturing engagement and support for their cause.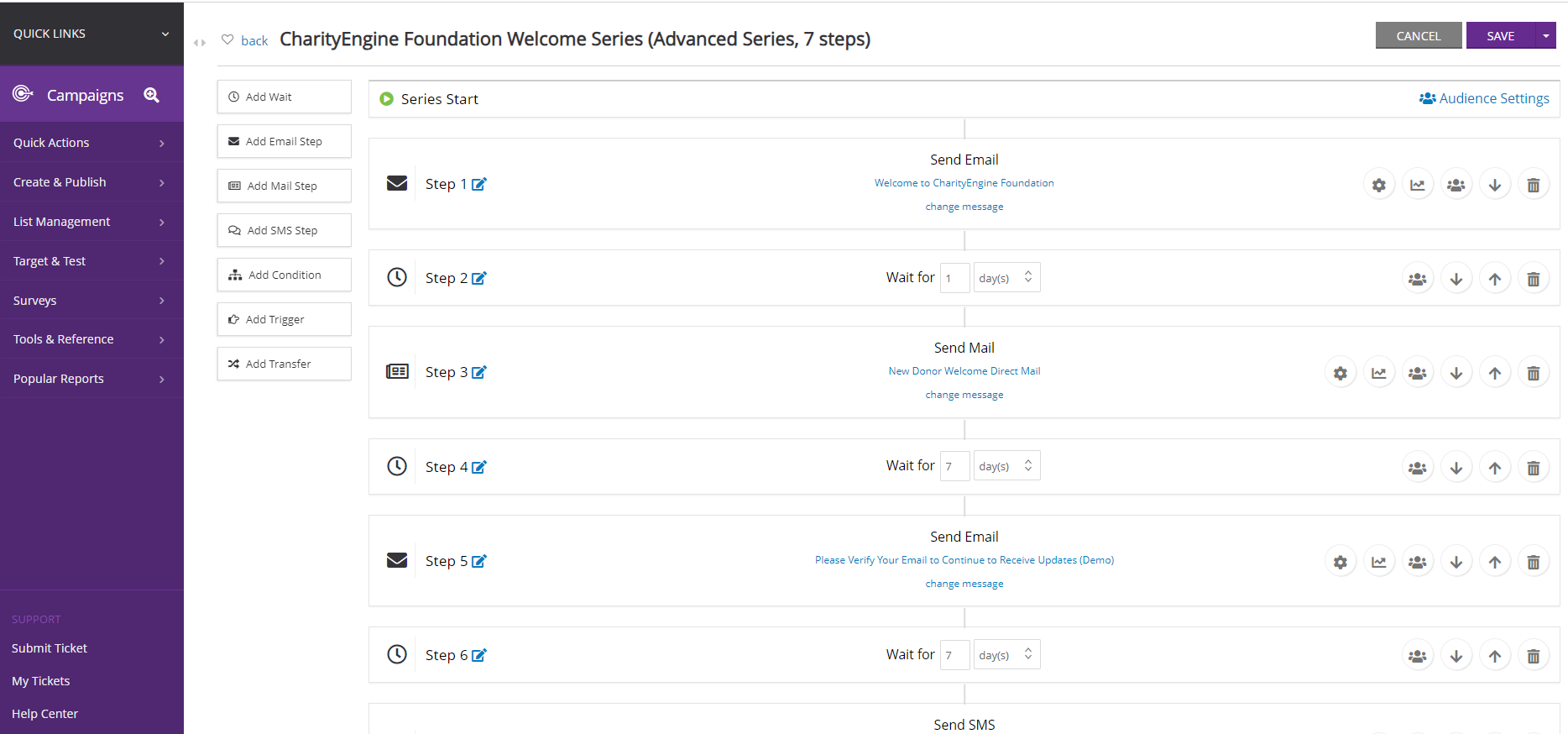 ---
---
Prerequisites
Begin preparing the organization's workflow to consider:

Audience: how your organization will identify the audience

Consider creating a query via the Automation & Workflow App > General > Queries > Create New

What: what actions and/or creatives will be needed for each step

Consider creating email creatives

Important Note: If using the Add Email Send step, email creatives cannot leverage custom tokens via the Communication Series feature. If you wish to send email creatives, use the alternative schedule mechanism via Automation & Workflow App > Campaigns > Communication Scheduler. If custom tokens are included in the creative, the email initiative will fail to send via the Communication Series feature.
---
Nurturing Support: Crafting Effective Communication Drip Series for Non-Profits
Non-profit organizations thrive on engaging and maintaining connections with their supporters, donors, and advocates. Drip series, a sequence of automated emails strategically designed to communicate and nurture relationships over time, are a powerful tool for non-profits to foster engagement, share stories, and rally support for their causes. Let's delve into the art of crafting effective communication drip series for non-profit organizations.
Understanding the Concept of Drip Series
A drip series is a sequence of pre-scheduled, automated emails sent to subscribers at predefined intervals. These emails are strategically designed to deliver targeted content, tell stories, provide updates, and encourage action while nurturing relationships with recipients.
Defining Goals and Objectives
Before creating a drip series, define clear objectives aligned with your non-profit's mission. Whether it's building awareness, nurturing donor relationships, encouraging volunteerism, or sharing success stories, clearly outline the goals each email in the series aims to achieve.
Mapping Out the Drip Series
Create a comprehensive plan or map outlining the sequence of emails and their content. Consider the subscriber's journey and segment your audience based on their interests, engagement level, or donation history. Design a series that gradually guides recipients toward deeper engagement with your cause.
Crafting Compelling Content
Each email within the drip series should offer valuable and engaging content. Tell impactful stories, share success stories, provide updates on your non-profit's initiatives, and offer actionable insights or calls-to-action that encourage recipients to take part in your cause.
Personalization and Segmentation
Personalize your drip series by addressing recipients by name and tailoring content based on their preferences or past interactions. Segment your audience to ensure that each recipient receives relevant and targeted content that resonates with their interests.
Timing and Frequency
Determine the optimal timing and frequency of emails in your drip series. Consider the ideal intervals between emails to maintain engagement without overwhelming subscribers. Analyze data to understand recipient behavior and preferences for sending times.
Automating the Series
Utilize CharityEngine email marketing software to automate your drip series. Set up workflows that trigger emails based on subscriber actions, such as sign-ups, donations, or event registrations. Automation ensures timely delivery and efficient management of the series.
Monitoring and Iterating
Track and analyze the performance of your drip series. Monitor open rates, click-through rates, conversions, and unsubscribes to understand how recipients engage with your emails. Use these insights to refine and iterate the series for improved effectiveness.
Building Relationships and Cultivating Engagement
The primary goal of a drip series is to build and nurture relationships. Use these emails to engage recipients beyond soliciting donations—share impactful stories, offer valuable content, express gratitude, and provide opportunities for involvement and participation.
Conclusion
Communication drip series serve as an invaluable tool for non-profits to foster engagement, share stories, and inspire action. By strategically planning, crafting compelling content, personalizing messages, segmenting audiences, automating workflows, analyzing data, and nurturing relationships, non-profits can leverage drip series to build lasting connections and drive support for their mission.

Remember, effective communication is about building trust, fostering connections, and inspiring change—use drip series as a medium to achieve these goals and make a meaningful impact on the causes you champion.
---
Creating a Series
Step 1: Navigate to the Campaigns App > Create & Publish > Communication Series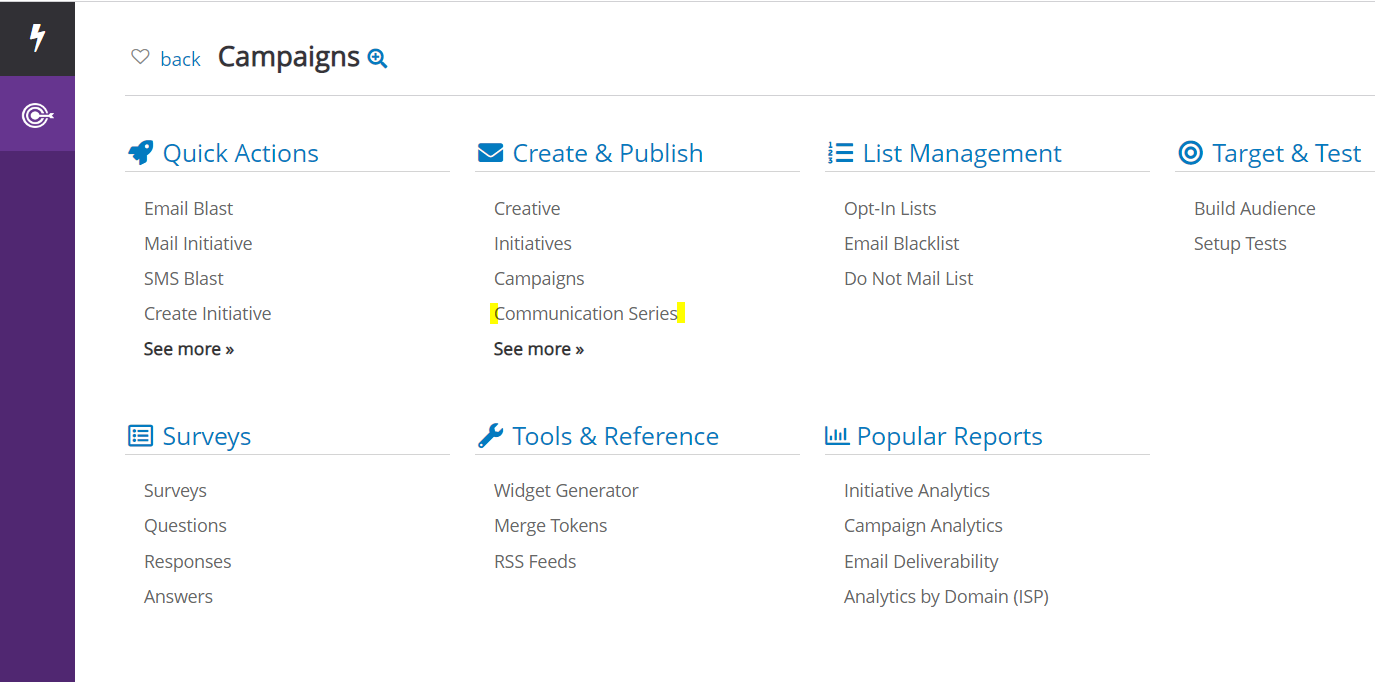 Step 2: Click on Create New



Step 3: There are several out of the box options including:
Payment Received to create automated email acknowledgements for received/confirmed payments
Email Signup to encourage donor/volunteer/constituent sign up
Failed Payment to remind donors of automated failed payments including sustainers, pledges, memberships
Advocacy Actions to encourage automated advocacy actions
Advanced for customized communication series
In this example, we will leverage email signup as a new donor welcome series - along with creating activities and opportunities for new donor cultivation.
Click on
Email Signup

Step 4: On the next screen, users can configure their series settings.



If Enable Suppression is toggled to Yes, select the suppression list.



Note - Run Frequency: If you are creating an Advanced Communication Series, you will have an additional configuration to have the series run Continuously, Daily, or One-Time. If you select continuous, the series will run every time a contact is pulled into the query, daily will run once a day regardless of the query, and one time will only run one time and never again.
Note - Entry Mode: Select of Once will allow the constituent to proceed through the full workflow one time only. Whereas Non-Parallel will allow the constituent should be selected if the donor meets the criteria/or takes action on a step more than once. This will allow a donor to potentially re-enter workflow and go through steps multiple times.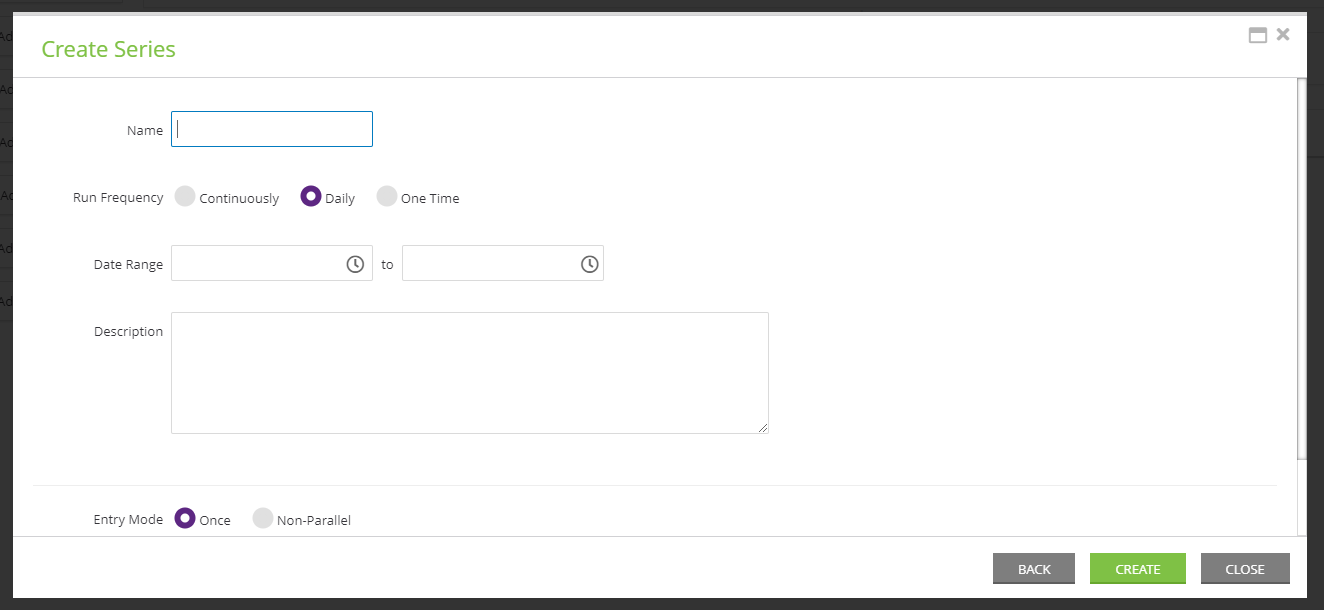 Step 5: After clicking CREATE, the Communication Series creation wizard will appear.



Step 6: As the first step of the workflow, begin with the Series Start and click on the Audience Settings to select and secure the audience source.
Select Query for an existing query or Create Query to begin building the audience source.


Step 7: Once the audience has been defined, begin to build the communication and workflow.
The following actions can be applied to the communication series - see the next section for additional details and information of each action: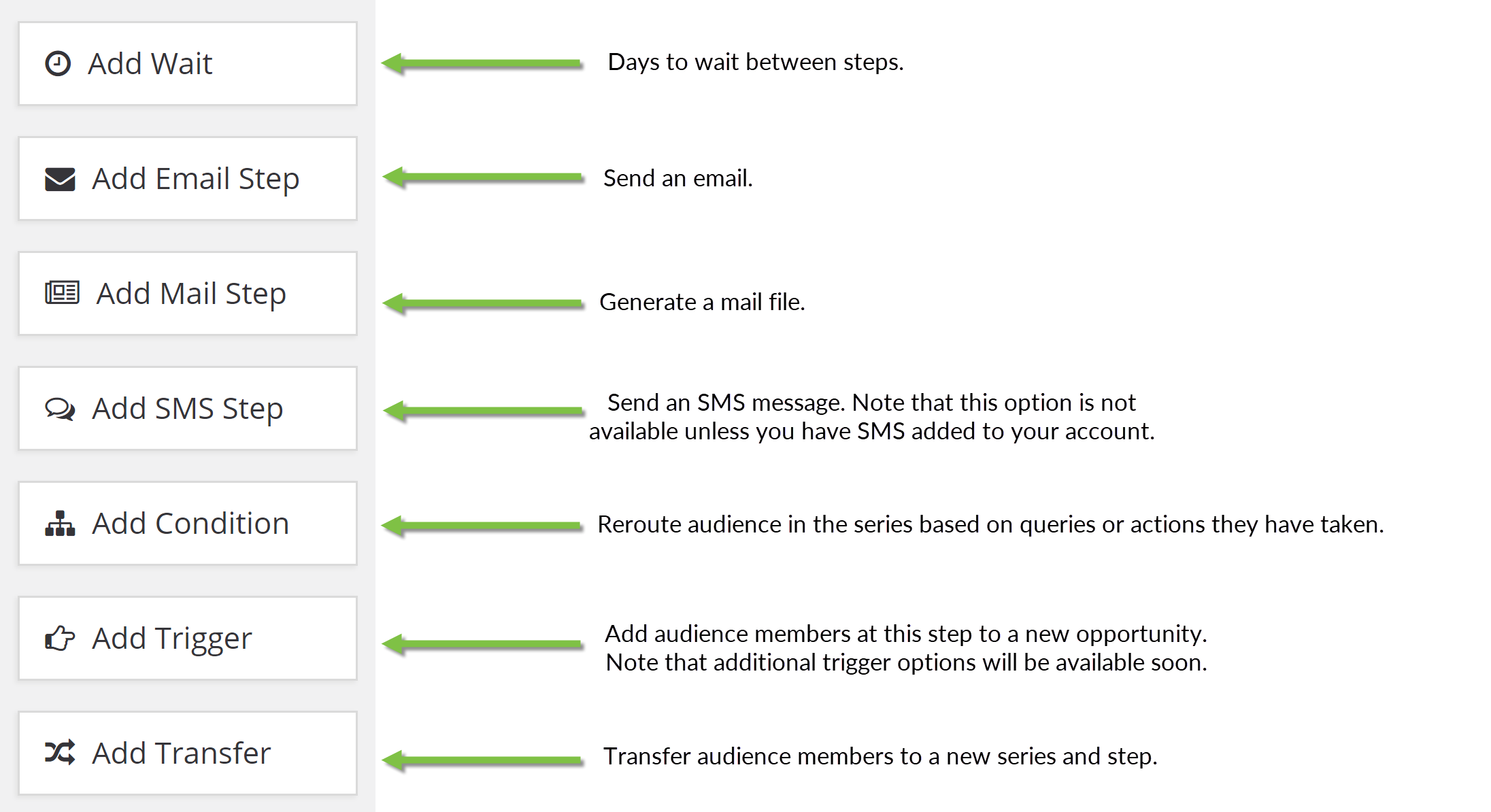 Note: The Add Trigger feature allows the organization to:
Create Opportunity
Create Activity
Assign List (Groups and/or Tag attributions)

Step 8: Once the steps have been created, click SAVE in the top right corner.
Step 9: Click SAVE & CLOSE
Step 10: After saving, from the listing screen, navigate to ACTIONS > Launch to initiate the Communication Series.



---
Steps: Defined
Note: The questions and settings will vary across the different series types available. The example below includes the Advocacy Action filters.To add steps to your Series, click on the step type on the left-hand side.



Email step
Configure the email step with your email message and settings.



Select your message with Select Message.



Set your email defaults in the Step Settings. Add an email that the message will appear from and a Reply To email.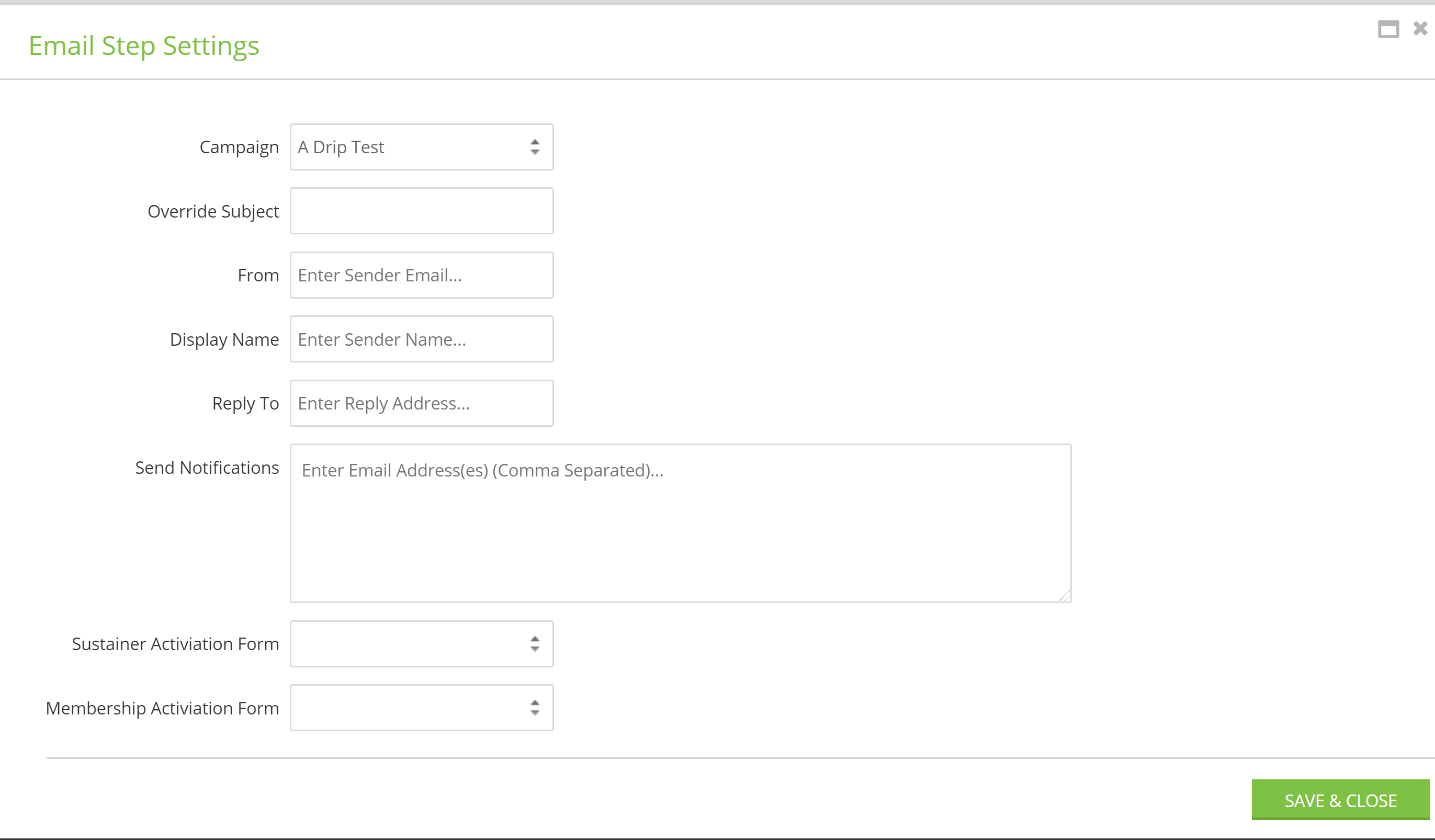 Mail Step
Configure the email step with your email message and settings.



Set your mail defaults, like Campaign, in the Mail Step Settings.



Select your message with Select Message.



SMS Step
Note: SMS feature must be activated within the account to leverage. To learn more, please contact your account manager.
Configure your SMS step with your message and settings.





Configure your From phone number and campaign in the Settings.



Select your message with Select Message.



Adding Condition
In the Add Condition, users can choose to reroute or remove from a series, audience members who meet certain criteria. Set the criteria in the settings.




Trigger
A trigger step will allow audience members who meet the criteria to have an opportunity added to their record.



By clicking on settings, you can choose the Opportunity Pipeline and Status.




Additional, click on Create Activity to create a standard title, priority, status, and assignment.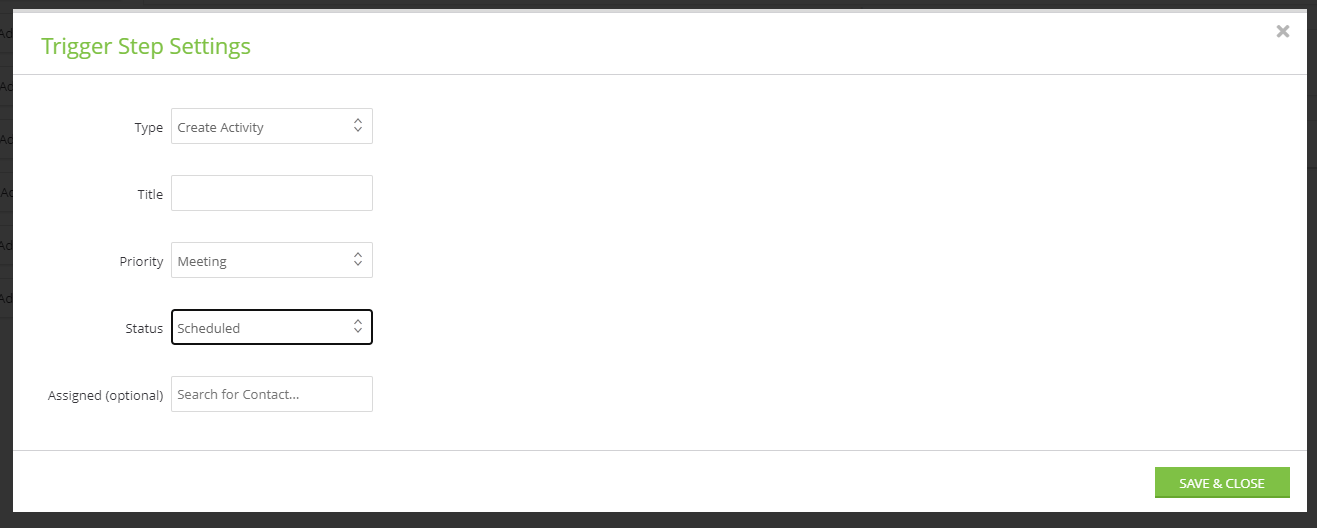 Also, click on Assign List to create and assign a group and/or tag.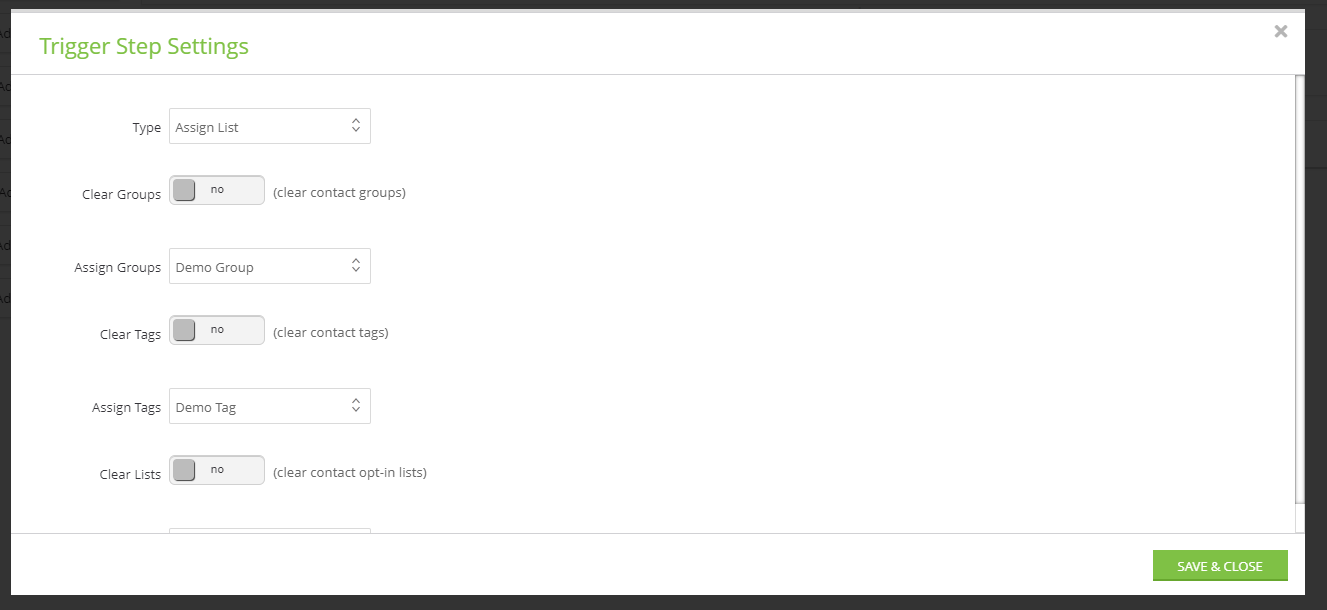 Transfer
By adding a transfer step, all audience members can be added to a different series at a specific step.



After configuring your series, click Save.



---
Instructions: Managing Existing Communication Series

To manage a communication series, navigate to Campaigns > Create & Publish > Communication Series and search for the series you want to manage. click Manage under the Actions column



From the communication series listing screen you also have the ability to pause/unpause the series by clicking on pause/ unpause

You can also see the execution history of the series by clicking execution history,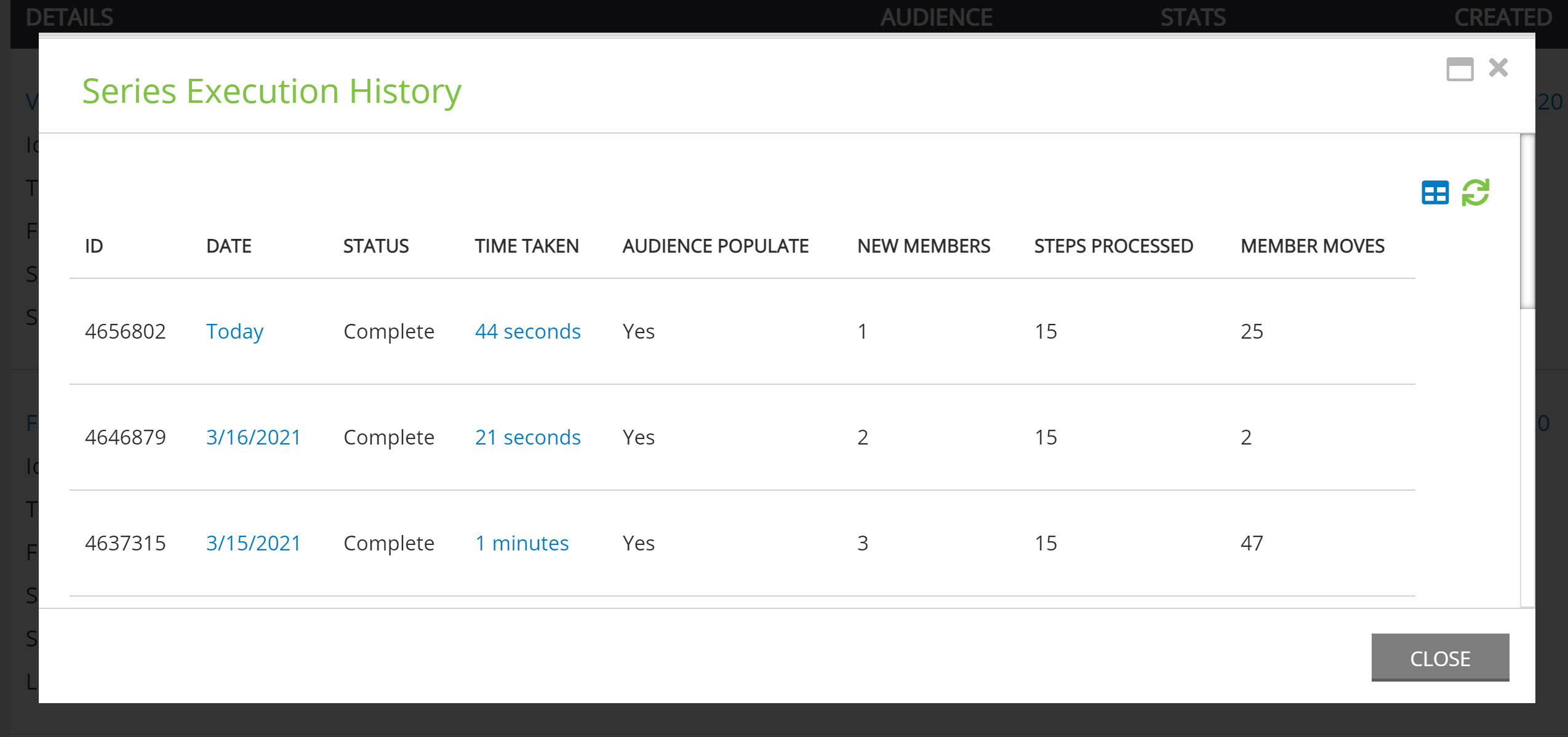 Once in the communication series, you will be able to view all the steps, initiatives that have been sent, the audience, the message that is sent, and add step to the series.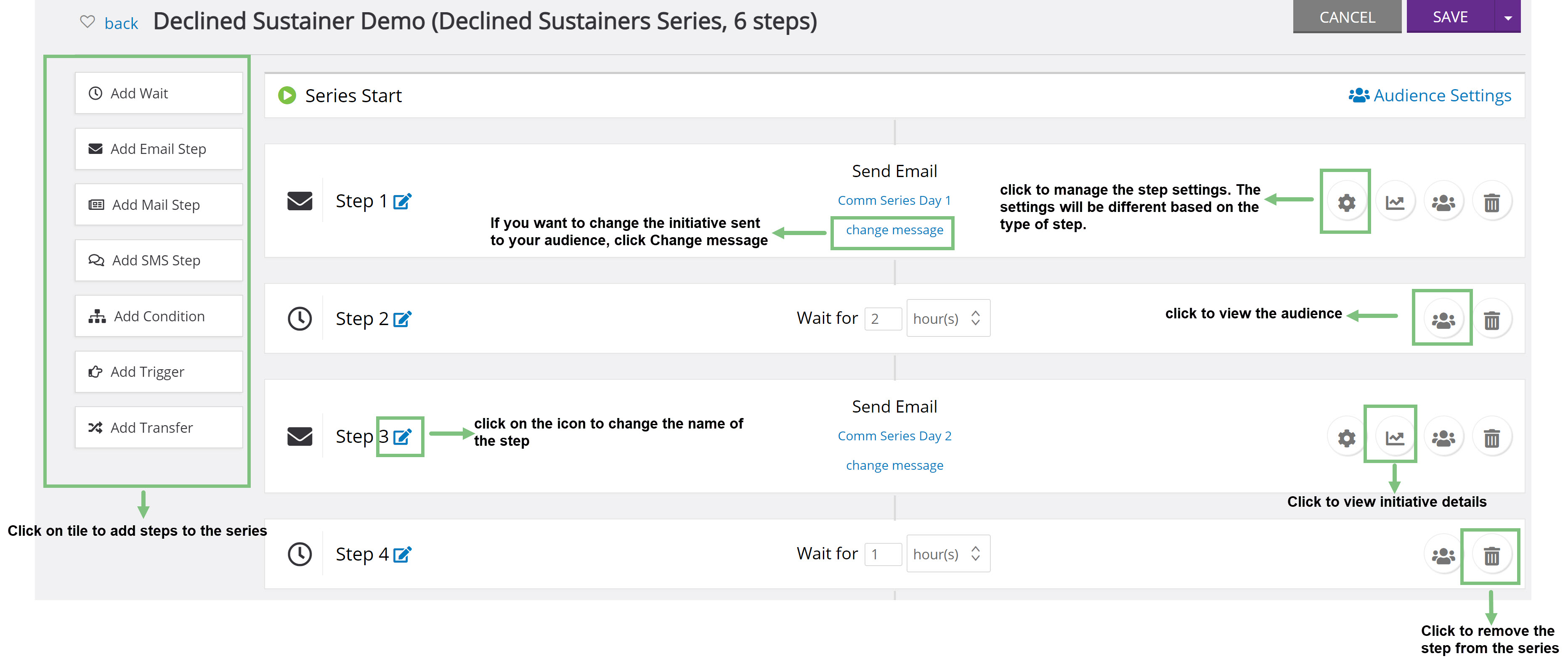 To add steps to the series, use the tiles on the left-hand side. The step will automatically be added to the end of the series.

By clicking on the initiative details icon, you will be navigated to the initiative listing screen to view the results such as the delivery rate, views, any and donations received as a result of the initiative. By viewing the details, you will be able to learn if the initiative was successful or not. If the initiative was unsuccessful, the message can be changed or modified in order to produce the results wanted.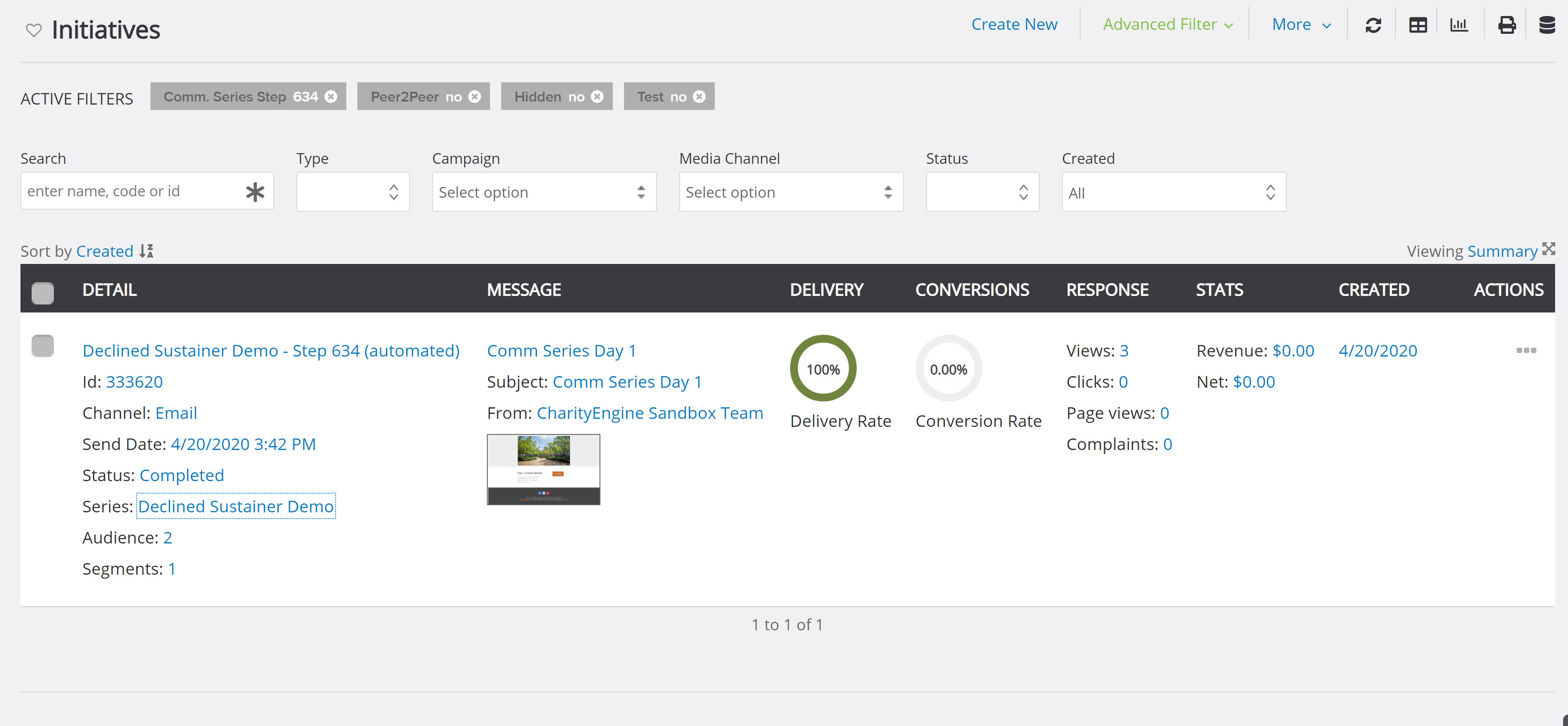 If changing the message is needed, click on change message and search for the creative you want to send.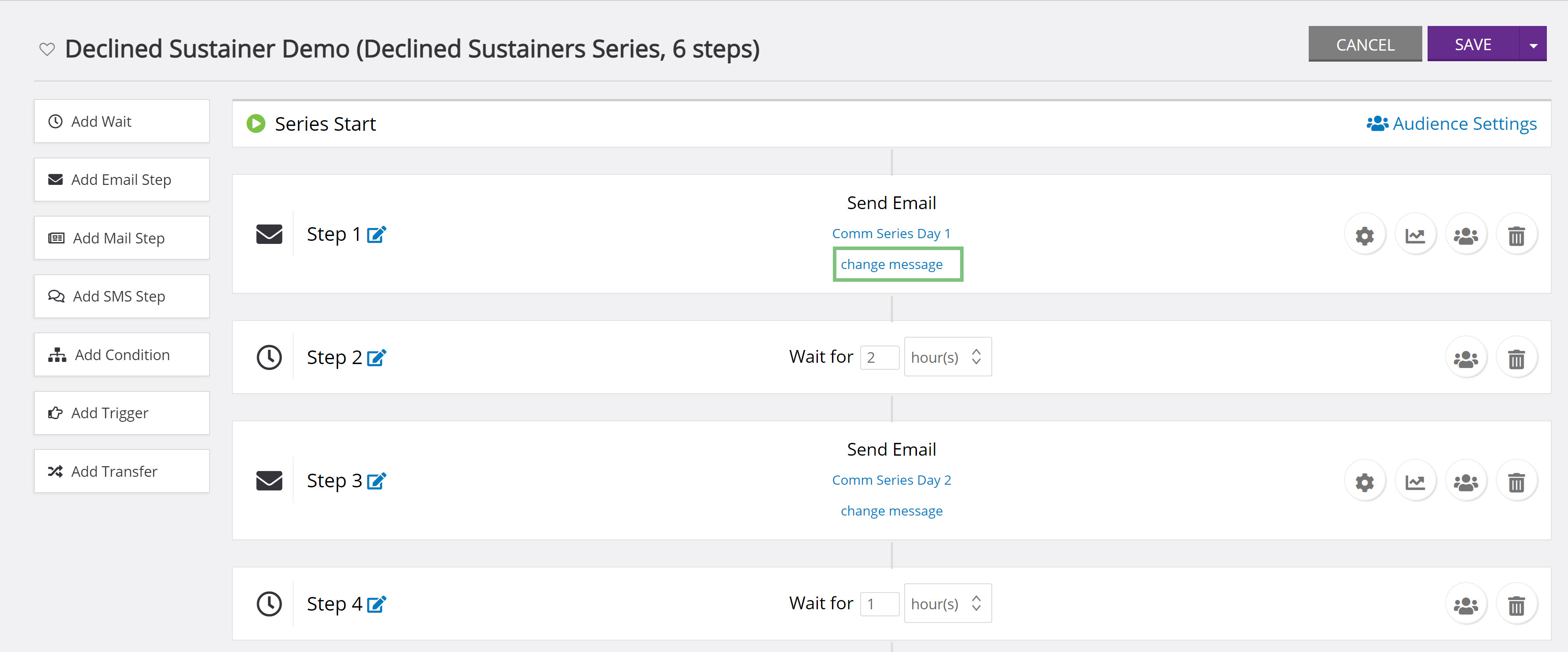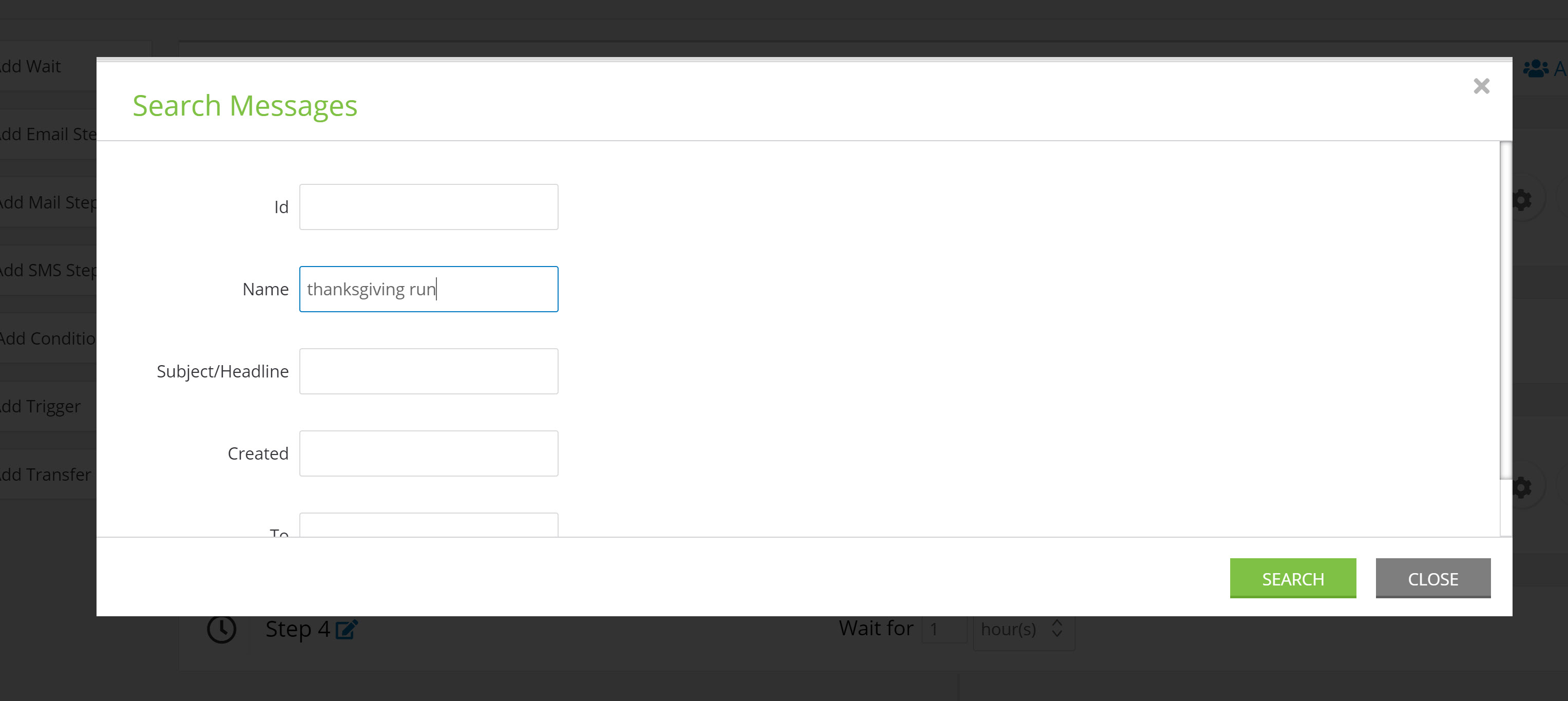 If you want to see the initiative details, click on the graph icon to navigate to the initiative listing screen.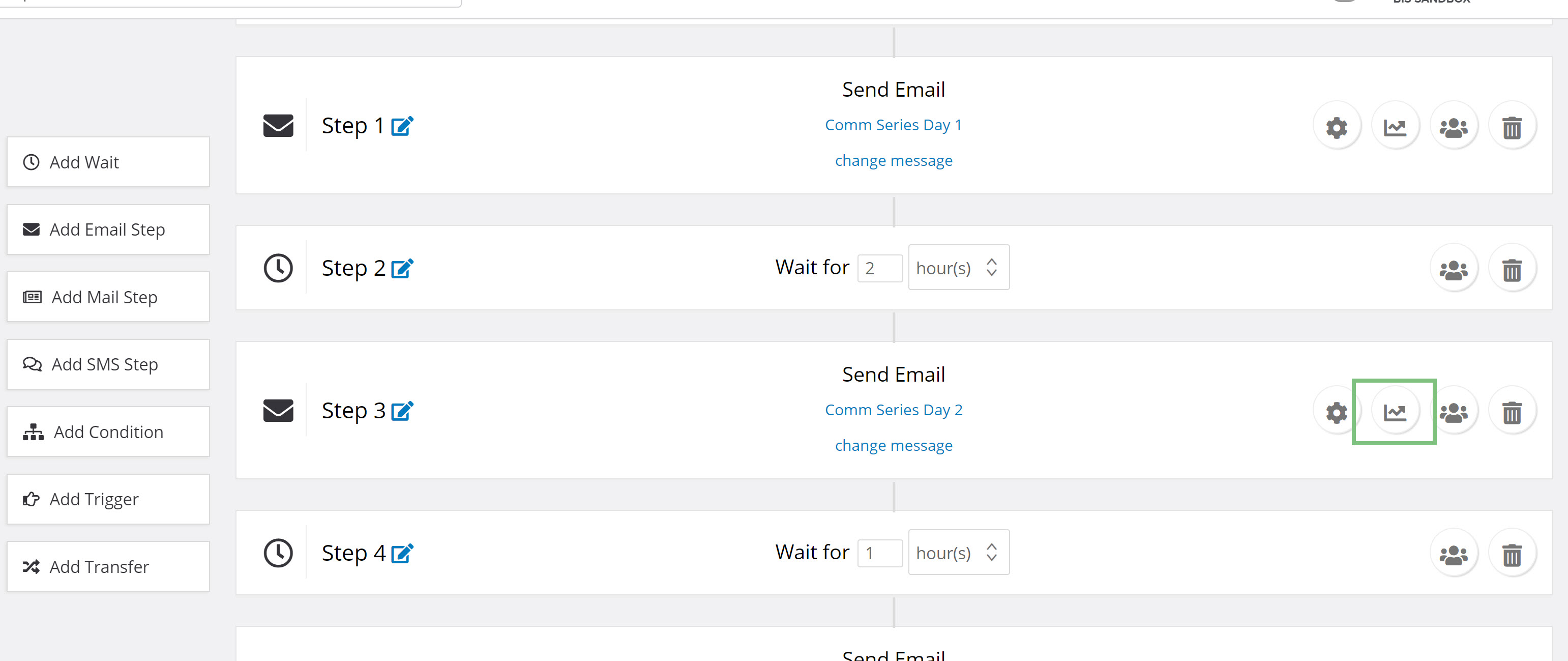 On this screen you will be able to see the delivery rate, how many views, how many click, and if any revenue has been collected due to the initiative. By viewing the details, you can make the decision to change the message sent or continue to use it for further use of the communication series.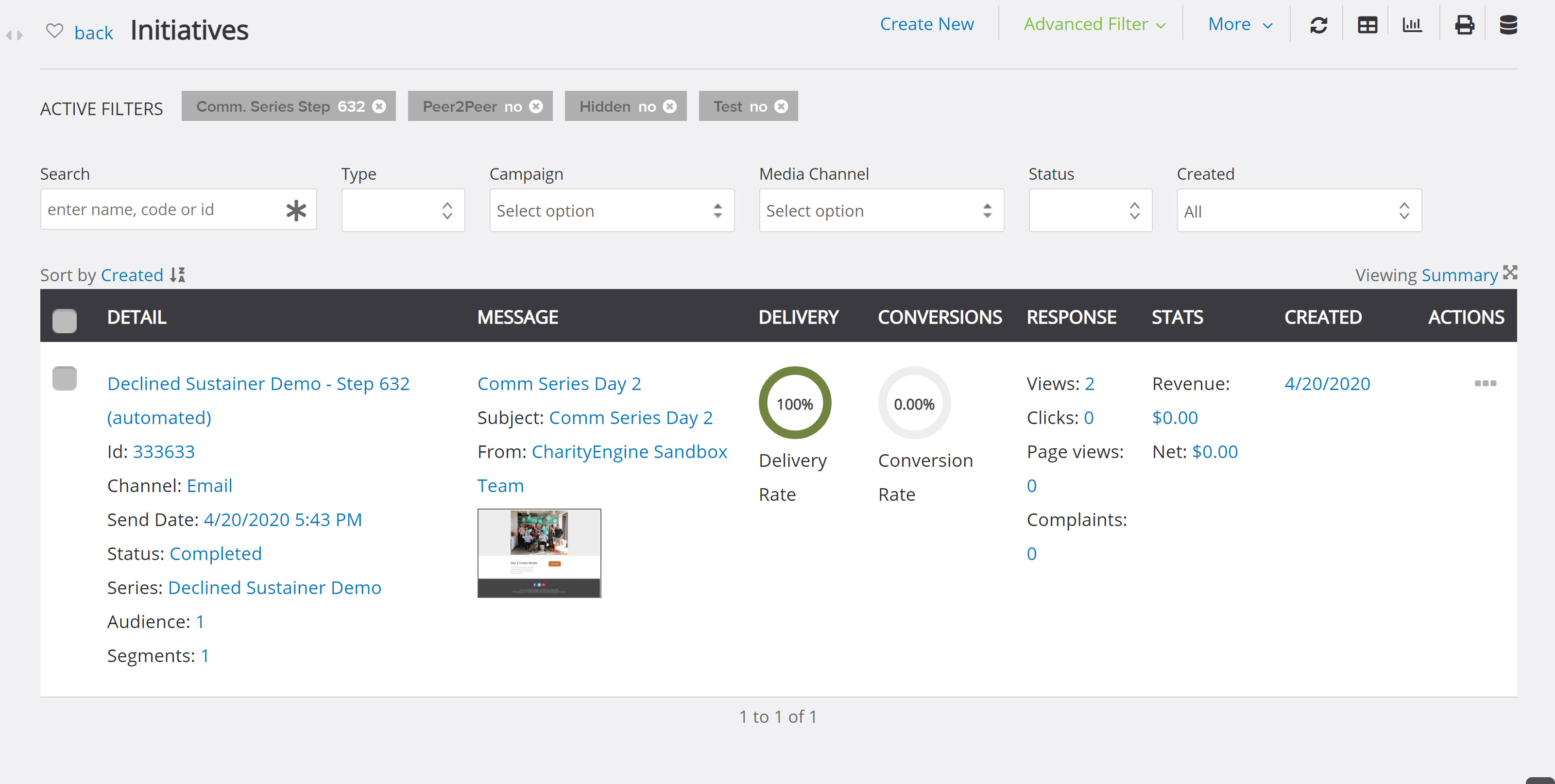 You can also view the audience of the initiative to confirm that the correct people are receiving the message. A pop up will appear when you click on the icon and will display all audience members for that step.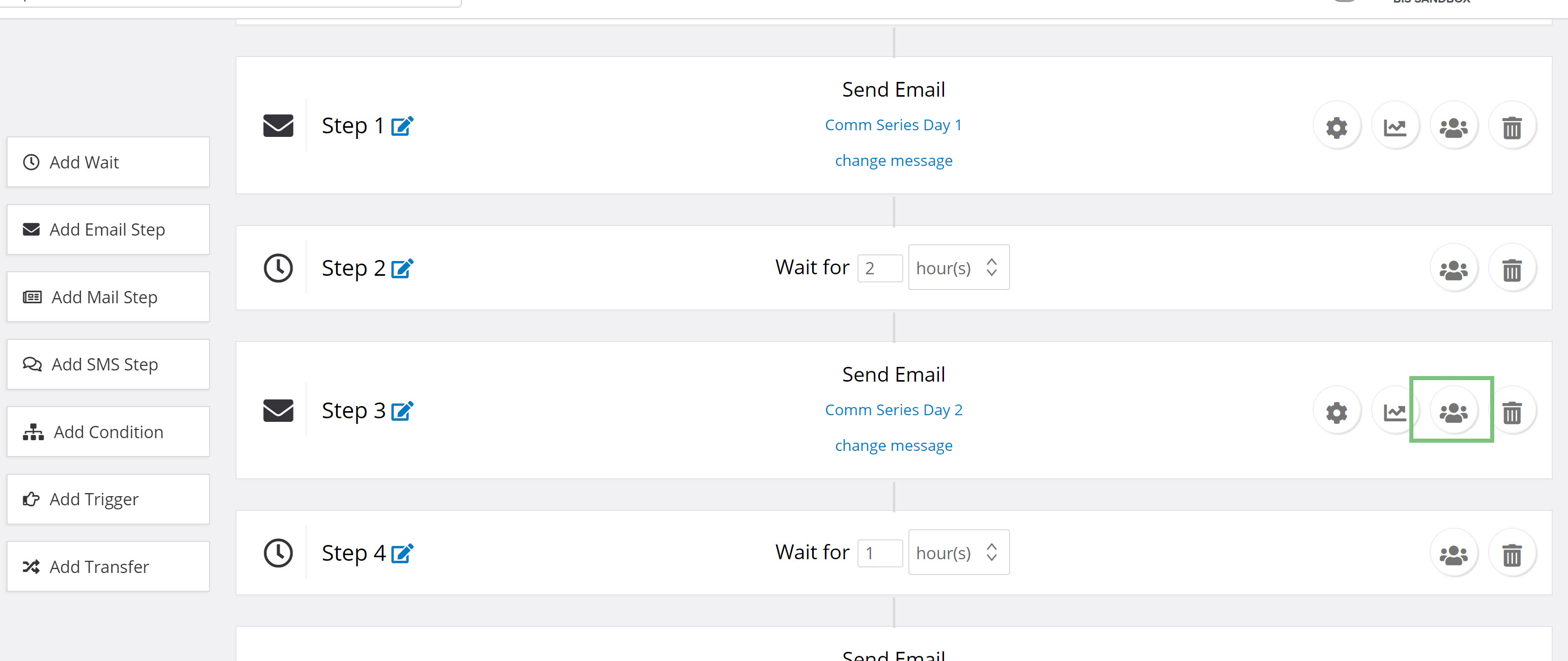 If contacts are not displayed that should be included, click on Audience Settings to confirm the settings are correct.

Use the check boxes to filter your audience and click on advanced to view the query being used.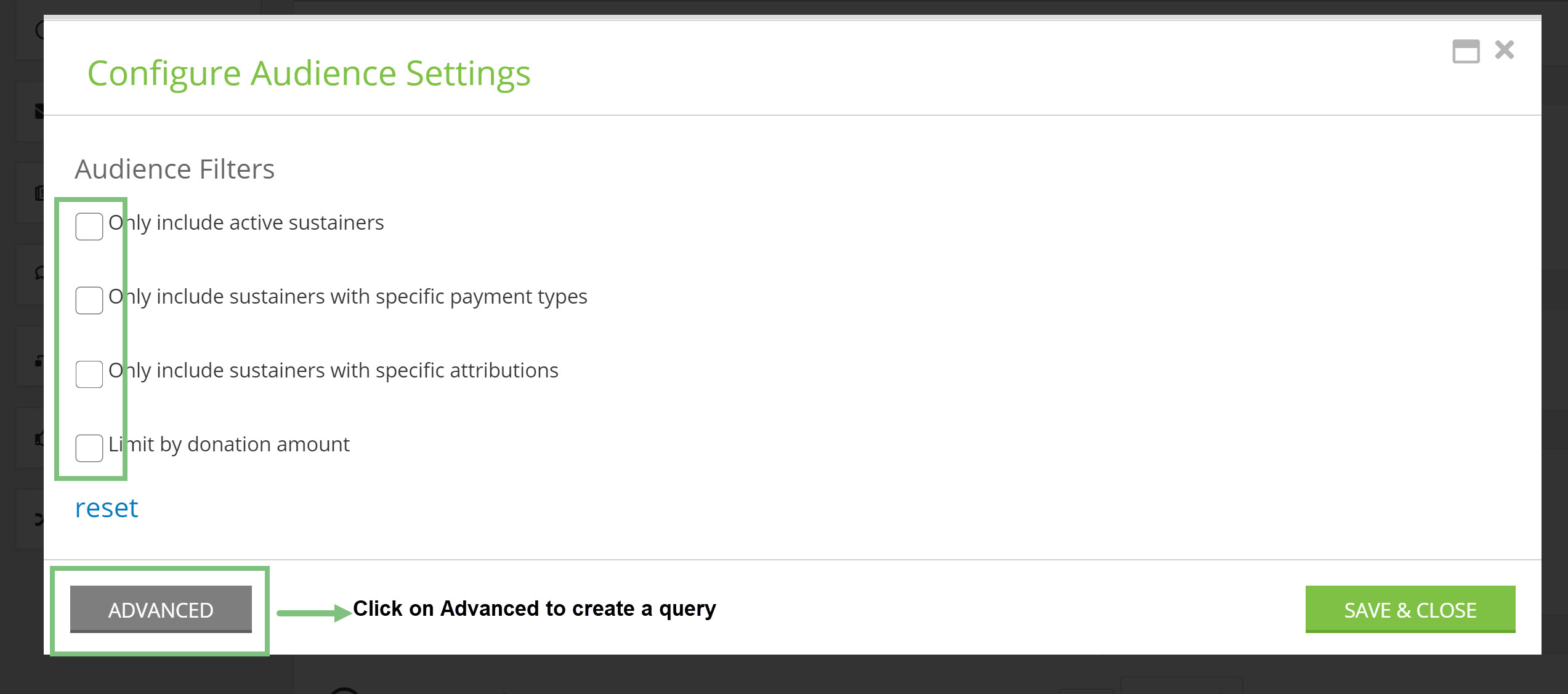 Note:
The Communication Series email workflow is designed for static email sends such as drip campaigns. As a result, custom tokens cannot be used within this feature and will result in failures for creation of the initiative. If you have a recurring email series and require the usage of custom tokens, this can be achieved by scheduling a recurring initiative.
To do so, navigate to the Automation & Workflow > General > Queries > locate the query for use with your custom tokens and email audience > ACTIONS > Automated Email.
Complete Name of your email job (required), start date, end date if appropriate, campaign assignment (optional), Message - locate your email creative, Select Email Address (to select primary email), Notify emails optional. Click SAVE and you will be exposed with a Trigger tab to schedule your frequency requirements.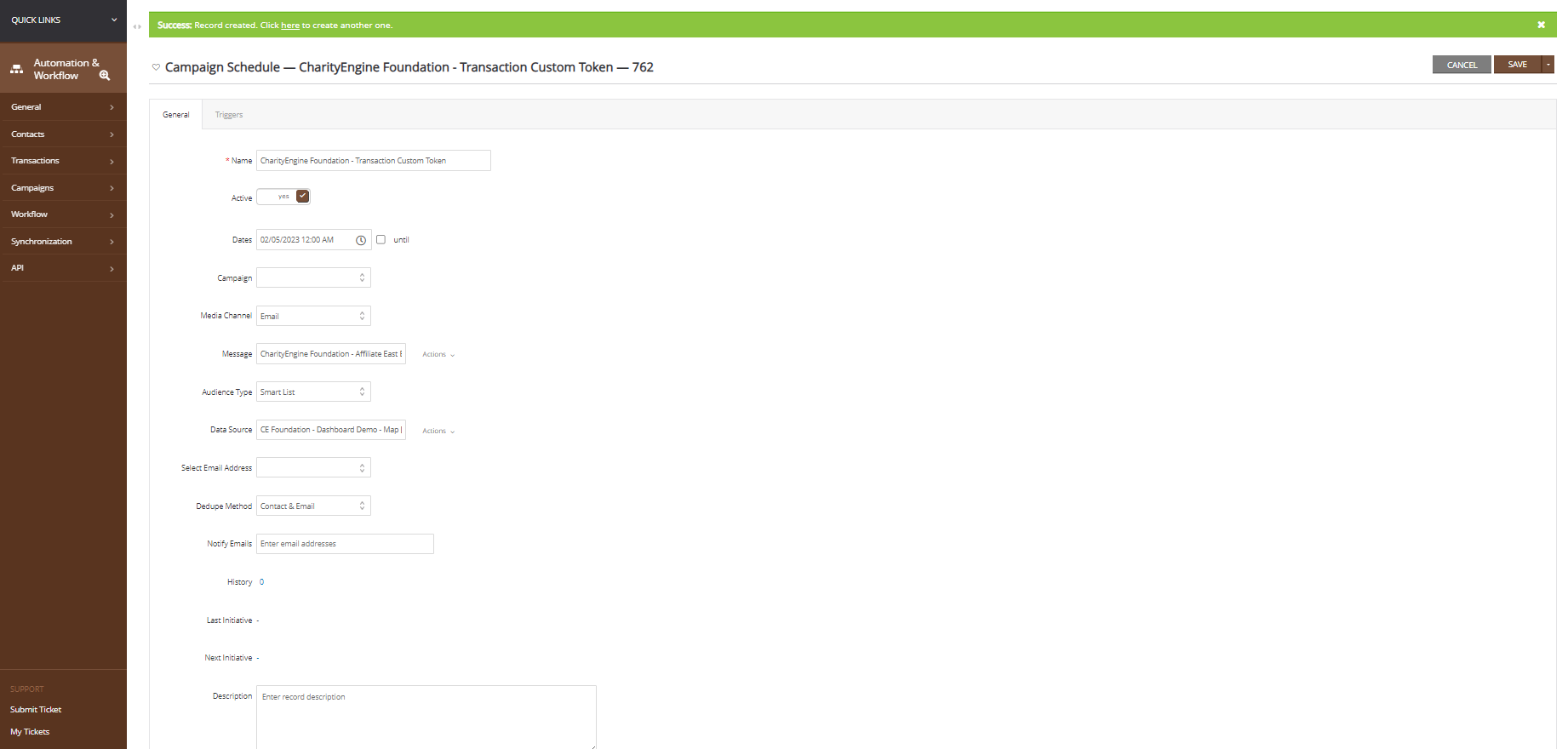 ---
FAQs and Additional Reading
Q. My email continues to report as 'failed' from the initiatives listing screen. How can I troubleshoot the communication series?
A. From the Campaigns App > Create & Publish > Initiatives, leverage the listing screen to locate the email initiative generated from the communication series. Hover over the Status: Failed to review the details for failure
Examples may include:
Audience Empty - this will occur if the query or audience source did not return any values at the time of the scheduled email send.

Invalid Message Merge Tokens - This indicates that a custom token was included in the creative. As a reminder, only system tokens can be used in the communication series feature. If custom tokens are needed, please leverage the Automation & Workflow > Campaigns > Communication Scheduler feature

Q: If I have multiple sending domains, how do I choose the domain I want the email to send from
A: You can select your sending domain by clicking on the gear icon next to the email and then select the domain from the Service dropdown.